Sneak PREVIEWS: Look What's in May's Catalog
Apr 22, 2015
May's PREVIEWS features the new sci-fi series from Saga's Brian K. Vaughan and Image Comics, We Stand on Guard!
The May edition of Diamond Comic Distributors' monthly PREVIEWS catalog arrives in comic shops, hobby stores, and other specialty outlets on April 29th and features comic books, graphic novels, toys, and other pop culture merchandise scheduled to go on sale beginning July 2015.
You can get a sneak peek now by checking out the site's sections that spotlight the Gems of the Month as well as the Featured Items for Comic Books and Graphic Novels, Books and Magazines, Trading Cards, Apparel, Toys and Statues, Import Toys, Collectibles, Games, and Audio-Visual products!
ON OUR FRONT COVER: Canadians fight to protect their country from an invasion by the United States in We Stand On Guard, the new Image Comics series from Saga's Brian K. Vaughan and The Matrix's Steve Skroce!
ON OUR FLIPSIDE COVER: Justice League's cybernetic hero graduates to his own solo series in DC Comics' Cyborg from David Walker, Ivan Reis, and Joe Prado!
The May PREVIEWS Features: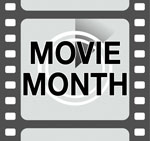 Movie Month: In May, PREVIEWS celebrates Movie Month, paying tribute to the comics and graphic novels that served as the basis for movies, or vice-versa. Look for the Movie Month icon throughout the catalog and find some choice selections for your reading (and viewing) list!
On The Flip Side — As part of Movie Month, PREVIEWS talks to Mark Millar (Kingsmen: The Secret Service, Kick-Ass) and Dustin Nguyen (Descender, Batman: Li'l Gotham) about adapting comics to film and working in Hollywood!
Gems of the Month: May's PREVIEWS Gems of the Month include: the bounty hunter Barb Wire returns to the mean streets of Steel Harbor in Dark Horse Comics' Barb Wire by Chris Warner and Patrick Olliffe; a rare Neil Gaiman story returns to print in Free Country: A Tale of the Children's Crusade from DC Entertainment's Vertigo imprint; Captain Kirk teams with the Green Lantern Corps for a cosmic adventure in IDW Publishing's Star Trek/Green Lantern: The Spectrum War; Image Comics launches a new magazine-sized monthly comic anthology with Island; and the coolest character in a galaxy far, far away is back in Marvel Comics' Star Wars: Lando by Charles Soule and Alex Maleev!
Splash: PREVIEWS shines a special spotlight at some of the blockbuster books and products coming this July, including Marvel Comics' Civil War, a Secret War tie-in by Charles Soule and Leinil Francis Yu that revisits one of comics' biggest stories of the last decade. Plus, Riverdale faces a deadly menace in Archie Comics' Archie Vs. Sharknado, Kieron Gillen takes readers to the hottest planet in Avatar Press' Mercury Heat, Matt Wagner brings Will Eisner's most famous creation back to comics in Dynamite Entertainment's The Spirit, Funko launches a new line of POP! Doctor Who Vinyl Figures, and many more products you have to look forward to this summer!
PREVIEWS Exclusive Apparel: Each month PREVIEWS offers comic book fans and pop culture aficionados a selection of t-shirts and other apparel that can only be found in your local comic shop! One of Marvel's favorite heroes stars on the Luke Cage: Hero For Hire t-shirt, Daredevil is action on the Daredevil: Repent t-shirt, and Trekkies will want the Star Trek: I'm With Illogical t-shirt. Plus, there is a Rocket Raccoon t-shirt, an Iron Man cap, and a Deadpool hoodie. These, and many other products that you can find only through PREVIEWS, will have you looking sharp at this summer's conventions!
Indie Edge: PREVIEWS talks to Matt Wagner, the legendary creator of Grendel and Mage about his career, his forthcoming project The Spirit, and the books he's reading today!
Plus: Staff Picks, the month's Certified Cool books, the monthly Bestseller Charts, and so much more!
All this awaits you in the May edition of PREVIEWS, which goes on sale at your local comic shop or specialty store on Wednesday, April 29th at its new, lower cover price of just $3.99!