Throwback Thursday: Meet The Avenger's Doorman...?
Sep 23, 2021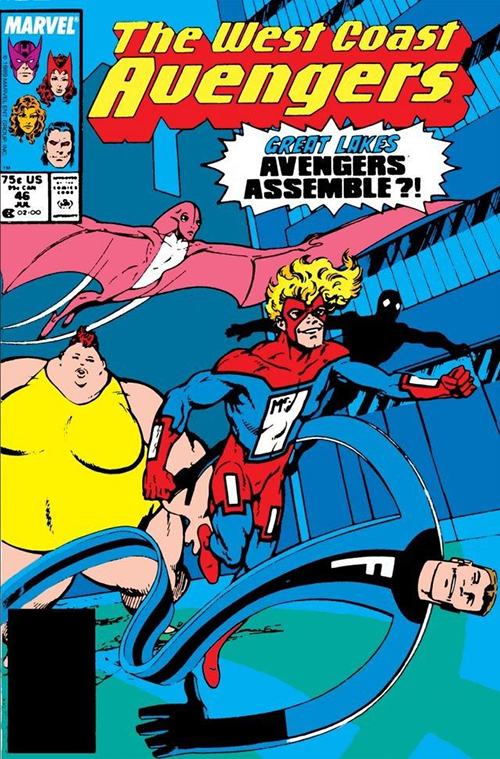 DeMarr Davis, aka Doorman, is mutant who is intangible and can generate portals, then later he gained the power to bring souls to the afterlife and fly using skis. A creation of John Byrne, little is known about the Marvel hero's life before he was introduced in West Coast Avengers Vol. 2 #46 (July 1989).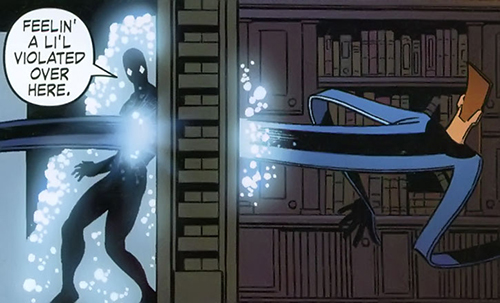 When Mr. Immortal advertised for a new hero team that would become the Great Lakes Avengers, Doorman answered the call. By using his teleportation abilities, he could help his team enter any building or structure. With the West Coast Avengers, he assisted Hawkeye to defeat "That Which Endures" and worked with Mockingbird against Terminus. A cynical man, he often poked fun at his team, comparing them to the real Avengers.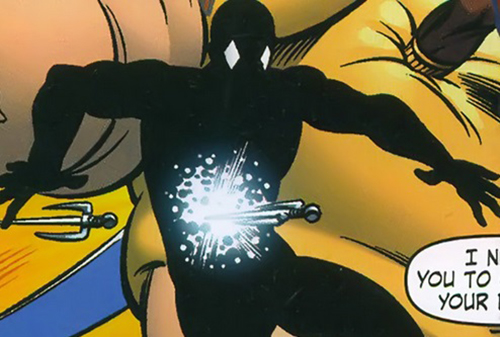 In the G.L.A. miniseries, Doorman and Flatman went on a recruiting mission to New York City. They convinced Squirrel Girl to join them, and then attempted to recruit Grasshopper while he was fighting Batroc. Unfortunately, one of Batroc's henchmen threw a sai that went through Doorman and killed Grasshopper, leaving Doorman to feel responsible.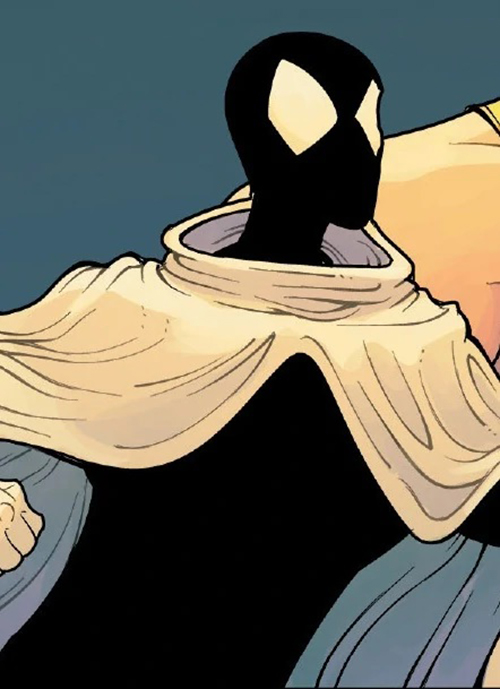 Doorman slipped into a depression and sacrificed himself in a battle so that Mr. Immortal could stop Maelstrom. In the afterlife, Oblivion summoned him because of Doorman's connection to the Darkforce Dimension. Doorman became Oblivion's angel of death, taking Maelstrom to the afterlife, and returning to the Great Lakes Avengers.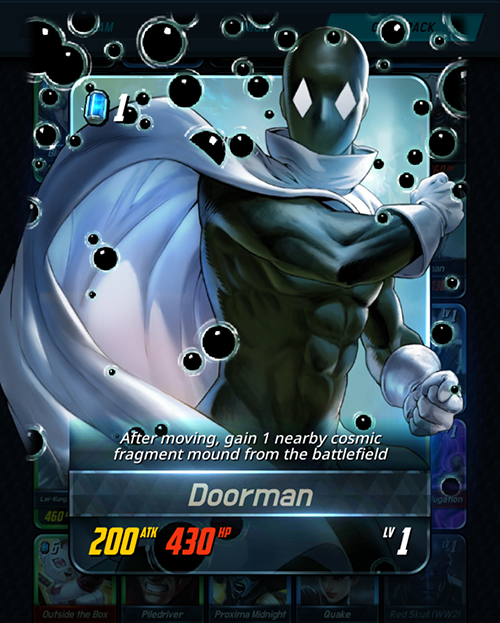 Keep an eye on PREVIEWSworld.com's Twitter, Facebook, YouTube, or Instagram for more character profiles! And if you're interested in more from the Avengers, head to your local comic shop and check out the following.
MARVEL COMICS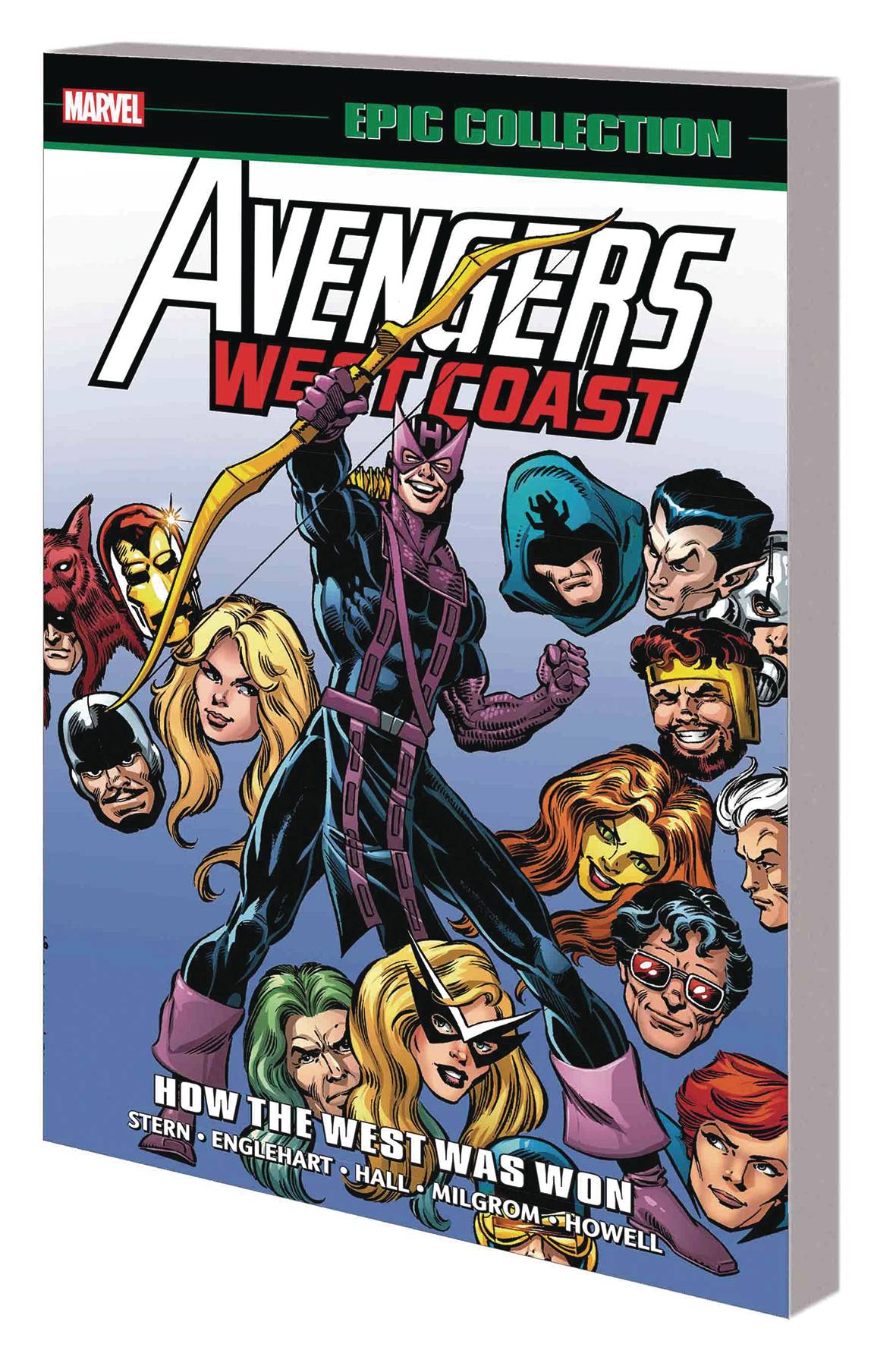 (W) Roger Stern, Bob Harras, Various (A) Luke McDonnell, Various (A/CA) Bob Hall
Earth's Mightiest Heroes go West! When Vision creates a second squad, Hawkeye grabs the first Quinjet to California to lead the West Coast Avengers - including Mockingbird, Wonder Man, Tigra and an Iron Man or two! But will local vigilante the Shroud join the West Coasters? How about Firebird, Hank "Ant-Man" Pym and the Ever-Lovin' Blue-Eyed Thing?! The "Whackos" quickly make their own enemies - including the Blank, Graviton, Master Pandemonium and a villainous Goliath! Plus: Kraven the Hunter targets Tigra! Wonder Man battles Sandman! And Vision and Scarlet Witch lend a hand against the Grim Reaper and Ultron! Collecting WEST COAST AVENGERS (1984) #1-4, IRON MAN ANNUAL #7, AVENGERS (1963) #250, WEST COAST AVENGERS (1985) #1-7, VISION AND THE SCARLET WITCH (1985) #1-2 and WONDER MAN (1986) #1.
In Shops: Sep 26, 2018
SRP: $39.99
MARVEL PREVIEWS Page #135
MARVEL COMICS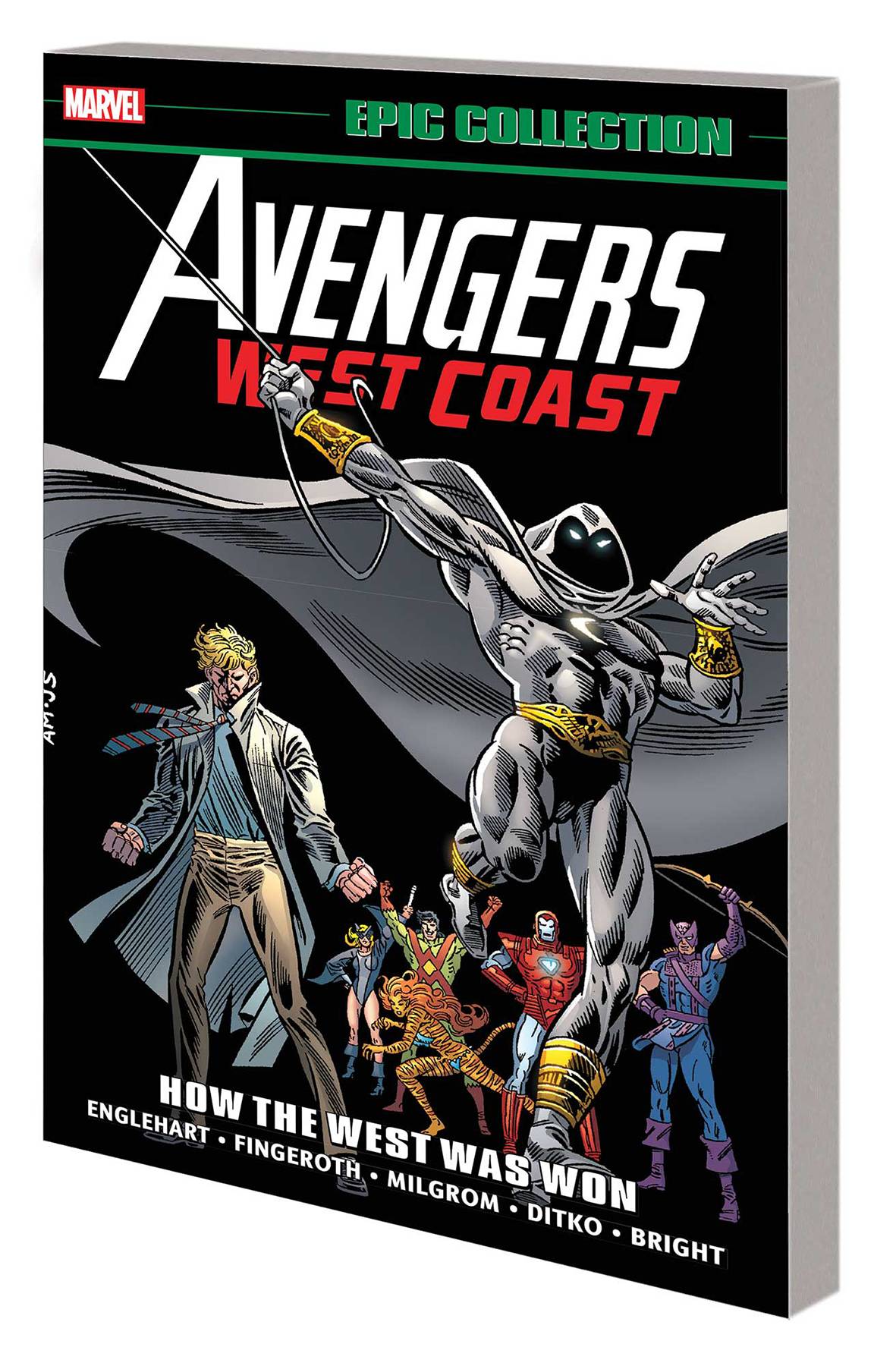 (W) Steve Englehart, Mark D. Bright, Danny Fingeroth (A) Mark D. Bright, Steve Ditko (A/CA) Al Milgrom
The West Coast meets the Old West! Firebird finds herself in the middle of a fight between the Rangers and the Avengers - but will she become the sixth Whacko, or will the Thing? Menaces mount - including Master Pandemonium, Headlok, Griffin and Graviton - while Tigra and Hellcat team up against Tiger Shark! Meanwhile, Hank Pym battles his demons - but who will be his savior? Then, a time-warping terror leaves the West Coast Avengers trapped in the past! Hawkeye meets old friends Two-Gun Kid and Rawhide Kid, but another Western legend spells big trouble for Mockingbird! The sprawling space-time saga spreads to ancient Egypt as the Whackos travel ever further back in time - but what role will Moon Knight play? And will the team ever find its way home? Collecting WEST COAST AVENGERS (1985) #8-24 and ANNUAL #1, and AVENGERS ANNUAL #15.
Rated T
In Shops: Sep 18, 2019
SRP: $39.99
MARVEL PREVIEWS Page #145
MARVEL COMICS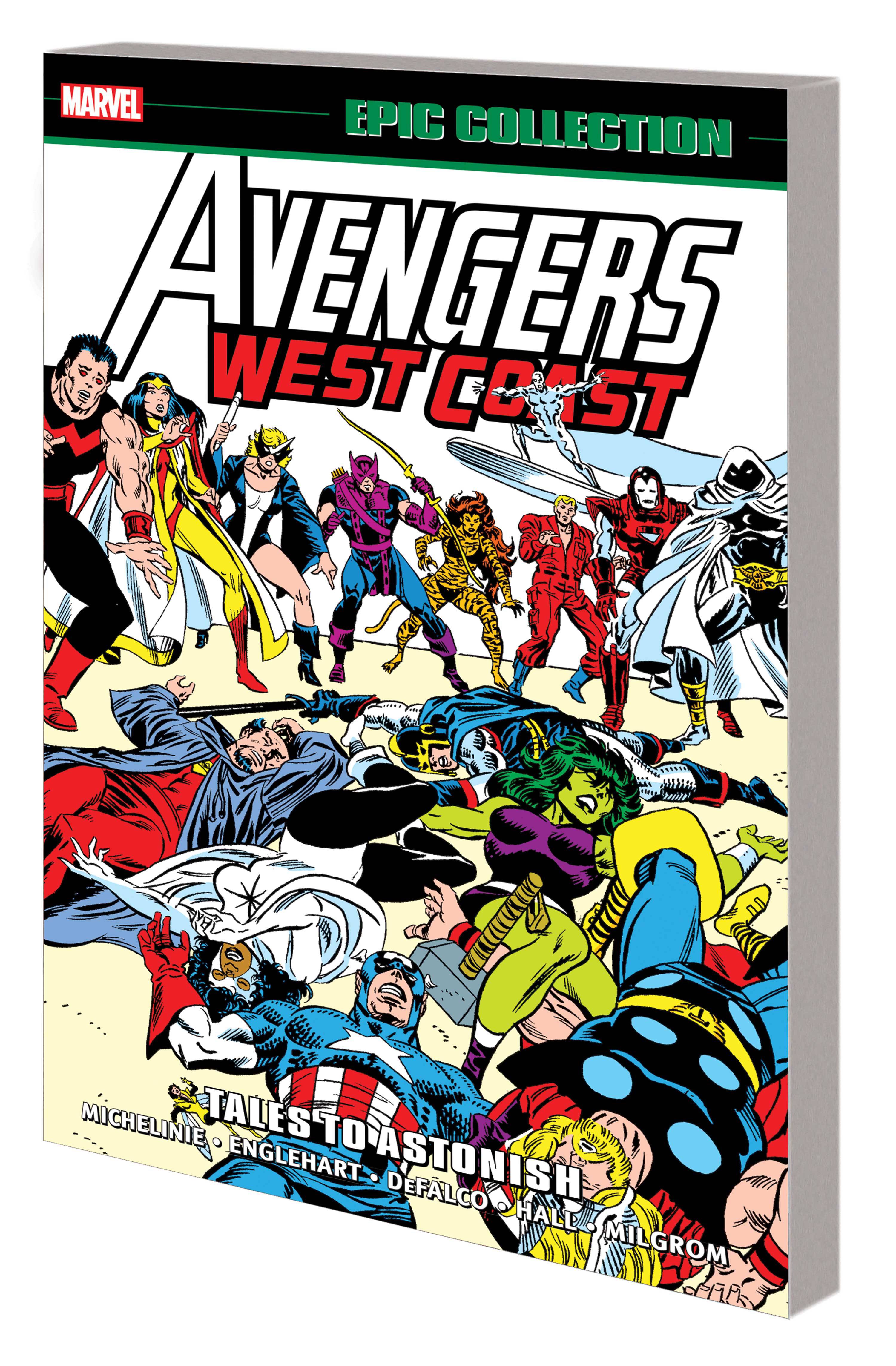 (W) Steve Englehart, More (A) More (A/CA) Al Milgrom
Zodiac attack! Scorpio's insidious Zodiac has wiped out the original group, and now they're targeting the West Coast Avengers! The astrological androids plan an infiltration, but do the Avengers have a countermove up their sleeves? As Moon Knight hunts down the last surviving member of the original Zodiac, Scorpio's endgame is revealed - but there's a twist! Then, when the Whackos investigate the fate of Hank Pym's deceased wife, it kicks off a tale to astonish that leads them through Latveria and behind the Iron Curtain! Plus: The Grandmaster has a deadly game for both teams of Avengers! Ghosts from Mockingbird's past return to torment her! And when Doctor Doom conquers the world, can Wonder Man stand alone? Collecting WEST COAST AVENGERS (1985) #25-37 and ANNUAL #2, AVENGERS ANNUAL #16, and MARVEL GRAPHIC NOVEL: EMPEROR DOOM.
Rated T+
In Shops: Sep 23, 2020
SRP: $39.99
MARVEL PREVIEWS Page #96
This article originally appeared in Gemstone Publishing's e-newsletter Scoop.
****
Amanda Sheriff is Gemstone Publishing's Associate Editor, serving as the writer/editor of the e-newsletter, Scoop. She is the author of The Overstreet Guide to Collecting Movie Posters, The Overstreet Guide to Collecting Concert Posters, and The Overstreet Guide to Collecting Horror, and co-author of The Overstreet Price Guide to Star Wars Collectibles and The Overstreet Price Guide to Batman.