Interview: Maestro Peter David Talks About Hulk's Imperfect Future
Sep 21, 2020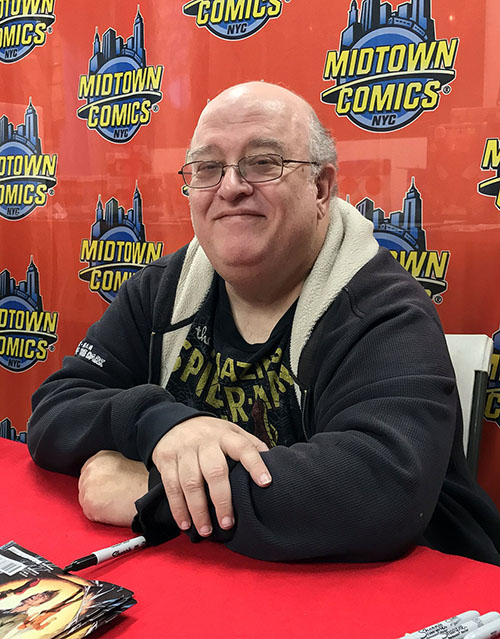 Interview by Troy-Jeffrey Allen
From Supergirl to Spider-Man to X-Factor to Aquaman -- writer Peter David has left his unique stamp on many characters. Some would even argue (not just me...I swear) that David has an undeniable track record for breathing new life into every hero or villain he tackles.
That is certainly the case with Peter David's run on The Incredible Hulk. Under the writer's watch the Hulk fused his monstrous personality with that of his anxious alter ego, Bruce Banner. From there, the comic book took flight. David was no longer limited to the Jekyll and Hyde motif that had largely dominated the series. With Bruce Banner and the Hulk working as one, the green giant could take on the role of a calculating mob enforcer, find himself at a crossroads over the AIDS epidemic, became the leader of a rescue organization called "The Pantheon", and even turn into a ruthless dictator named "Maestro!"
Jump ahead many years later, and Maestro has returned to comics! And, as it should be, Peter David is at the helm. In the following interview, David explains how Maestro came about, what his plans are for this evil Hulk, and what its like returning -- once again -- to write a character that he is so synonymous with.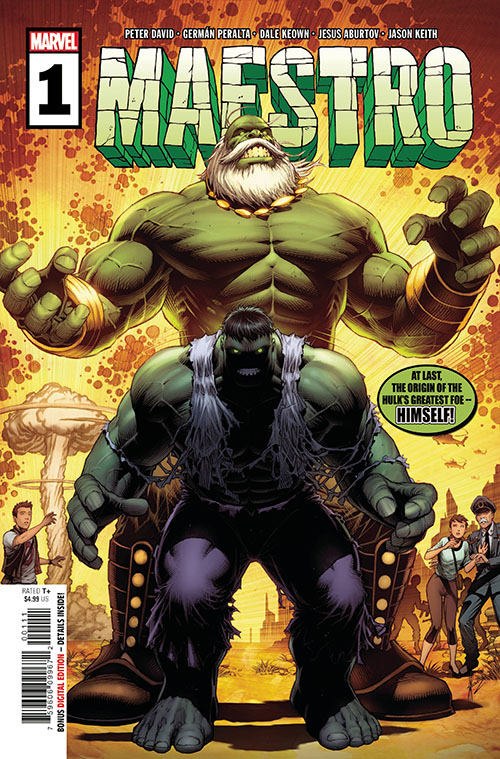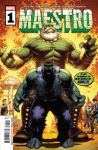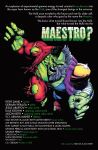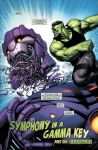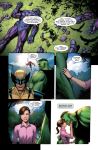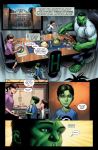 Click to View

At this point, you've been writing Hulk how long?
Well, I first began writing the Hulk back in the 1980s, so if we use that as the start date, about 35 years. But it's not as if I've been consistently writing him the whole time; it's been stops and starts. I wrote him for twelve years in my original run and somehow keep getting called back to him.
How did you end up on The Incredible Hulk originally?
Bob Harras couldn't find anyone else to write it. That is literally accurate. At the time there was some hostility toward my writing from the editorial department because I worked in direct sales, and they felt that someone in direct sales had no business being involved in the creative side. So I was pretty much persona non grata. However, Bob went to every available writer for HULK and none of them wanted the assignment. Then he went to every editor who wrote on the side and none of them wanted it. So he knew he could approach me about it and not get any blowback because no one else was interested.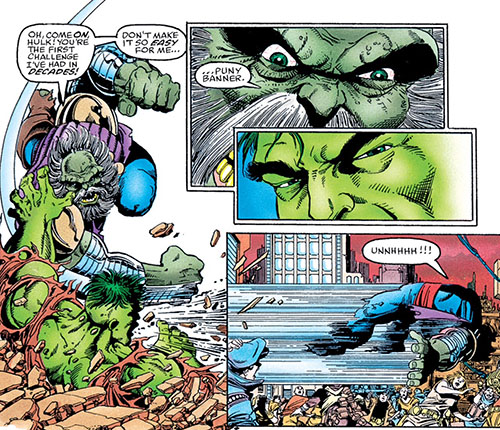 Do you remember the point where the series just clicked for you?
Yes. I was researching the series because I really hadn't been reading it and I came upon this Bill Mantlo story that detailed Bruce's being abused as a child. That suggested the entire Multiple Personality Disorder angle. The notion that Bruce had never been able to cure himself because he always treated himself from the outside in, and the problem was that his difficulty was on the inside working itself out. That the Hulk was part of his personality; the gamma rays just gave it form. That all the way back to issue #1 we had never seen Bruce Banner as a whole person, and that eventually I figured I'd do a story where Doc Samson, with the aid of the Ringmaster, would treat him the way that MPDs were generally treated: with hypnosis. And that detailed the entire run of the series for me.
Are you planning to tap into that mental trauma again with Maestro?
Well, discovering that the happy life you thought you were leading was a computer simulation and the world is a bombed out wasteland certainly qualifies as trauma, I think.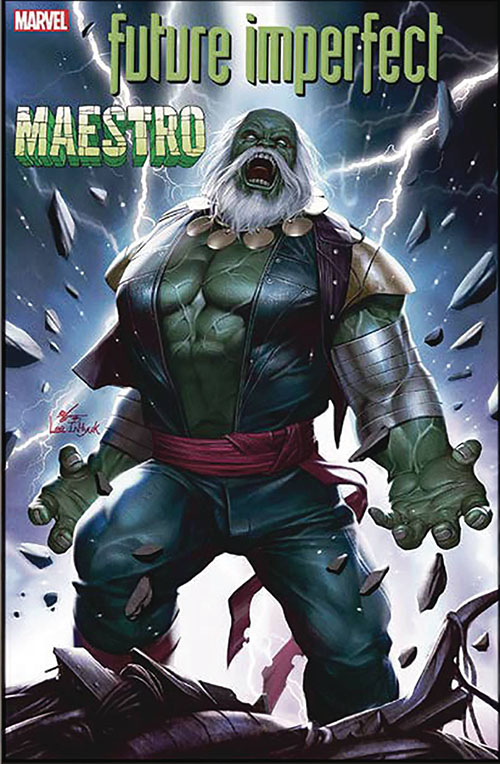 Why come back to him now? Why revisit Future Imperfect?
They asked me. That simple. Wil Moss asked if I'd be interested in writing a Maestro prequel to FI and I said sure.
Is it daunting at all to come back to this story? I feel like 90s kids like myself are very excited to see this happen.
Not at all. I've had the general thoughts for the story rattling around in my head for decades, so I appreciate the opportunity to bring it to life.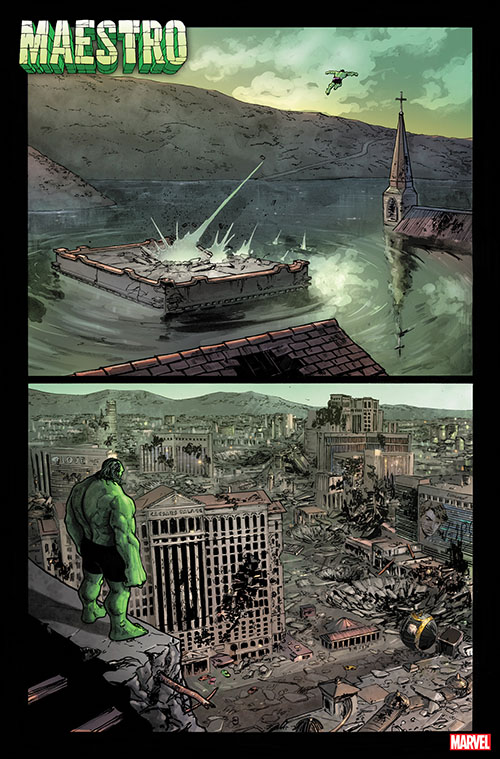 Is Maestro a straightforward prequel to Future Imperfect?
It is. Technically speaking you don't have to have read Future Imperfect to understand it. Although I notice Marvel did in fact publish a special edition of Future Imperfect so you really don't have an excuse.
When it was originally released, Future Imperfect was outside of your Hulk run. Was there a reason for not including it in the monthly?
I actually did incorporate it into the run. After the two parter came out, I then did a storyline which took place after it and had the Hulk dealing with the ramifications of what he'd seen. It was already intended as a special story but it does fit into continuity.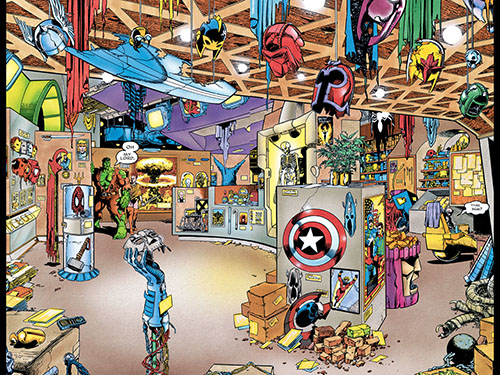 How did you and George Perez function? Was it very collaborative? Not at all?
I told George what I needed and he built on it. For instance, when I did the two page establishing shot of Rick's trophy room, I said, "It includes the following objects: Cap's shield, Thor's hammer, Wolverine's skeleton, and the Silver Surfer's board. Other than that, put in whatever you want." And George just went to town. It included everything from the cloak of levitation still floating to Archie Andrews' Riverdale sweater. That's the great thing working with George. Tell him what you want and he'll go above and beyond.
Now you're working with German Peralta. How has it been? Has that process changed a lot?
It changes in that when I wrote the original, I did it in what's called the Marvel style. I described the story but left the storytelling to George. Nowadays, I write in full script, breaking it down panel by panel. I just find it easier to tell the story that way, and German has done a terrific job with it. He has the perfect style, very dark and post-apocalyptic.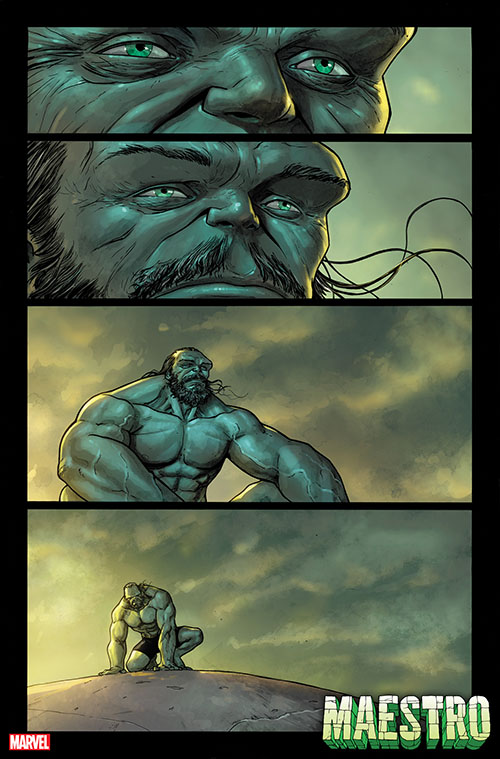 Issue 1 is already out, of course. But for those who are late, what is the setting for this mini-series?
It's set some years before Future Imperfect. Janis is some years younger, Rick's mind is sharper than it was in FI. Other than that, it's the same era.
Oh. Nice! So, Rick Jones is in this?
Oh yes, he's there.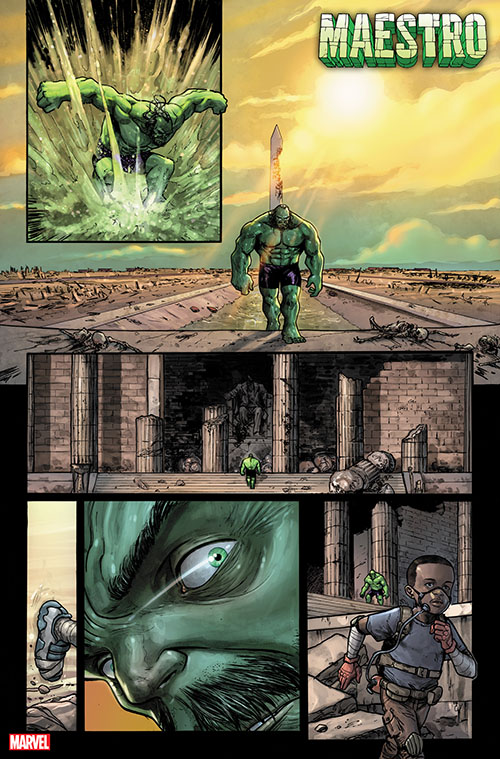 They're billing this as "Hulk vs. his greatest foe." Which is himself. Is this more character study than slugfest?
I suppose it is. Yes, we do have some major battles, the specifics of which I won't get into. But it really is a character study examining how the Hulk slowly developed the personality that was the Maestro.
Any long-term plans for Maestro beyond this mini?
Yup.
Maestro #1 is in comic shops right now! Issue #2 is in comic shops September 23, 2020.
For more from Marvel, keep an eye on PREVIEWSworld.com's Twitter, Facebook, YouTube, or Instagram.
MARVEL COMICS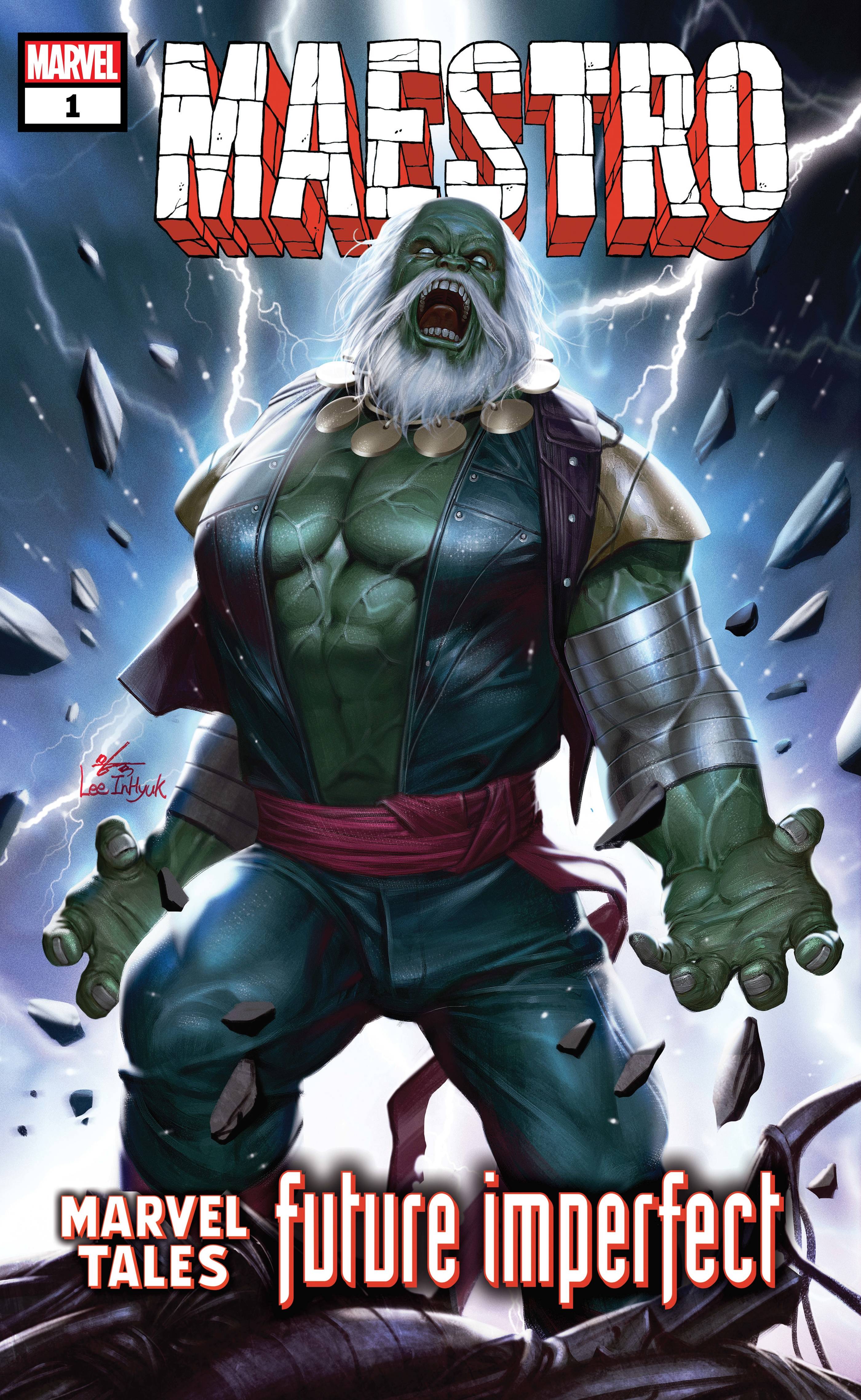 (W) Peter David (A) George Perez (CA) Inhyuk Lee
Explore a dark vision of the future as we celebrate the legacy of the House of Ideas with the era-spanning MARVEL TALES! This anthology series shines a spotlight on fan-favorite characters, features timeless stories and highlights some of our most impressive talent from the past eight decades. A hundred years from now, a ravaged world is ruled with a giant green fist by the gamma-spawned tyrant who calls himself the Maestro! In desperation, a ragtag group of freedom fighters reach back into the past for the one being who might be able to end the Maestro's reign - the Incredible Hulk! But when titans clash, who will be the strongest one there is? The classic tale from definitive Hulk writer Peter David and legendary artist George Pérez, HULK: FUTURE IMPERFECT (1992) #1-2, is presented in all its gamma-powered glory! Collecting HULK: FUTURE IMPERFECT (1992) #1-2
Rated T
In Shops: Aug 05, 2020
SRP: $7.99
MARVEL PREVIEWS Page #156
MARVEL COMICS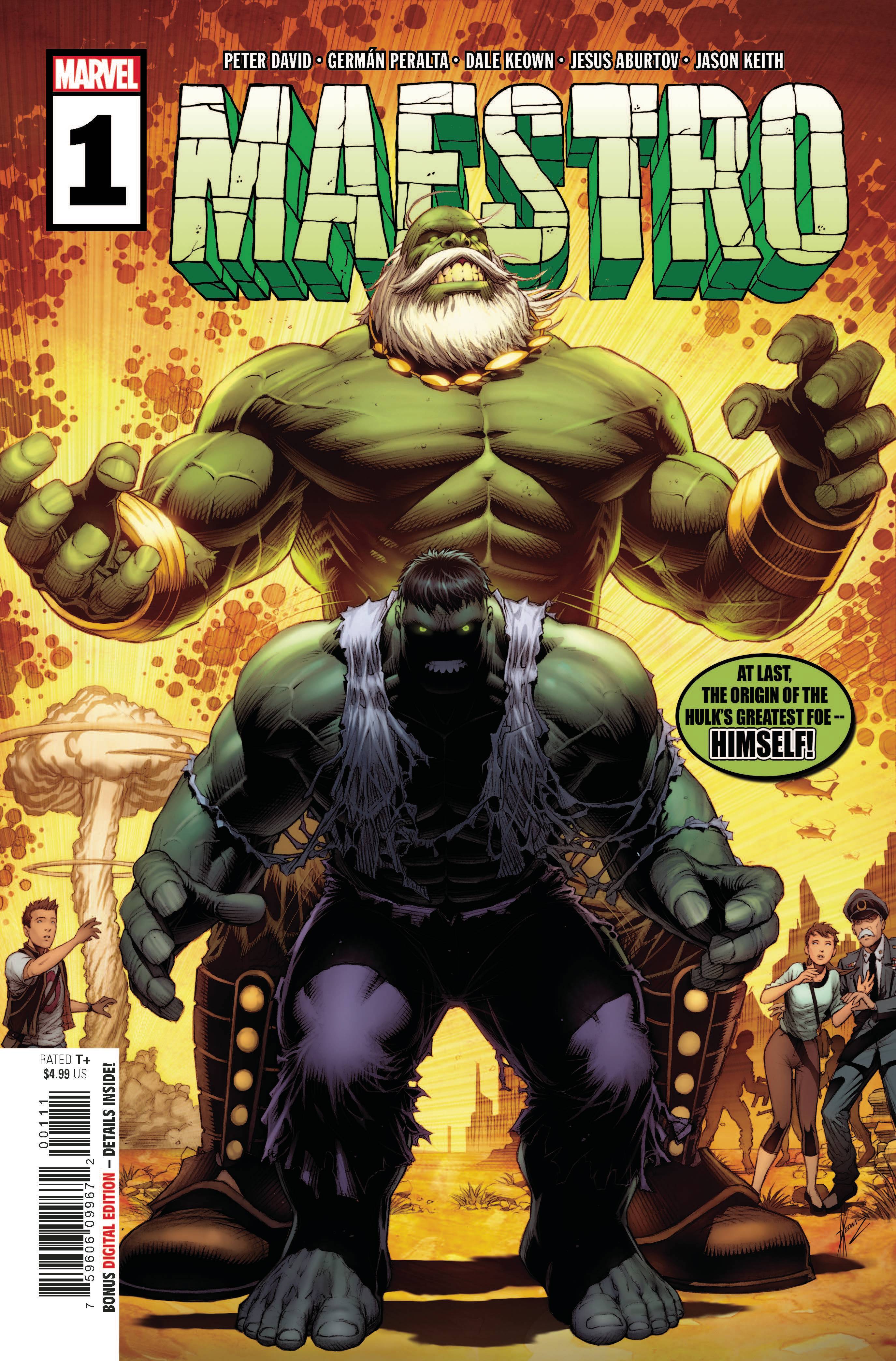 (W) Peter David (A) German Peralta (A/CA) Dale Keown
THE STORY YOU'VE WAITED DECADES FOR: THE ORIGIN OF MAESTRO!
Almost 30 years after the landmark story Future Imperfect, legendary INCREDIBLE HULK scribe Peter David returns to the far-future version of the Hulk known as Maestro - the master of what remains of the world. With astounding art from HULK veteran Dale Keown and up-and-comer Germán Peralta, Maestro will answer questions that have haunted Hulk fans for years - and inspire some new ones. How did the world fall and the Maestro rise? What happened to the world's heroes in between? And where is the Hulk we know and love? Find out here!
Rated T+
In Shops: Aug 19, 2020
SRP: $4.99
MARVEL PREVIEWS Page #155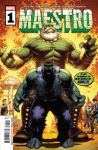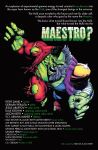 Click to View

MARVEL COMICS
(W) Peter David (A) German Peralta (A/CA) Dale Keown
PART TWO: THINGS GET UGLY!
The world as we know it is long gone - but the Hulk we know and love will never die. Humans killed the Earth...and now the Hulk must choose whether to save it or doom it forever. Peter David's legendary saga continues with an action-packed tale of irradiated destruction! Plus: Just how did Rick Jones gather all the weapons and collectibles of his super-heroic generation? Hulk veteran artist Dale Keown reveals secrets decades in the making!
Rated T+
In Shops: Sep 23, 2020
SRP: $3.99
MARVEL PREVIEWS Page #35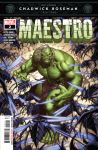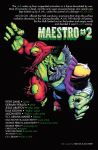 Click to View

MARVEL COMICS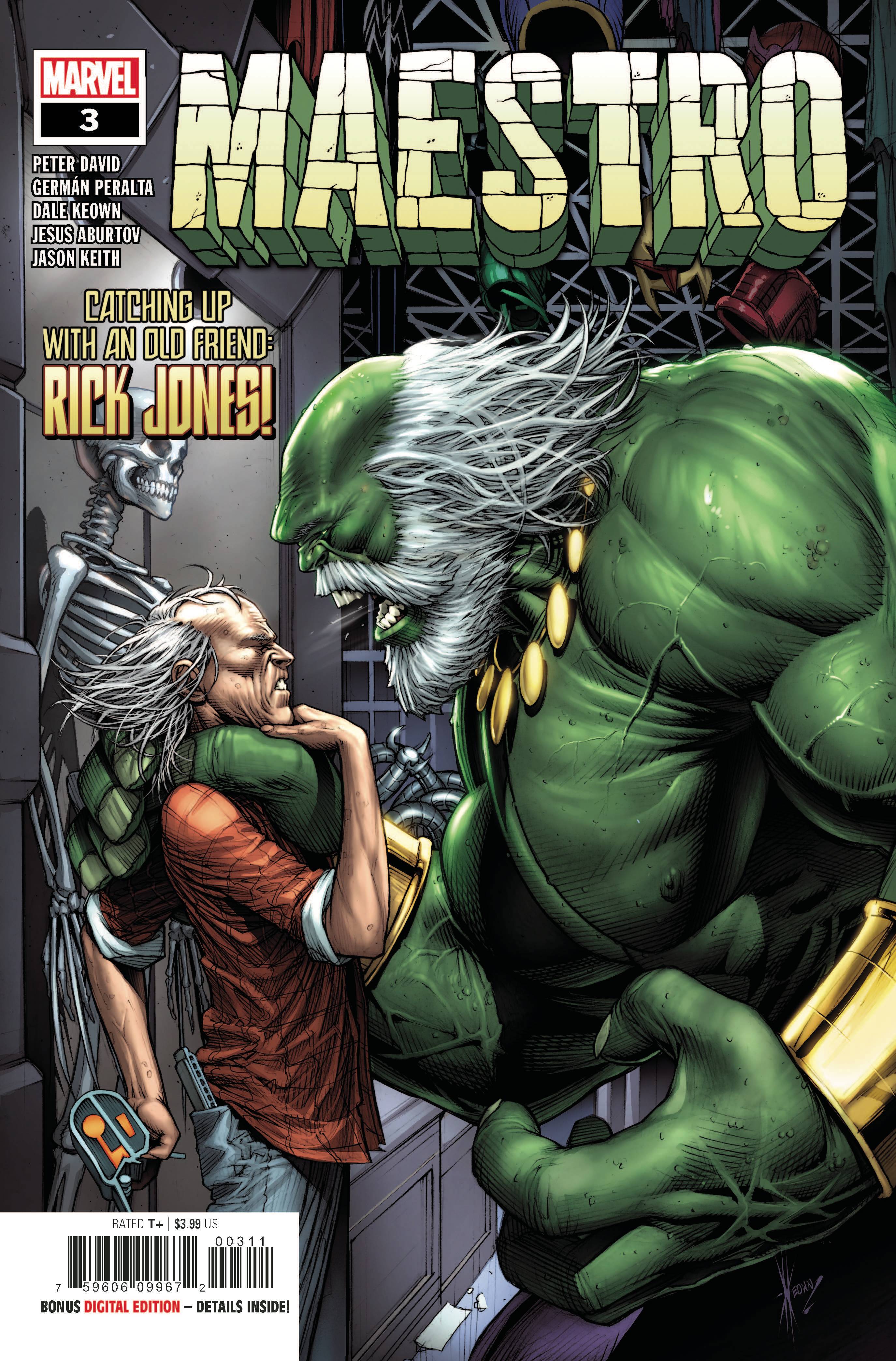 (W) Peter David (A) German Peralta (A/CA) Dale Keown
WHO KILLED THE WORLD?
The Hulk meets the Maestro-and it's not who you expect it to be. And when a band of rebels tries to recruit the Hulk to fight beside them, his answer sends shock waves through Dystopia. This world will never be the same...and neither will the Hulk.
Rated T+
In Shops: Oct 21, 2020
SRP: $3.99
MARVEL PREVIEWS Page #45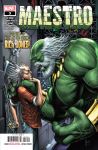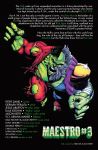 Click to View

MARVEL COMICS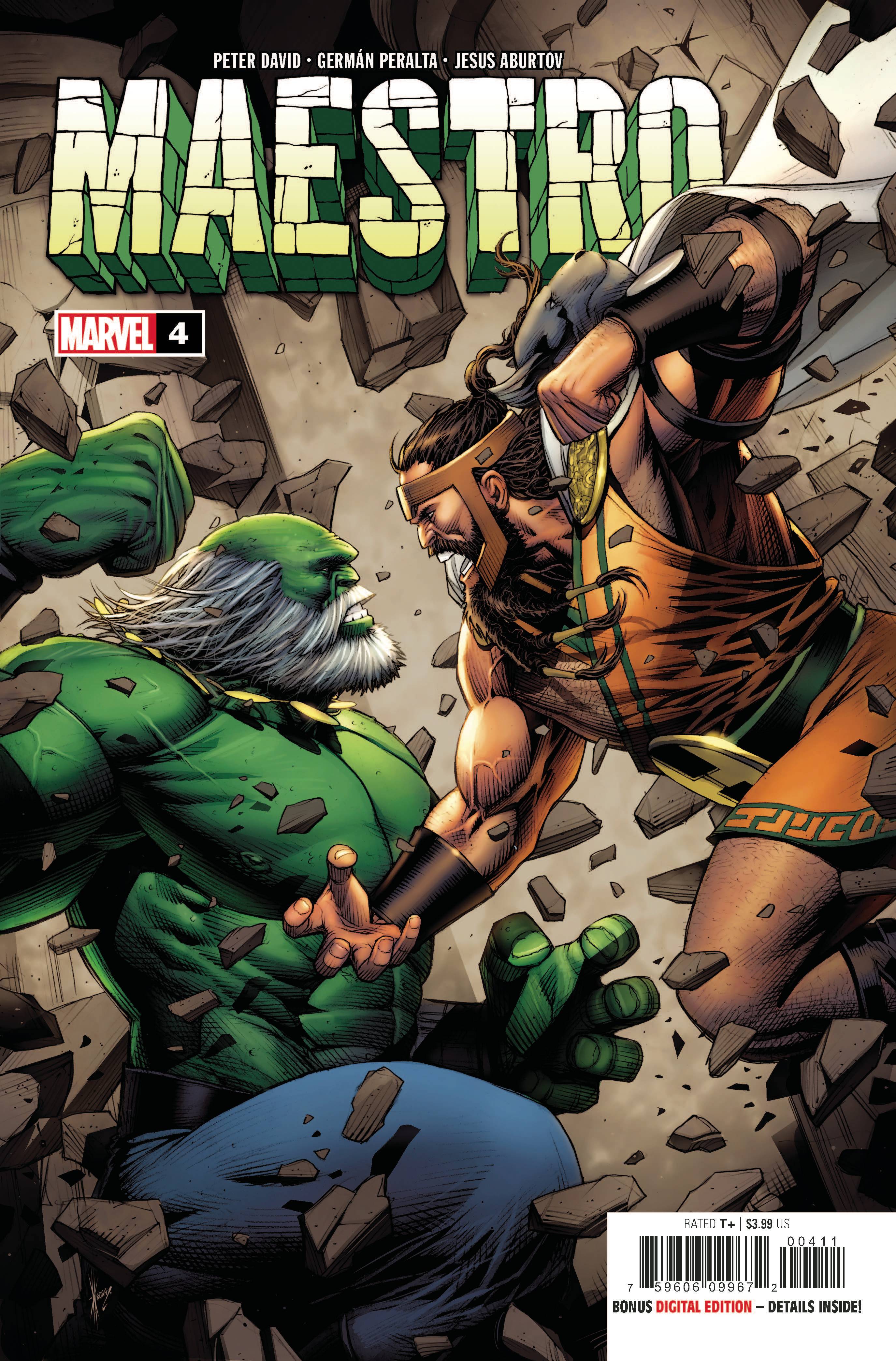 (W) Peter David (A) German Peralta (CA) Dale Keown
GIVE ME YOUR BEST APOCALYPSE!
The Hulk's enemy -- Hercules?! -- gets the upper hand, but not for long. Rick Jones attempts to intervene...but it's no longer clear whose side he should be on. Don't miss a pivotal moment as the Maestro's plans fall into place! Can the being we know as the Hulk survive? Does he want to?
32 PGS./Rated T+
In Shops: Nov 25, 2020
SRP: $3.99
MARVEL PREVIEWS Page #53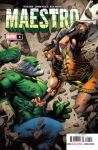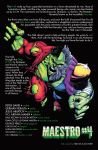 Click to View

MARVEL COMICS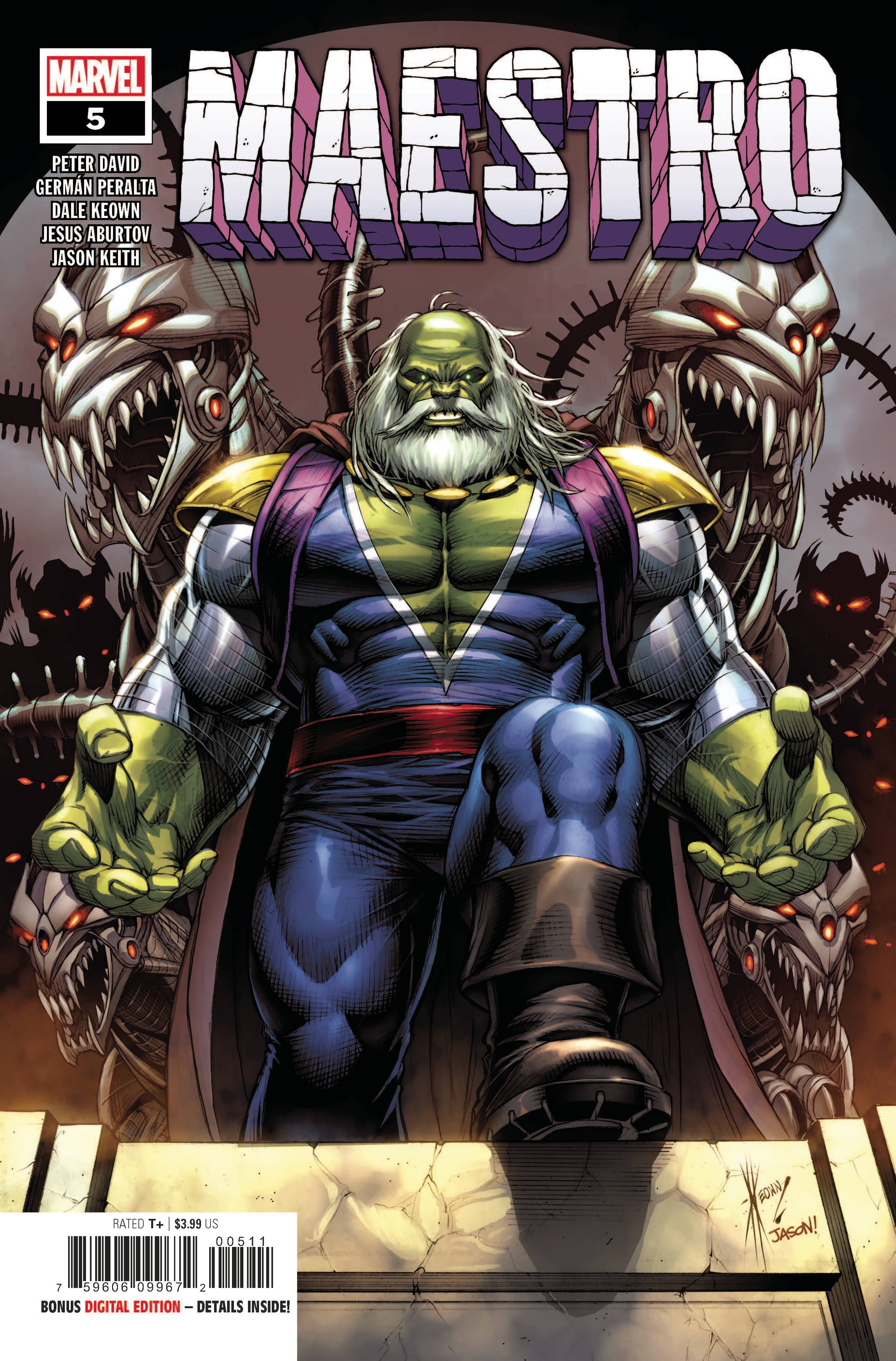 (W) Peter David (A) German Peralta (A/CA) Dale Keown
THE FINAL NOTE IN A SYMPHONY YEARS IN THE MAKING!
The Hulk is dead - long live the Maestro! But this is no good night lullaby. It's nonstop action in Peter David fashion as the secrets behind Future Imperfect finally come to light!
Rated T+
In Shops: Dec 23, 2020
SRP: $3.99
MARVEL PREVIEWS Page #60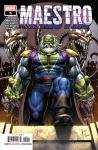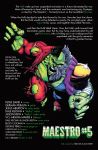 Click to View

MARVEL COMICS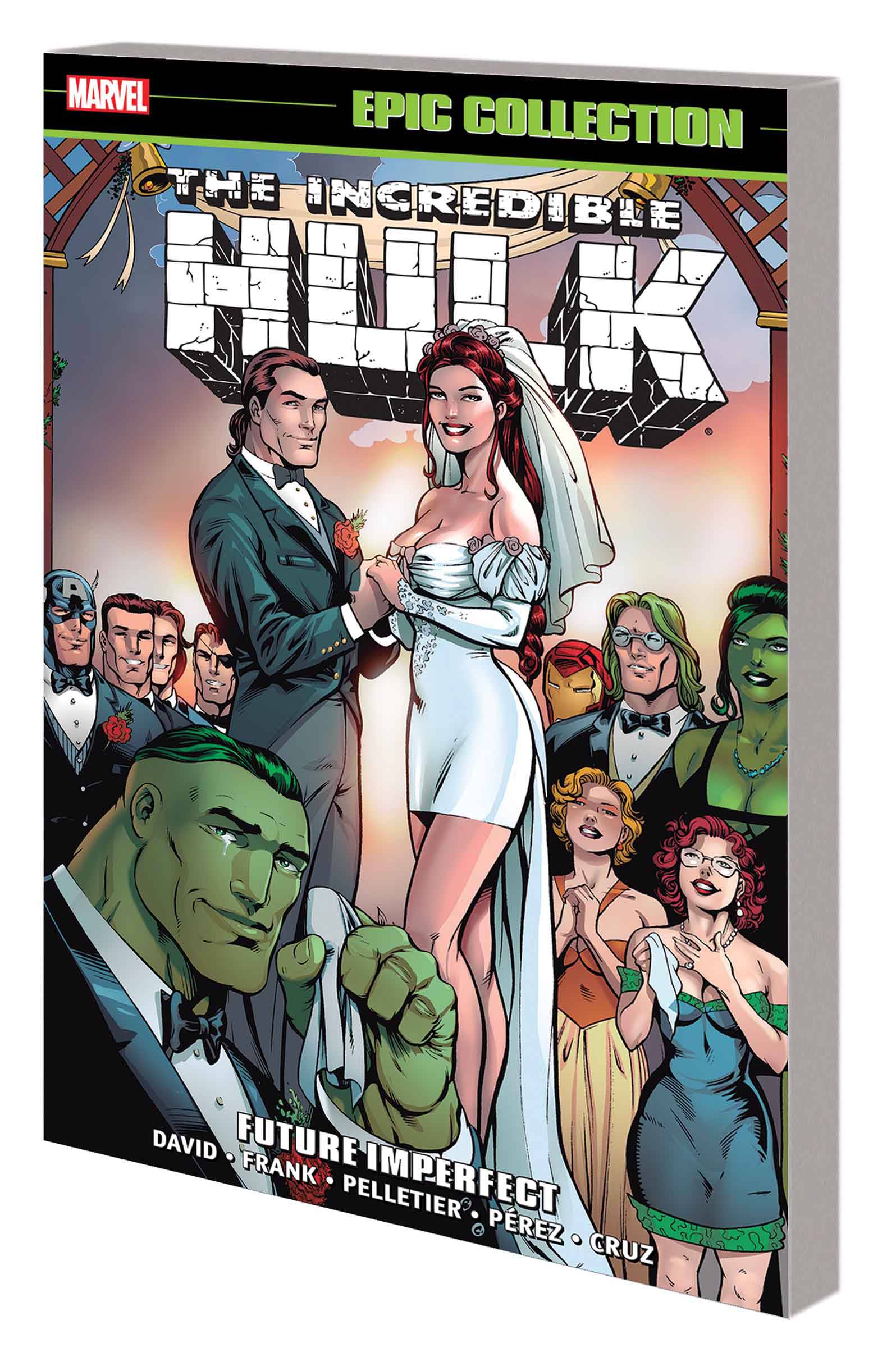 (W) Peter David, Various (A) Various (CA) Gary Frank
Witness the Incredible Hulk's terrifying future! Could our hero truly be destined to rule a ravaged world with a gamma fist as the despotic Maestro?! Or can a time-torn Bruce Banner change his own nightmarish fate? One of the greatest Hulk tales ever told fully earns its Epic status! Plus: more adventures with Bruce, Rick Jones and the Pantheon! A monster at Loch Ness - but not the one Hulk went looking for! A showdown with Nick Fury! A royal rumble with Madman! Hulk and She-Hulk double-team the Bi-Beast! Silver Surfer and the Starjammers join the intergalactic Troyjan War! And Rick is getting married...if he can survive his bachelor party! Collecting INCREDIBLE HULK (1968) #407-419 and ANNUAL #20, HULK: FUTURE IMPERFECT #1-2, INCREDIBLE HULK ASHCAN EDITION, and material from MARVEL HOLIDAY SPECIAL #3.
Rated T
In Shops: Jan 04, 2017
SRP: $39.99
MARVEL PREVIEWS Page #135
Troy-Jeffrey Allen is the producer and co-host of PREVIEWSworld Weekly. His comic book works include BAMN, Fight of the Century, the Harvey Award nominated District Comics, and the Ringo Awards nominated Magic Bullet.
\