BHM Spotlight: An Interview With YouNeek's Roye Okupe
Feb 07, 2018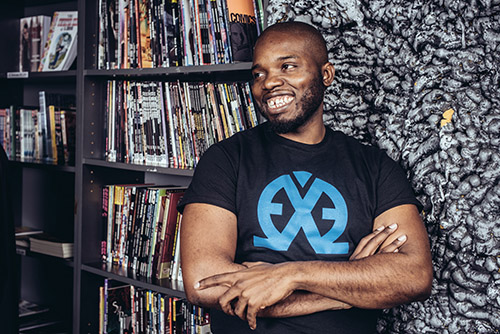 by Troy-Jeffrey Allen
In celebration of Black History Month, PREVIEWSworld asked multiple creators within the comics industry to talk about their personal history with Black History Month and their personal history with comics. In our next installment in this series, we talk with Roye Okupe, the CEO of YouNeek Studios. The company behind Malika: Warrior Queen and E.X.O. The Legend of Wale Williams!
Give us the rundown on a recent comics project you're excited to be a part of.
Honestly, it'll have to be the Malika series which I'm writer/creator of. I know, I know, shameless plug. Lol. But this book is nothing like you've seen before. Malika is a historical fantasy epic that is set in 15-century, pre-colonial West Africa. Specifically, around the area that is Nigeria right now. The story follows the exploits of Queen and military commander Malika, who struggles to keep the peace in her ever-expanding empire. And expansion would not come without its costs. Enemies begin to rise within her council, and Azzaz grabbed the attention of one of the most feared superpowers the world has ever known: the Ming Dynasty. As Malika fights to win the clandestine war within the walls of her empire, she must now turn her attention to an indomitable and treacherous foe with plans to vanquish her entire people. From dragons to mythical relics, a feuding royal family, and magical swords, this book turns the fantasy genre on its head by placing familiar concepts in an awe-inspiring African setting. This is something you rarely get to see in comics and why Malika has become a fan favorite amongst readers so quickly. Malika - Warrior Queen Part One is available for order right now, Part Two comes out this May. But you can grab the free one-shot tie-in story: Malika - CREED and Fury during Free Comic Book Day Saturday, May 5th.
When did you become interested in comics?
I actually got into comics via animation. Saturday morning cartoons were my thing growing up. I loved shows like Justice League The Animated Series, X-Men, Spiderman, Static Shock, etc. I grew up thinking it would be cool to create my own superhero animated movie. When I eventually became an adult, I decided it was time to chase my lifelong dream. However, animation proved too expensive, so I looked for a more affordable medium to begin telling my stories. And that's how I got into comics. I started reading old/current books, doing research and preparing myself. Once I felt I was ready, I launched a Kickstarter for my first Graphic Novel: E.X.O. – The Legend of Wale Williams Part One. The Kickstarter was successful, and the book was featured on CNN, Forbes, The New York Times, The Washington Post and BBC within a year. It was then I knew I had something. Three successful Kickstarter later, I'm proud to say YouNeek Studios and The YouNeek YouNiverse is here to stay!
How was Black History Month introduced to you growing up?
I was born in Lagos, Nigeria. So to be honest, I wasn't even aware of Black History month until I moved to the United States in 2002. As I got to learn about the history of the United States, it became clear to me how much of an importance Black History and Black History Month was/is. And being born and raised in Nigeria, Black History for me extends even further. It goes back to the time's people like Queen Amina of Zazzau, Queen Nzinga, Mansa Musa, Sonni Ali, Timbuktu, The Mali Empire, The Songhai Empire, The Oyo Kingdom, Timbuktu and so many other great kings, queens, heroes, kingdoms, and empires in the amazing history Africa! It's one of the reasons why I founded YouNeek Studios. To be able to create characters, heroes, worlds, and fantasy inspired by African History and lore.
Does that line up with your take on Black History Month in 2018?
Yes, it does. Absolutely.
If you could work on any comic next, what would it be?
I'll try not to be biased here and pick my own characters, lol. I'd have to say Black Panther. For two reasons. 1. He's one of my favorite superheroes. 2. Won't it be interesting and awesome to have a Black Panther Comic, written by a comic book writer who was born and raised in Africa? Hope the powers that be are reading.
What comics are you reading right now?
The irony is I started reading less and less comics the more I got into actually making comics. I just don't have as much time. But I read a lot of indie stuff mostly. Is'Nana The Were Spider by Greg Anderson-Elysee. I love ANYTHING Catalyst Prime (Lion Forge). Especially Noble. reading that as well. Mainstream stuff: Injustice and Saga.
Why Black History Month?
Because it's a time to reflect and appreciate all those who fought for me and millions of other people to have the freedom to do the many things they themselves had no opportunity/rights to do.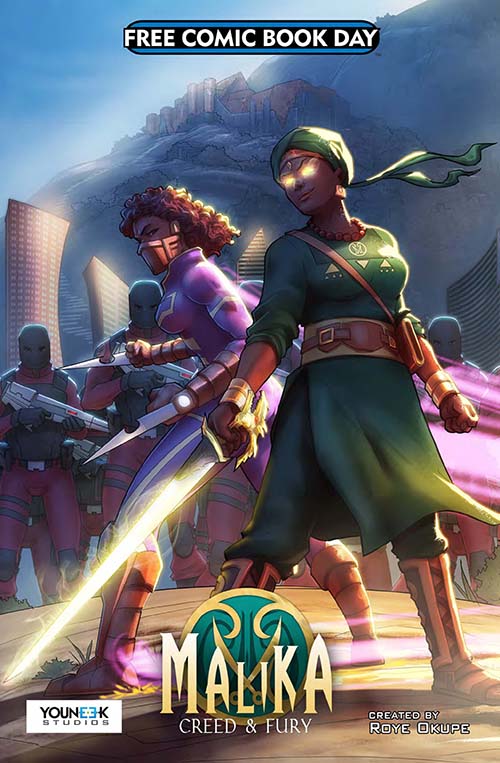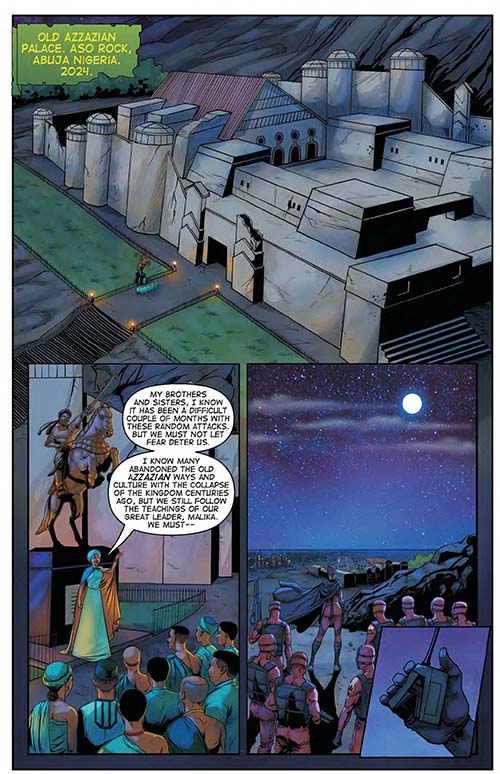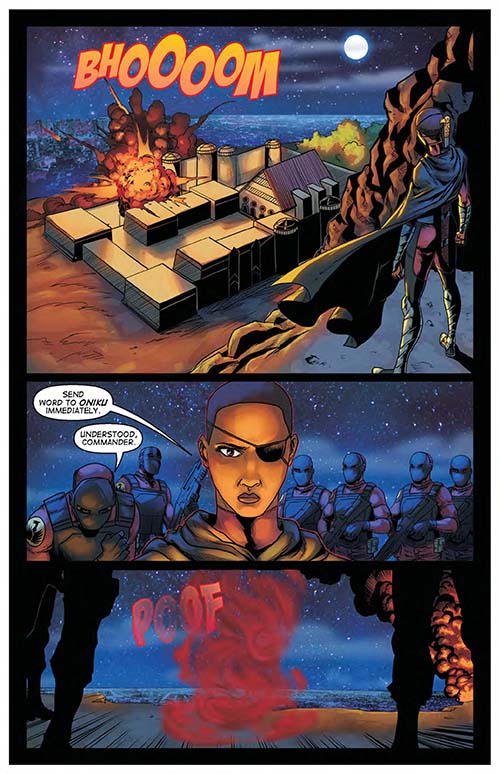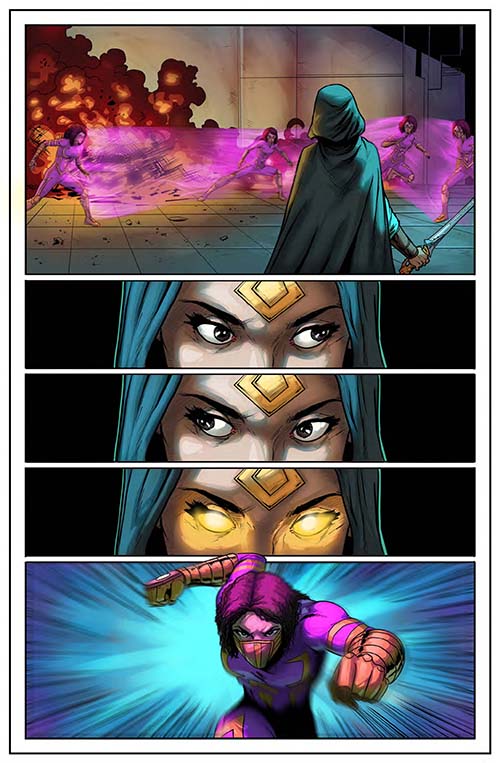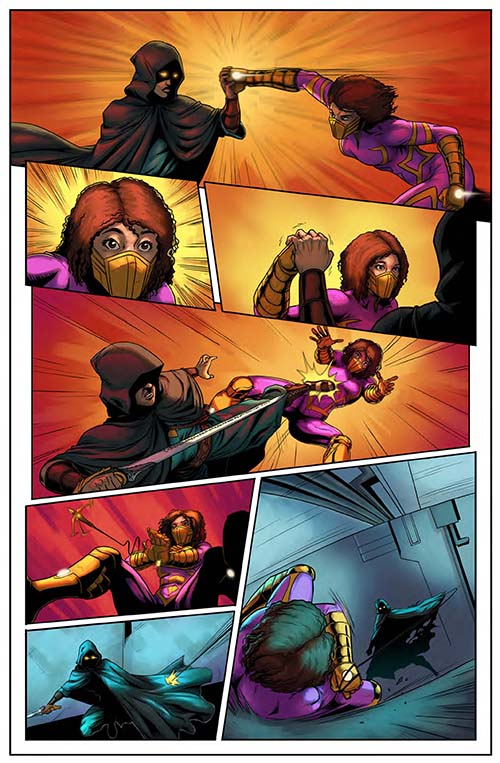 ****
Troy-Jeffrey Allen is the Consumer Marketing Digital editor for PREVIEWSworld.com and the DCD family of sites. His comics work includes BAMN, Fight of the Century, and the Harvey Award-nominated District Comics.