Interview: The All-New, All-Different, and Truly Savage...Avengers!
May 17, 2022
Interview by Troy-Jeffrey Allen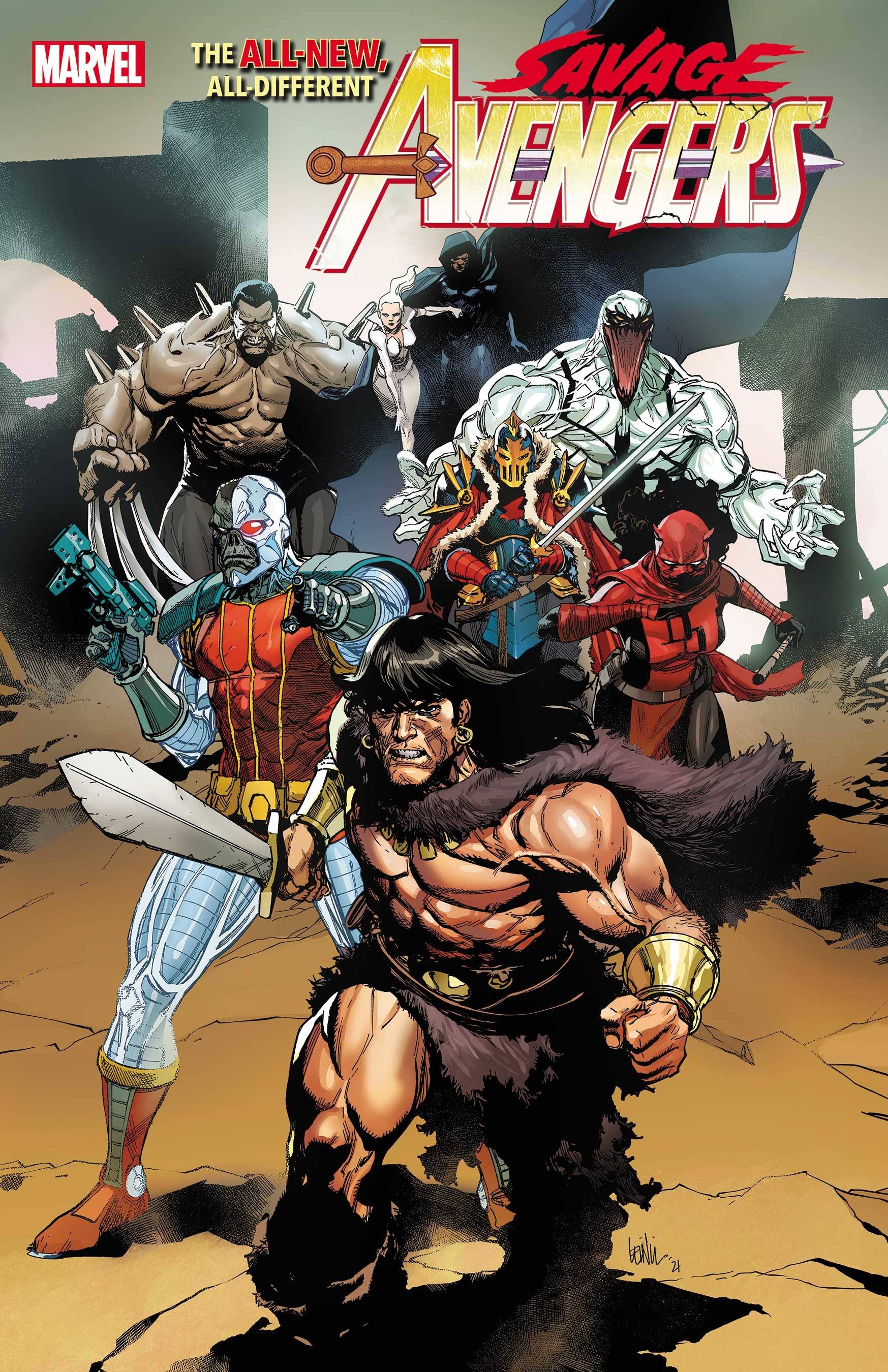 PARENTAL ADVISORY! This isn't just the Avengers...this is the SAVAGE Avengers! "AN ALL-NEW, ALL-DIFFERENT" and undeniably ALL-DANGEROUS!
Arriving this May, Marvel's Savage Avengers #1 picks back up with the time/universe displaced Conan the Barbarian after he's vanquished the most dangerous foes Marvel could throw at him. But in this shared universe, every action has a reaction, and now the cybernetic soldier of the future known as Deathlok is on Conan's tail.
PREVIEWSworld hung out with writer David Pepose to find out why the Cimmerian may have bitten off more than he can chew this go-round.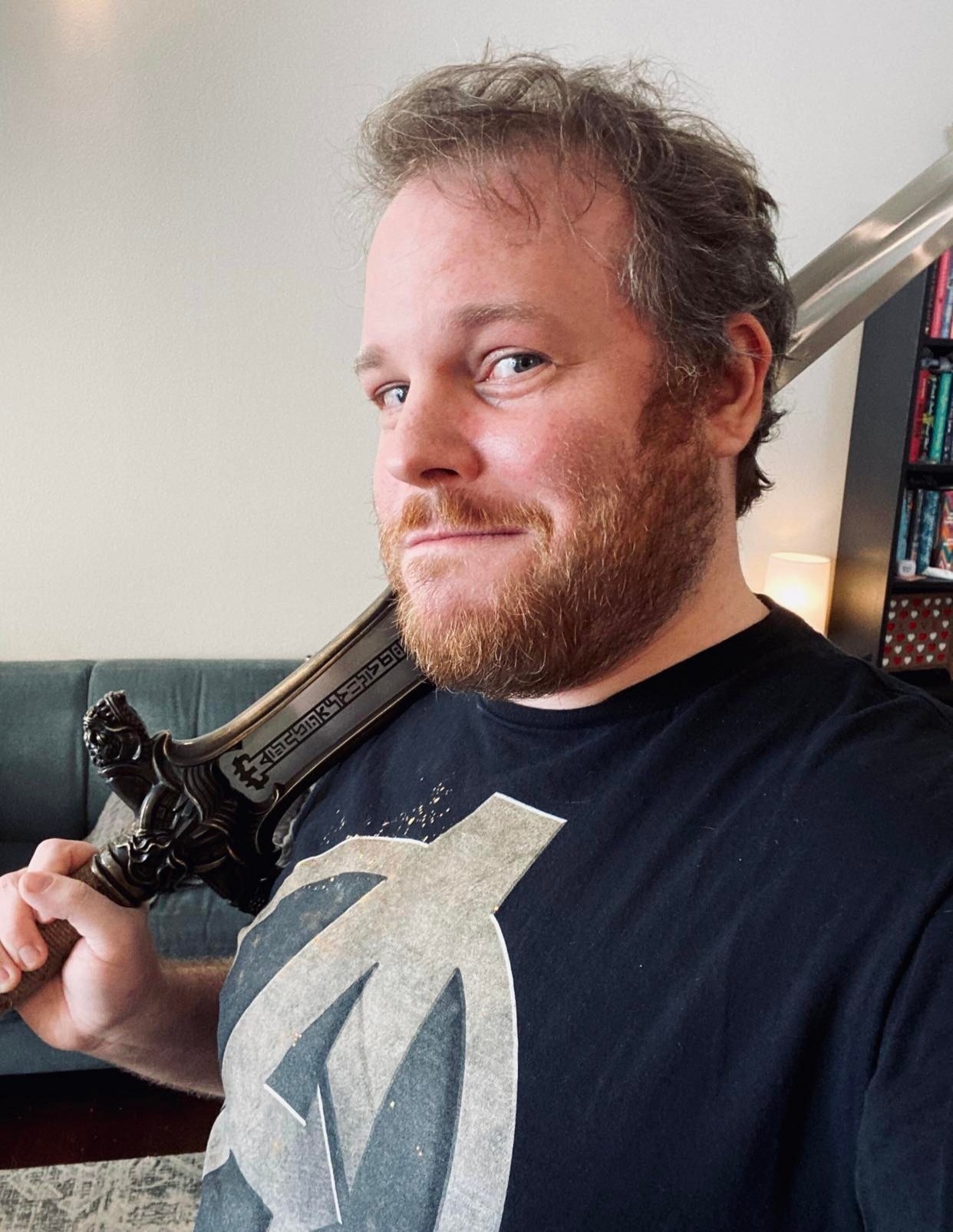 PREVIEWSworld: For the uninitiated, what is Savage Avengers?
David Pepose: Savage Avengers follows Conan the Barbarian on his adventures across the mainstream Marvel Universe. When last we saw Conan, our time-stranded barbarian was teaming up with a rotating cast of modern Marvel heroes and villains — and now in our relaunched series, Conan's finally paying the piper, as he finds himself in the crosshairs of the deadly cyborg Deathlok.
With an unstoppable force meeting an immovable object, Conan and Deathlok's conflict is going to spill over into the real world in some very unexpected ways… and an all-new team of Savage Avengers will assemble to step into the crossfire. Of course, not everything is going to go as planned, and so Conan and the Savage Avengers are going to have to rely on one another if they hope to survive Deathlok's rampage.
Honestly, this is kind of my dream book to write — mashing up sci-fi and fantasy, while getting to tackle a sword-and-sorcery icon and play him off such an incredible cast, all in a wild adventure that cranks the dial past 11? I couldn't be more excited to be relaunching Savage Avengers, and I think this adventure is going to be such a fun entry point for anyone interested in this series.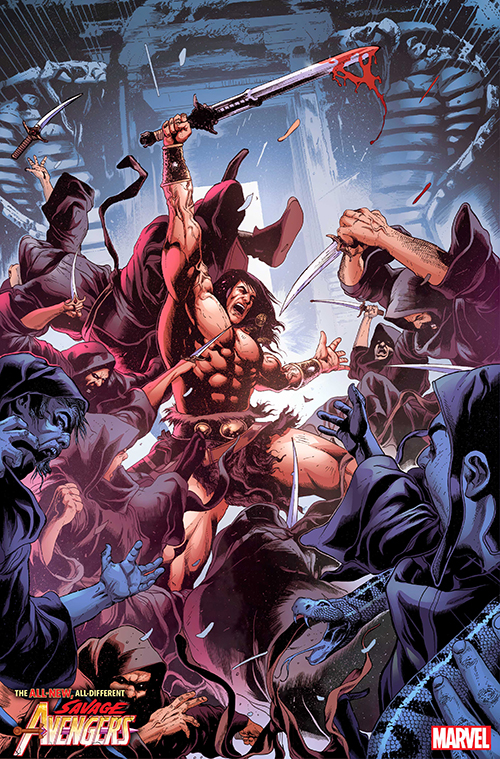 This is your first Marvel book. What's it like seeing the Carlos Magno art come in…and it's Elektra and Cloak and Dagger, etc.?
Get to know Carlos Magno's name now, because he's the next great Marvel superstar. I can't say enough great things about working with him — Carlos has a style that evokes both Bryan Hitch and Phil Jiminez in the broad strokes, but it comes together in a way that's so distinctly his own. Carlos is also a Conan super-fan, and seeing the way he's portrayed our legendary Cimmerian is just absolutely jaw-dropping — Conan versus Deathlok is an absolute clash of the titans, and Carlos makes these two characters feel so powerful and unstoppable together.
But something that I think is just as cool is seeing the way that Carlos has realized some of the other members of our cast. In particular, I think Carlos' take on Cloak might be one of the best the character has ever looked — Ty's powers give him this larger-than-life presence, and I think I nearly fell out of my chair when I saw Carlos' first page with him. Anti-Venom is another standout, particularly when Flash goes a little feral — the original Anti-Venom design was rooted so deeply in John Romita, Jr.'s style, and seeing how Carlos has reinterpreted that within his own sensibilities is just deeply impressive. Honestly, "impressive" is the best word to describe Carlos in general.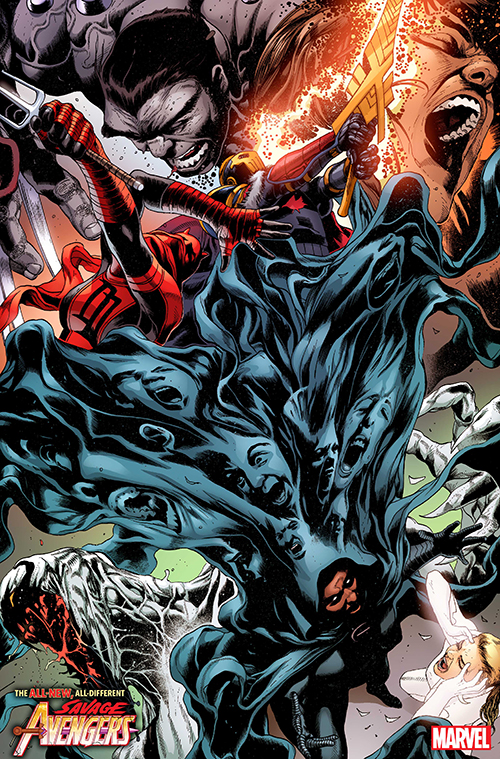 Conan the Barbarian is kind of the focal point of these books in some way. Where is Conan at this point?
Absolutely, Conan is definitely the fulcrum of this adventure. He's been operating in the modern Marvel Universe for a little while now, having been brought to our present during Avengers: No Road Home — but after his time-traveling adventures with Kang in Gerry Duggan's superlative previous run on our series, Conan's finding himself grappling with the direction of his life. When you're inundated with the ambiguities and absurdities of our world, Conan finds himself longing for the directness and realness of the Hyborian Age — but he's going to find out very quickly that you can't go home again, as Conan finds himself quickly on the backfoot when Deathlok arrives.
Writing Conan is such an incredible honor, and he's such a fun character to have headline this team — Conan's personality is just so striking and immediately apparent, and it's been really cool to see which characters he really clicks with in terms of his values, and which characters he has friction with because of the wide gulf in how they operate. But he's also just a stone-cold badass, and I'm having a blast putting Conan through his paces and giving him the opportunity to really cut loose!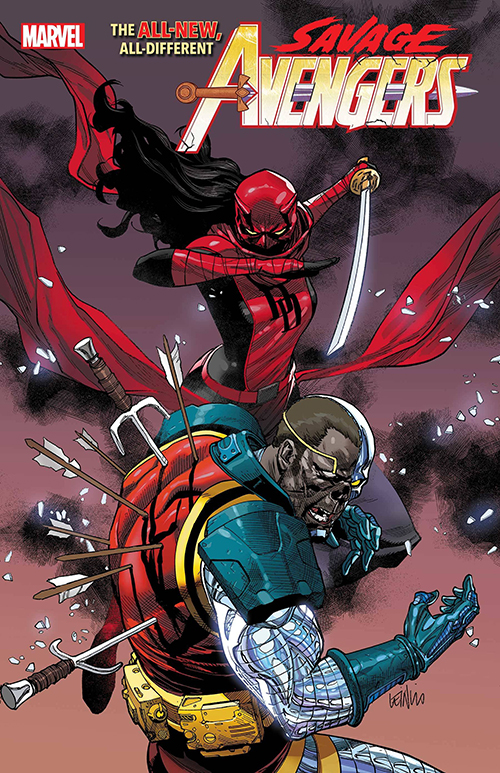 And Deathlok is the bad guy here?
Deathlok is a cyborg on a deadly mission — namely, that Conan has been charged with crimes against the timestream, and it's his directive to erase those crimes by any means necessary. Just as Conan is the fulcrum of our story, Deathlok is the other key component here — I envision their conflict as almost like Conan versus the Terminator, a sword-and-sorcery-infused take on a classic sci-fi scenario. It puts our characters at insurmountable odds — Conan wants to live, but Deathlok believes that Conan's survival could jeopardize eternity as we know it. It's like Shakespeare, only with added plasma cannons! (Laughs)
I've wanted to write Deathlok for ages — I actually pitched my editor Tom Brevoort on the character years ago, so when I got the opportunity to tackle Savage Avengers, I knew this merciless machine would be the perfect antagonist to the mountain of muscle that is Conan the Barbarian. But having the opportunity to really construct an all-new Deathlok from scratch was such an exciting experience — we wanted to make sure our Deathlok could take down an entire crew of superheroes, and in so doing, we've given him a really cool suite of weapons and abilities that will give our squad a run for their money. But there are also layers to Deathlok's mission we'll reveal as our series progresses, and some of my favorite moments to date is when we see how deep the rabbit hole truly goes.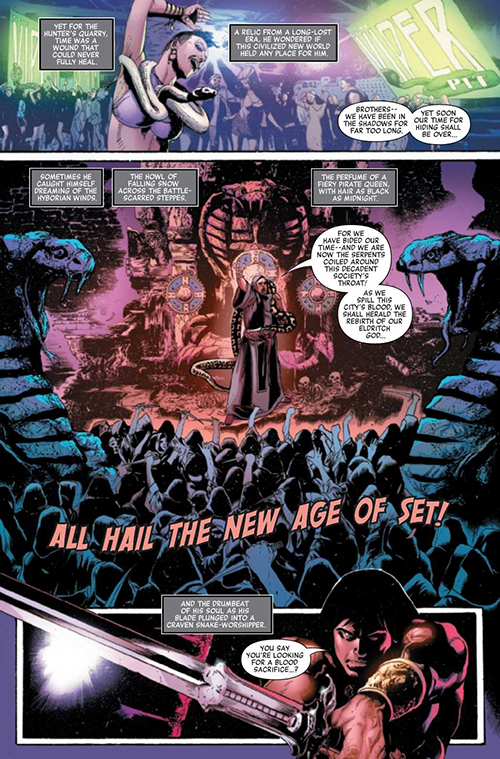 What other characters can readers expect to see?
We've got a pretty stacked roster on the Savage Avengers, as an unlikely team of heroes come together in the heat of the moment to try to help Conan survive Deathlok's assault. We've got original Savage Avenger Elektra Natchios returning as the all-new Daredevil, tag-teaming with her former Thunderbolts colleague Flash Thompson, who's recently come back from the dead as Anti-Venom. And fresh off his recent brush with movie stardom in the Eternals movie, Dane Whitman returns as the Black Knight, which gives this squad a veteran Avengers presence.
And we've got some wild cards in the mix as well — I'm so thrilled to finally make Cloak and Dagger the Avengers they've always deserved to be, and we're going to see Ty and Tandy step up to the plate in some big and important ways. Plus, the team will be rounded out by Clay Cortez, the gamma-powered, adamantium-enhanced Weapon H — I thought a character that evoked two of Marvel's most savage superheroes deserved a spot on our roster, and if you think Clay's connections to Wolverine and Hulk were cool, wait till you see the things he learns about himself in our series.
We've got a real Cap's Kooky Quartet energy to our squad, and I'm excited for readers to see that there's a reason why I picked each and every one of them. Together, the Savage Avengers roster has such a fun dynamic, and we're going to see these characters play off each other in some really cool and exciting ways — but keep your eyes peeled. While I've written this roster as a permanent lineup, you might see some interesting characters appear from both the mainstream Marvel Universe as well as the Hyborian Age…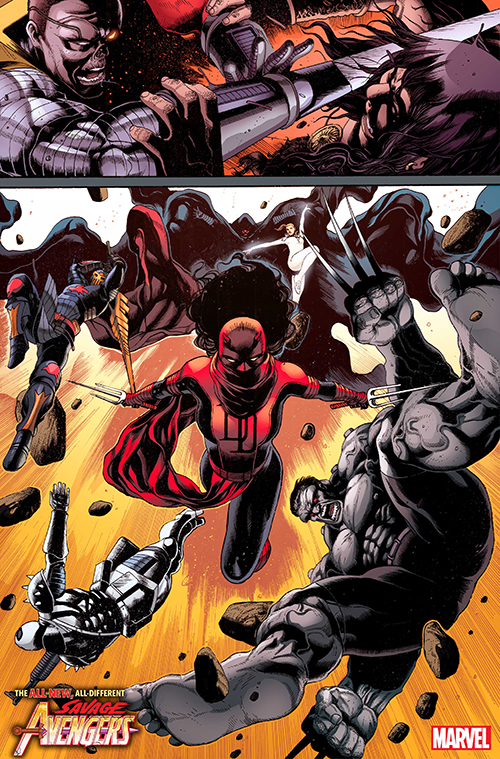 In terms of audience, who is this book for?
We're looking to cover a widespread with Savage Avengers — if you're a fan of fantasy and sci-fi mingling together, you're gonna love this book. If you're a fan of Conan and want to see him in a fight unlike anything he's ever faced before, you're gonna love this adventure. If you're a fan of Marvel Universe team books like Mighty Avengers or Uncanny X-Force, and you want to witness first-hand the kind of potential our fan-favorite characters possess, you're gonna love Savage Avengers. If you've ever read any of the genre-splicing, pop culture-subverting work I've done in the past with Scout's Honor or Spencer & Locke, you're gonna love this book.
Ultimately, this is a rip-roaring adventure story that is aiming for a grand slam with every issue, and I think we're absolutely going to deliver — I've wanted to write a Marvel superhero team book for 20 years, and I feel like this is the kind of series I was born to write. Between Carlos Magno's showstopping artwork, a cast of exciting and eclectic characters, an action-packed adventure that spans eternity itself, and some good old-fashioned Atlantean steel, Savage Avengers is a book you're not going to want to miss.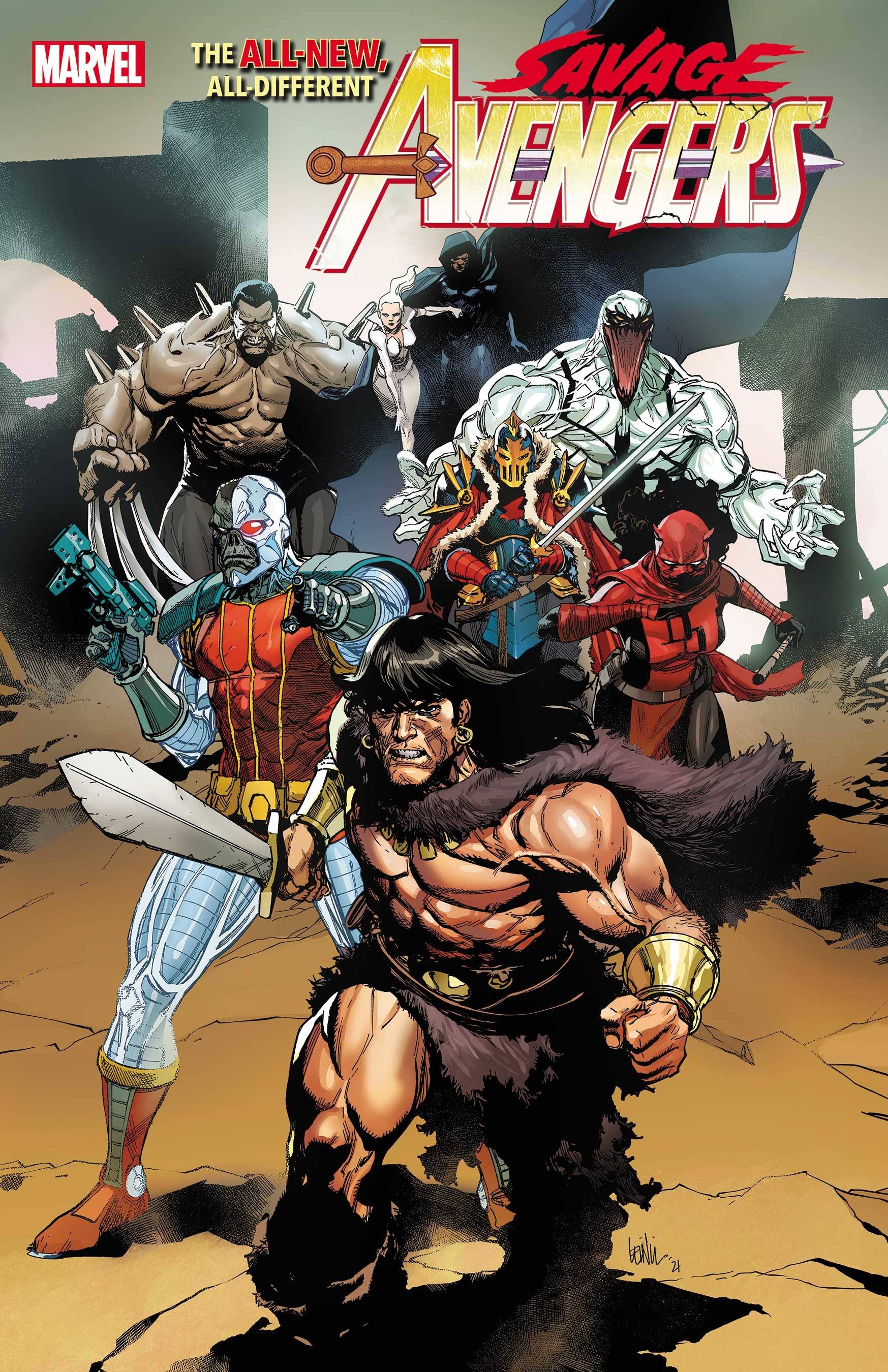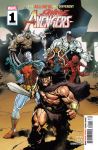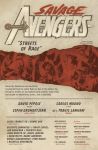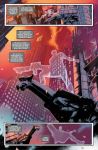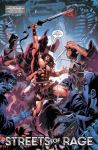 Click to View

Savage Avengers (MAR220890) is available on May 18th at comic shops. Reserve your copy today using PREVIEWSworld Pullbox!
Troy-Jeffrey Allen is the producer and co-host of PREVIEWSworld Weekly. His comics work includes MF DOOM: All Caps, Public Enemy's Apocalpyse '91, Fight of the Century, the Harvey Award-nominated District Comics, and the Ringo Award-nominated Magic Bullet.