Flashback Friday: The Sharp & Poisonous Diamondback
Dec 03, 2021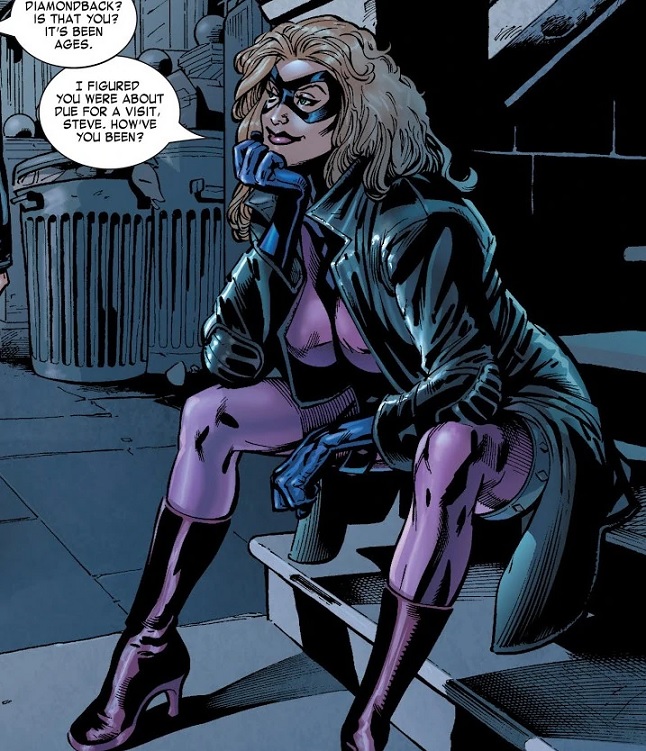 Rachel Leighton, aka Diamondback, was originally a villain who was part of the Serpent Society. Mark Gruenwald and Paul Neary introduced her in Captain America #310 (October 1985) as an Austin, Texas native who worked at a boutique before she became a mercenary.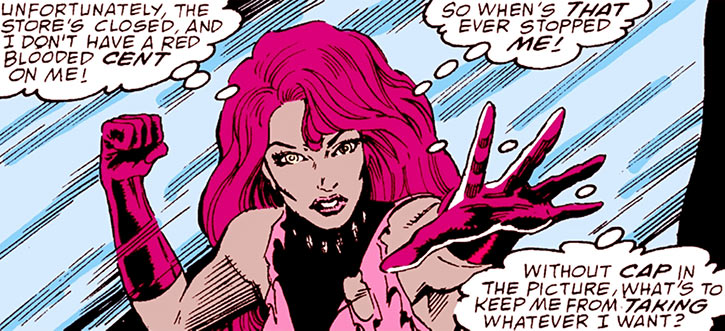 Her brother introduced her to the criminal Trapster who provided her with weapons. Anaconda trained her at Taskmaster's academy where she honed her skills in hand-to-hand combat. In addition to her fighting ability, she threw acid-laced and poison-tipped diamonds, earning her the nickname Diamondback.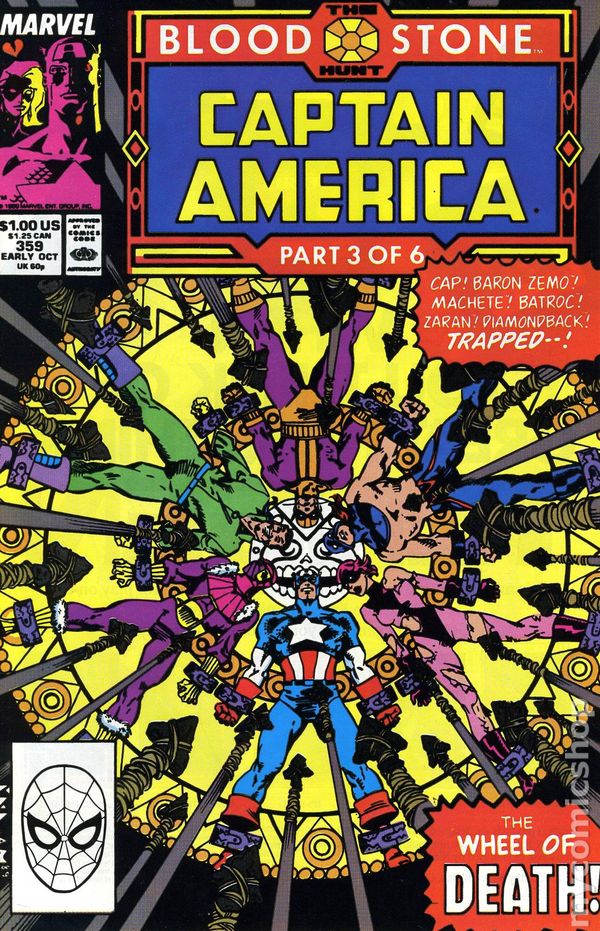 The first time she met Captain America, she developed a crush on the superhero. She had been tasked with capturing him for the Porcupine, but was distracted and failed her mission. The pair would eventually date when Diamondback was on less of a supervillain path.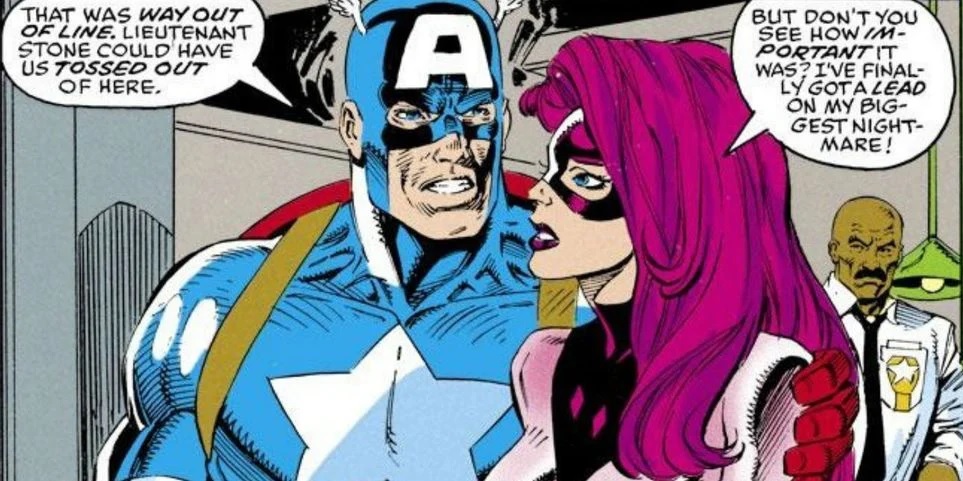 Turmoil in the Serpent Society led Viper to plan a takeover of the criminal enterprise. She set up some of her followers as new members until there was enough to overthrow the group and oust the current leader, Sidewinder. Diamondback and Sidewinder were able to escape Viper and her team by seeking help from Captain America's allies. The battle ended with Viper's defeat, though Sidewinder left anyways. Diamondback stayed in the Serpent Society under the new leader, Cobra.
MARVEL COMICS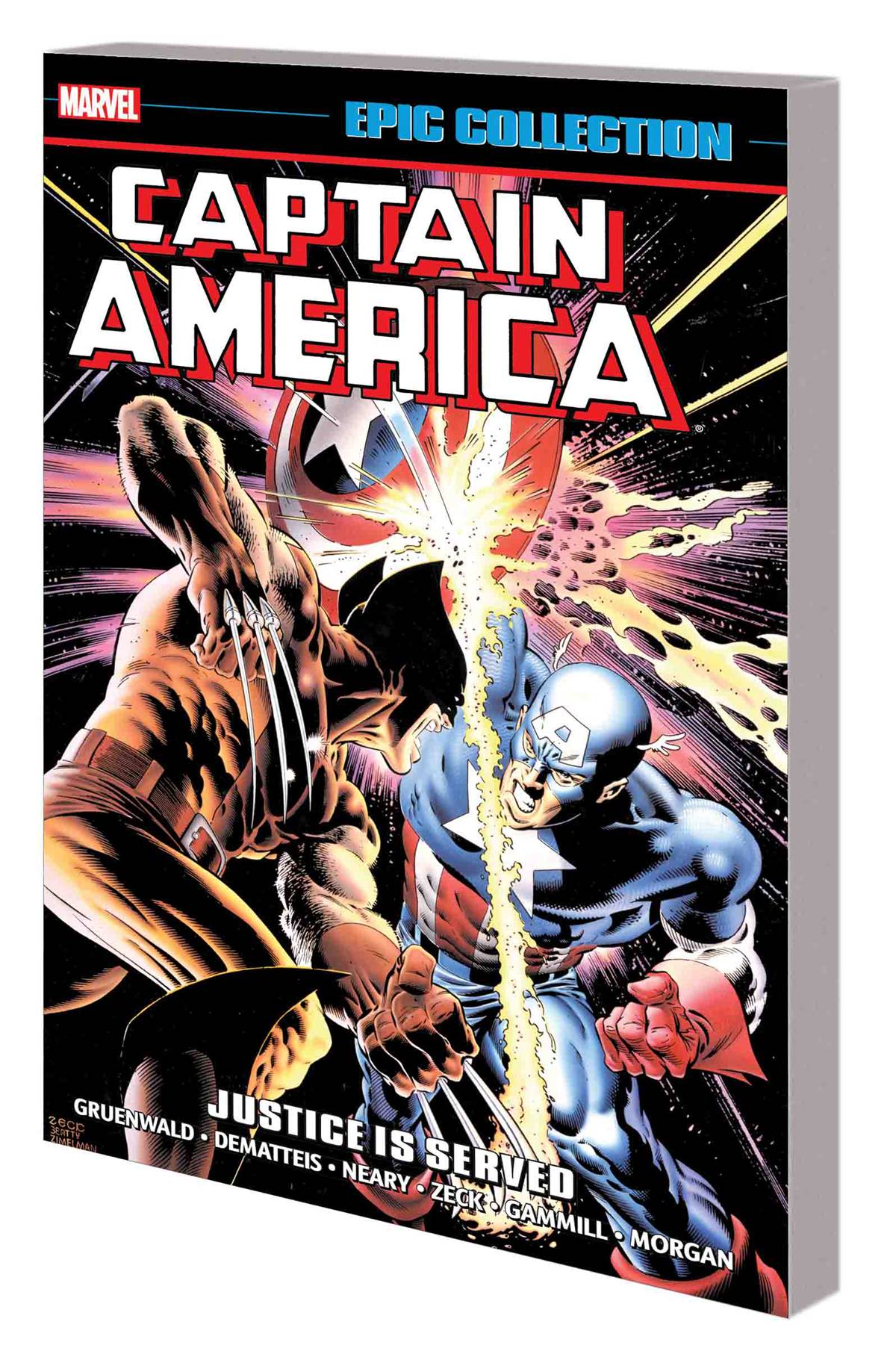 (W) Various (A) Various (CA) Mike Zeck
Cap faces a Scourge on the Marvel Universe! A super villain serial killer is on the loose, marking every death with an enigmatic epitaph: "Justice is served!" As the bodies pile up, can the Living Legend take down this Scourge of the Underworld before there are no more criminals left to fight? And as if Scourge wasn't enough, there's Blue Streak, Flag-Smasher and the Slug to contend with! Other heroes can be just as much trouble - like enthusiastic D-Man, savage Wolverine and misguided Super-Patriot! But the government itself might strike the final blow! Between friends, foes and ghosts from his past - by the end of this story, Steve Rogers will be Captain America no more! Collecting CAPTAIN AMERICA (1968) #318-332 and ANNUAL #8, AMAZING SPIDER-MAN (1963) #278, material from MARVEL FANFARE (1982) #29 and #31-32, and more.
Rated T
In Shops: Apr 05, 2017
SRP: $39.99
MARVEL PREVIEWS Page #127
MARVEL COMICS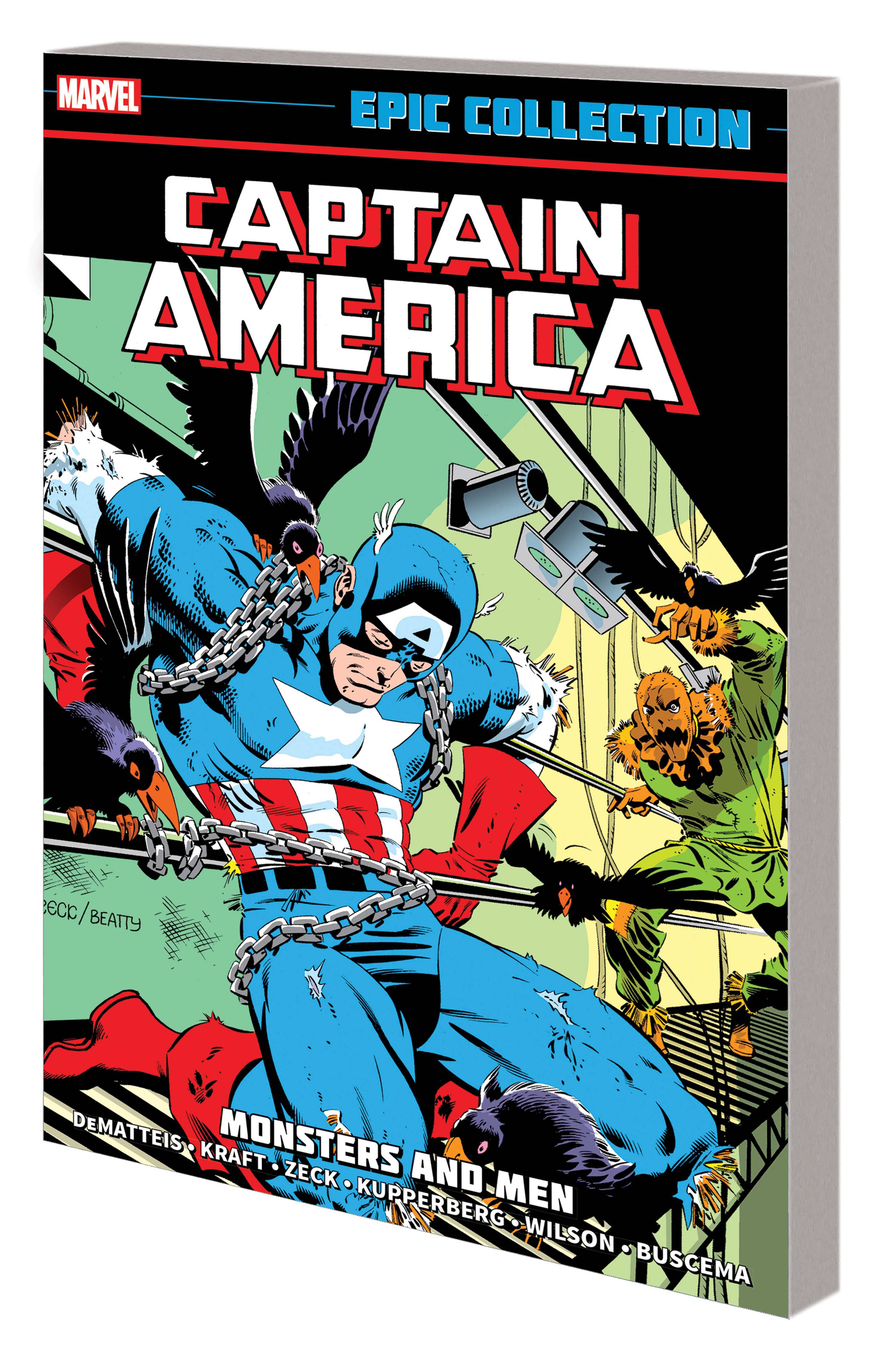 (W) J.M. Dematteis, More (A) More (A/CA) Mike Zeck
The son of Zemo! Baron Helmut Zemo has taken up his father's villainous mantle - and targeted Captain America in a complex plan of revenge! As Cap battles the existential threat of Everyman, Steve Rogers' childhood friend Arnie Roth resurfaces - but he's in deadly danger! Vermin strikes and Zemo's trap is sprung, but can Cap save Arnie from Zemo's clutches? Meanwhile, when Hydra crashes a reunion of the Howling Commandos, the aging heroes go to war once again! Cap's girlfriend, Bernie Rosenthal, makes a startling realization! The Falcon struggles to reconcile his past and future! And the 1950s Bucky must rescue a brainwashed Cap from Viper's fangs! Plus: Four Captain Americas are united across time - but can even their combined power keep death at bay? Collecting CAPTAIN AMERICA (1968) #267-285 and ANNUAL #6 and DEFENDERS (1972) #106.
Rated T
In Shops: Oct 14, 2020
SRP: $39.99
MARVEL PREVIEWS Page #97
MARVEL COMICS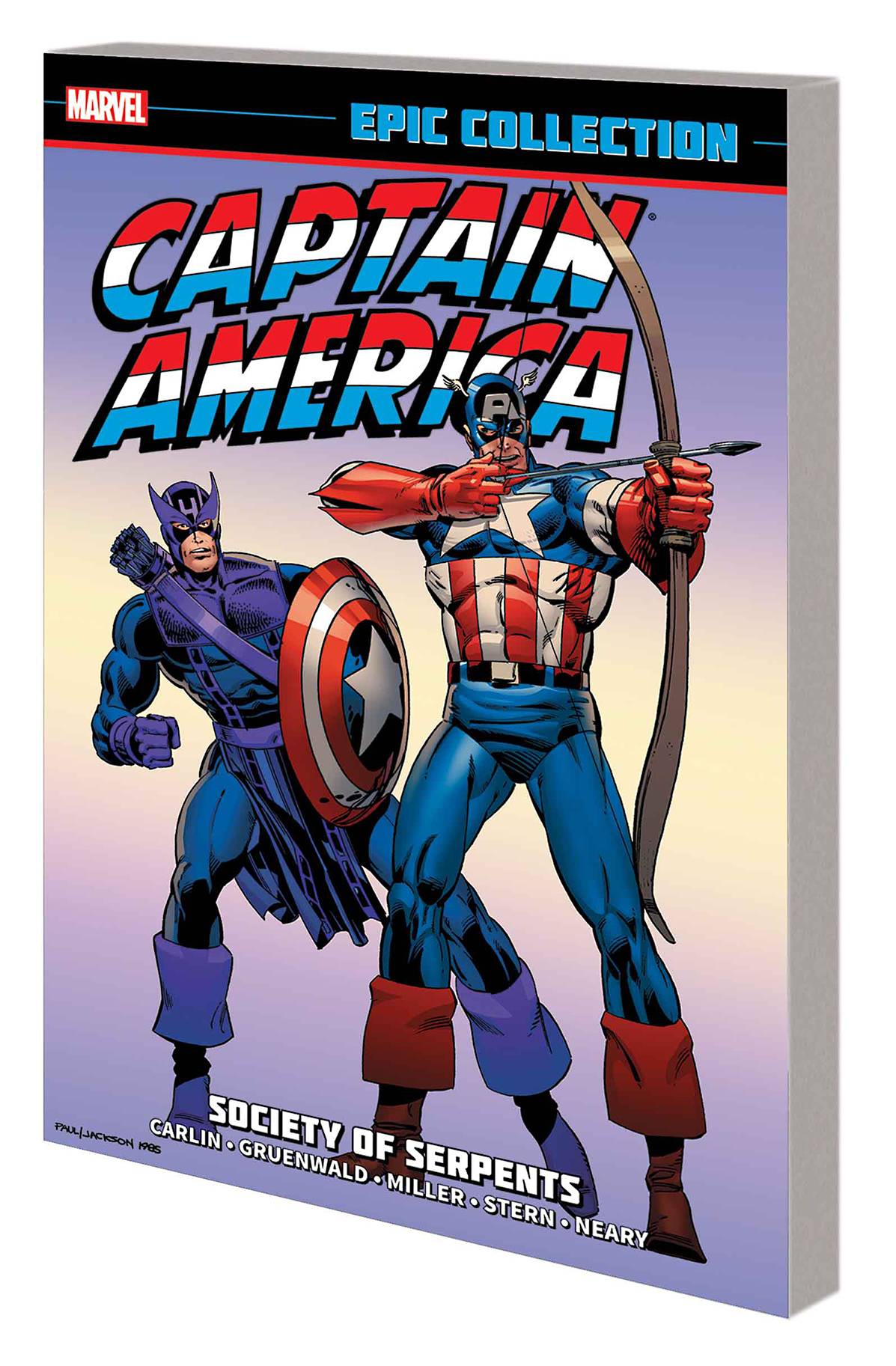 (W) Various (A) Frank Miller (A/CA) Paul Neary
Snakes. Why did it have to be snakes? Prepare for an ophidian infestation as the sinister Sidewinder assembles a slithering squadron of super villains for sale, under the sensational sobriquet of the Serpent Society! But the Sentinel of Liberty must face this new threat alone, after his partner Nomad's very sense of self is called into question during a life-changing encounter with the maniacal Madcap! The identity crisis continues when Hawkeye wields Cap's shield, the Beyonder takes his face, and Steve Rogers dons the red, white and blue of...Captain Britain?! The armored Armadillo, the Batroc Brigade and the fundamentalist Flag-Smasher all await, while Steve's personal life suffers its own share of turmoil. But he's about to find his true artistic calling - in the hallowed halls of Marvel Comics! Collecting CAPTAIN AMERICA (1968) #302-317 and material from MARVEL FANFARE (1982) #18.
In Shops: Aug 20, 2014
SRP: $34.99
MARVEL PREVIEWS Page #105
This article originally appeared in Gemstone Publishing's e-newsletter Scoop.
****
Amanda Sheriff is Gemstone Publishing's Associate Editor, serving as the writer/editor of the e-newsletter, Scoop. She is the author of The Overstreet Guide to Collecting Movie Posters, The Overstreet Guide to Collecting Concert Posters, and The Overstreet Guide to Collecting Horror, and co-author of The Overstreet Price Guide to Star Wars Collectibles and The Overstreet Price Guide to Batman.