Vampires Run Vegas in Vamp #1
Jul 22, 2019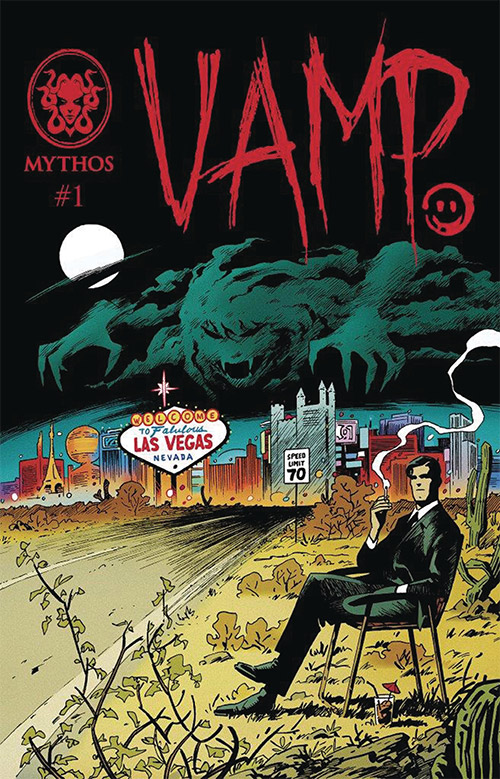 A new series where Vampires rule Sin City!

The biggest hush-hush in Vegas is that the Sanctus Hotel & Casino is run by vampires, and Julian Smith is their personal cleaner. As Head of Guest Services, he makes sure these secrets stay buried with their unluckier guests while keeping the rest of the clientele healthy, bappy, and coming back for more.
In Vamp #1, it's just another night on the job for Julian, driving his boss's girl to her next flesh gig. Things get messy when Sara decides to devour a handsy pack of frat boys. Sigh. No rest for the wicked... or their employees. It's gonna be a long night.

Vamp #1 (JUL192060) from Mythos Comics is written by Jim Eckels, with art by Emmanuel Bazin. Preorder now at your local comic shop!
---

With Mythos Comics being new to the pages of PREVIEWS, we had a chance to talk with the publisher about their company and future plans.
PREVIEWSworld: Can you quickly explain the appeal of Vamp for those who may have never heard of the series before?
Mythos Comics: We have always appreciated the appeal of high concept ideas, so "a Vegas casino run by vampires" is something that interested us right from the jump. Vamp is a darkly humorous "vampire-noir" tale with all the fang-filled fun a vampire fan looks for, but it is also an immersive story of a jaded non-vampire anti-hero named Julian who has been cleaning up vampires' messes for hundreds of years and still doesn't know what exactly he is. He is about to find out, though!
PREVIEWSworld: Tell us a little bit about your company - a brief history, where you're based, what conventions do you attend?
Mythos Comics: Mythos Comics was the result of two comic nerds who met while working on NBC's hit dating show Average Joe in Los Angeles in 2004. Bragi Schut is now a screen writer (Escape Room, Season of the Witch, Ninjago) and Lewis Fenton a non-scripted producer (Singing Bee, Tattoo Highway, Pool Kings), but they have tended their side obsession faithfully and have been turning out titles every year, exhibiting at SDCC, and waiting for the right moment to launch into the direct market.
PREVIEWSworld: Tell us more about Vamp, and the future plans for this series?
Mythos Comics: Vamp is the brainchild of Jim Eckels, a vampire obsessed writer/producer from Los Angeles. It is the first title Mythos has licensed from outside the company, but the story was just too good to pass up, and once paired with the insanely talented French artist Emmanuel Bazin, we knew we finally had the title to launch into comic shops. Vamp is a four issue series that will release quarterly, and we couldn't be more excited to share it with the world!
To learn more about Mythos Comics and Vamp follow them here:
Facebook - @MythosComics
Twitter - @MythosComix
Instagram - @vampcomic
Web - www.vampcomic.com