Staff Picks (March): Drawing Blood Spilled Ink #1
Mar 18, 2019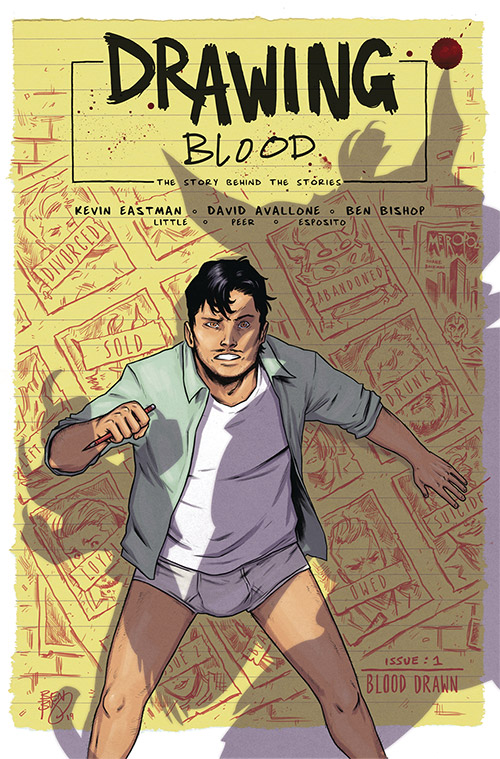 Chances are if you grew up in the 80's or 90's like me you might have a tad bit of nostalgia for a little comic called Teenage Mutant Ninja Turtles. There were comics, cartoons, movies, action figures, and videogames. For someone who grew up with that and had TMNT seared into their brain, Drawing Blood Spilled Ink #1 is a really interesting book.

Kevin Eastman, co-creator of the TMNT, calls this book a "totally fictional true story," meaning that this is a fictional take on his life after having sold the TMNT franchise. This gives the reader an interesting impression into the tone of his life following his departure from the evergreen franchise.

Now in this book the Turtles are not explicitly referenced. Instead we get the Radically Rearranged Ronin Ragdolls which are created by the fictional creator in Drawing Blood. The Ragdolls show up in Drawing Blood from panel to panel, and the really cool thing is that this month we're also getting a one shot comic featuring these characters, too. So not only are we getting a chance to see Eastman satirize his life as a creator but also his most widely recognized work.

Be sure to pick up Drawing Blood Spilled Ink #1 from Kevin Eastman Studios penned by Kevin Eastman and David Avallone and artists Ben Bishop and Troy Little this May!
— Matthew Demory
Publisher: Kevin Eastman Studios
Item Code: MAR191847
SRP: $3.99
In Comic Shops: 5/8/2019

Read an interview with Kevin Eastman about his publishing company Kevin Eastman Studios!