Bring On The Bad Guys: Unicron, Pennywise, & Skeletor
Dec 01, 2018
Egads! Another molotov cocktail that's served as a kids drink. Say it isn't so! Say we don't have to suffer the bad guys again! Yes, sad for all of those within hearing range... you will submit! Your lethal injection of mean is back with this month's rendition of "Bring on the Bad Guys," and once again we show that we don't discriminate because of race, sex, color, or creed. If you're rotten, you qualify. And there are many ways to qualify. It might be that you enjoy kicking cats. It might be that you eat people. Or...maybe it's because you're one of Satan's soldiers. In any event, we flip through the PREVIEWS catalog each month to see who needs to be called out as a deviant, and then we explain why these people … or things … or whatever they are … shouldn't be helped if you see them bleeding in the middle of the street.

Let us begin.
Transformers: Unicron TP

Some guests you just never want to invite to dinner. Especially those guests that would prefer that you're on the menu. In the case of IDW Publishing's Transformers: Unicron TP (DEC180766), Cybertron itself is the main course. Earth has been targeted for dessert! Writer John Barber and artist Alex Milne paint a story in which one asks what original sin did Optimus Prime's ancestors commit to earn this incalculable wrath? Time may run out before there's a suitable answer! Look for this book which depicts an all-out battle against extinction in the Premier Comics section of the December PREVIEWS catalog!
IT Pennywise Maquette

Swedish actor Bill Skarsgård played the cannibalistic clown in the 2017 remake of IT, and the horror world has been a scarier graveyard ever since the first theater rolled out the new and improved Penny wise. The new and improved clown monster from Stephen King's classic thriller has endeared itself to fans worldwide, particularly at comic conventions. If you weren't able to get Bill Skarsgård's autograph this past convention season, here's a door prize for you: the 13" tall IT Pennywise Maquette (AUG188896) with a gesture hand for multiple display options. Look for it in the Toys/Statues/Models section of the December PREVIEWS!
Masters Of The Universe: Skeletor 1/6 Scale Collectible Figure

Here's the creep that everyone loves to hate. The diabolical dirtbag that makes evil so much fun to watch on television. He is the Masters Of The Universe: Skeletor 1/6 Scale Collectible Figure (SEP188638), and the poster child for doing things unto others before they get the chance to do it to you first. With over 30 points of articulation, reversible fabric cape, Power Sword, Havoc Staff, Battle Axe, Sheath, Short Bone Sword, and 6 different interchangeable hands, Skeletor has everything he needss to make He-Man grovel! Look for him in the December PREVIEWS catalog!
Universal Monsters: Creature From The Black Lagoon Reaction Figure

What people took away from the movie Jaws was that you should always be scared before going into the water. Like that was something new! For your information, back when movies were made in black-and-white, there was another predator that lurked beneath the depths, and he looked someting like the Universal Monsters: Creature From The Black Lagoon Reaction Figure (SEP188584). This 3.75" action figure that features five points of articulation is a fitting tribute to the prehistoric Gill-Man that starred in the classic 1954 horror movie. A top-shelf retro collectible that harkens back to the golden age of creature features, you can find it in the December PREVIEWS catalog!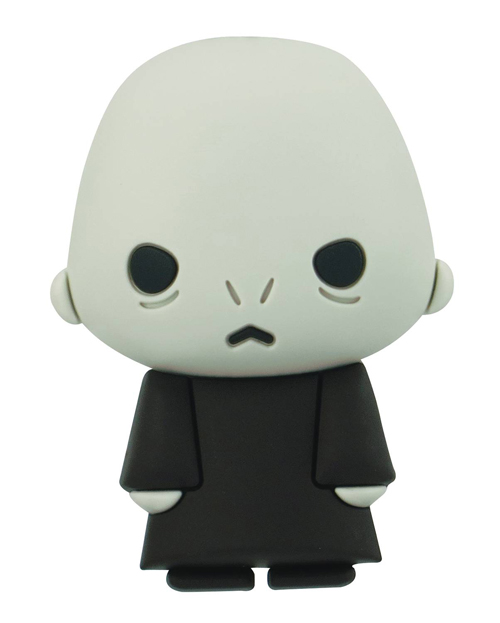 Harry Potter Voldemort 3D Foam Magnet
This is the problem with evil. It looks one way one minute, and something else the next. For instance...check out the Harry Potter Voldemort 3D Foam Magnet (AUG188534). Cute, yes? Makes you want to say "Awwwww. He's adorable." Right. You pick him up, and then he steals your soul! You fool! Do not be deceived! This is the pug-nosed cockroach that tried to kill Harry Potter. What makes you think he should be trusted to organize the bills on your refrigerator? But, hey, maybe you like psychos. In that case, hey, add a little magic to your any metal surface with this Voldemort magnet which we feature in the Collectibles & Novelties section of the December PREVIEWS!
Once again we've done our job for the month, showing you our list of unforgivable irredeemables! Go out and pick up a copy of the November PREVIEWS, and let us know your favorite villains, and who YOU want to pit against each other in a fight to the death. Hit us up on Facebook or Twitter, and let us know about your favorite bad guys.
See you next time, fellow degenerates!