PREVIEWSworld's Featured This Week Comics & Graphic Novels for 10/24
Oct 21, 2018
Every week PREVIEWSworld calls attention to those books and graphic novels which stand out from all the rest. These titles from Premier Vendors and independent publishers should be at the top of your list, and can be found at your local comic shop on October 24.
Return Of Wolverine #2
Marvel Comics
(W) Charles Soule (A) Declan Shalvey (CA) Steve McNiven
Logan is alive again - let's see if he can stay that way! Parental Advisory
Item Code: AUG180889
Price: $3.99
MARVEL PREVIEWS Page #22
In Shops 10/24/2018
The Amazing Spider-Man #8
Marvel Comics
(W) Nick Spencer (A/CA) Humberto Ramos
The heist of the century is ON! Who are the Thieves Guild of New York? Spidey might dying trying to find out.
Item Code: AUG180975
Price: $3.99
MARVEL PREVIEWS Page #49
In Shops 10/24/2018
Action Comics #1004 Foil
DC Comics
(W) Brian Michael Bendis (A) Ryan Sook (CA) Steve Rude
Superman confronts Lois Lane and wants answers: Where is Jon Kent? What happened during Lois' trip into space with Jor-El? Why didn't she contact the Man of Steel when she returned? And most importantly, does she still love him? Or is the world-famous reporter looking to let Clark Kent down easy? Lois and Clark's relationship gets redefined in this issue illustrated by acclaimed artist Ryan Sook!
Item Code: AUG180496
Price: $3.99
DC PREVIEWS Page #19
In Shops 10/24/2018
Books Of Magic #1
DC Comics/Vertigo
(W) Kat Howard (A) Tom Fowler (CA) Kai Carpenter
Timothy Hunter may be destined to become the most powerful magician in the universe, but he's still a London teenager, and having magical abilities complicates things more than it helps. It's not like he can use magic to pass his exams, stop being bullied or convince his cute friend to date him. And while Tim's trying to live his life, there are cultists who want to kill him, believing his power will eventually corrupt him into becoming a merciless mage. Mature Readers.
Item Code: AUG180456
Price: $3.99
DC PREVIEWS Page #6
In Shops 10/24/2018
Redneck #16
Image Comics
(W) Donny Cates (A/CA) Lisandro Estherren, Dee Cunniffe
Let's go to prison! What does a state penitentiary's most famous inmate have to do with the Bowman family? And what secret is Greg hiding from his dad? Mature Readers.
Item Code: AUG180273
Price: $3.99
PREVIEWS Page #89
In Shops 10/24/2018
Cold Spots #3
Image Comics
(W) Cullen Bunn (A/CA) Mark Torres
The unquiet dead gather around a crumbling island mansion, drawn to a quiet young girl who is trapped within the dreary old house. The girl's father has come to bring her home, but a sinister family with dark and murderous plans stands in his way. Mature Readers.
Item Code: AUG180213
Price: $3.99
PREVIEWS Page #73
In Shops 10/24/2018
The Whispering Dark #1
Dark Horse Comics
(W) Christofer Emgard (A/CA) Tomas Aira
An Army pilot confronts a supernatural horror in this thriller in the tradition of Lovecraft's At the Mountains of Madness and Coppola's Apocalypse Now! Hannah Vance believed her faith in God could survive anything. But when her helicopter is shot down behind enemy lines, she will fight and kill on an ever more savage battlefield, desperate for a way home. On the horizon, an evil waits for her and freedom, of a sort.
Item Code: AUG180324
Price: $3.99
PREVIEWS Page #107
In Shops 10/24/201
Star Wars Adventures: Tales From Vader's Castle #4
IDW Publishing
(W) Cavan Scott (A) Derek Charm, Robert Hack (CA) Francesco Francavilla
Tales from Vader's Castle puts a spooky spin on your favorite characters from a galaxy far, far away. This exciting weekly series explores the hidden corners of the Star Wars universe and features Rebels stars Hear, Kanan, and Chopper; Obi-Wan Kenobi and Count Dooku; Han Solo and Chewbacca; the Ewoks; and of course, Darth Vader...all under the shadow of Vader's Castle!
Item Code: AUG180690
Price: $3.99
PREVIEWS Page #139
In Shops 10/24/2018
Mars Attacks #1
D. E.
(W) Kyle Starks (A) Chris Schweizer (CA) Tom Mandrake
Spencer hasn't finished a dang thing in his life. So when he goes to visit his dad to see if maybe he can borrow some money, the last thing on his mind is global survival. Now Spencer and his father are on the run, trying to avoid being spaceray'd by a bunch of destruction happy Martians, hell bent on zapping them dead!
Item Code: AUG181110
Price: $3.99
PREVIEWS Page #184
In Shops 10/24/2018
Mighty Morphin Power Rangers #32
BOOM! Studios
(W) Marguerite Bennett, Ryan Ferrier (A) Simone Di Meo, Bachan (CA) Jamal Campbell
It's morphin time in this powerful next chapter for Tommy Oliver, one of the most iconic Power Rangers in history. It's been a long time since Tommy Oliver laid down the mantle of the original Green Ranger, and now he leaves protecting the world to Space Patrol Delta. But when his son goes missing, Tommy will call on all his training, his friends, and maybe even some of his enemies as he sets out on one last mission: find his son and bring him home.
Item Code: AUG181367
Price: $3.99
PREVIEWS Page #228
In Shops 10/24/2018
X-O Manowar #20
Valiant Entertainment
(W) Matt Kindt (A) Juan Jose Ryp (CA) Kenneth Rocafort
The Agents of G.A.T.E. vs. the Brothers of the Bomb! In a realm far more fantastical than our own, a Sky Goddess is missing. And in pursuit of their vanished cosmic princess and her nefarious captors, a squadron of soldiers from the Unknown have invaded our planet! As tensions run high and trust becomes scarce, can X-O Manowar and G.A.T.E. leader Colonel Capshaw band together to keep our world from becoming ensnared in a battle larger than life?
Item Code: AUG182322
Price: $3.99
PREVIEWS Page #427
In Shops 10/24/2018
Dead Kings #1
AfterShock Comics
(W) Steve Orlando (A/CA) Matthew Dow Smith
NEW SERIES! Like True Grit set in the world of Final Fantasy. Sasha never saw his younger brother...until the secret police made him disappear. Sasha Vasnetsov left Thrice-Nine-the dirty folklore world that limps along in the wreckage of a Technomagic War-thirty years ago and never looked back. But word that the secret police have sent his brother Gena to a work camp for the socially degenerate drags him back, with a promise to free Gena and return him to their mother before her fiftieth birthday. The only problem? Sasha isn't a fraction of the tough guy he tries to be, so if he's going to break back into Thrice-Nine...he'll need help.

Item Code: AUG181458
Price: $3.99
PREVIEWS Page #260
In Shops 10/24/2018
Deadpool: Assassin TP
Marvel Comics
(W) Cullen Bunn (A) Mark Bagley (CA) Bill Sienkiewicz
Cullen Bunn, master of the Deadpool limited series, joins comics legend Mark Bagley to set the sassin' assassin against his own kind! The Assassins Guild, that is! They're gunning for Deadpool and anybody he cares about, and Wade's healing factor is about to be put to the ultimate test by the knife-wielding speedster called Harvester! And even if Deadpool is lucky enough to survive that encounter, the nefarious ne'er-do-wells lining up to take their shot will make that showdown look like a walk in the park! Collecting Deadpool: Assassin #1-6.
Item Code: JUL181189
Price: $17.99
DC PREVIEWS Page #123
In Shops 10/24/2018
Batman Volume 7: The Wedding Rebirth TP
DC Comics
(W) Tom King (A) Tony S. Daniel & Various (CA) Mikel Janin
In these tales from Batman #45-50, Booster Gold arrives in Gotham City to give Bruce Wayne a gift-the kind that could have deadly consequences! Then, just as the Bat and the Cat are starting to think it might be easier to just elope than go through with their wedding plans, The Joker kidnaps his old foe-but will he try to talk him out of his marriage plans, or just bash his brains in? It all concludes in the historic wedding issue! Includes the wedding prelude story from DC Nation #0.
Item Code: JUL180717
Price: $16.99
PREVIEWS Page #65
In Shops 10/24/2018
Isola Volume 1 TP
Image Comics
(W) Brenden Fletcher, Karl Kerschl (A/CA) Karl Kerschl, Msassyk
An evil spell has been cast on the Queen of Maar, and her Captain of the Guard will do anything to reverse it. Their only hope lies on an island half a world away-a place known in myth as Isola, land of the dead. Recommended for fans of Studio Ghibli and the work of Hayao Miyazaki. Collects Isola #1-5.
Item Code: JUL180153
Price: $9.99
PREVIEWS Page #71
In Shops 10/24/2018
The Ghost In Shell Global Neural Network PREVIEWS Exclusive Edition HC
Kodansha Comics
(W) Max Gladstone & Various (A) Giannis Milonogiannis & Various (CA) Stephanie Hans
Four all-new stories take the cyberpunk classic The Ghost in the Shell to new frontiers in this full-color, hardcover collaboration between original creator Shirow Masamune and some of the world's most innovative comics writers and artists. Featuring stories by Max Gladstone & David Lopez, Alex de Campi & Khoi Pham, Brenden Fletcher & LRNZ, and Genevieve Valentine & Giannis Milonogiannis, with illustrations by Becky Cloonan and more. A crimelord exploits prisoners of war to run a remotely-controlled global strike force, and the investigation reunites Kusanagi with an old friend and pits them both against Chinese security forces. A family see their dead daughter on television, except she looks 15 years younger than she did when she died. The infiltration of anti-cyberization cult calls for Section 9's most "human" members to abandon the support of their enhanced colleagues and do things the old-fashioned way. The stories in Global Neural Network bring a global, 21st-century persepctive to its questions of human identity and the border between mind and machine that made The Ghost in the Shell one of the most revered manga of all time.
Item Code: JUL182431
Price: $29.99
PREVIEWS Page #478
In Shops 10/24/2018
DC Comics Bombshells: Jokers Daughter Statue
DC Comics
The classic case of mistaken identity, The Joker's Daughter is finally brought to the celebrated DC Bombshells statue line for the very first time! This '40s style 9" poly-resin statue is limited to just 5,000 pieces and includes the iconic DC Bombshells base and nameplate. DC Bombshells statues and busts are based on art from acclaimed artist Ant Lucia and have spawned the immensely popular digital comics DC Comics: Bombshells and Bombshells: United.
Item Code: APR180306
Price: $125.00
PREVIEWS Page #150
In Shops 10/24/2018
DC Gallery Aquaman Comic PVC Figure
Diamond Select Toys
A Diamond Select Toys release! How deep is your Gallery? The DC Gallery line of PVC dioramas now adds the King of Atlantis, Aquaman! Springing from the sea with his trident poised to attack, Arthur Curry is the subject of this 9-inch-scale diorama, wearing his classic orange-and-green outfit. Made of a high-quality plastic, and featuring a detailed sculpt and exacting paint applications, it comes packaged in a full-color window box. Hand-sculpted by Jean St. Jean!
Item Code: JUN182319
Price: $45.00
PREVIEWS Page #1019
In Shops 10/24/2018
The Nightmare Before Christmas Town Hall Fountain Deluxe Minimates Box Set
Diamond Select Toys
A Diamond Select Release! Hear ye, hear ye! The Nightmare Before Christmas Minimates line continues with this new, exclusive boxed set, featuring new versions of Jack Skellington, Sally, the Mayor, an exclusive Harlequin Demon figure, and an exclusive Town Square fountain diorama piece! Each 2-pinch Minimates mini-figure features up to 14 points of articulation and fully interchangeable parts. Set comes packaged in a full-color window box.
Item Code: MAY182296
Price: $24.99
PREVIEWS Page #1016
In Shops 10/24/2018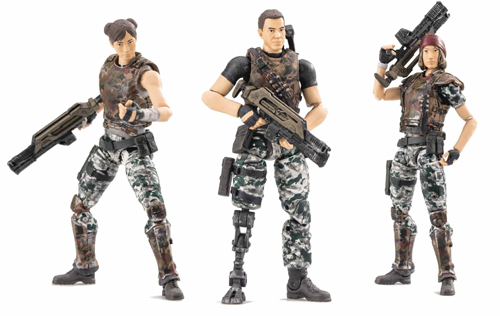 Marine Bella Marine Cruz Marine Redding
Aliens Colonial Marine Bella PREVIEWS Exclusive 1/18 Scale Figures
Hiya Toys
From Hiya Toys. A PREVIEWS Exclusive! Hiya Toys presents three new figures to add to your squad of Colonial Marines, as featured in classic film Aliens, and its controversial video game sequel, Aliens: Colonial Marines! Choose from: Pvt. Bella Clarison, Lt. Jeremy Cruz, and Pvt. Jennifer Redding. Each 1/18th-scale figure comes with a full complement of weapons accessories, and a figure stand, and features multiple points of articulation to help create exciting action scenes and dioramas.
Item Code: MARINE BELLA (MAY172846) / MARINE CRUZ (MAY172847) / MARINE REDDING (MAY172848)
Price: $19.99 Ea.
PREVIEWS Page #1024
In Shops 10/24/2018