Rick and Morty Roll the Dice with Dungeons & Dragons
Jul 28, 2018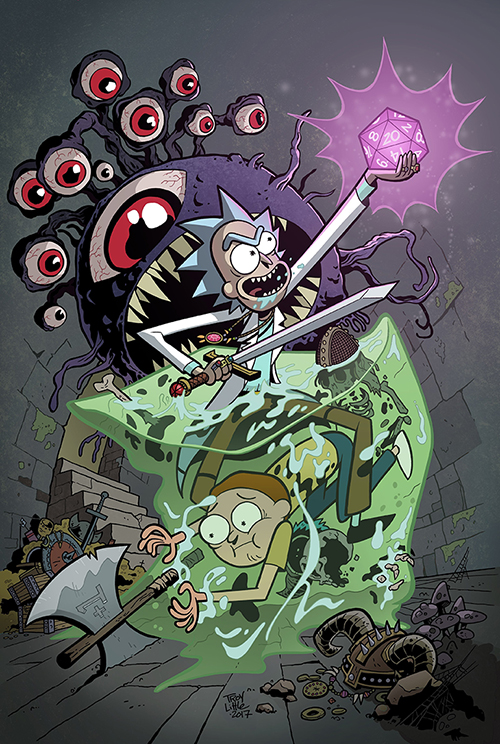 IDW, in partnership with Oni Press, is bringing two of the most popular properties in the world, Adult Swim's hit series Rick and Morty™ and Dungeons & Dragons, together in a brand-new four-issue comic book series. Taking the reins of these two iconic properties is the superstar creative team of writers Patrick Rothfuss (The Kingkiller Chronicles) and Jim Zub (The Avengers, Wayward) along with Eisner-nominated artist Troy Little (Hunter S. Thompson's Fear and Loathing in Las Vegas).

Debuting this August, the mini-series will throw Rick and Morty into a high-fantasy adventure blended with the wit, humor, and intelligence the show is widely celebrated for.
"Of course, I'd love to be on board, but it would NEVER happen. Wizards of the Coast wouldn't let the crown jewel of gaming be violated by Adult Swim's dimension-hopping bastards," said Jim Zub in an interview with PREVIEWSworld. "Little did I know that in a world of swirling media synergies and crazy memes, it's the perfect time to let these properties off the chain. I'm so glad the team at WotC realize that. This project is a warped and freakish monster, but it's also a love letter to gaming glory."
In this summer's biggest comic book crossover, Morty goes to Rick for help to learn about Dungeons & Dragons, the game all the cool kids at his school are playing; naturally, things go horribly wrong as Rick, Morty, and the whole Smith family find themselves on an epic quest with no escape in sight.

Each issue will feature variant covers that fans of both series will love, including character sheets, and more!

Preorder Rick & Morty vs. Dungeons & Dragons #1 (JUN180636) now at your local comic shop and check out some concept sketches below!