What Did Judge Dredd Get Right About The Future? A Lot!
Jan 26, 2018
by Troy-Jeffrey Allen
It seems like the years have been kind to 1995's Judge Dredd, a comic-to-film adaptation that received some fairly harsh reviews upon initial release. Over the decades the movie based on the popular 2000 AD anti-hero has garnered a sort of cult status. Now, the folks at El Rey Network add even more credence to the belief that...maybe Sylvester Stallone's Dredd isn't so bad.
In the following video, El Rey presents five examples of how '95's Judge Dredd might have been slightly prophetic in its depiction of the future. Admittedly, this article is popping up after the film aired on El Rey last night, but we're assuming that the comic book-savvy PREVIEWSworld audience has seen this one before.
Of course, Sly's flick isn't the only time ol' Joseph Dredd has been on screen. He's been one of the subjects of 2000 AD's excellent Future Shock documentary and is destined to appear in IM Global's upcoming live-action Mega City-One TV show. However, his most popular screen appearance remains 2012's Dredd starring Karl Urban and Olivia Thirlby. That fan-favorite film happens to also be the springboard for Dredd: Furies, an upcoming one-shot by writers Arthur Wyatt and Alex De Campi and artist Paul Davidson.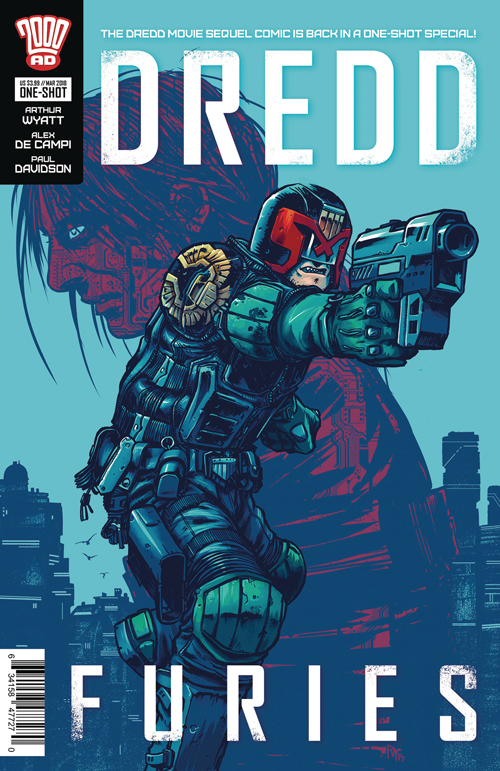 About Dredd: Furies:
The Techie was Ma-Ma's go-to computer guy, responsible for locking down Peach Trees block when her clan attempted to kill Dredd and Anderson in the cult hit movie DREDD. In the aftermath of that incident, he has built a new identity, Bill Huxley, complete with partner and young son. But he's desperate to give them a better life, and when the opportunity arises to join the Erinyes Crew on a lucrative heist, he can't resist putting his skills to good use!
Look for Dredd: Furies in comic shops on March 28th or pre-order it at your comic shop today. As for the '90s Judge Dredd movie, I'm sure those of you feeling nostalgic can likely find it streaming somewhere.
****
Troy-Jeffrey Allen handles social media and community outreach for PREVIEWSworld.com and the DCD family of sites. His comics work includes BAMN, Fight of the Century, and the Harvey Award-nominated District Comics.