Generations To Legacy: Axel Alonso Previews Marvel's Future
Jul 30, 2017

Marvel has big plans this fall that will touch every corner of the Marvel Universe. Starting with a 10-issue series of Generations one-shots, and then leading to Marvel Legacy, it's a great time to be a fan of the House of Ideas or jump in for the first time.

To find out more, PREVIEWSworld went straight to the top to speak with Editor-In Chief Axel Alonso at San Diego Comic-Con. First he told us about Generations.
"There's this thing called the vanishing point in the event Secret Empire, sort of like our Twilight Zone, and we got to thinking what would happen if we were to send some of our heroes into the vanishing point and have them have a unique experience, " said Alonso. "We decided to send some of our younger characters, Miles Morales, Kamala Khan, Amadeus Cho, into the vanishing point where they're going to encounter their classic counterparts."

Generations will be full of surprises and the place to find clues for Marvel Legacy and beyond. Look for the ten one-shot issues throughout August and September at your local comic shop.

Marvel Legacy (JUL170990) will begin on September 27th with an over-sized 50-page, one-shot special written by Jason Aaron and drawn by Esad Ribic. This issue will have people talking.

"It will be filled with Easter eggs and clues, and hints as to where we're going, including a final closing scene reveal that's going to be an oh expletive deleted moment if you've ever had one," said Alonso. "Bascially everyone's going to be talking about that for months to come."
Watch the PREVIEWSworld exclusive video interview above as Vince Brusio talks with Axel Alonso about Generations and Legacy!


---
GENERATIONS: THE STRONGEST starring Bruce Banner and Amadeus Cho, the Totally Awesome Hulk (JUN170852)
GENERATIONS: THE PHOENIX starring The Phoenix and Jean Grey (JUN170848)
GENERATIONS: THE BEST starring Wolverine and All-New Wolverine (JUN170857)
GENERATIONS: THE THUNDER starring The Mighty Thor and The Unworthy Thor (JUN170842)
GENERATIONS: THE ARCHERS starring Hawkeyes, Clint Barton and Kate Bishop (JUN170861)

September On Sale
GENERATIONS: THE BRAVEST starring Captain Mar-Vell and Captain Marvel (JUL171003)
GENERATIONS: THE MARVELS starring Captain Marvel and Ms. Marvel (JUL171010)
GENERATIONS: THE IRON starring Iron Man and Ironheart (JUL171006)
GENERATIONS: THE SPIDERS starring Peter Parker: Spider-Man and Miles Morales: Spider-Man (JUL171013)
GENERATIONS: THE AMERICAS starring Steve Rogers: Captain America and Sam Wilson: Captain America (JUL171000)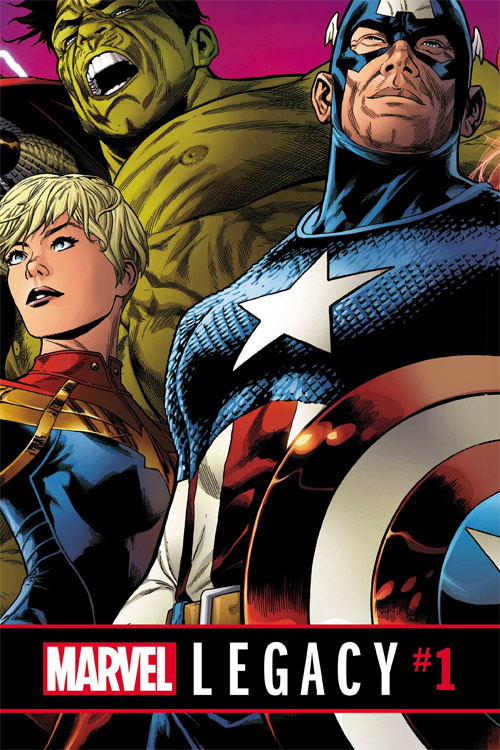 Marvel Legacy #1 (JUL170990)
Available September 27th!


Click here to see all the Marvel Legacy titles you can preorder now from the August PREVIEWS at your local comic shop!