Kids Comics: Scales & Scoundrels
Jul 11, 2017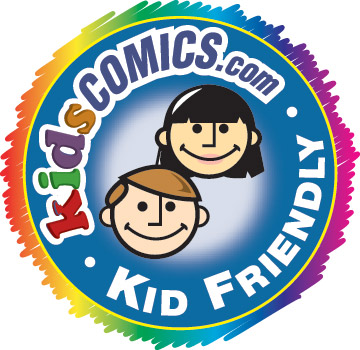 by Andrea Purcell
The PREVIEWS catalog is full of great comics for young readers, and July's Kids Comics column is full of fun kid friendly comics. This month roll the dice with the new Image fantasy series Scales & Scoundrels, woo-hoo with the return of Ducktales, go Over the Garden Wall with Wirt and Greg, and more!
Every month we pick a few titles out of the PREVIEWS catalog that any comic reader will love, no matter their age. Whether these stories are for a young reader new to comics, or a great all-ages story perfect for you, these stories make a great addition to any bookshelf. Look below to see the titles that will soon arrive at your local comic book shop along with many more great comics and toys, and be sure to pre-order your favorites!
---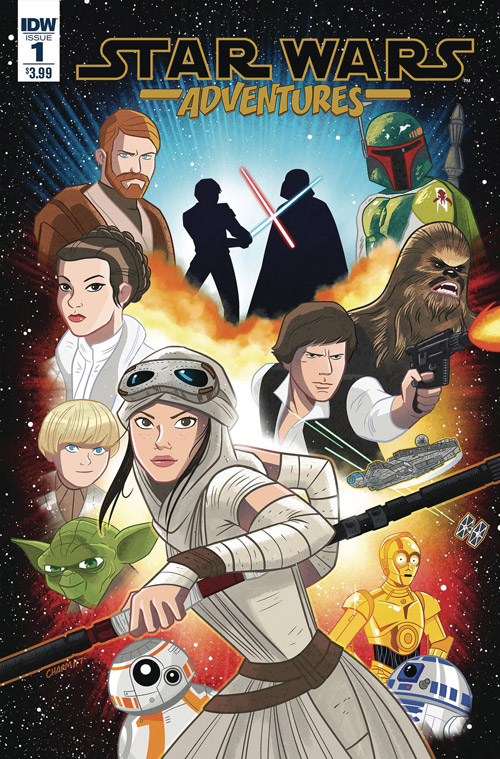 Star Wars Adventures #1
An exciting new era in all-ages Star Wars comics is coming from IDW Publishing with Star Wars Adventures #1 (JUL170510). This jam packed series will feature two stories per issue of Star Wars characters from each movie including Rey, Luke, Han, Finn, Obi-Wan, and more! With two issues arriving at comic shops every month, fans won't have to wait for very long to get all of the intergalactic exhilaration they crave. The first issue takes readers to Jakku with one of Rey's early adventures, and then travels back to tell a tale of clone catastrophe!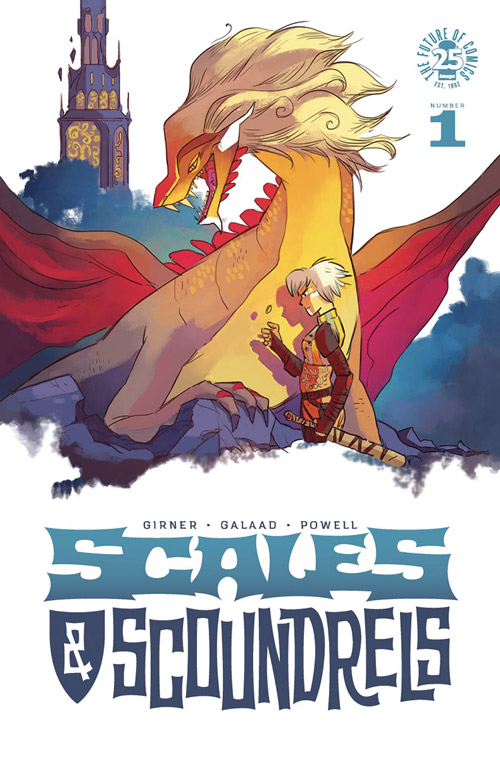 Scales & Scoundrels #1
Image Comics is bringing an all-ages fantasy tale to life with Sebastian Girner and Galaad's Scales & Scoundrels #1 (JUL170725). This kid friendly Dungeons and Dragons style adventure follows treasure hunter Luvander as she sets off to explore The Dragon's Maw. This ancient labyrinth has untold wealth at the bottom of its caverns – but for brave adventures it can hold certain doom! As Luvander takes the first steps on her road to riches, a secret in her heart will break the chains of fate and lead her onto a path that may help bring light to a world full of darkness.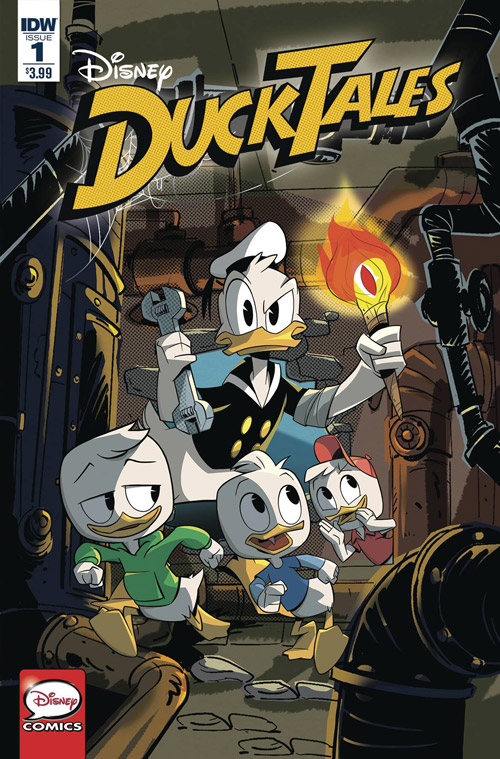 Disney's Ducktales is making a huge comeback this year with an all new television series, and now IDW Publishing is bringing Huey, Dewey, and Louie back to comics with the new Ducktales #1 (JUL170522). Bursting with two new adventures of Donald and his Nephews, they first explore a top-secret lab in "The Great Experiment of the Washing Machine". As they traverse this wild laboratory, they find inventions to make life simpler - or more dangerous! Then in "The Chilling Secret of the Lighthouse" Donald leads the Nephews on a spooky romp through an old lighthouse, but what secret does this mysterious building hold?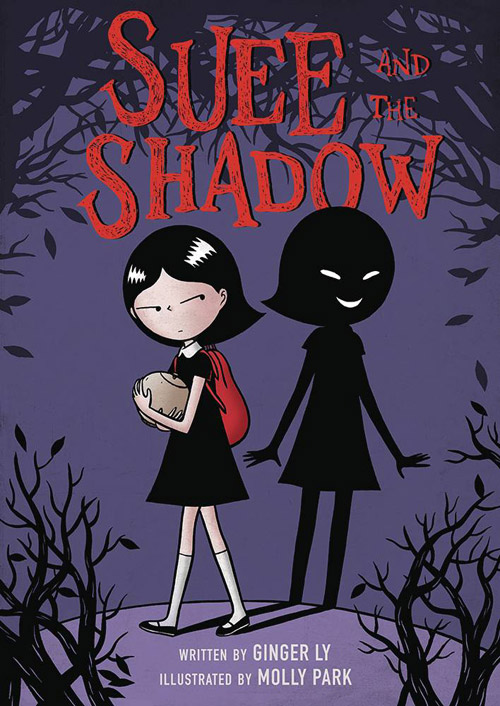 You should never trust your shadow, and Ginger Ly and Molly Park's book Suee and the Shadow (JUL171379) is proof. The young Suee is twelve years old, wears black, has no friends, and likes it that way. But when she transfers to the new Outskirts Elementary School the last thing she expects is to hear a strange voice speaking to her from the shadows – and she never expected her shadow to spring to life! As her classmates are turned into spooky zombie-like Zeroes and as her shadow gains power, it's up to Suee to confront this newfound monster. But her shadow has been hiding a secret, one so dark and sinister that it puts Suee and her newfound friends at risk!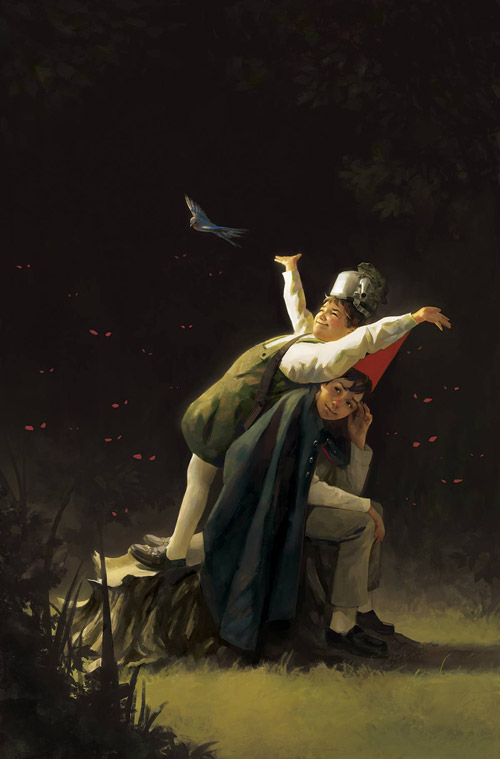 Over the Garden Wall 2017 Special #1
Pat McHale's beloved Cartoon Network mini-series lives on in the BOOM! Studios Over the Garden Wall 2017 Special #1 (JUL171543). This oversized and overstuffed annual finds Wirt and Greg taking a shortcut through the Unknown, but as fans of the series know strange things lurk just beyond the lamplight. As the two brothers traverse the dark forest, extraordinary things are bound to happen, but what unexpected consequences will befall our heroes? Readers of all ages will love this latest chapter to the critically acclaimed series, reaching comic shops just in time for fall.
These are just a few of the cool Kids Comics you can pre-order from the July PREVIEWS!
Look for the Kids Comics icon throughout the catalog and make sure to visit KidsComics.com to see the all-ages titles coming out this week!