Secret Empire Trade Dress Covers To Change Throughout The Event
Mar 24, 2017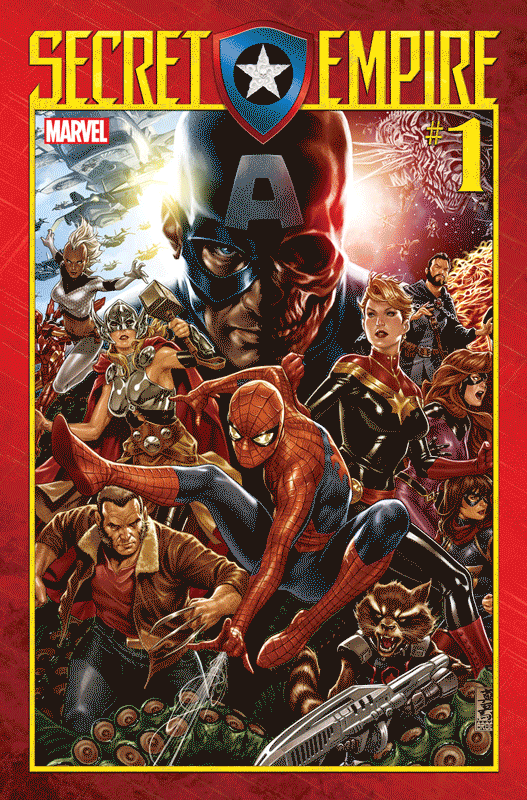 In an interview with Diamond Daily, the e-Newsletter to Diamond Retailers, Marvel's Senior VP of Sales David Gabriel talked about some things to expect from Secret Empire this summer!

As you can see by the animated gif above and the covers below, the trade dress will change as the story continues throughout Secret Empire.
"We're always looking to innovate and try new things that make our comics pop out on a store shelf, and I'm very happy with what our design team came up with for Secret Empire," Gabriel said. "Besides the fact that we got Mark Brooks to draw some truly spectacular covers, the trade dress really stands out and will morph and change as the event moves along. So as things in the Marvel Universe are becoming more and more sinister, you'll see that reflected in the trade dress across the event."
Gabriel also explained how the first two months of Secret Empire will be branded:
"We're branding the first month (issues #1 - #3) as "United We Stand". You've likely seen that on the marketing so far. It's all about the heroes coming together to face off against Hydra. For month two, June (issues #4 and #5) will be branded "Hydra Nation". I'll let you speculate as to what that means."
Secret Empire will also be a part of one of Marvel's Free Comic Book Day titles that will contain completely original content.
"So this year's Secret Empire FCBD story is a completely original story from Nick Spencer and Andrea Sorrentino," said Gabriel. "It's not a reprint of pages that will appear in other issues or anything like that. Technically it's set between issue #0 and issue #1, but it has been engineered to be completely new reader friendly."

Secret Empire #0 (FEB170758) will be available at comic shops April 19th.

Secret Empire #1 (MAR170901) is out on May 3rd, ahead of Free Comic Book Day on May 6th.