Steranko and Rodríguez To Cover Overstreet Comic Book Price Guide #47
Feb 15, 2017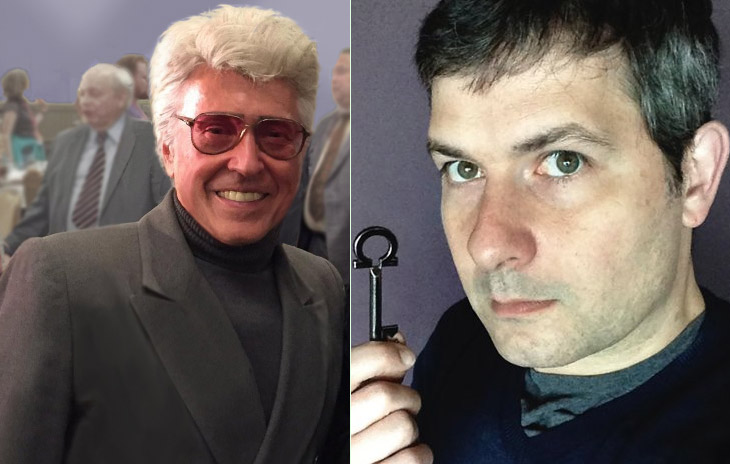 For over forty-five years, The Overstreet Comic Book Price Guide has been the definitive source for information on what comic books are worth. More than just a price guide, Overstreet has been a detailed encyclopedia to comicdom's history, with price listings that indicate first appearances, deaths, major events, and more. If a comic book existed, there's going to be a listing for it in Overstreet. The book is that definitive.

PREVIEWSworld has learned that this year's cover artists for The Overstreet Comic Book Price Guide #47 will be Jim Steranko and Gabriel Rodríguez!

We talked with J.C. Vaughn, Gemstone's Vice-President of Publishing, about the artists and more!

***********
PREVIEWSworld: Tell us more about getting Jim Steranko and Gabriel Rodríguez to draw the covers this year?
J.C. Vaughn: It's no stretch of the imagination to say that Steranko is one of the most influential comic book artists of all time. Despite a body of panel-to-panel work that is not as extensive in terms of quantity as fans would wish, his ability to push the medium for what it was worth, to challenge the status quo, and to take on those challenges for a reason (not just because he could)... this is someone who you'd expect to find on the cover of the Guide.

Gabriel Rodriguez is not only a wonderful artist, but he's built a solid following with his work on Locke & Key. When I was discussing who we might pair up with cover subject, a mutual friend suggested Gabriel and the light bulbs went off. When people see the results, they'll feel the same way.

We always judge our Guide covers against Bob Overstreet's choices for Overstreet #5, 6 and 7 -- Joe Kubert, Will Eisner and Carl Barks -- and we know the fans are going to agree that these gentlemen belong on our cover.

PREVIEWSworld: The response to The Overstreet Comic Book Price Guide gets bigger every year. What do you think that says for the comic book collecting market?

J.C. Vaughn: The success of the comic book-based movies and TV shows have raised the pop culture awareness of the general public, and news of record sales in the past decade has compounded that awareness. I love hearing people -- just a few years ago we would have called them "civilians" -- on the train or at the mall talking about comic book characters in a totally normal fashion. Some of them -- and we always want more -- are discovering the roots, the great comics we love. We've got to encourage this, and the Guide does that.

PREVIEWSworld: Can you tease any special content we can expect to see in the Guide this year?

J.C. Vaughn: The big draw, of course, is the new prices, but we've had a tremendous and diverse group of retailers, collectors and historians submit market reports this year. They're always intriguing, but this year the market reports are genuinely compelling. In addition, we also have new feature articles, new additions to The Overstreet Hall of Fame, and more!
---
The Overstreet Comic Book Price Guide #47 is scheduled to go on sale Wednesday, July 19, 2017.

Last year's Price Guide (Vol. 46: APR161668, APR161670) featured the first-ever connecting cover images by artist Amanda Conner!