Oni Press Brings The Damned Back to Life
Dec 12, 2016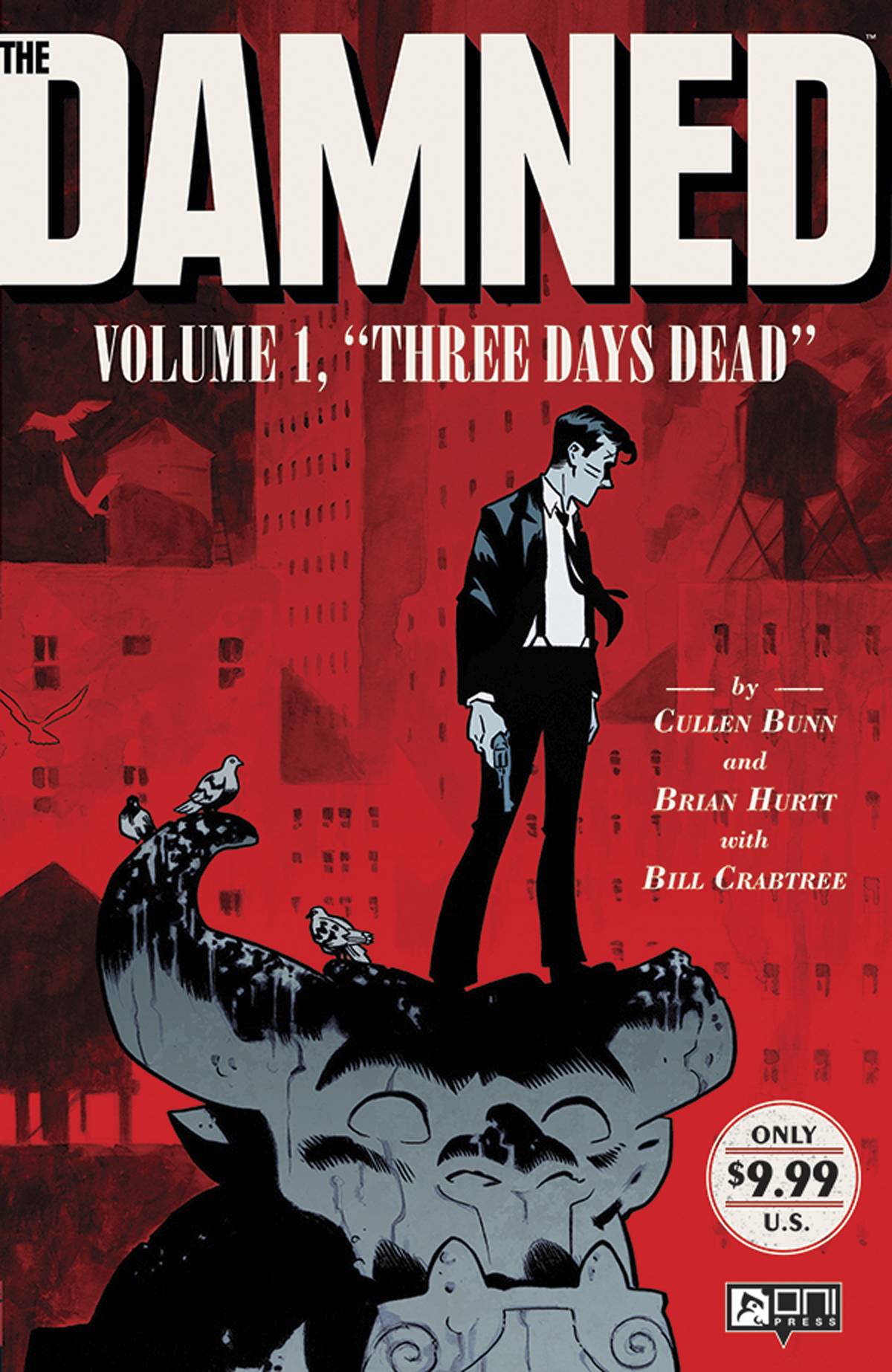 by Andrea Purcell
During prohibition, gangsters grew rich on our vices, and rivalries between criminal organizations resulted in open war. But unknown to the masses, a more sinister power controlled the crime cartels, using greed, gluttony, lust and other sins to fuel a more lucrative trade: mortal souls. Enter Eddie, a mortal who lost his soul long ago. Caught in the middle of competing demonic families, any other human would've gotten the axe long ago. But Eddie's got a special talent that keeps him on his feet. One man's curse is another man's gift.
The Damned (NOV161703) is hard-boiled noir with demons, and the team behind The Sixth Gun is bringing it back with new colors, a new format, and a new ongoing tale of tommy guns and hellfire.
**********
Andrea Purcell: Eddie, the main character of The Damned, is a mortal caught up in a world of demonic and supernatural creatures. What drew you to using an ordinary protagonist in this story populated by monsters and demons?
Cullen Bunn: Well, I wouldn't say Eddie is completely normal. Because of some bad dealings with demons in the past, Eddie is "cursed" with a strange gift. He can die, just like anyone else, but he doesn't stay dead for long usually. That said, though, he's an average Joe in almost every other sense. I feel like having a human as our point-of-view character gives the reader someone to relate to. Seeing the world through Eddie's eyes makes it a little easier to accept it as reality.
Andrea Purcell: This is by no means your first foray into the horror genre; what draws you to horror as a writer and why did you choose to set this series in a horror-noir setting?
Cullen Bunn: In our earliest conversations about this series, Brian and I knew we wanted to do something that veered into dark, horrific territory. Once you throw demons into the mix in a major way, the supernatural horror elements just seem to fall into place. And the history of the world in which this story is set is the stuff of horrific nightmare. This wasn't a book where we had to work to establish the tone. It just came naturally.
Andrea Purcell:This is the first time readers will see The Damned in color thanks to work of Bill Crabtree. How does the addition of color help to amplify the story? What are you most excited to showcase now that The Damned is in color?
Cullen Bunn: Before Bill turned in his first pages, I wasn't sure what to expect. I wondered if the move from black and white to color would lessen the noir feeling of the series. I should have known better, though. Bill has such a great sense of setting and mood. He completely preserved the noir tone of the book while making the story so much more vivid and memorable.
Brian Hurtt: The book has taken on a whole new life. Anyone who has seen it so far and is familiar with the original series has been heaping praise on Bill's colors. There have been a lot of fans who were apprehensive about the idea of "colorizing" this noir tale but so far everyone has been very pleasantly surprised. Not just with how well it translates but in how it honors the original work while at the same time reframing it. I say this all the time but Bill is a fantastic colorist because he is a fantastic storyteller. He doesn't just make the art look pretty, he makes the story better.
Bill Crabtree: Hopefully the color helps add more of an emotional or atmospheric slant to the story's different settings and moments. I also wanted to help clarify and realize the different locales. The different tone and subject matter was an opportunity for me to use different palettes and color combinations than I had previously.
Andrea Purcell: The three of you also worked together on Oni Press' recently ended supernatural horror series The Sixth Gun. Going from a western setting to the Prohibition era, how will The Damned differ from The Sixth Gun?
Cullen Bunn: I always saw The Sixth Gun as a fantasy story. It had elements of horror, but it was definitely more of a fantasy tale. The Damned, on the other hand, is a little quieter and a little meaner. It has both feet planted in the realms of crime and horror. It's a much darker book.
Brian Hurtt: I agree with Cullen completely. While they share a DNA, they are very different in tone and pacing. The Damned is darker (both aesthetically and emotionally) and has a very different and distinct voice. It is hard boiled and unforgiving.
Bill Crabtree: The vibe of The Damned is different from The Sixth Gun. I find it a colder, harsher world, in some ways less fantastical. At the same time, it's farther along in history, so it deals with different ideas of wealth and power.
Andrea Purcell: This all-new printing of The Damned showcases the story like never before. What are you most excited about in working with Oni Press to revive and reprint this series?
Cullen Bunn: I think this is the perfect time for new eyes to see The Damned for the first time, and I'm excited because Brian and I can finally get the chance to tell the much larger story we have in mind for the book. As with The Sixth Gun, we know where this series is going. I hope we have a whole new group of readers coming along for the ride with us.
Brian Hurtt: This is a story that we had to set aside before we were finished with it. The downside of the success of The Sixth Gun was that we had to wait until it was over to return to this world. The upside of that same success is that hopefully we can bring along all these new readers we've gained in the past several years and introduce them to a project we have just as much passion and faith in.
It's really exciting for us to revisit a project with several more years of experience as storytellers. Cullen and I have created over a thousand pages of material together since the last time we visited this world and I'd like to think that we only get better with time!
Bill Crabtree: Hopefully it will bring new eyes to the series and give those who have already read it an enriched take on the story.
**********
Andrea Purcell is a Web Content Writer for PREVIEWSworld.com and a part time assistant to busy comic creators. Her favorite past times are singing karaoke at comic conventions and memorizing obscure trivia about random pop culture.