Bullets for Becky Produce New Punisher Series
Feb 26, 2016
by Vince Brusio
Every once in a while you get the dream gig if you're a comic book writer. Just ask Becky Cloonan. One day she wakes up, and finds she's got a green light to work with renowned comic artist Steve Dillon to do a Punisher series. Yes. There really is a Santa Claus. And he's packin' a semi-automatic. In this PREVIEWSworld Exclusive interview, Becky Cloonan shares a few words about how she's gearing up to bring Marvel's favorite vigilante back to comics, and the man she's working with is the guy who's been drawing Frank Castle for a very, very long time.
The Punisher #1 (MAR160728) is in comic shops May 4.
**********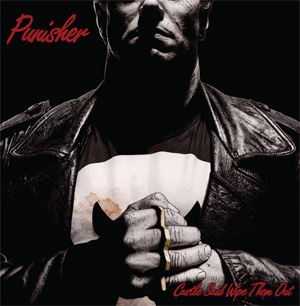 PREVIEWSworld: The Punisher has a long history, socking it out with the Webslinger, writing in his war journal, and combatting criminals and communists up to Garth Ennis and Jason Aaron's books. What do you two bring to the table with this new incarnation of The Punisher #1 (MAR160728)? Where do things start with the Punisher?
Becky Cloonan: We are introduced to a whole new slew of characters, (both good and bad, helpful and harmful), as Punisher embarks on a road trip that will lead him into a blood-drenched deathscape that will challenge not only his physical strength, but his stamina, resourcefulness, and resolve as well. What he originally thinks is a drug ring turns into a web of corruption and murder, with a plot that permeates far beyond what he originally thought, even reaching into his past.
Steve Dillon: I think Becky will be taking Frank to a few places he hasn't been. The new characters I've dealt with so far are pretty cool. I'm having fun with them.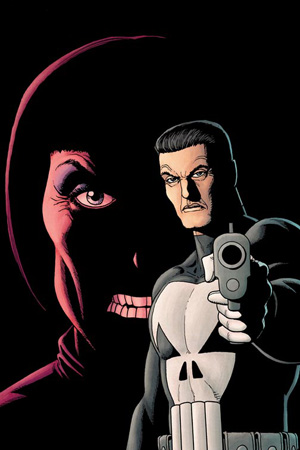 PREVIEWSworld: Is your take on the character somewhat different from previous incarnations? Was there any retooling of Frank Castle done for this series? Do we assume any previous storylines are outside of this particular timeline?
Becky Cloonan: I like to think that we leave the canon pretty much up to the reader! This is all new material that doesn't rely on or negate any previous incarnations of the Punisher. We start fresh, so get on board. It's gonna be a fun ride!
Steve Dillon: Frank's in his thirties for this one. He still has the look of someone who's seen far, far too much though.
PREVIEWSworld: How long have you been working on this project, and what does it mean for you? How are you attached to it?
Becky Cloonan: We started hashing out the pitch in October, and now we've got a couple of really fun story arcs planned out! By "fun" I mean totally brutal, bloodthirsty, and without mercy.
Steve Dillon: Things worked out pretty well for me as I was in New York for the convention in October and had a chance to have a good chat about this up at Marvel. It's always better to do it that way if you can rather than emailing back and forth.
PREVIEWSworld: Can you give us an idea of how you two worked together during production? The back-and-forth exchanges?
Becky Cloonan: Steve is the Punisher expert here! I leave character design and a lot of the pacing and layout up to him! He's a total legend — seeing his art come in on the pages I've written has been nothing short of incredible! And having Declan Shalvey on covers, this is like my Punisher Dream Team.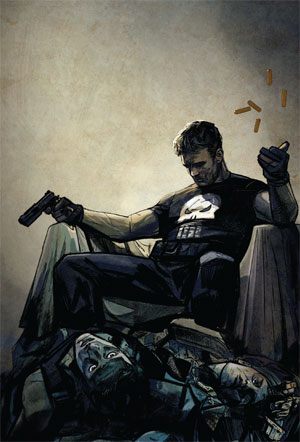 Steve Dillon: I've been lucky to have worked with some really good writers on Punisher. There's been Garth Ennis, Daniel Way, Jason Aaron and now Becky. I just look forward to seeing the scripts come through. When a writer knows what they're doing and know the story they want to tell, it makes life a whole lot easier. It's my job to tell that story in pictures and any other input I give, apart from character design and the like, will tend to be about technical things to do with the staging of scenes and stuff to make the storytelling work as well as possible. I don't have to worry too much about that, though, because good writers know that stuff too.
PREVIEWSworld: If you could geek out over a particular scene(s) in this book, what would it be?
Becky Cloonan: I have a lot of good times planned for Frank, one of them involves an axe, one of them involves a graveyard, one of them involves an abandoned mental facility and a rocket launcher… but I don't want to get ahead of myself! As far as issue 1 is concerned, I love the first scene Punisher appears. The way Steve drew it gave me chills!
Steve Dillon: There's a specific page in the first issue that brought a twisted smile to my face but I can say no more than that!