Staff Picks (January): Clusterf@#k
Dec 16, 2015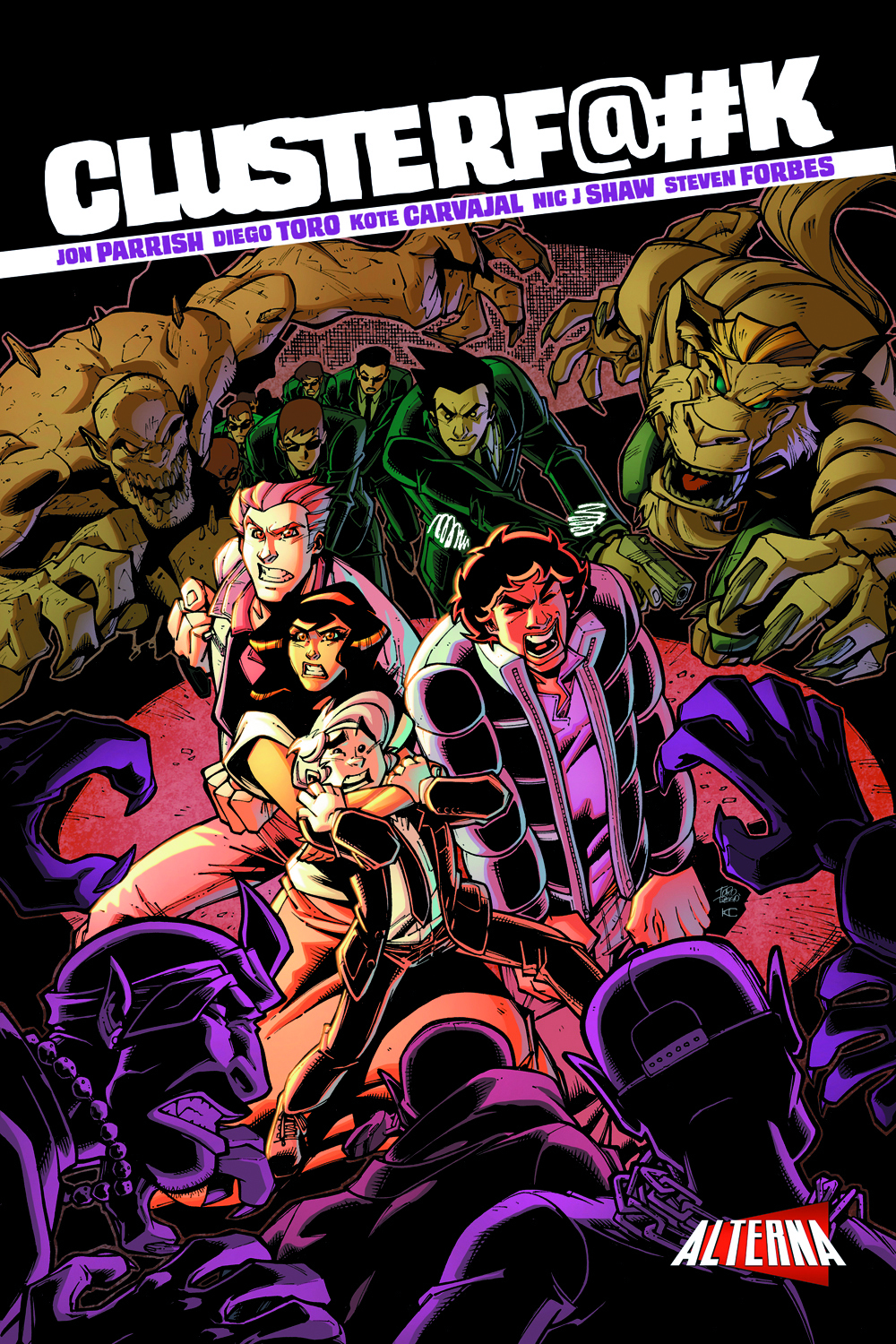 The first thing you'll notice when you pick up Clusterf@#k is Jon Parrish's choice to skip right over the usual origin story. We don't have to wade through the getting-to-know-you first day jitters or how the two protagonists go from agents of the Department of Extraterrestrial and Paranormal Defense only to wind up ostracized and working as paranormal investigators for hire. Instead, we start off with two guys in a hole, taunted by a melodramatic villain, who humorously resembles Doctor Fate's old nemesis Wotan, the requisite goat boy minion, and a party of mutant demons waiting behind a gate like Jabba's Rancor beast. Maybe you'll notice the comical relationship between two very different men, calling to mind team-ups like Deadpool and Cable, Arsenal and Red Hood, or Quantum & Woody. Or perhaps you'll just immediately smile and enjoy a book that is as funny as it is grim.
No matter what, Clusterf@#k is aptly named. It is a hilarious collage of classic buddy cop and horror tropes that somehow manages to skirt the line between originality and cliché with its riot of contrasting styles and archetypes. The almost mandatory dynamic of the immature, bumbling partner and the level-headed straight man is present here, but it remains unique by being offset in more than one special way.
For starters, the straight man, Karl Latimer, is also a demonic hybrid capable of immense displays of power while the comic relief, Jim Parker, is often the emotional center of the team. As with most stories of its kind, these two men are in way over their heads, yet are also somehow the most prepared and capable figures in play -- another example of how this book both uses and defies conventional themes. Then there is Diego Toro's art, which depicts the grit, gore, profanity, and overall brutality of Jim Parker's "worst day ever" with just a subtle hint of cartoonish roundness, once more adding to the contradictory nature of the book.
This push and pull in the narrative, art, and relationships makes Clusterf@#k something special at a time when there is no shortage of supernatural crime fighters or monster-hunting adventurers. Just as these two investigators defy the authority of an established organization, Alterna's newest offering flies in the face of other established pillars of the genre.
—Trevor Richardson

Publisher: Alterna Comics
Item Code: JAN161027
Release Date: 03/30/16
SRP: $14.99