Staff Picks (November): Apama — The Undiscovered Animal Volume 1
Oct 21, 2015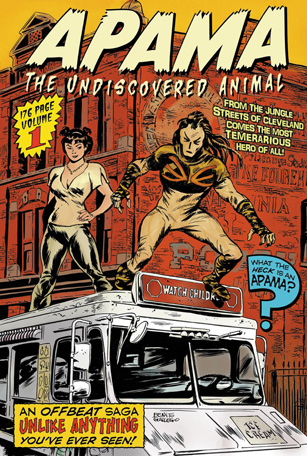 He moves like Dhalsim from Street Fighter. He dresses like a barista made his costume out of a burlap coffee bag. And he's hitting the streets of Cleveland with the force of the mythical Apama – an animal no one has ever heard of because that's exactly how the mythical Apama likes it.
Apama: The Undiscovered Animal Vol. 1 is the debut offering from Hero Tomorrow Comics. What is so captivating about this quirky book is the feeling that the creators, Ted Sikora and Milo Miller, have tapped into something iconic to our time. Apama might not be the hero we need, or the hero we deserve, but in an era of college grads moving back in with their parents and debt heavier than Thor's Hammer, he is a hero that makes sense. Iliya Zjarsky is a protagonist who seems closer to pink slips, loan debt, and The Big Lebowski's "The Dude" than he does the billionaire hero type with armor valued at the gross national product of a small nation. Low-down realism mixed with Benito Gallego's old school inking style makes Apama a kind of modernized throwback to those early days when Stan Lee and Jack Kirby said, "Why shouldn't a superhero have problems at home?"
As a struggling ice cream truck driver, Ilya's Fortress of Solitude is a cramped apartment above a corner diner, his Lois Lane is Vica, the waitress downstairs, and the closest thing he has to a sidekick is a rat named Liza. These are mostly normal people with normal problems, but it's Iliya's need to escape from his urban life that changes everything. While out hiking, Iliya encounters the spirit of the Apama and through that encounter goes from an outcast Hungarian immigrant, at odds with all the moving parts of American life, to a hero who draws his strength from nature.
The baddies are strange and colorful, the adventure is action-packed, and the book features some exciting extras including original art from creators like Bob Burden of Flaming Carrot Comics fame, but it's really the characters that make this worth the read. Smart, satirical, fun and often hilarious, Apama: The Undiscovered Animal is ready to be discovered January 2016 with more offbeat crime-fighting on the way from Hero Tomorrow.
—Trevor Richardson

Publisher: Hero Tomorrow Comics
Item Code: NOV15 1480
Release Date: 01/27/2016
SRP: $19.99