A Bird's Eye View of Jeff Lemire's All-New Hawkeye
Jan 04, 2015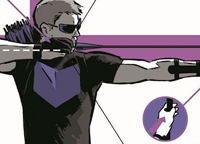 by Vince Brusio
Not so long ago, Jeff Lemire got a phone call that he couldn't believe. The phone call was an opportunity to run on the same track as another writer he had admired for quite some time. Jeff knew he didn't have the right jogging shoes to compete with his predecessor.
But who said he had to run?
What if he walked?
What if he walked across the width of the track, and then started running. It sounded like a plan, and before he knew it Jeff made a pitch and found that he had landed the writing chores for All-New Hawkeye #1 (JAN150761).
**********
PREVIEWSworld: For those who may not be keeping up-to-date on web news, what can you tease about All-New Hawkeye #1? What new plans do you have for the character? Can you tell us a little about the discussions that were involved in outlining where you (or Marvel) wanted to go with the character?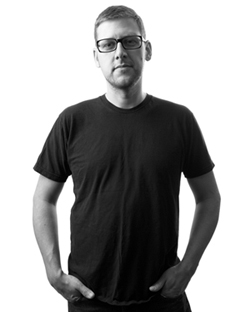 Jeff Lemire: Well, to answer the first part of your question first, Axel Alonso called me in the early summer, as my DC exclusive contract was expiring and asked if I would be interested in relaunching Hawkeye after the conclusion of Fraction and Aja on Hawkeye. My first reaction was NO WAY! I mean, how could you possibly live up to what that creative team had done. It was one of the most beloved books of the last few years. But, that night I started to get an idea of how I would put my own spin on Hawkeye and a story started to formulate, one that wouldn't leave me alone. And before I knew it, I had agreed to do it and sent my pitch, which Axel and editor Sana Amanet really liked.

To me Matt Fraction, David Aja and Annie Wu set the standard in terms of bringing a singular point of view to a super hero comic. I knew that if I couldn't do the same, there was no point in taking the series. And by that, I don't mean that I'll be trying to copy the aesthetic or feel of their Hawkeye. I want to make the book as specific to my sensibilities as their run was to theirs. A lot of that also comes back to the artist I'll be working with, Ramon Perez. As soon as Ramon's name was mentioned I knew he was the right person for the story I wanted to tell, which would be very intimate and rely on multiple visual styles. Ramon is a very versatile artist and an accomplished cartoonist in his own right, so together I feel very confident that we are going to deliver a series that is a worthy successor to the previous run, and also very fresh and different.

The book will balance the evolving relationship between Clint and Kate Barton in the present with the relationship between Clint and Barney Barton as kids. It will explore what it means to be Hawkeye, for both Kate and Clint, from multiple angles.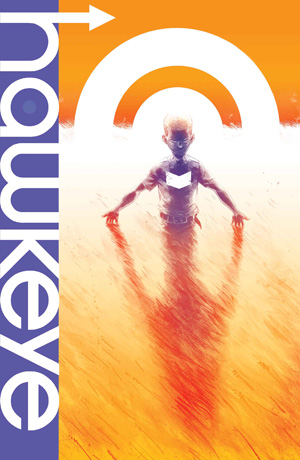 PREVIEWSworld: Although you're a very proficient writer, mainstream superhero titles aren't the breadth of your comic work. This is something different for you. So what kind of perspective do you want to bring to Hawkeye? What do you want readers to see that they haven't seen before, or may have wanted to see more of but found that the road to discovery had gone sideways?
Jeff Lemire: Well, I do think Hawkeye is much closer to my independent work like Essex County or The Underwater Welder than it is to my past super hero work. And that comes back to making this series very character driven and very intimate.
It is a Hawkeye story, not so big "Marvel Superhero Story." The book explores both the past and present of Clint Barton and his evolving relationship with Kate Bishop. That is the core of the book, the "super heroics" are very much secondary to that.
PREVIEWSworld: Without giving away too much, what scene(s) would you most likely want to blog about as being representative of the tone or fun factor for this series?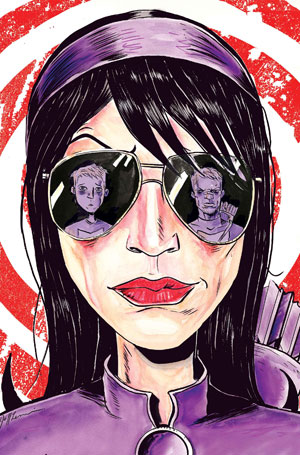 Jeff Lemire: The first scene in the book is the first scene that came to me, and the scene or moment that set the whole tone for me in terms of what I wanted the series to be. It isn't big or bombastic, it's just a simple, quiet moment between young Clint and Barney Barton. A moment I pulled form my own childhood. For me it is the heart of the book, and what everything else grew out of.
PREVIEWSworld: What is the most challenging aspect about writing Hawkeye? How did you think about it in terms of what you can bring to the table for action-based superhero fare?
Jeff Lemire: The book kind of writes itself to be honest. The characters of Clint and Kate are so rich and well defined that they just start talking and I start typing. The more action-oriented scenes are a blast because of their chemistry. I will say the most challenging thing is familiarizing myself with Marvel continuity a bit more. I grew up a DC kid, so I have to do my homework now.
PREVIEWSworld: If people want to contact you to learn more about this book, what social sites are you most likely to use these days?
Jeff Lemire: Ramon and I are both very active on Twitter.
Are you following PREVIEWSWorld on Twitter yet? Follow @PREVIEWSworld