Hulk Smash — And It's Gonna Be Savage
Apr 02, 2014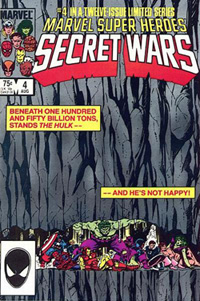 How many of you remember Marvel's Secret Wars? If you're old school, raise your hand. And what was so much fun about that limited series? We got to watch good guys and bad guys beat the crap out of one another, it was all done off-world, and there weren't any consequences back in the real world. It was like we were all watching an interstellar cage match. It was just plain old good fun…well, and the fact that Spider-Man got his black costume which turned out to be an alien symbiote…which would later be Venom. Yeah, that was cool, too.
But back to the fun factor. Anybody remember what Marvel did to the Hulk in that series? They dropped a mountain on him! All the heroes would have been turned to mashed potatoes if it wasn't for ol' Greenskin pulling double duty as Atlas. Proving once again that Hulk is the strongest one there is, and no puny human is ever going to get the drop on the big guy in tattered purple pants.
And speaking of that purple wardrobe … its back in fashion because Alan Davis says there's no school like the old school, and who's going to argue with him? He's Alan Davis. And he's got the conch. It's his turn to talk. So with the Savage Hulk #1, writer/artist Alan Davis says Hulk will smash. And smash. And … it doesn't matter if the Leader of Abomination gets in the way. Or the X-Men.
The mighty mitts will be raised high over the green goliath's head, and with this new series you're either ready to rumble, or you can look for some other book that's concerned with continuity. This new book is not up for fanboy debates. We're going back to a more simple time. You know, like when heroes were transported off-world and normal rules didn't apply.
Alan Davis has more than 30 years working in comics, so now he's going to be spending his political capital working on the strongest hero in the Marvel universe, telling good stories, and having a lot of fun doing it.
And that's all, folks.
Now get out of the way! Here comes some flying concrete!
Look for Savage Hulk #1 (APR140648) in April's MARVEL PREVIEWS!