Stark Family Secret Revealed in Iron Man #17
Oct 23, 2013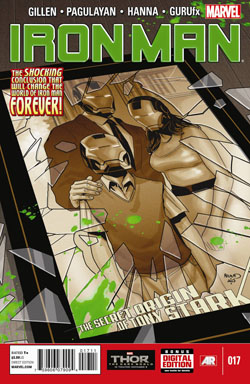 Every family has skeletons in their closet and the Starks are no different. And - like most family secrets - they cannot remain hidden forever, especially if you are the avenging philanthropic billionaire Tony Stark a.k.a Iron Man.
Fair warning: If you don't want to know what happens in Iron Man #17 (AUG130819), stop reading now!
In the pages of issue #17, writer Kieron Gillen delivers readers with a double whammy when it is revealed that Tony Stark is not the biological child of Howard and Maria Stark, but was adopted as an infant. But, they did have a child of their own - a son, Arno - a sickly boy who was imbued with alien technology proffered by the rogue android 451, and has been hidden away from the world with unknown abilities and maybe even new superpowers.
"What could I do to challenge the characters' core conception of their self," Gillen said in an interview of the discovery which finds Tony both accepting of his past yet still experiencing a swirl of emotion as the facts of his life come for the Marvel Universe. "When you discover something about yourself, you reprocess. How does it churn in the gut? How do you re-examine your life?" said Gillen. "It's a completely different prism in how you study yourself."
According to Marvel Editor-In-Chief, Axel Alonso, the revelation of Tony's adoption doesn't change who he is as a Stark. "When Kieron pitched the story, the bottom line question for us was 'Does this open up the doorway to stories that are worth telling? And it does. Who are Tony's parents? Will he want to know them? How will he feel about Howard? How will this affect the dynamic between father and son?

Now that Iron Man #17 has been released you can see the full solicitation and cover for IRON MAN #20.INH for the first time. Pre-order it from the November Marvel PREVIEWS!


IRON MAN #20.INH
Item Code: NOV130620
(W) Kieron Gillen (A) Joe Bennett (CA) Paul Rivoche
INHUMANITY TIE-IN! - IRON METROPOLITAN PART THREE!
Who will be the next MANDARIN?!
Will an INHUMAN threaten Tony and Arno's plan to build the city of tomorrow?
More mysteries of the rings revealed!!!
Also, check out these preview pages of Iron Man #17!