See The New Marvel LEGO® Variant Covers
Aug 12, 2013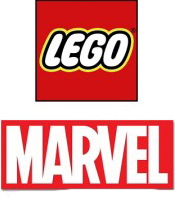 This September, two of the world's most iconic brands join forces as Marvel Entertainment & The LEGO Group, unite for the greatest variant covers you've ever seen – LEGO® Variants. That's right, Iron Man, Hawkeye, Wolverine, Captain America, and so many more of your favorite Marvel heroes are translated into LEGO form! Not only will you get to see so many of Earth's Mightiest as Minifigures, but over 20 of your favorite Marvel comics will feature these one- of-a-kind variant covers depicting some of the most classic of covers!
All-New X-Men #17
Avengers #21
Avengers A.I. #4
Captain America #12
Daredevil #31
Fantastic Four #13
Guardians Of The Galaxy #7
Hawkeye #15
Indestructible Hulk #14
Infinity #3
Iron Man #17
Marvel Universe: Avengers Assemble #1
Mighty Avengers #1
New Avengers #11
Nova #8
Secret Avengers #10
Superior Spider-Man #19
Thor: God Of Thunder #14
Uncanny Avengers #12
Wolverine & The X-Men #36
X-Men #5
"Working with the folks at The LEGO Group to do these homage covers is an absolute blast! As soon as we came up with the concept of doing the covers, I couldn't wait to get an idea off the ground that really does justice to both the Marvel heroes and the LEGO brand," explained David Gabriel, SVP of Sales, Print & Digital. "This program is the best blend of both worlds and we know it will really excite our fans and hope that Lego fans also find their way into comic shops to pick these up!"
The LEGO variant covers complement the LEGO Marvel Super Heroes construction toy collection, which brings the characters, vehicles and action of Marvel's renowned universe to the world of LEGO build-and-play adventure. There are currently eleven iconic scenes from the Avengers, Iron Man and Spider -Man franchises available including construction sets tied to Marvel's Iron Man 3 feature film. The covers also celebrate the new LEGO® Marvel™ Super Heroes videogame which will be available beginning Fall 2013 and is the first installment in the highly successful LEGO videogame franchise to feature a breadth of famous characters from the Marvel Comics Universe.
To celebrate this Marvel Team-Up, Marvel has pored through the vaults and selected the best images for artists Leo Castellani, Christopher Jones and Adam DeKracker to bring you a set of covers that will be forever awesome in your collection! Be sure to head on over to your local comic shop immediately and tell your retailers which one you want because all of these limited LEGO Variant covers are going to go fast!
PREVIEWSworld.com has 18 LEGO Variant covers to check out below!
Click on the images to view larger size.
DAREDEVIL #31 VARIANT- HOMAGE TO AMAZING SPIDER-MAN #546
(JUL130645, $3.99)


MIGHTY AVENGERS #1 VARIANT - HOMAGE TO AMAZING SPIDER-MAN #12
(JUL130585, $3.99)


WOLVERINE AND X-MEN #36 VARIANT - HOMAGE TO ASTONISHING X-MEN #3
(JUL130675, $3.99)


MARVEL UNIVERSE AVENGERS ASSEMBLE #1 VARIANT - HOMAGE TO AVENGERS ASSEMBLE #1
(AUG130731, $3.99)

THOR: GOD OF THUNDER #14 VARIANT - HOMAGE TO LOKI BY BUSCEMA PIN-UP
(AUG130823, $3.99)

HAWKEYE #15 VARIANT - HOMAGE TO HAWKEYE #2
(JUL130650, $2.99)


INDESTRUCTIBLE HULK #14 VARIANT - HOMAGE TO HULK KING-SIZED SPECIAL #1
(AUG130818, $3.99)



INFINITY #3 VARIANT - HOMAGE TO INCREDIBLE HULK #340
(JUL130575, $3.99)




GUARDIANS OF GALAXY #7 VARIANT - HOMAGE TO INVINCIBLE IRON MAN #80
(JUL130639, $3.99)

NEW AVENGERS #11 VARIANT - HOMAGE TO INVINCIBLE IRON MAN #150
(AUG130750, $3.99)

AVENGERS AI #4 VARIANT - HOMAGE TO INVINCIBLE IRON MAN #170
(AUG130770, $2.99)

FANTASTIC FOUR #13 VARIANT - HOMAGE TO MARVEL SUPER-HEROS! PRESENTS #20
(AUG130828, $2.99)

NOVA #8 VARIANT- HOMAGE TO NOVA #1
(JUL130597, $3.99)

AVENGERS #21 VARIANT - HOMAGE TO MIGHTY THOR #272
(AUG130746, $3.99)

SECRET AVENGERS #10 VARIANT - HOMAGE TO UNCANNY
AVENGERS #1
DEADPOOL VAR.
(AUG130752, $3.99)

UNCANNY AVENGERS #12 VARIANT - HOMAGE TO UNCANNY X-MEN #268
(JUL130604, $3.99)

X-MEN #5 VARIANT - HOMAGE TO WOLVERINE
(JUL130668, $3.99)


ALL NEW X-MEN #17 VARIANT - HOMAGE TO X-MEN #1
(AUG130838, $3.99)