Jason Aaron Talks Thanos...And Cosmic Bloodshed
Mar 04, 2013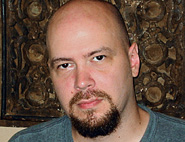 On the back cover of the February 2013 issue of Marvel PREVIEWS, we learned that veteran scribe Jason Aaron had been tapped to write Thanos Rising (FEB130488), which would be shipping to stores in April. In this exclusive interview, we ask Jason about his new gig, and which targets are first in the crosshairs.
**********
PREVIEWSworld: Readers have seen that in Issue #7 of Marvel PREVIEWS you've been tapped to write a series about one of their biggest bad boys. What's your attraction to Thanos as a writer? What was it about the character that gave you the most enjoyment when you had to sit down and become Thanos?
Jason Aaron: Well, thanks to those two seconds at the end of the Avengers movie, Thanos is suddenly in the spotlight like never before.
I'm just happy to be able to add to the character's already epic history of conquest, tragedy and (in a very weird way) romance, which of course was started years ago by the great Jim Starlin. Me sitting down and becoming Thanos? You'll realize how scary a thought that is once you've read the book. This is a grand cosmic-opera of evil with one very bad purple-skinned dude at its center.
Spoiler alert: this isn't a story where the good guys win.
This is the origin story of a galactic mass murderer.
PREVIEWSworld: Could you tell us what previous works you consulted in trying to get a comprehensive knowledge of the character's past trials and tribulations? What particular storyline served as the best cornerstone for Thanos' megalomania?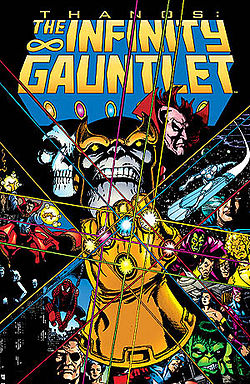 Jason Aaron: I read pretty much everything Jim Starlin did with the character, from the early appearances in Captain Marvel to the big event books like Infinity Gauntlet, and tried to weave together elements from all of them. Starlin had already sketched out much of Thanos' origin over the years, but there was never one big story that laid it all out and filled in all the blanks. This is that story.
And it's not just a story about Thanos the megalomaniac. When the story begins, Thanos is just a kid. Was he a guy who was born evil? And was he somehow shaped into a monster? That's one of the main questions of the book.
PREVIEWSworld: So we have a demi-god of death and destruction that audiences are already familiar with, given his tenure at Marvel. What new dish did you want to set at the table when it came to your turn for writing about the character? What's Jason Aaron's recipe for success with Thanos Rising?
Jason Aaron: It's just your typical dark and brutal Shakespearian, sci-fi, romance.
PREVIEWSworld: Were there any writers/editors that you consulted with in putting together your research for this series? We're asking this because, of course, Thanos has a brief cameo at the end of the Avengers movie, and inquiring minds would love to know if there was any input from the Marvel movie people. Or were you pretty much left to yourself when it came time to crank out the script?
Jason Aaron: There are a lot of eyes on the character right now, sure, and Axel Alonso, Tom Brevoort and Stephen Wacker already had some great ideas about the story when they brought me in, but no, no calls from Marvel West just yet. In fact,
I'm still waiting on my call-back to play a Viking in Thor 2.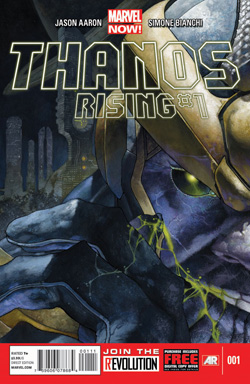 PREVIEWSworld: If you could give a shout-out to your readers and fans, and give them a heads-up on what to look for as this story unfolds, what sign posts would you tell them to look for in the series? What plot element might stop traffic on the highway? What might be something that makes for a great topic to chat about and debate online?
Jason Aaron: If you saw that purple guy at the end of the Avengers and had no idea who he was, this is the book for you. It will answer all your questions.
But even if you've been reading the story of Thanos from the very beginning, there are surprises in store for you as well. What should come as no surprise is that Simone Bianchi's artwork is amazing.
Please join us both for all sorts of cosmic bloodshed.