Staff Picks (March 13): Tarzan — The Complete Russ Manning Newspaper Strips Volume One: 1967-1969
Feb 15, 2013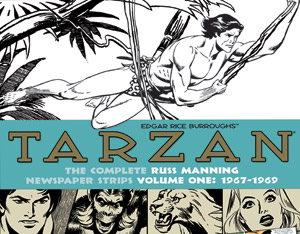 Publisher:
IDW Publishing
Some creators are lucky enough to be associated with one character for their careers such as Arthur Conan Doyle and Sherlock Holmes and Siegel & Schuster for Superman. We can add Edgar Rice Burroughs to the list with this being the centennial anniversary of
Tarzan
. If thinking of
Tarzan
you might think of the artists associated with him, like J. Allen St. John, Frank Frazetta, Hal Foster, Burne Hogarth, and Joe Kubert but for me it's
Russ Manning
on the newspaper strip and the Gold Key comic series. Each of these artists brought their own unique interpretation of the character but it was Russ Manning's I remember.
In the pre-Direct Market days buying comics was like going on a scavenger hunt so you took what you could get. Growing up watching
Tarzan
movies on television, getting the comics helped with my comic fix between issues of Adventure Comics with the Legion and Amazing Spider-Man.
While waiting for more
Tarzan
I found the newspaper strip
Russ Manning
did but because it wasn't in the local paper it took some doing to get family in other states to collect and send them to me. Now thanks to IDW I can read these stories again for the first time in almost 45 years.
The
Tarzan: The Complete Russ Manning Newspaper Strips Volume One: 1967-1969
collects the Russ Manning Tarzan in a format that does the daily and Sunday strips right. It's great to see Tarzan, Jane, La of Opar, and Pellucidar again. Russ didn't do this alone and you get to see how well his assistants Bill Stout, Mike Royer (who did a good job in following Manning on the comic book) and a pre-Rocketeer Dave Stevens helped in bringing this icon to life.
This is a great companion to Dark Horse's Tarzan: The Russ Manning Years and belongs on your shelf right next to the Goodwin & Williamson X-9: Secret Agent Corrigan, Alex Raymond's Rip Kirby and Caniff's Terry and the Pirates. This is so much easier than hunting down old issues of the Menomonee Falls Gazette and a heck of a lot easier to shelve.
~
Steve Leaf
Item Code:
MAR130427
In Stores:
05/29/13