Exclusive Marvel NOW! Artwork Gallery: Age of Ultron
Jan 18, 2013
Marvel NOW! sent some exclusive variant covers and preview pages for Age of Ultron #1 which hits stores on March 6th!

In an interview with Diamond's retailer website, Diamond Daily, Marvel's Senior VP of Sales David Gabriel talked about Age of Ultron, "This story is BIG. B. I. G. I'll say it right now, right off the bat – retailers should check their orders on Age of Ultron because month in and month out as the event progresses – they're going to wish they had stock on hand. This is a true Marvel Universe event. Everyone from the Avengers, to the X-Men, to the Guardians of the Galaxy are involved. And when the dust settles, you'll definitely feel the effects in our line."
Marvel Executive Editor Tom Brevoort further explained what's planned, "This is the first large-scale story to hit across the landscape of Marvel NOW!, so it's frighteningly important to what's going on and what will be going on in the future! We've been laying the seeds for Age of Ultron as far back as the Heroic Age, and as you can see from the list of tie-in titles, it's a story that's going to impact all across the Marvel Universe, into every corner—from Uncanny Avengers to Wolverine & The X-Men to Superior Spider-Man and Fantastic Four. It's also a team of world-class creators telling an epic saga of sweeping scale! And people are going to absolutely plotz when they get to the final pages of the final issue—guaranteed!"

Click on the images below to see larger size!
---

AGE OF ULTRON #1-6 VARIANTS
And here's a little tease to something you'll see more of next week!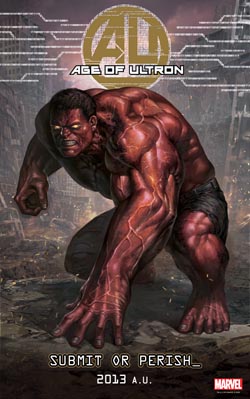 PREVIEW PAGES OF AGE OF ULTRON #1