Rick Remender Talks Avengers: It's Not A New Universe
Jan 20, 2013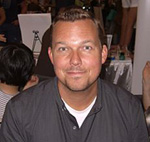 Rick Remender is a man of many hats, having worked as an artist, and as a writer for video games. But regarding his work in comics, he's well known as the writer/creator of comics such as Fear Agent, Strange Girl, and Black Heart Billy. He's also cranked out crime noir comics like The Last Days of American Crime, and horror books like Sea of Red. But what most of you probably know now is that Rick is the writer for Marvel's Uncanny Avengers. It's a big project for him, and Rick was kind enough to share a couple minutes with us to talk about his new gig, and how it suits him.
PREVIEWSworld: Uncanny Avengers #3 (OCT120587) hits the streets on January 23rd. Now that the series is underway, are you comfortable with your schedule and do you already have a few issues in the can? How far ahead are you in plotting/dialogue?
Rick Remender: I have the book outlined up to issue 22 right now. And outlined fairly tightly as I know exactly where this is leading and the huge ramifications it's going to have across the Marvel universe moving forward. Issue 3 and 4 have been pushed back a little bit, but issues 5 and 6 by geniuses Olivier Coipel and new ongoing series artist Daniel Acuña are well underway, so we'll be back on track in no time at all. And with so many amazing artists I think it's worth the wait.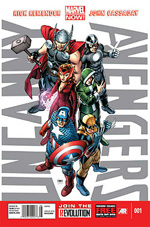 PREVIEWSworld: You're no stranger to writing team books, as you've worked on Uncanny X-Force, The End League, and Secret Avengers. But as this is a Marvel NOW title, are you assuming any kind of new creative liberties?
Rick Remender: To be very clear, it's not a new universe. The Marvel Now initiative is a reboot of the line that respects past continuity. What happened in the books prior to Marvel Now still happened. This is a creative shakeup more than anything else. An exciting place for new readers to jump on with new creative teams and get ready for the future of the Marvel universe.
PREVIEWSworld: How did you pitch your idea to Marvel for Uncanny Avengers? How did you describe your vision for this title when it came to putting thoughts on paper?
Rick Remender: This book is a team of X-Men and Avengers working together in a very public way, located out of the Avengers Mansion, working to help bridge the gap between human and mutant relations. The main heart of the team is living up to the standard and dream of Prof. Charles Xavier who passed away during the Avengers versus X-Men crossover.
The hope is when the world sees Rogue and Havok alongside Capt. America and Thor, when they save the world together, that people will begin to see mutants in a different light. This was in fact the reason that Charles Xavier sent his students in costumes out to the world in the first place, to change perception and to win over hearts and minds.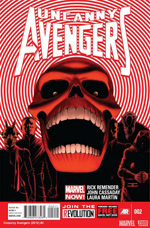 PREVIEWSworld: Turning our attention to issue #4, the Red Skull is in the process of taking over New York. How much fun was it to play with one of Marvel's most conniving villains? Is there another villain that you think is on a par with the Skull intellectually?
Rick Remender: I think Dr. Doom is obviously much smarter, especially in the sciences and mystic arts. But there is no one who is a superior Machiavellian manipulator, and no other villain is as evil to his core as the Red Skull. So it's interesting to write a villain who has no gray area — he's just evil. He's everything that's wrong with humanity rolled up in one.
PREVIEWSworld: Any chance that you can tell us what might lie ahead for you creatively in 2013?
Rick Remender: I have long-form stories to tell with both Capt. America and the Uncanny Avengers, and both of those books will remain monthly so that we can build a consistency with the art teams hopefully. That's the intention anyway, that Captain America move forward with John Romita Jr on art, and the Uncanny Avengers move forward with Daniel Acuña on art, and that by keeping a monthly schedule we can maintain those teams into the future. I'm incredibly excited about the big craziness that I have cooked up as well — the character progression that I have planned.
Outside of Marvel, my first creator-owned book in 2 years will be Devolution at Dynamite, with my friend and wildly brilliant artist Paul Renaud. Paul and I have been trying to put this project together for 5 years but our schedules never lined up. This is the year that we're making it happen. I also have a new series coming up entitled Low, with the ridiculous genius Greg Tocchini. We haven't announced a publisher or release date yet, but we will be underway on that this year.