PREVIEWSworld Exclusive: Sam Humphries Explains The Uncanny X-Force
Jan 06, 2013
In this PREVIEWSworld Exclusive interview, writer Sam Humphries talks about how he envisioned a new Uncanny title playing out in the Marvel NOW universe. The book was first thought of as James Bond directed by David Lynch. And from there, buildings began to crumble.
**********
PREVIEWSworld: You've worked on books like Higher Earth (sci fi) and Fanboys Vs. Zombies (post-apocalyptic comic convention craziness), and now you're on Uncanny X-Force for the Marvel NOW! launch. Quite the different gig, eh? Quite the long resume to read in getting to know the team's history. Tell us about the parameters of your research. Was anyone particularly instrumental in helping you get up to speed?
Sam Humphries: Reading and re-reading highlights from Claremont, L. Simonson, Whedon, Carey, Remender, and Bendis.
That said, I've already got decades of otherwise useless X-knowledge. It has established a permanent residency in my head. Finally, I can put it to work!
Outside of comics, the films of Pedro Almodovar have been influential in subtle ways.
PREVIEWSworld: Issue #1 comes out in January 2013. The initial solicitation boasts about how X-Force takes on situations "the X-Men fear and hate." Those are pretty strong words. So tell us how your new foot soldiers will show the fortitude necessary to live up to that expectation. Who goes out of their way to flex their muscles first, and give off a sonic boom?
Sam Humphries: They aren't foot soldiers, they're outcasts, figuring out where they belong, with chips on their shoulders and ready to snap. In order of those who lash out, it goes Betsy, then Spiral, then Bishop.
PREVIEWSworld: What attracted you to the idea of writing this book? What planted the seed?
Sam Humphries: Uncanny X-Force has always been about outsiders.
In the new post-AVX world, you've got Wolverine running a damn prep school and people like Rogue and Sunfire are Avengers. Where's the home for the TRULY uncanny? That's what this book is — the marginalized, the angry, the lost characters who aren't buying into Captain America's grand Uncanny Avengers vision.
There's a lot of comics with "Uncanny" in the title, but this one is the most UNCANNY of them all.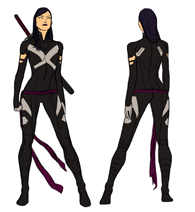 PREVIEWSworld: Psylocke and Storm lead a bunch of "outcasts and scoundrels," and somehow Bishop winds up in the heart of the storm. That's a lot of egos in one breath. Just how dysfunctional will this team be, given that you already have a powder keg of personalities?
Sam Humphries: HIGHLY dysfunctional. They can't even agree whether they're a team or not. They'd bite each others' heads off...if they could spare a second to catch their collective breath.
PREVIEWSworld: Ron Garney's been in the game for a long time. How did you two get together to first pitch this idea to Marvel? Have you and Ron known each other long? What kind of moods do you want him to bring to the pages of this comic book?
Sam Humphries: I first pitched the book as James Bond as directed by David Lynch. That's what got me the book. Our esteemed senior editor brought Ron to the table and I couldn't be more psyched. He's the TRUE KILLER of Uncanny X-Force!
**********
Check out our previous interview with Sam Humphries at San Diego Comic Con 2012.