Five Questions With Jeph Loeb: Nova, Growing Pains, & S.H.I.E.L.D.
Dec 16, 2012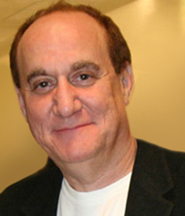 The chance to break out and do something different is what moved Jeph Loeb to pitch to Marvel the story of Nova as a teenager. Read in this interview how he and Ed McGuinness worked together to create a story about Nova before the glory days.
************
PREVIEWSworld: Ok: so Sam Alexander in Nova #1 is barely old enough for his first date. What's behind this bold new direction?
Jeph Loeb: Ed McGuinness and I love Nova. Huge fans. And when Abnett and Lanning made the bold decision to bring Rich Rider's story to an end (as well as the Nova Corp) we thought that story was epic and heartbreaking — but NOVA had to live on!
So we pitched to Editor Supremo Steve "Wacky" Wacker the story of Sam Alexander, a young man who discovers that his destiny lies somewhere out there beyond the small town in Arizona where he's having the problems of a typical teenager -- school, girls, family, school -- never imagining that he one day would become a super hero. Sam soon appeared in the Point Ones and kicked off the huge Avengers Versus X-Men story, and now is our chance to step back a little and find out who is Sam, and how he came about to have the helmet.
PREVIEWSworld: Were there any pros and cons tossed about when the decision was made to keep the big boys in the NOW universe adults (Cap, Thor, Iron Man, etc) but make NOVA a kid? What were the thoughts about previous NOVA continuity?
Jeph Loeb: This wasn't about adults vs. teenagers -- this was where the story took us. Like when Peter Parker first appeared in the Marvel Universe, we wanted to have a young man who was relatable and could take us on the adventure of his life. There are lots of heroes Ed and I have worked on who are adults — this was a chance to stretch a bit, and have Ed draw someone who was small and had a small frame. Nothing else is small about this story though!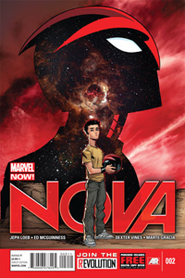 PREVIEWSworld: As Sam's father talks about the glory days of "Nova Corps," can we expect recreations of previous NOVA battles? Will Sam have to live up to the legend of ghosts?
Jeph Loeb: Sam's family and in particular, his father, will play a critical role in the story. How he figures in will be very clear in the first issue.
PREVIEWSworld: How do you like playing in the NOW universe? What new teams formed get you excited as a fanboy?
Jeph Loeb: All of them! The books rock and we're thrilled to be part of them. But in particular sharing the universe with Bendis and McNiven on Guardians of the Galaxy is the coolest thing ever.
PREVIEWSworld: Any chance you might give us a hint about what else you're working on?
Jeph Loeb: Well...we have a "little" pilot for television that you might have heard about called Marvel's S.H.I.E.L.D. co-written, directed, and Executive Produced by none other than Joss Whedon! Working with Joss, Jed Whedon, Maurissa Tancharoen, Jeffrey Bell on the show is a blast! And bringing in Clark Gregg to play Agent Phil Coulson -- the best! Hopefully we will be on in the Fall of 2013 on ABC!