New To Order: Rise of the Teenage Mutant Ninja Turtles Figures
Aug 07, 2018
New Teenage Mutant Ninja Turtles toys and collectibles are coming to your local comic shop.
Courtesy of Playmates, Nickelodeon's Rise of the Teenage Mutant Turtles action figures, playsets and vehicles are now available to pre-order.
See the details below!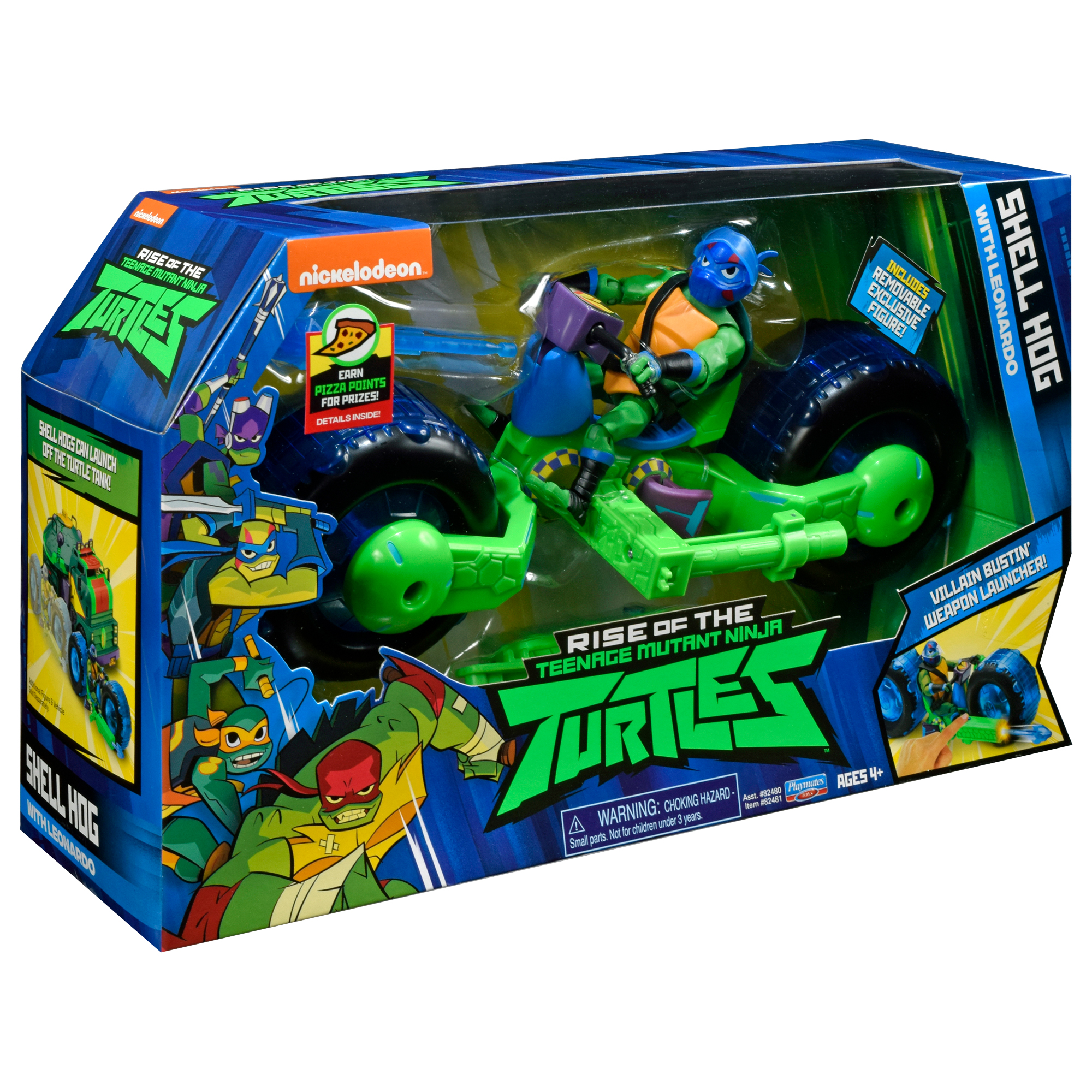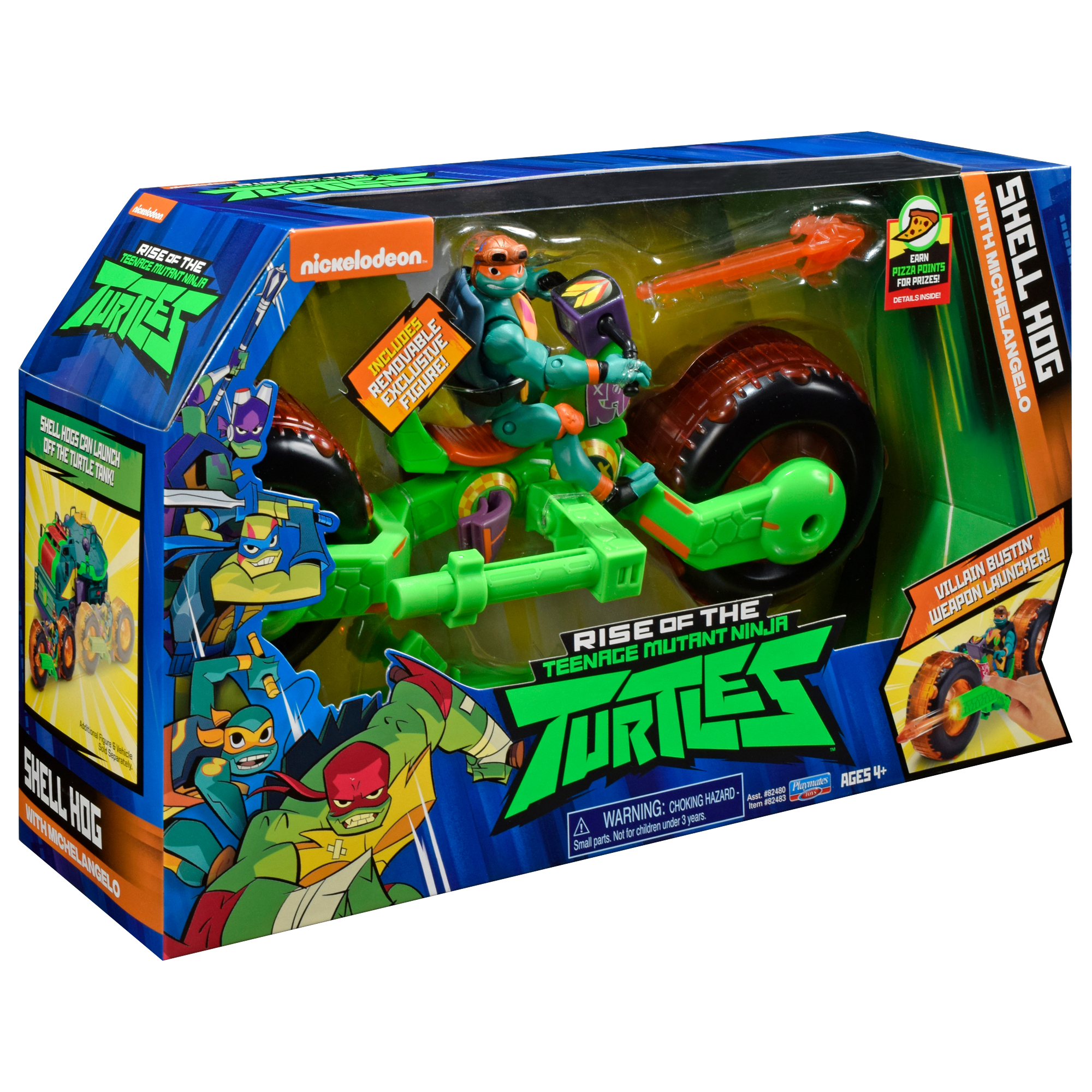 RISE OF TMNT VEHICLE W/FIGURE AF ASST (MAY189247)
Hidden throughout New York City are secret doors and tunnels to a hidden city! The Turtles rev up on their new Shell Hog motorcycles for some shell kickin' Turtle action through New York City, and the realms below the streets, to take out any villains they encounter. Equipped with spring loaded projectiles, high or low attack seat adjustability, and the ability to connect to each other, the Shell Hogs pack a punch going into battle. Collect Leonardo's Shell Hog with Exclusive Leonardo figure and Michelangelo's Shell Hog with Exclusive Michelangelo figure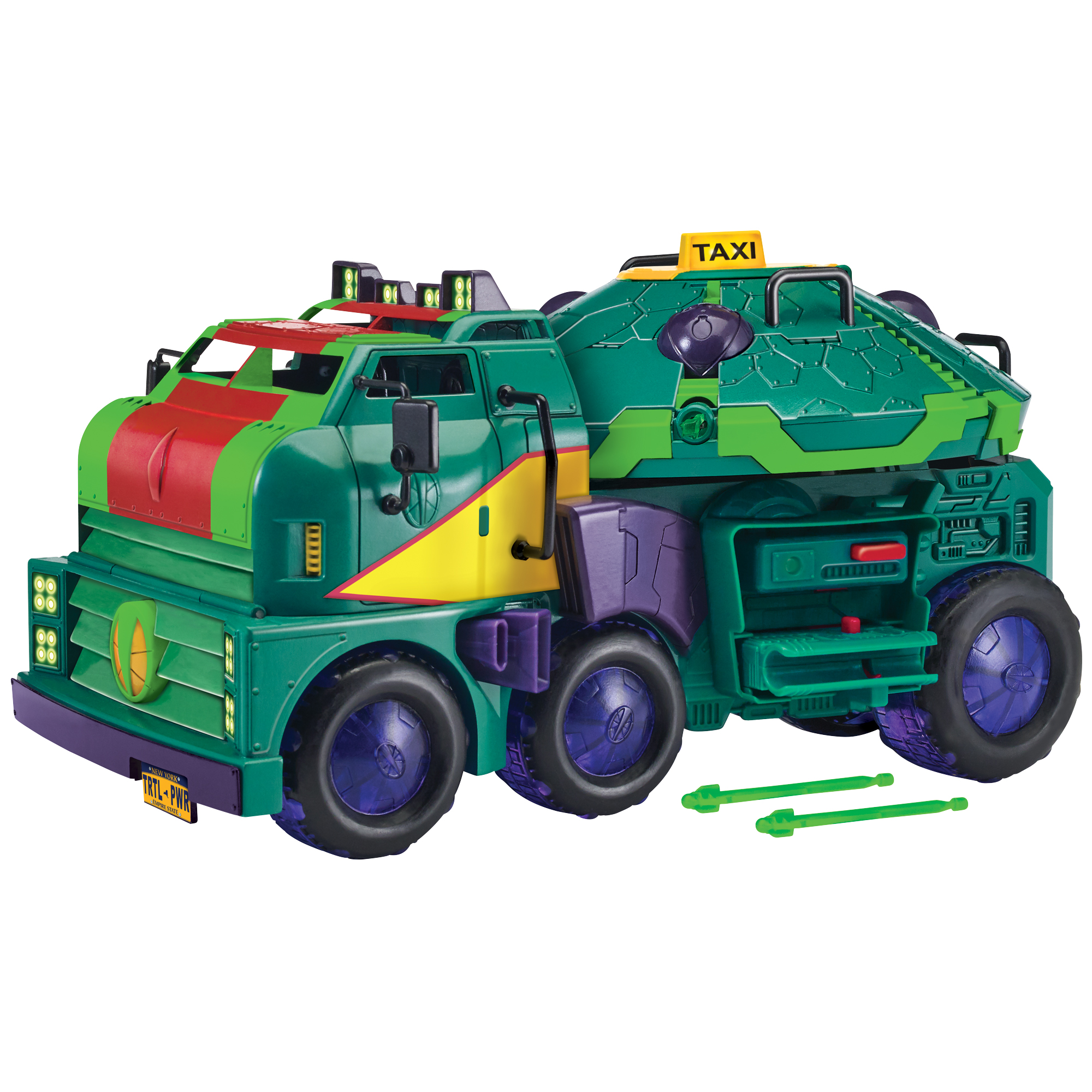 RISE OF TMNT TURTLE TANK VEHICLE (MAY189246)
When the Turtles need to get to the action fast, Donatello builds a villain bustin' Turtle Tank that can navigate through New York City, and the realms below, with all the fire power needed to kick some shell! The Turtle Tank group vehicle is 2 toys in 1, and can transport from the city to the lair and the hidden city that the Turtles discover. First, in vehicle mode, the front cab opens and two Turtles can sit inside, driving the brothers into action. Then, Donatello's removable lab rises up and serves as the mobile command headquarters as the Turtles spy and plan to defeat the baddies below. Equipped with spring loaded projectiles, the Turtle Tank is compatible with the Shell Hog vehicles and even fires them off when the Turtles need to get to the battle fast. Compatible with Rise of the Teenage Mutant Ninja Turtles basic action figures.
RISE OF TMNT GIANT AF ASST (MAY189245)
Standing between 10.25" and 11" tall with 13 points of articulation, these Turtles are fully equipped and ready for battle. Each figure comes with their core translucent weapon accessories, ready to unleash a Ninja power beat down! Collect Raphael with Tonfas and Throwing Stars; Leonardo with Odachi sword and Throwing Stars; Donatello with side kick drone, Shelldon, Tech-Bo Staff and Throwing Stars; Michelangelo with Kusari-Fundo and Throwing Stars.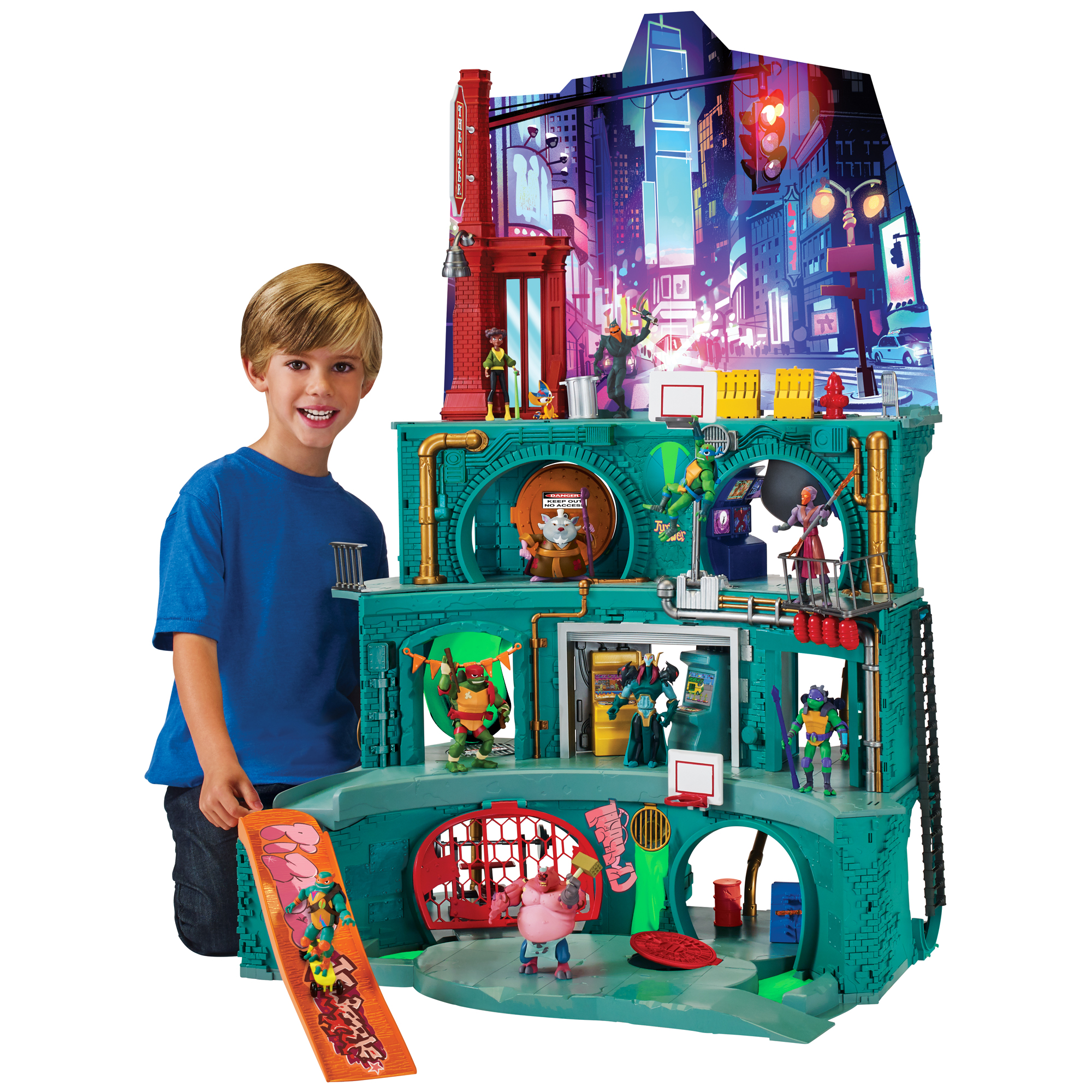 RISE OF TMNT EPIC SEWER LAIR PLAYSET (MAY189244)
This massive Sewer Lair Playset is the biggest
TMNT
action figure playset ever, standing 43" tall! Disappear into the sewer from the NYC street level to discover where
Splinter
and the Turtles live and train. There are 4 levels of play to discover, 7 rooms, and 20+ features. This EPIC deluxe playset is packed with features including:
Splinter's Dojo, Raphael's Weight Training Room, Leonardo's Rotating Weapon storage wall, Michelangelo's arcade, the catapult Basketball hoop, hidden projectile launchers for villain invasions, rotating skateboard ramp, collapsing balcony
, and so much more. Compatible with
Rise of the Teenage Mutant Ninja Turtles
basic action figures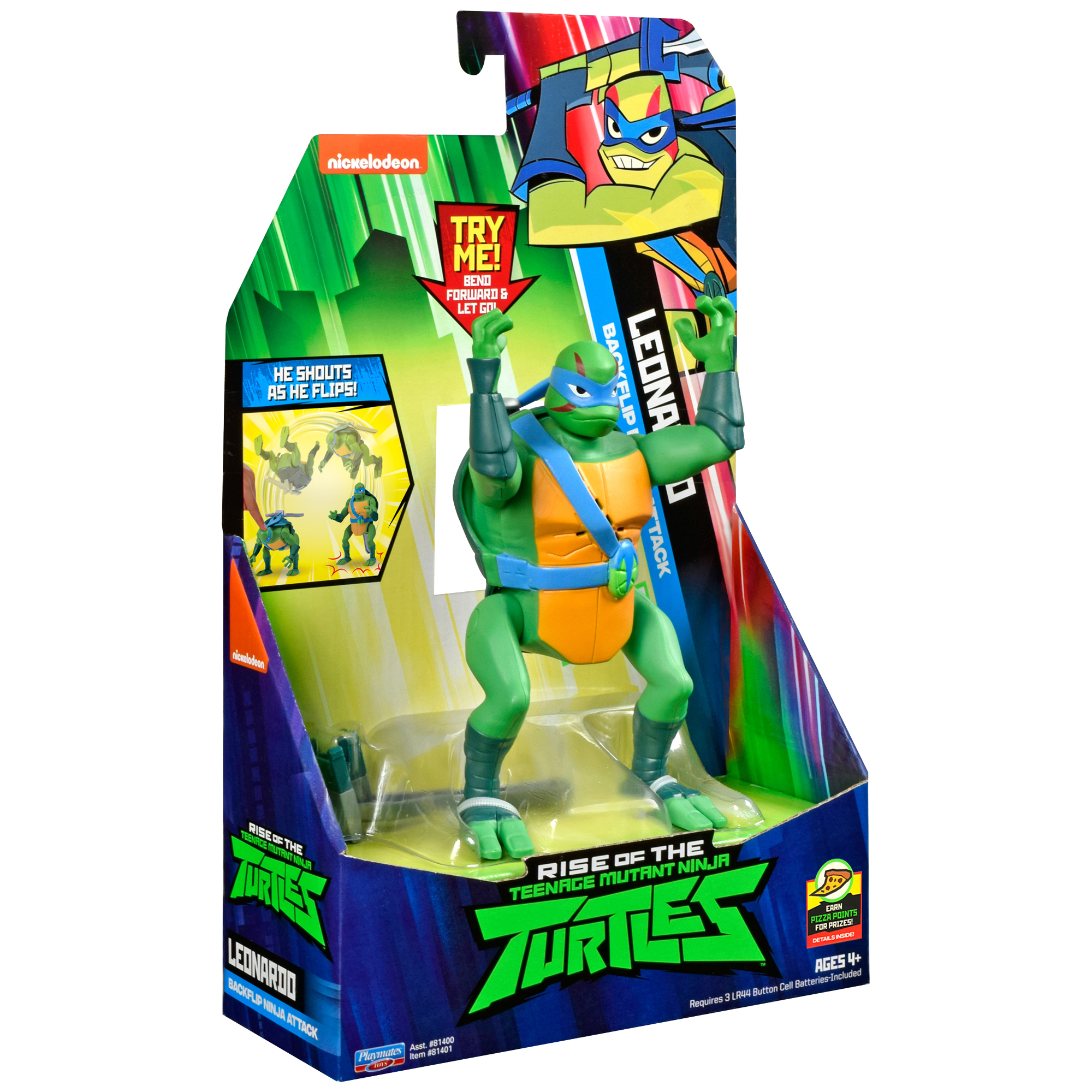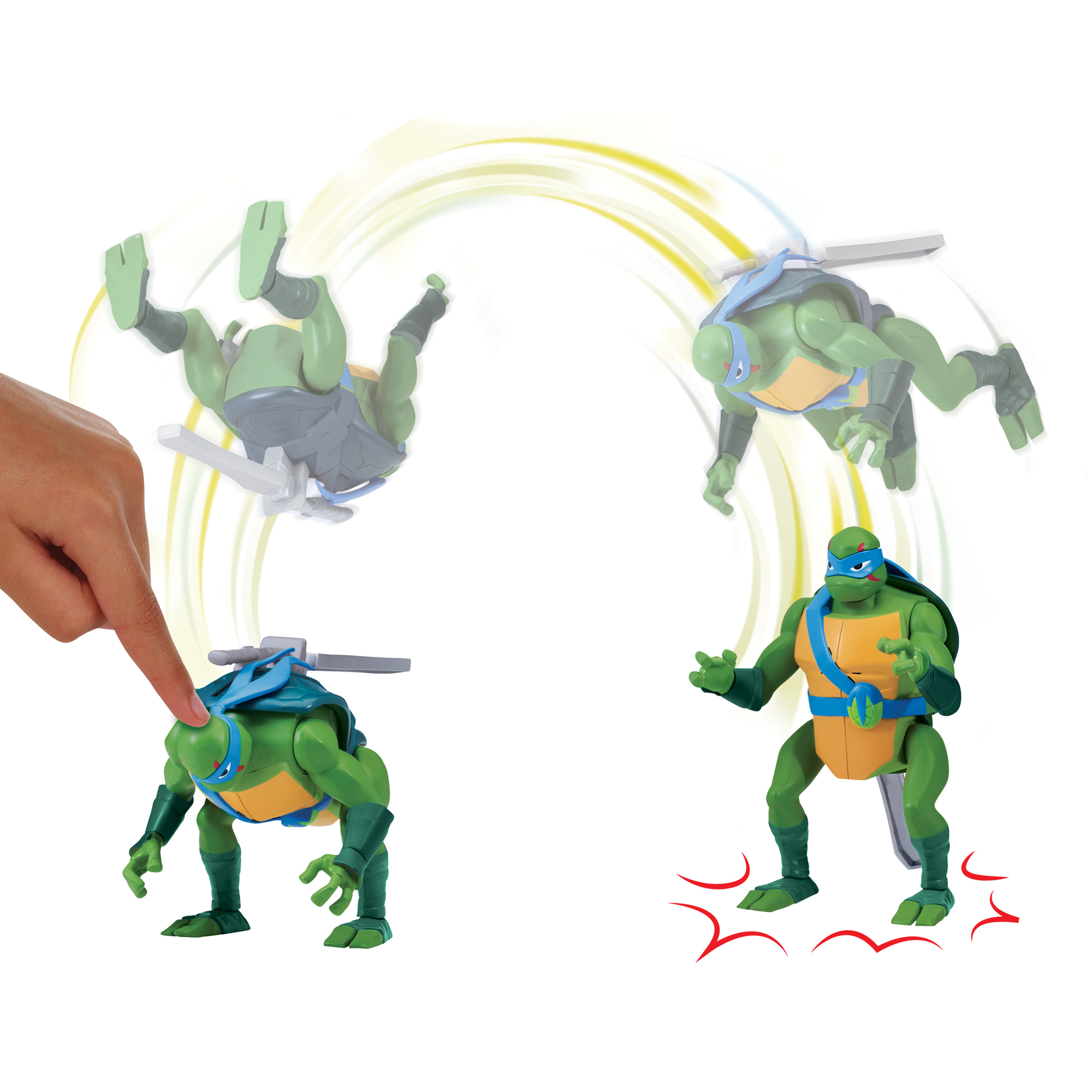 RISE OF TMNT DELUXE NINJA ATTACT AF ASST (MAY189243)
Each action-posed, deluxe figure stands 5.5" tall, and is ready to take out the baddies with shell kickin' ninja action. Set the Ninja in motion, and let go to activate deluxe flipping action! The Turtles let out an action shout as they flip, and then land their flip with a signature Turtle weapon sound effect! Collect Raphael SideFlip Ninja Attack, Leonardo Backflip Ninja Attack, Donatello SideFlip Ninja Attack, andMichelangelo Popup Ninja Attack.
The Turtles are back! Highly detailed and articulated, these TMNT Figures Height's range from 4.25"-5.00" and each figure captures the look of characters from the new Rise of the Teenage Mutant Ninja Turtles TV Show!