Indie Edge April 2009: William Shatner
Mar 25, 2009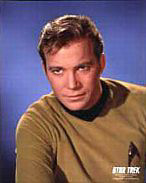 What Would Jesus Do? What Would Batman Do? What Would Brian Boitano Do? Some people ask these questions. Some people live these questions.
I'm different. I ask myself, "What Would William Shatner Do?"
I was a William Shatner fan from birth. I grew up watching Star Trek, both the original and the animated series, drawn to Shatner's Kirk, his zest for life, his thirst for adventure. I watched T.J. Hooker every Saturday, I "cast" Shatner in my mind's eye as Lije Baley when I read Isaac Asimov's The Caves of Steel when I was twelve. Free Enterprise could be a movie about me and my life. Were it not for William Shatner, I wouldn't be the person I am today. I certainly wouldn't be the writer I am today.
Science fiction hero. Pop culture icon. Emmy Award-winning actor. Writer. Director. Producer. Musician. In a show business career that has spanned six decades, William Shatner has been all of these and more. This summer, Shatner adds another credit to an already impressive resume — Comic Book Creator — and I had to opportunity to fulfill an lifelong ambition, to speak with William Shatner himself on behalf of PREVIEWS.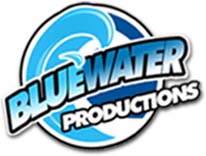 Shatner has teamed with Bluewater Productions to produce a line of comics under the "William Shatner Presents" banner. "This is my first opportunity to take some of the stuff I've written and work with storyboard artists of the quality that I am working with and having regular satisfaction out of it," he said. Adapting both his best-selling science-fiction novels and creating new properties, these books will be previewed in William Shatner Presents, a Free Comic Book Day offering that will have previews of four series, available for free at comic shops everywhere on May 2, 2009.
Comics have long been a part of Shatner's life. Growing up in Montreal in the years before World War II as he did, he said, "When I was a kid I was enthralled. Comics interested me in reading at an early age. Long after I was supposed to be in bed I'd have my comic books and my flashlight underneath my blankets reading comic books while my mother thought I was asleep.  The visuals, the conception of the visual art intrigued me and has stayed with me."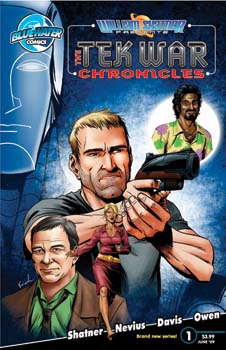 One series in development is TekWar, based on Shatner's future noir detective novels. "These novels were based on my unending interest in television, my fascination with television brings me to the point where it keeps me from going to bed at a decent hour. So I took that to the point where somebody could have visions, taking this futuristic drug 'Tek,' and I put a policemen, Jake Cardigan, who was unjustly accused of a crime who is rehired and brought back to society because of his detective skills. He works on two levels — one solving the crimes, second clearing his name from a crime he didn't commit." TekWar, from writer Scott Davis and artist Erich Owens, begins in the William Shatner Presents special with a 12-page prologue that reveals the untold story of Cardigan's framing and arrest, set four years before his release.
Shatner wrote a series of young adult science fiction novels, not unlike Robert Heinlein's juvenile novels of the 1950's, called Quest for Tomorrow. "This series is about teenagers. It's fast-paced with the goings-on and the intricate lives of teenagers that we examine. They're living in the future, but their angst is traditional." Centered on a teenager named Jim Endicott, the Quest for Tomorrow comics look at the issues of growing up, finding one's place in the world, and the opportunities and challenges of life. Quest for Tomorrow will be written by David McIntee with art by James R. Howard.
The third series from William Shatner is Man O'War. "'Man O'War' is the term given to a warship, which is what our hero becomes reluctantly," said Shatner. The solar system is in turmoil. Earth is overpopulated, the off-world colonies on Mars and in the asteroid belt are keeping Earth's population alive, but the colonies which once offered so much promise are now tyrannical labor camps of slavery and servitude. "Man O'War attempts to have its own philosophy. If you wish to compromise, where does compromise take place, and when does compromise become a lack of ideals? Our hero, Benton Hawkes, is a diplomat who catches the fervor of revolution from the young Martians who are in revolt against Earth. Our hero is sent to Mars where he becomes infused with a fervor not unlike the American Revolutionaries." This political science-fiction thriller is written by C.J. Henderson and illustrated by Green Lantern artist Pat Broderick.
Shatner's vision is in full-force in these books. Said Shatner of the finished artwork, "I think it's really excellent. The magic that I always intuitively saw as the artist would paint panels and try to fill panels as completely as possible, like a motion picture, requires great art to have your eye rove from panel-to-panel, to give the sense of motion."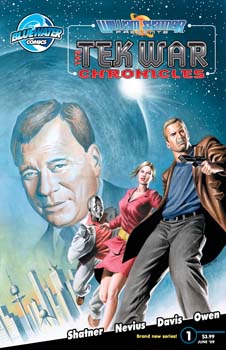 These books, and a secret, original-to-comics fourth book, debut with the May release of William Shatner Presents on Free Comic Book Day. "I'll do what I can, on television and radio, to promote these books. I'll be appearing at a couple of bookstores. We'll be providing a free 12-page original story prologue to TekWar, which I think in itself will be valuable as a collector's item."
Our interview came to a close with a final question on my favorite William Shatner novel, Believe, co-written with Michael Tobias. Not science-fiction, Believe is the story of an encounter between Harry Houdini, the noted illusionist, and Sir Arthur Conan Doyle, the creator of Sherlock Holmes. "It was one of my favorite projects," said Shatner. "The premise that they met, it was a fun project to do."
Beginning with May's William Shatner Presents special for Free Comic Book Day and followed by the June launch of William Shatner Presents: TekWar, William Shatner is taking the comics world by storm. The breadth of Shatner's vision, his stories ranging from science-fiction mysteries to political rebellion, will be on full display.
I ask myself every day what William Shatner would do. Sometimes it's a flying leg kick. Sometimes it's snog the alien girl or smoke a cigar on a balcony. It might even be choosing Tiberius Cologne over Red Shirt. This spring, when I ask myself what would William Shatner do, there's no question. William Shatner would pick up William Shatner Presents: TekWar.
So will I.  And so should you.