See the San Diego PREVIEWS Exclusive Toys and Collectibles for Pre-Order Now
Jun 05, 2023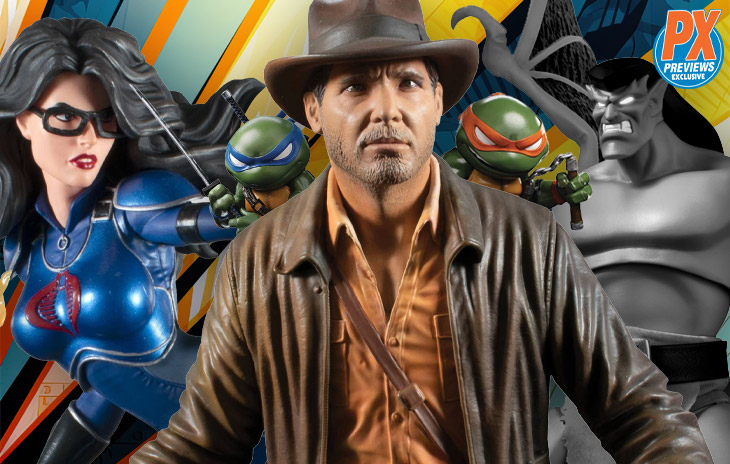 Diamond Comic Distributors is delighted to announce its offering of twenty-four highly sought-after PREVIEWS exclusive collectibles available at this year's Comic-Con International: San Diego, scheduled from July 19 to July 23. This remarkable lineup comprises a diverse range of PVC statues, busts, action figures, and lunch boxes, showcasing beloved licenses like Marvel, Star Wars, Indiana Jones, TMNT, Transformers, and more! Attendees of Comic-Con will have the opportunity to preview these exclusive items at the Diamond PREVIEWS Booth #2401 and make purchases through their local comic book specialty stores.
"We are thrilled to present this year's extremely limited con exclusives," expressed Mike Schimmel, Diamond's Vice President of Sales. "At the PREVIEWS booth, we will showcase these exceptional items and direct fans to retailers who will have the exclusives available for purchase on the show floor. Fans who eagerly anticipate attending Comic-Con International: San Diego for the exclusives will not be disappointed with this year's exceptional selection."
To ensure you secure these coveted exclusives, you can pre-order them either via Pullbox or at your local comic shop from now thru Monday, June 26th. After that date, pre-orders will only be available at San Diego Comic Con itself. Following the convention, the exclusives will be shipped to stores.
Take a look at the exclusive items below and make sure to place your pre-orders by Monday, June 26th, so you don't miss out! Otherwise, make sure to get them at Comic-Con International: San-Diego from July 19 to July 23.