Get Graphic: Linda Sejic Presents Mad Science At It's Finest
May 01, 2023
Interview by Troy-Jeffrey Allen
For this week's Get Graphic, PREVIEWSworld reintroduces you to Blood Stain, a workplace dark comedy where the boss you have to answer to is a mad scientist.
In the following interview, artist-writer Linda Sejic (Witchblade, Postal) explains why blood stains on a lab coat...aren't necessarily always a bad thing. Keep reading...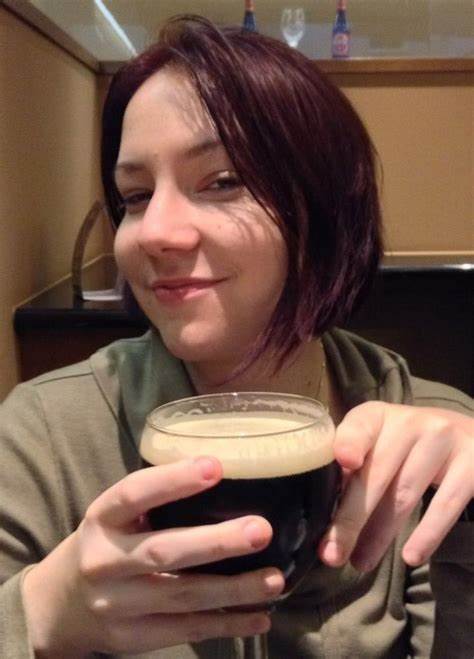 Firstly, what is your name and where do you hail from?
Hi! PreviewsWorld! My name is Linda Sejic. I´m from Croatia.
How did you get into art? What sparked your initial interest?
I have been interested in art ever since I could hold a pencil. But the main spark was cartoons. I wanted to become an animator. Later in life, I discovered I loved telling stories, and comics were the perfect medium that merged both my love of art and telling stories into one.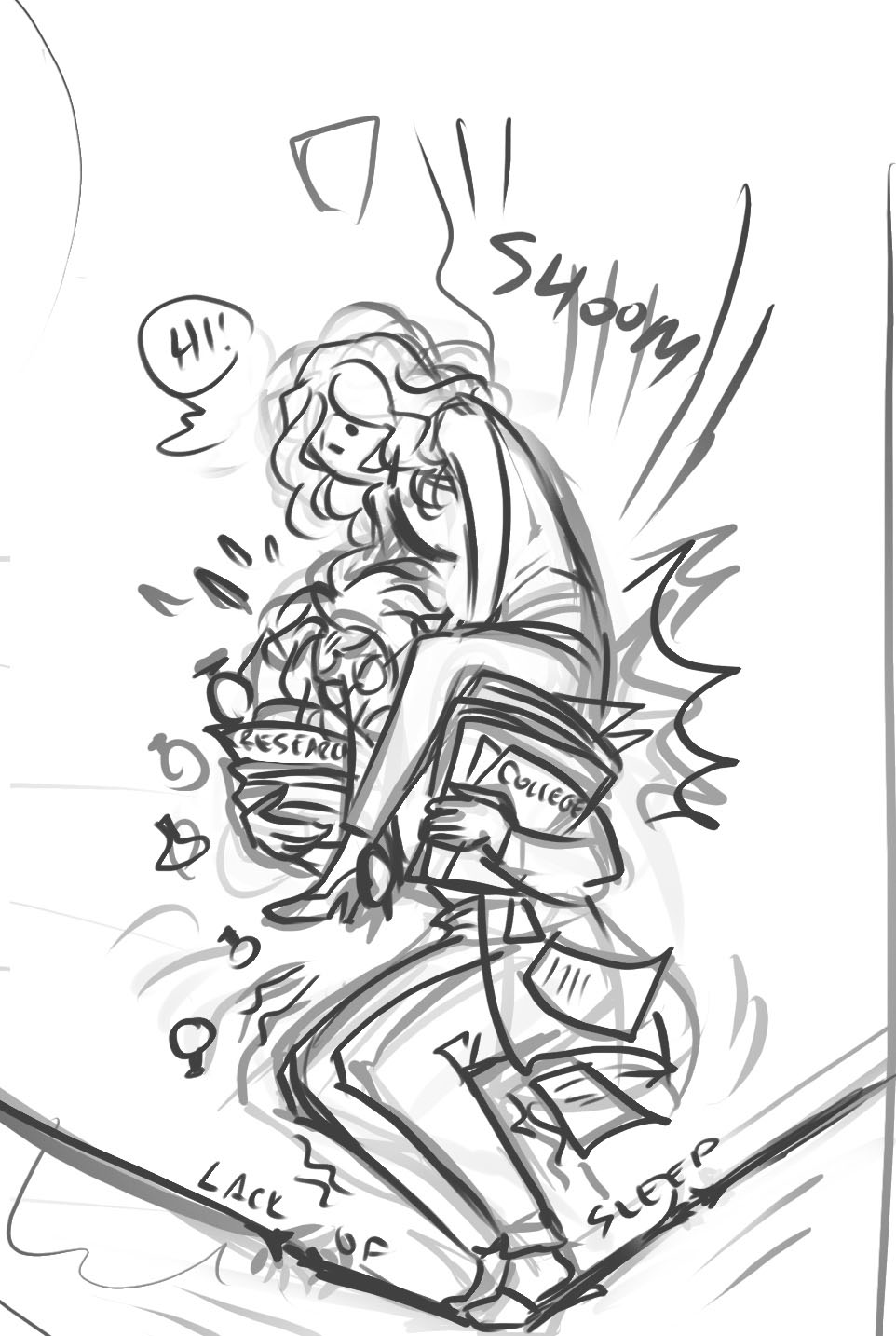 You're on the fourth volume of this series. Catch us up to speed a bit. What can you tell us about Blood Stain? What is it about?
Blood Stain is a slice of life/drama/comedy about a young woman looking for a job. She has an overactive imagination which brings about many humorous moments, as well as moments of failure, especially in keeping jobs.
Eventually, she gets hired on a whim by a rather eccentric local "mad scientist". She needs to make it to a plane in order to get to his lab/house/mansion in record time if she wants to get the job.
But, "Who is he? What does he do? and Why does he have all these blood stains on his lab coat? These are just some of the questions going through her head, coupled with the new fear she didn't consider before- fear of the unknown.
As she stays longer doing her best to keep this job she discovers that Vlad Stein (very punny wordplay of his name with the main title) may not be as scary as she initially perceived him, and perhaps not that much more different from her. As the story progresses, we will peel more layers, revealing more about Vlad and Elly both:
Their past, what made them who they are, and see them visibly change and learn from each other as they collaborate to eventually become their best selves.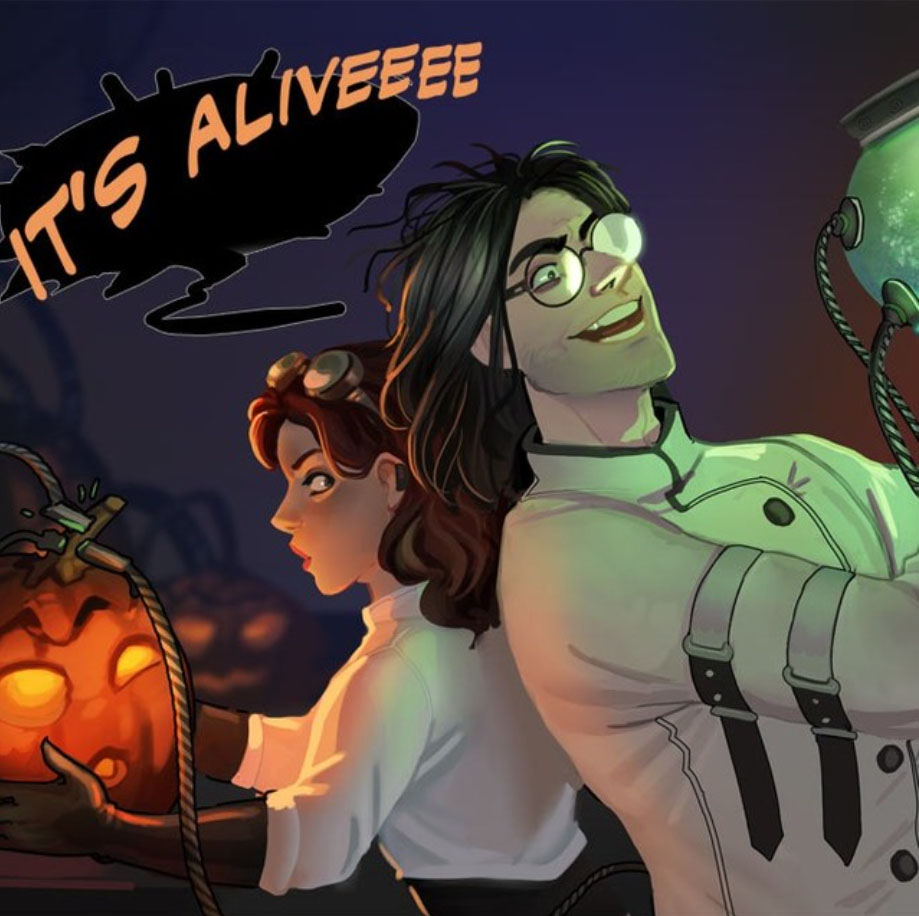 Is this more of a workplace comedy or something much darker?
This is a workplace comedy, yes, but also drama and romance. This story deals with themes of growing up, overcoming fears, not judging others, and value of healthy communication.
The dark stuff was thematically placed within the first 3 books as we were dealing with the theme of not judging others, and themes of first impressions which made everything be perceived as scary.
In the next volumes, we will be dealing with a lot of life-work balance themes where employee and friendship lines will start blurring. So, as the two main characters grow closer to each other, it will pave the road to a lot of new and interesting situations in the future.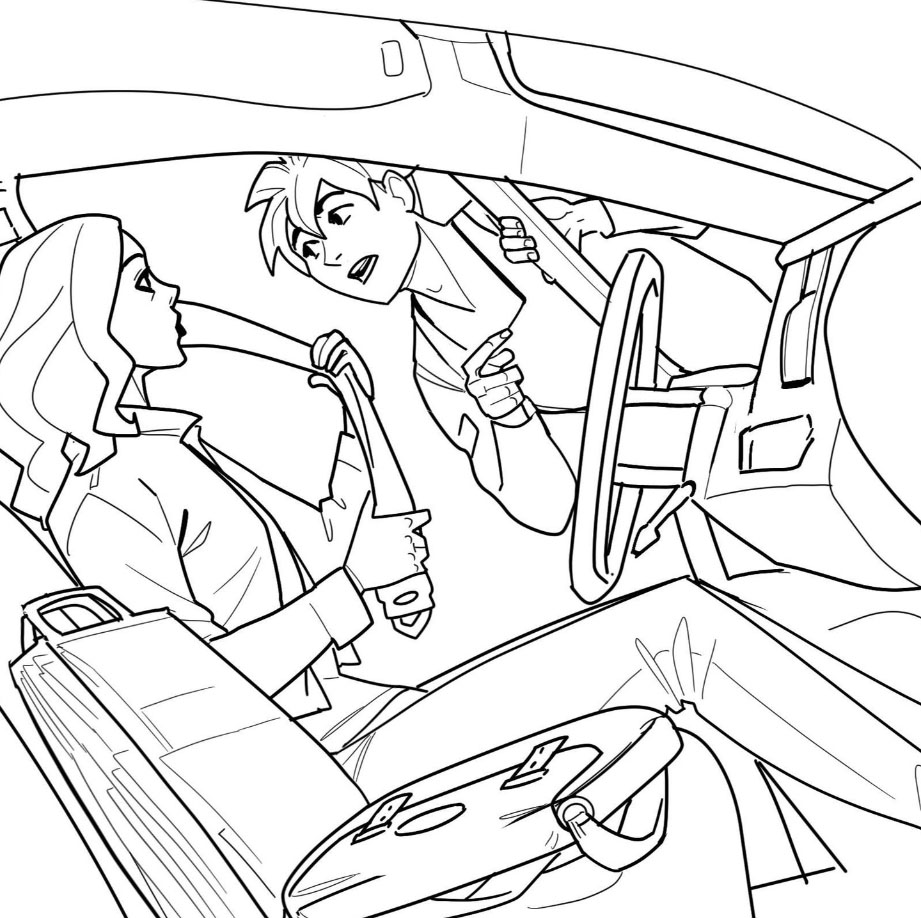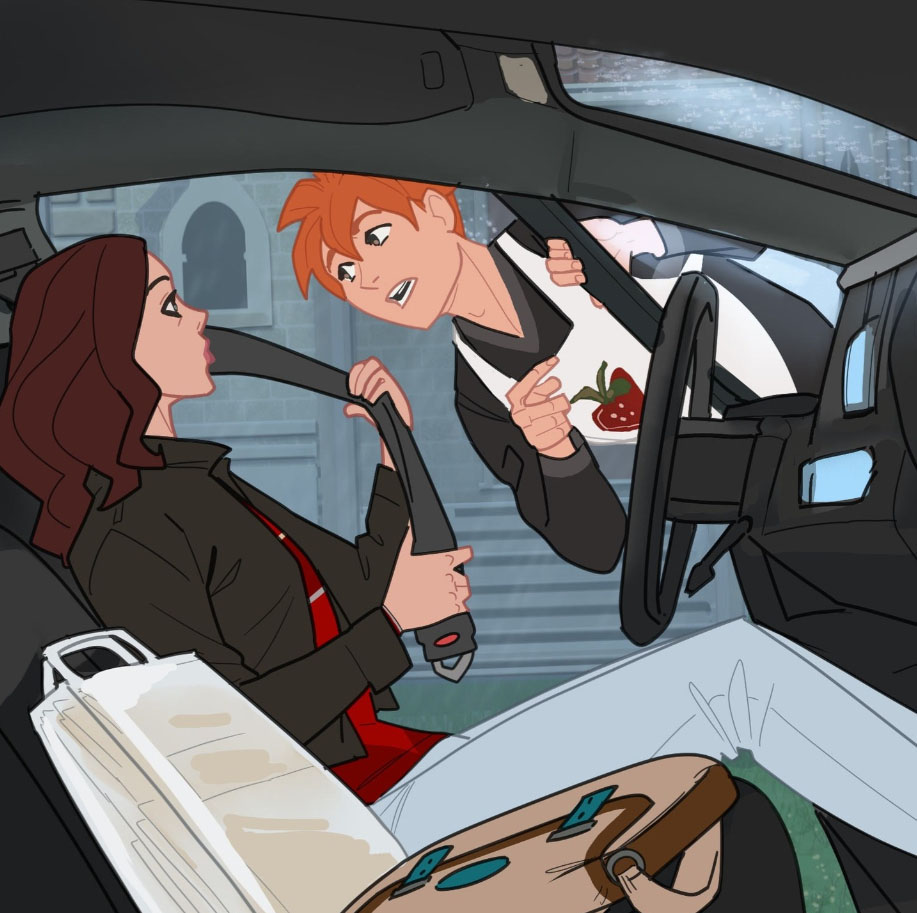 Can you get into your character design process a bit? How do you know when the character has the right look?
For this story, I didn't really go through that big of a design process. Since this is a slice-of-life comic, these characters are just living an everyday life, so they change clothes very often. For Vlad, I went with the basic mad scientist trope- ab coat, glasses and very messy hairdo. Elly, I wanted cute and small, but like they say poison is kept in small bottles. Her main signatures are her teal pumps and her pepper spray. Color-wise, Elly always has a teal item on her to contrast Vlad´s white and red combination of colors on his lab coat. But in the latest pages ,they even swap colors which fits perfectly to that specific situation. Serge, the one voice of reason in the group, has flaming red hair and was partially inspired by an in-game friend.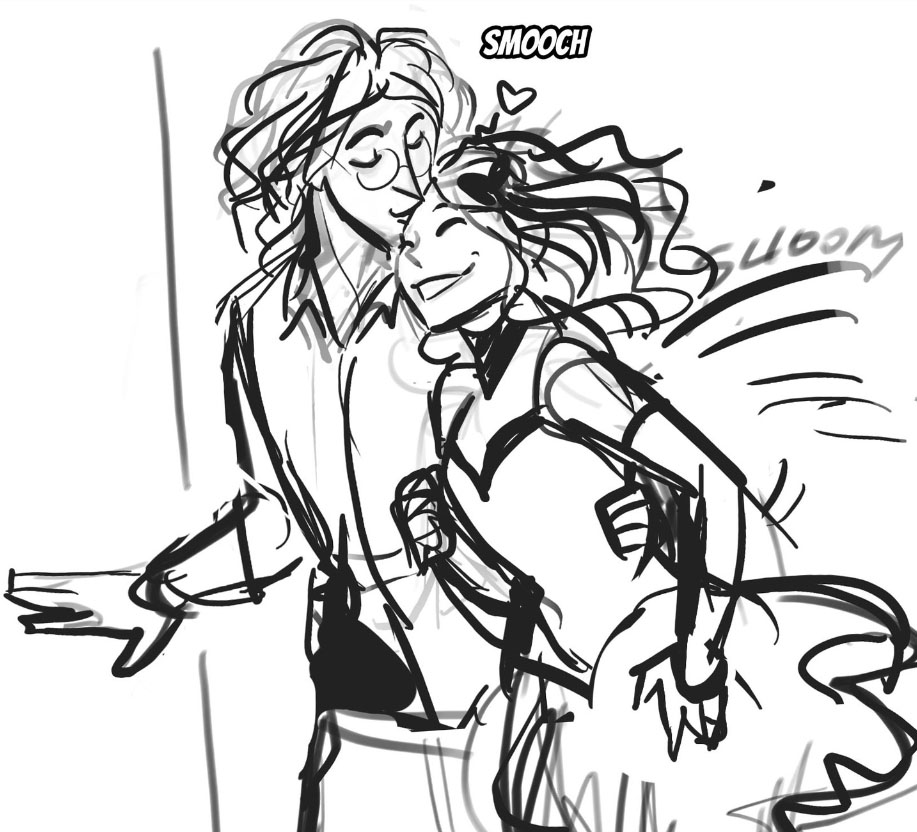 Tell us about your collaborators on the book. Who else is on the art team for this title?
Katarina Devic, is my color flats assistant and Ellian Warner is someone I occasionally hire as a line art assistant if I´m extremely low on time. Everything else I draw and color myself.
Writing-wise, my husband Stjepan Sejic helps me a lot by being the 1st draft reader of my episodes. He will tell me if the episode reads well, or if there was something he found confusing. If the latter happens, I go back and rewrite the part in a clearer way which helps the flow of the story immensely.
What tools do you use to draw? I use Photoshop and clip studio paint with a Huion tablet.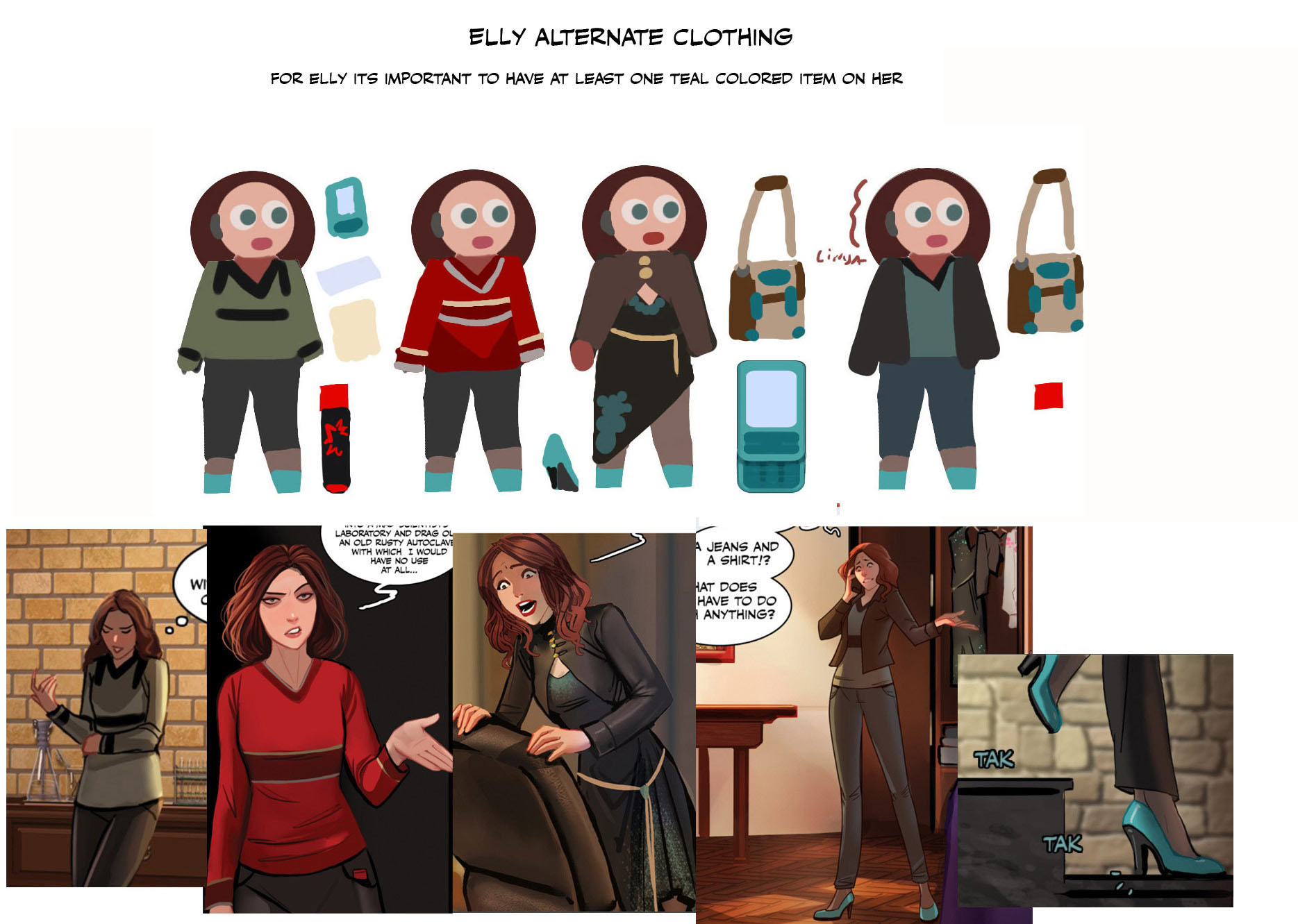 In terms of audience, who is Blood Stain for?
Blood Stain is for young adults and older, specifically people who relate to getting out of college and struggling to get work, and those who deal with a lot of their own insecurities. I've also gotten a number of readers with AD/HD tell me how much they relate to Elly and how she deals with things and how they feel seen. This was incredibly humbling to me.
But this is also for people who just want to chill and read a funny book about people just living their life, making mistakes and fixing them in fun ways, not expecting explosions or high action just life... throwing punches!
If you love this look into Linda Sejic's work, be sure to follow her on Facebook, Twitter, and Instagram.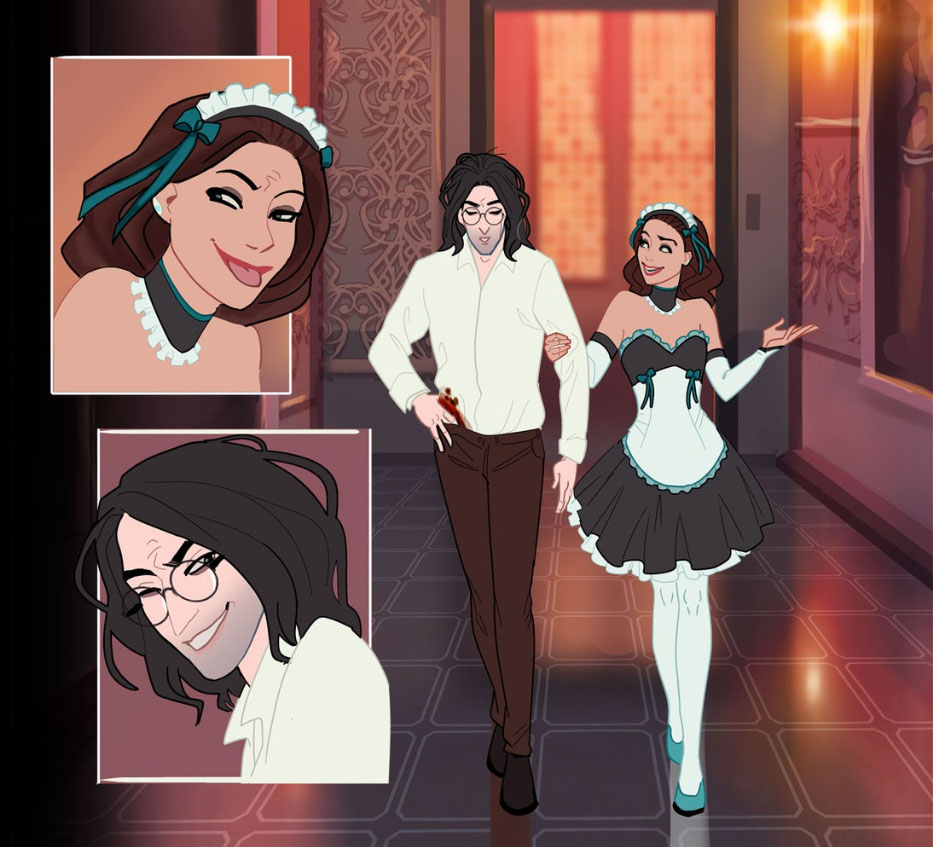 Previous installments of Blood Stain series are available now at your local comic shop.
Be sure to pick up Blood Stain vol. 4 when it hits comic shops on June 7, 2023. Reserve your copy with PREVIEWSworld Pullbox.
IMAGE COMICS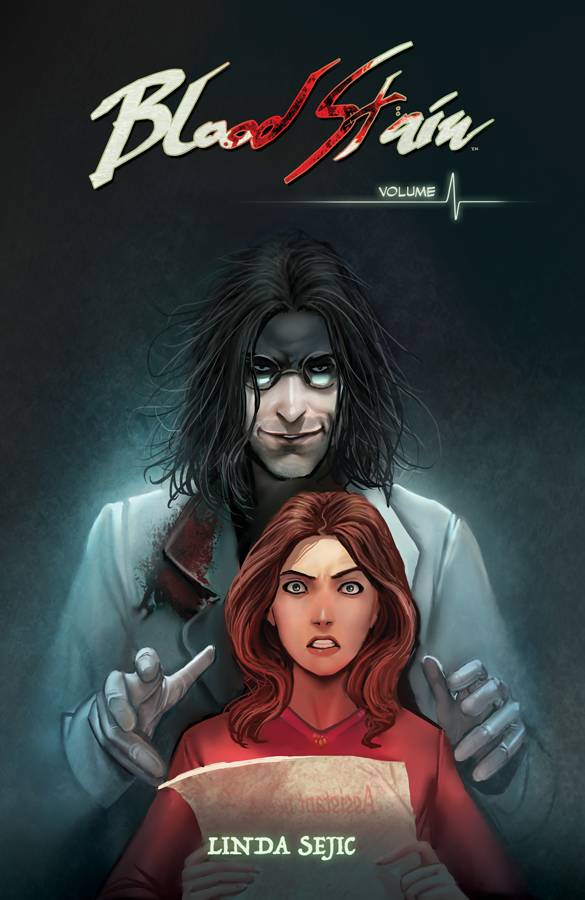 (W) Linda Sejic (A/CA) Linda Sejic
Mad science at its finest. Chemistry major, Elliot Torres has been unable to keep a steady job and eventually accepts a job by a rumored mad scientist Dr. Vlad Stein. Humorous hijinks ensue as their collaboration becomes epic.
In Shops: Apr 13, 2016
SRP: $14.99
PREVIEWS Page #218
IMAGE COMICS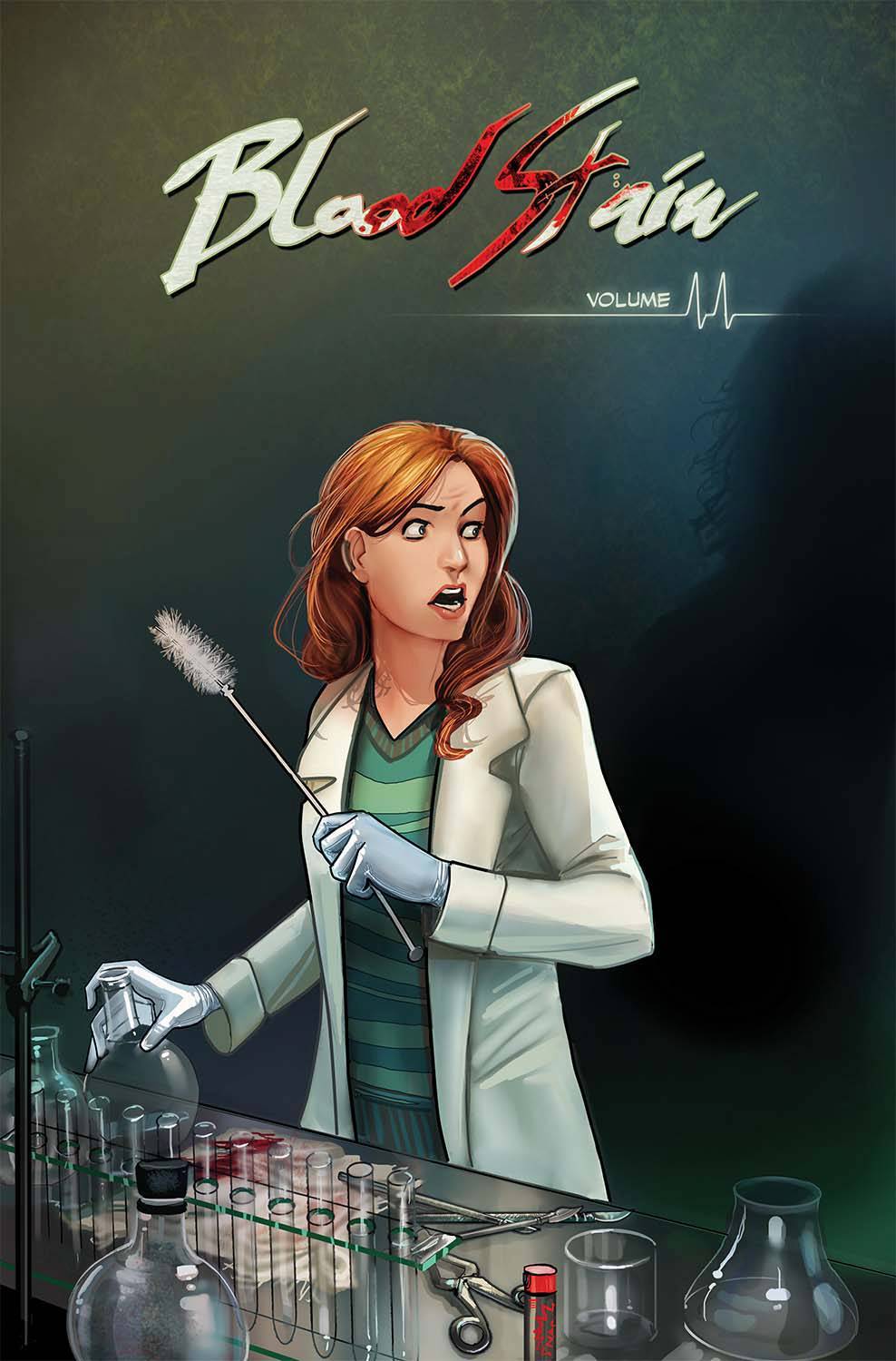 (W) Linda Sejic (A/CA) Linda Sejic
Upon arriving at her new workplace, and meeting her new boss under some rather unflattering circumstances, Elly tries desperately to make a good impression on her first day on the job. The only problem is, both she and her new employer seem to be clueless as to what her job is supposed to be.
In Shops: Apr 20, 2022
SRP: $16.99
IMAGE COMICS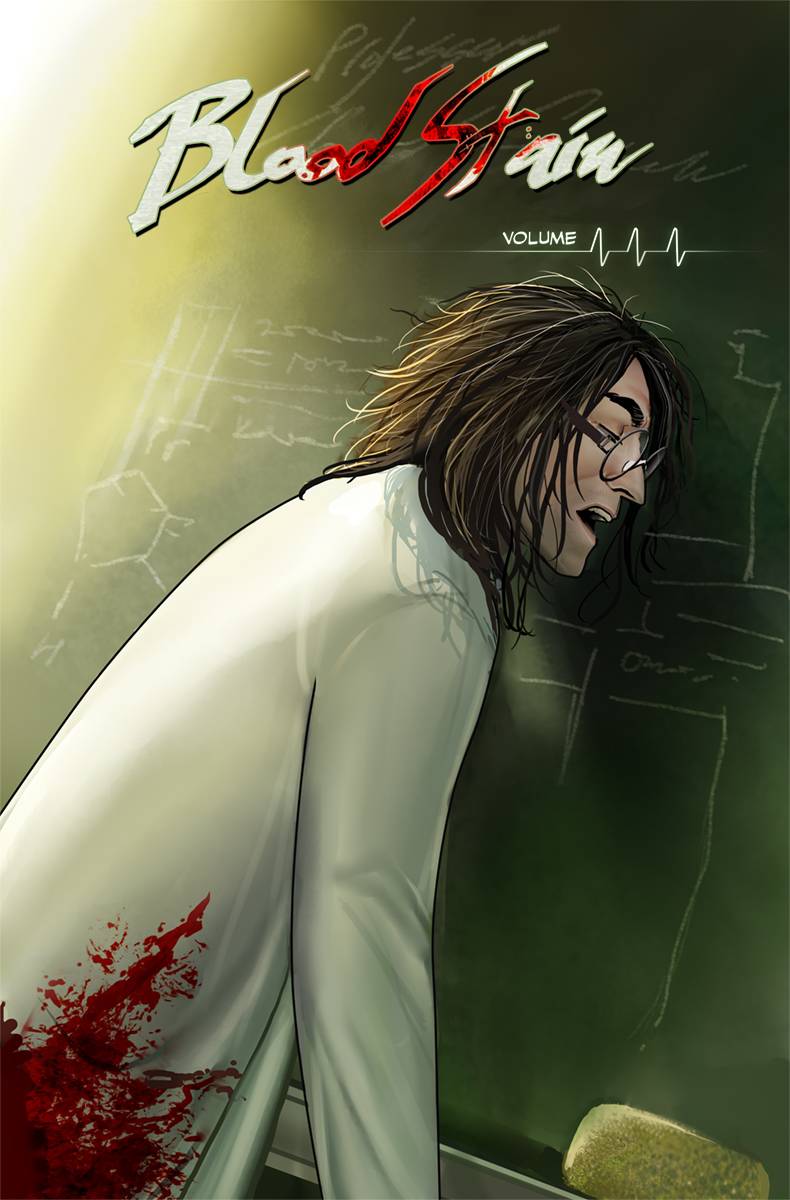 (W) Linda Sejic (A/CA) Linda Sejic
Finally secure in the knowledge that her eccentric boss (the unfortunately named Dr. Vlad Stein) isn't actually a mad scientist, scatterbrained chemist Elliot Torres seeks to prove herself as a competent lab assistant. But in the laboratory's dark depths, she's not exactly standing on solid ground...literally, in some instances.
In Shops: Oct 04, 2017
SRP: $16.99
PREVIEWS Page #204
IMAGE COMICS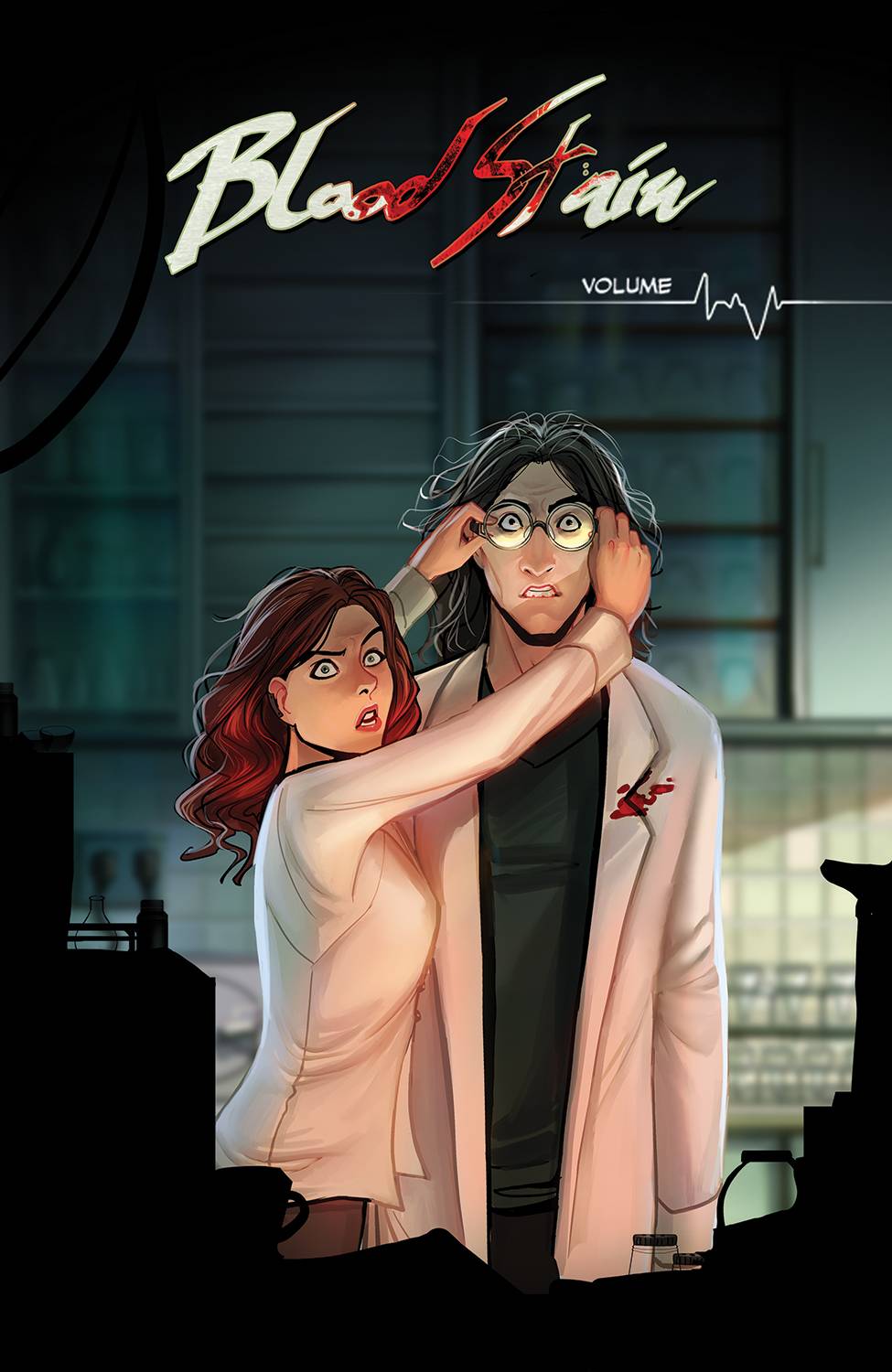 (W) Linda Sejic (A/CA) Linda Sejic
Elliot Torres finally found a job she can keep, and Vlad Stein finally found an assistant worth keeping. Turns out, things are looking up for both of them. However, at the crossroads where overactive imagination meets sleep deprivation, mundane life turns unpredictable. Vlad finds himself in desperate need of assistance, but luckily, assistance is in Elly's job description. Together, they are about to face their first great hurdle in this new volume of BLOOD STAIN.
In Shops: Jun 07, 2023
SRP: $16.99
PREVIEWS Page #64
****
Troy-Jeffrey Allen is the Consumer Marketing Manager for Diamond Comics Distributors, Editor of PREVIEWSworld.com, and the producer/co-host of PREVIEWSworld Weekly. His published work includes MF DOOM: All Caps, Public Enemy's Apocalypse '91, Bamn, Fight of the Century, the Harvey Award-nominated District Comics, and the Ringo Awards-nominated Magic Bullet.