Interview: Gregg Hurwitz Creates Vigilante Knights and Tech Nightmare At AWA
Dec 06, 2022
Interview by Troy-Jeffrey Allen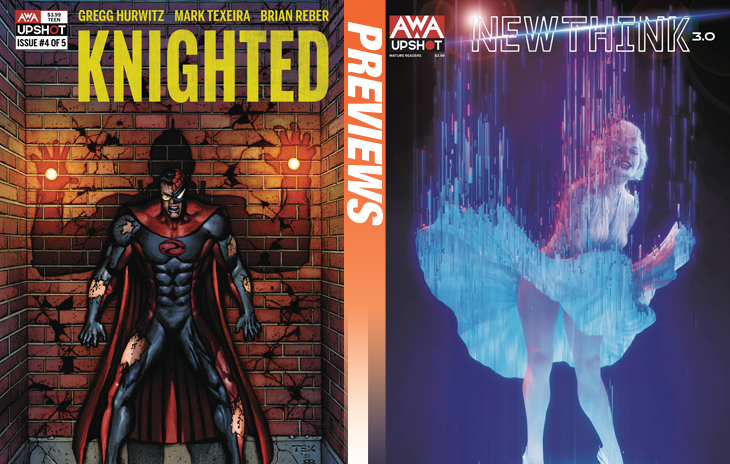 Prepare yourself for a double feature of superhero dark comedy and technocratic nightmares! This is The Knighted and NEWTHINK!
Throughout the month of December, PREVIEWSworld is highlighting AWA's Upshot universe! A collection of mini-series that ranges from crime-drama to high-flying superheroics! All within an expanded universe solely connected by themes and masterful storytelling.
With The Knighted and NEWTHINK, writer Gregg Hurwitz (Detective Comics, Wolverine) uses AWA Studios' flagship title The Resistance as a springboard to create new and exciting corners of this brave new world. Keep reading...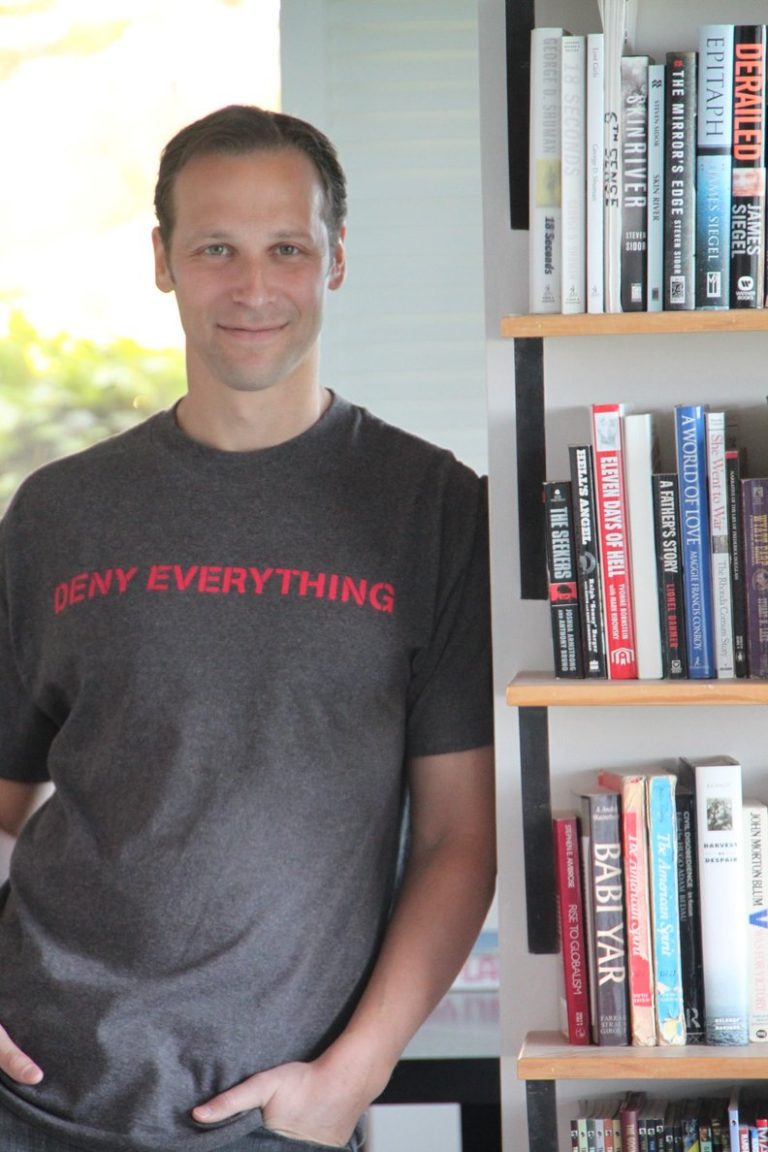 How did you get involved with AWA?
Axel and I go back to Marvel days. In fact, he was the first and only editor I worked with over there. He'd read some of my thriller novels and reached out. Being a comic book junkie from a young age, I jumped at the opportunity. Together we worked on Foolkiller, Punisher, Moon Knight, and Wolverine. After a wonderful time there, I spent a few years over at DC writing Batman: The Dark Knight. And then I reached a point where I realized that I'd already written all of my favorite characters. While it was a great pleasure for me to play in those sandboxes, I wanted to go back to novels and screenplays unless an opportunity presented itself for me to create my own characters in comics. After a nearly decade hiatus, I got another call from Axel to come play.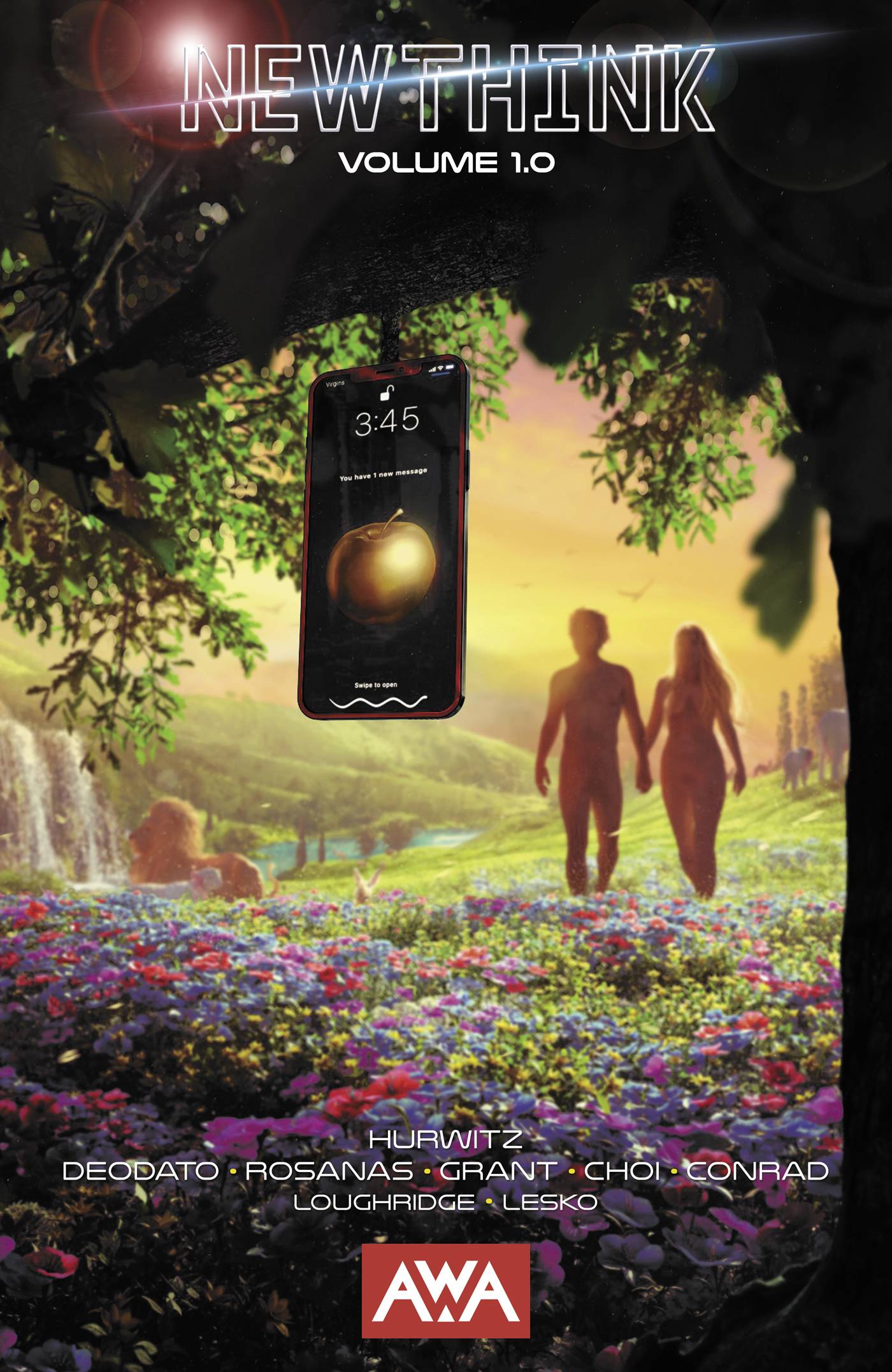 So, you have a Knighted at AWA and a collected edition of NewThink dropping for AWA on December 14th, but for those not familiar with your work, what can you tell us about the larger "Resistance" universe these books are part of? What is the hook?
[The Resistance writer J. Michael Straczynski] dreamed up a world-altering virus before anyone had heard of COVID. Except this virus wiped out most of the world's population. And it altered some of the survivors, giving them superpowers of a different stripe. For those of us setting our stories in this world, we had the surreal experience of writing about a global pandemic just as a real-life one was washing across the planet like a tidal wave. A bizarre creative experience that gave us a chance to write into that fear and uncertainty.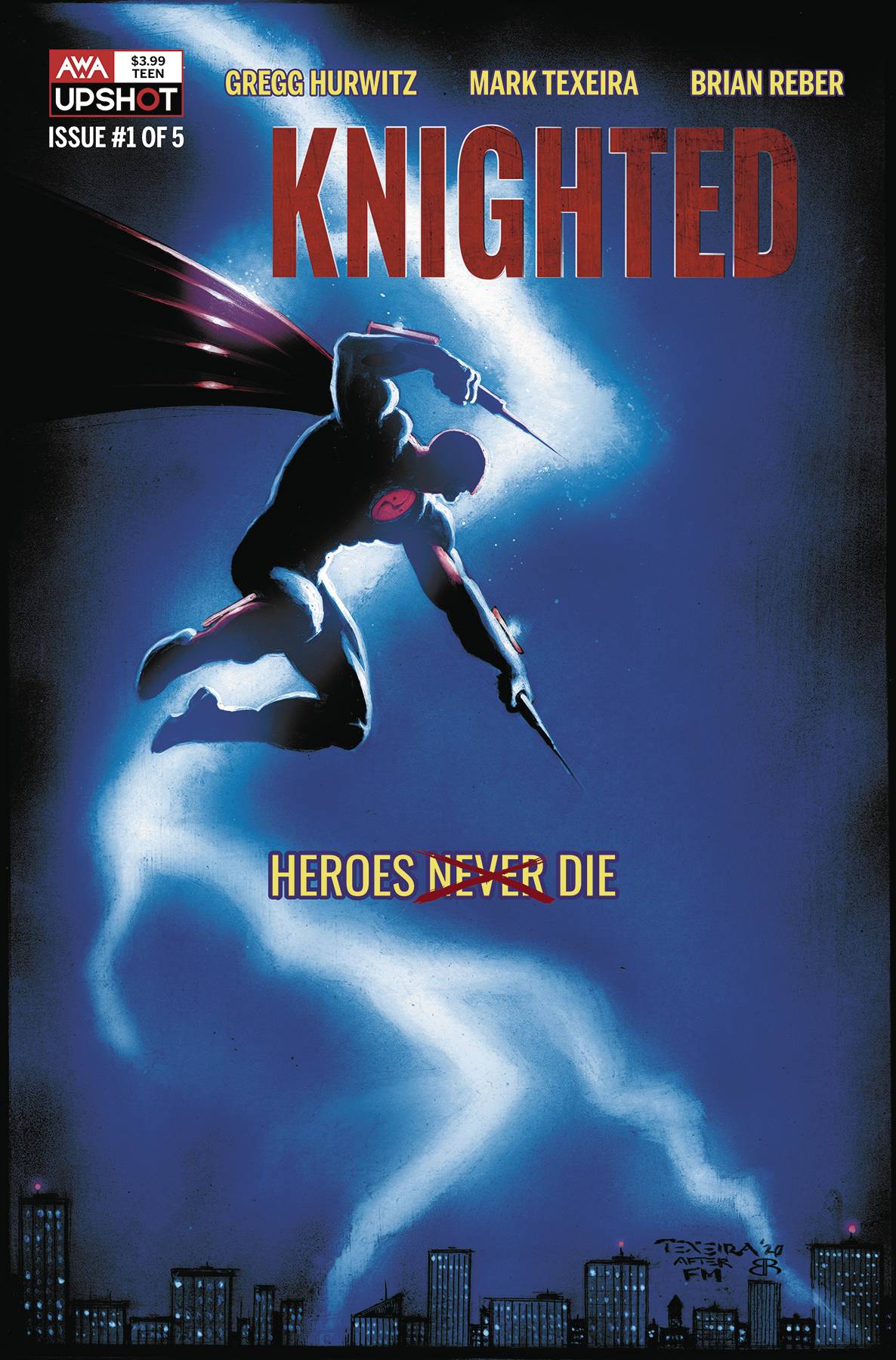 Let's get into Knighted first. Catch us up to speed. What is the story about? What can you tell us about Bob Ryder? Why is he the absolutely wrong person for the job?
Poor Bob. He's the quintessential nice guy who finishes last. He works as a criminal analyst in a police station with "real" cops who make fun of him. He's got a girlfriend who wishes he had more edge. He has a hard time standing up for himself.
And on the night we meet him, he accidentally kills the city's only superhero—the Knight. And realizes that if he doesn't want the villains of New York to tear the city to pieces, he's gonna have to step into the boots of the Knight and become everything he never thought he could be.
The trade for Knighted is out currently, but then you have NEWTHINK getting a collection in December. What can you tell us about NEWTHINK without spoiling it?
Think of it as Black Mirror meets the Twilight Zone. Five frame-breaking stories about tech addiction and polarization that show us our current reality through lenses that let us see them in an entirely different light. Some of the best artistic talent in the world assembled in an anthology series—just an unbelievable experience.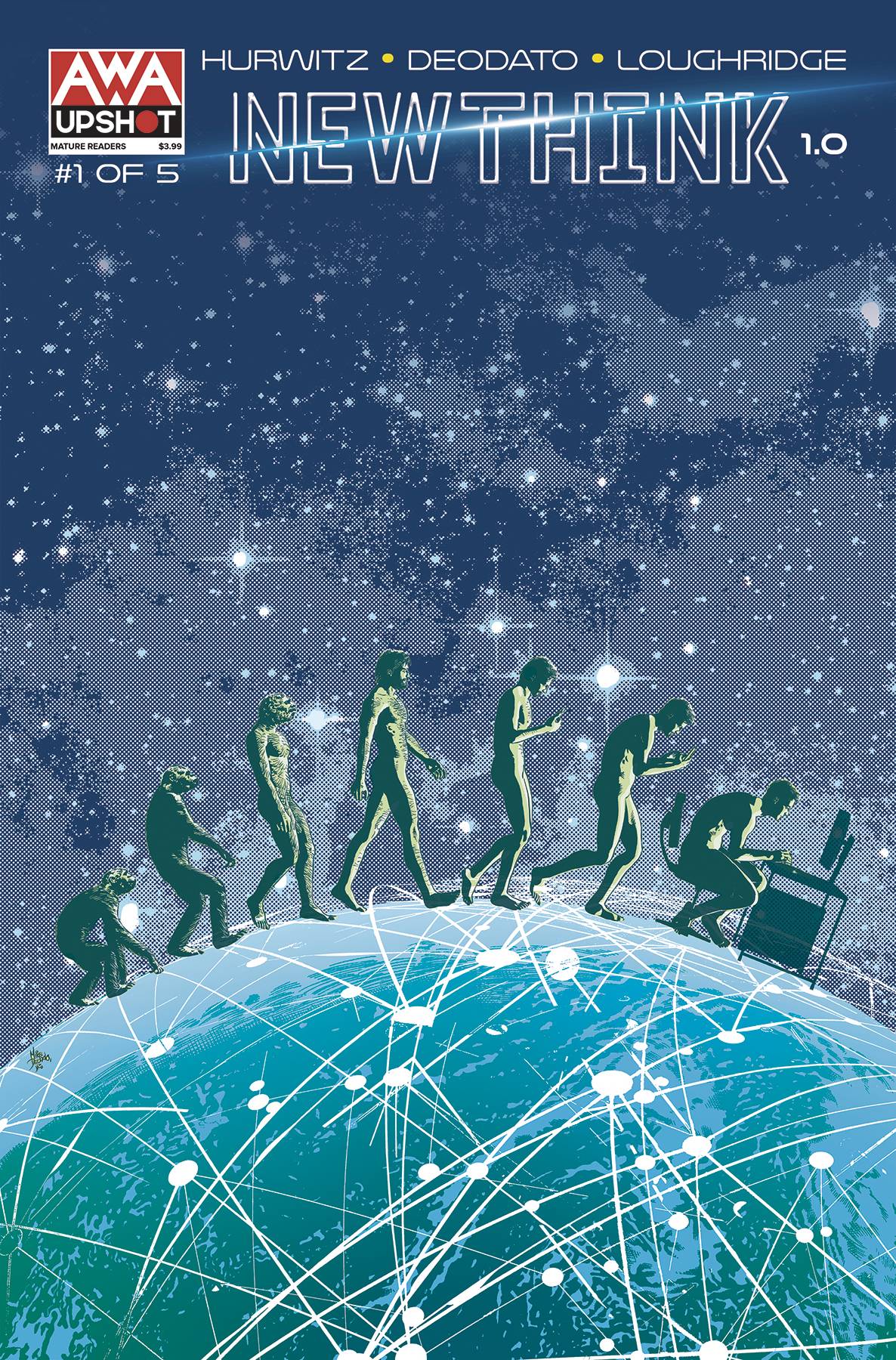 Will the stories in NewThink cross different genres? Or is this more of a Black Mirror-styled thriller, through and through?
They sure will. The five issues are:
A science fiction thriller
A twisted fairy tale
A stalker horror story
A time travel story
A children's story unlike any other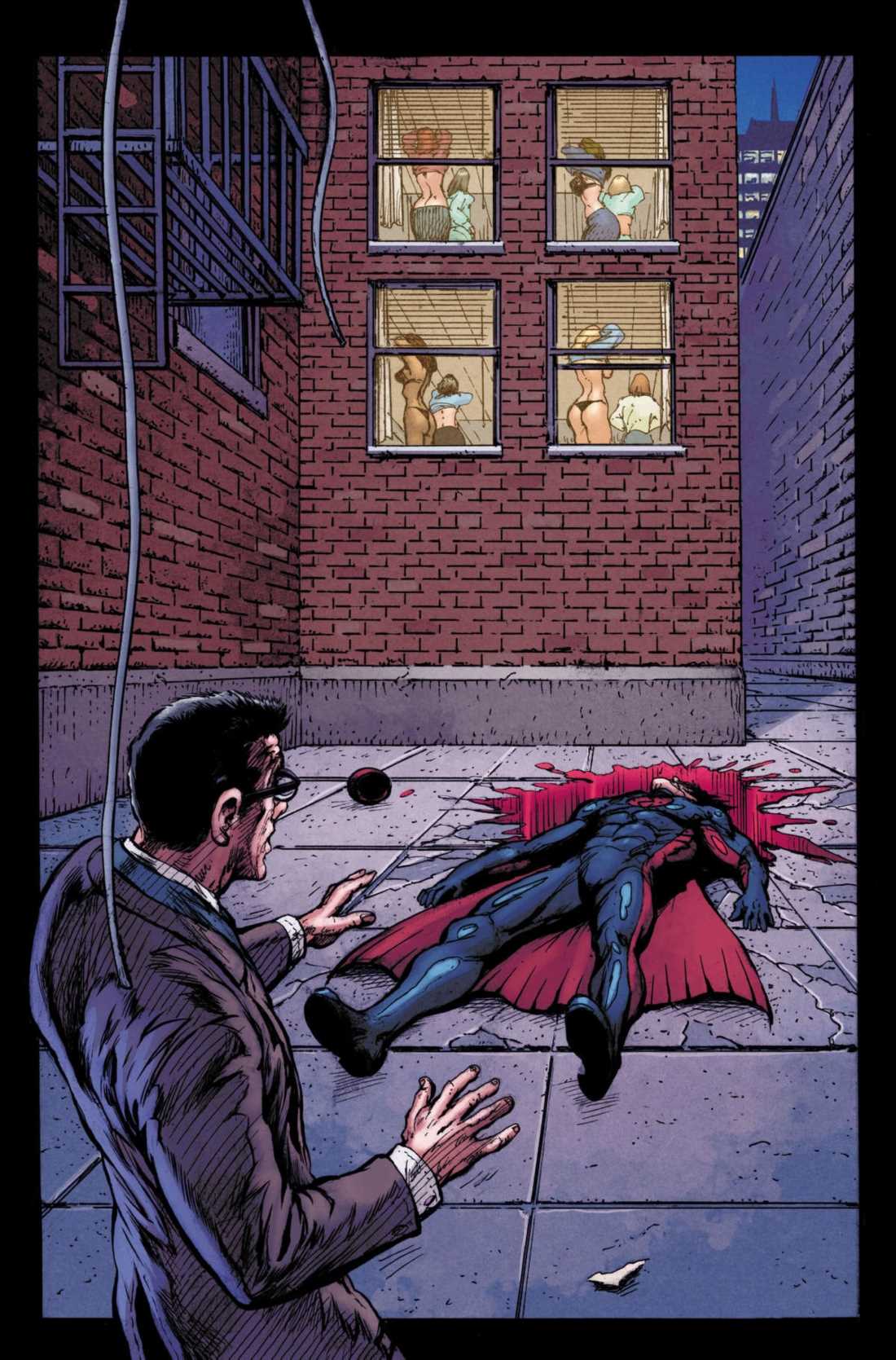 How do you walk that line between telling a wholly satisfying story and connecting a larger world?
In Knighted, I made sure that I had Bob and his cohorts front and center so they all have their own adventures independent of anything else in other books. And then I used the world of the Resistance as background texture, a chance to weave Bob's story into a bigger tapestry which adds richness for AWA readers. But anyone can pick up Knighted and read it as a standalone.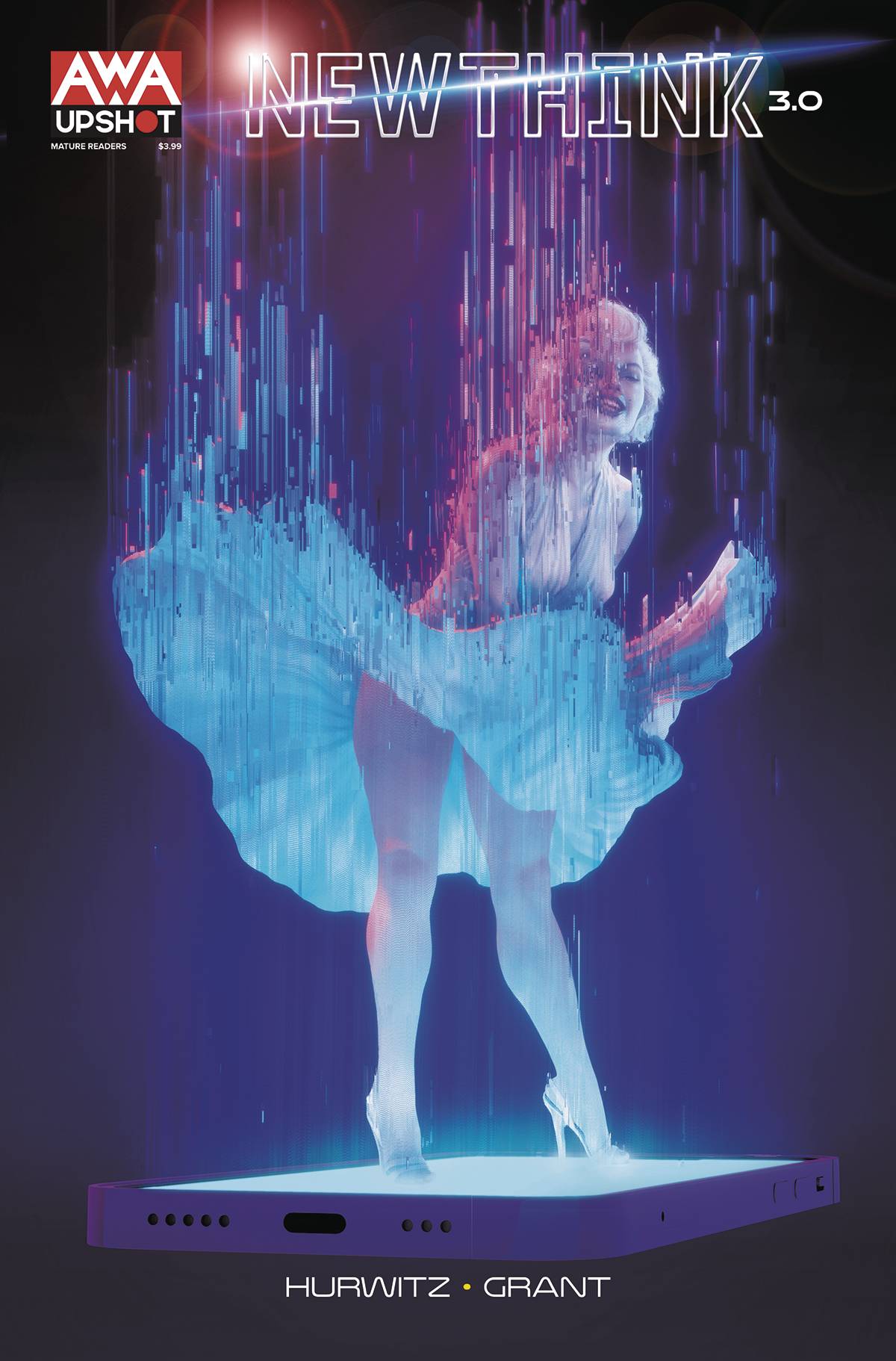 Tell us about your collaborators on the book. Who are the art teams on the two titles?
A simply incredible array of talent. For Knighted I worked with Mark Texeira, Brian Reber, Lee Loughridge, and Andworld Design. And NewThink was like winning the lottery. I worked with a different artist for each issue: Mike Deodato Jr. "The Skreens", Ramon Rosanas "A Fair Tale", Keron Grant "Red of Beak and Claw", Mike Choi "Nowtopia", and Will Conrad "A Children's Story". I can't believe how beautiful this collection turned out. Far and away my favorite thing I've worked on in comics.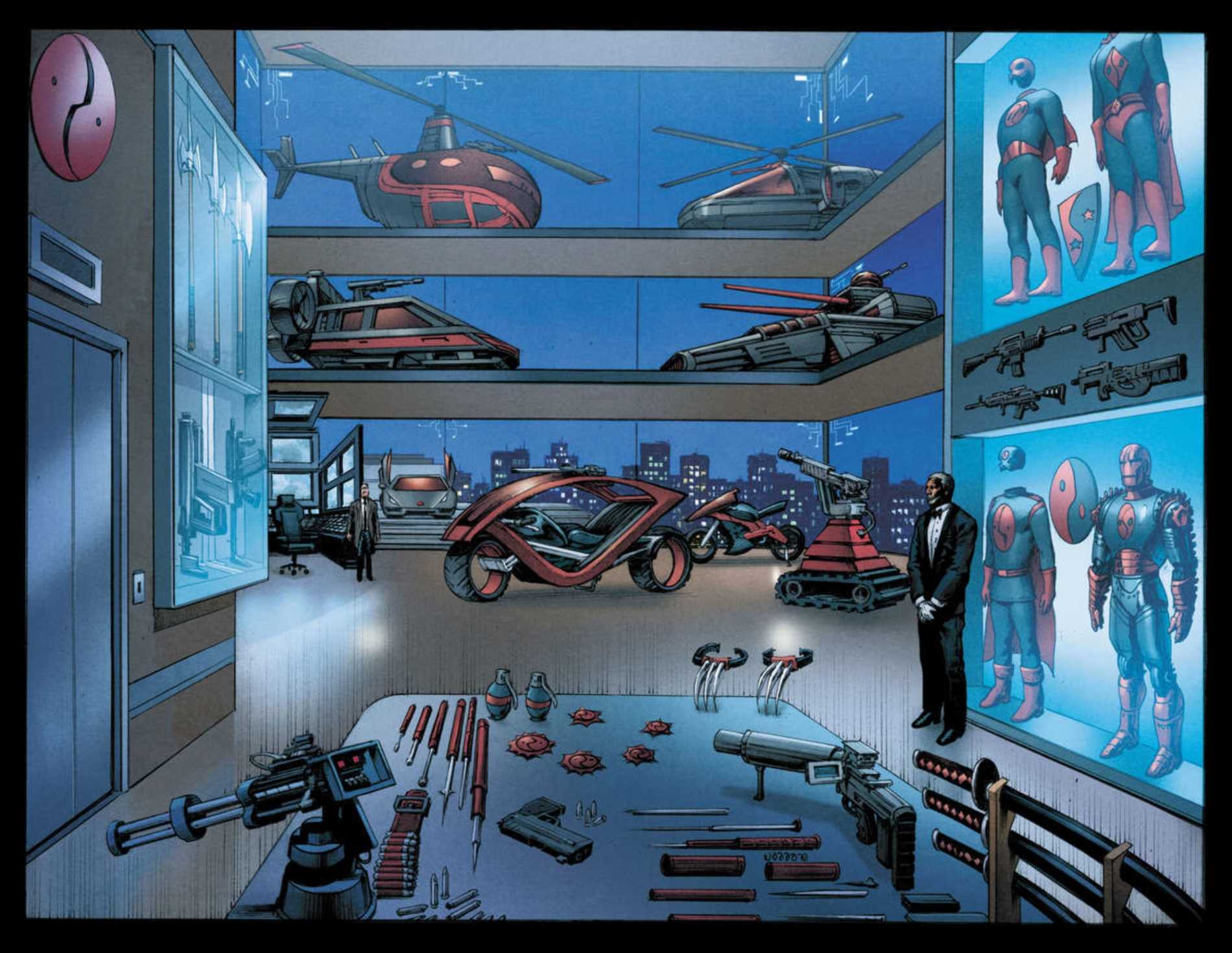 In terms of audience, who would you say the Resistance Universe is for?
It's for everyone. We tackle this universe from so many perspectives and styles. That's one of the great things you can do at a creator-led company. Every team got to play and find the way in that brought out the best of what they had to offer.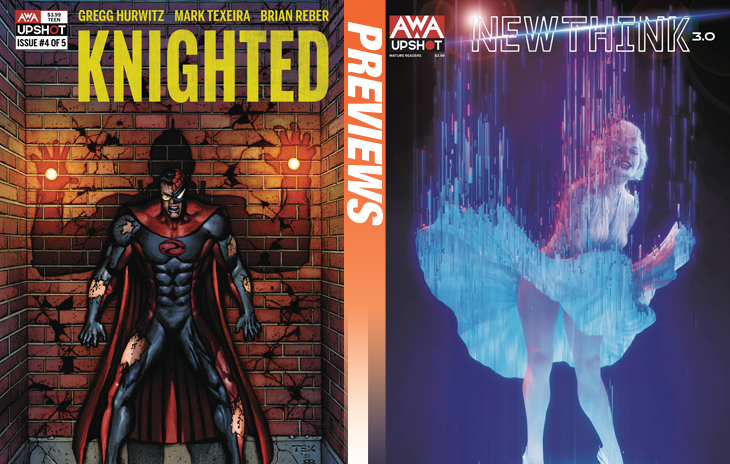 The Knighted
trade paperback
is available now
at your local comic shop.
The NEWTHINK trade paperback hits comic shops on December 14th.
For more from the world of The Resistance, be sure to pick up The Resistance Universe: Origins when it hits comic shops on December 14, 2022. Reserve your copy with PREVIEWSworld Pullbox.
AWA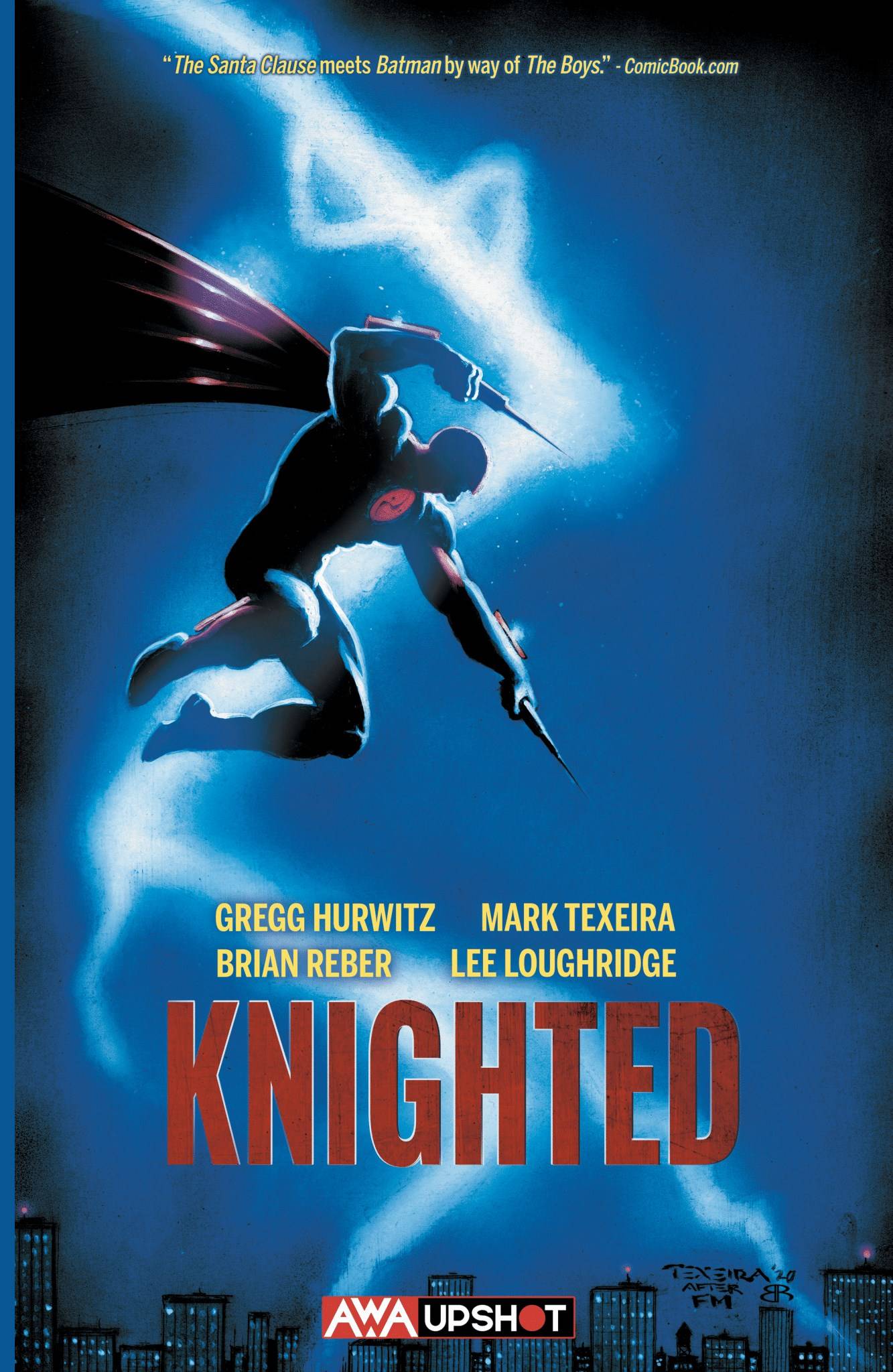 (W) Gregg Hurwitz (A/CA) Mark Texeira
In this action-packed adventure set in the universe of The Resistance, Gregg Hurwitz (Legends of the Dark Knight, Vengeance of Moon Knight) and Mark Texeira (Ghost Rider, Wolverine) introduce a masked vigilante for the 21st Century. Bob Ryder is a hapless bureaucrat whose bad luck streak comes to a crescendo when he accidentally kills the city's masked vigilante, The Knight. Oops. Now, Bob is forced to take on the mantle of the legendary hero before the city descends into chaos. Good thing he's got The Knight's former butler/assistant to show him the ropes.
In Shops: May 18, 2022
SRP: $9.99
PREVIEWS Page #283
AWA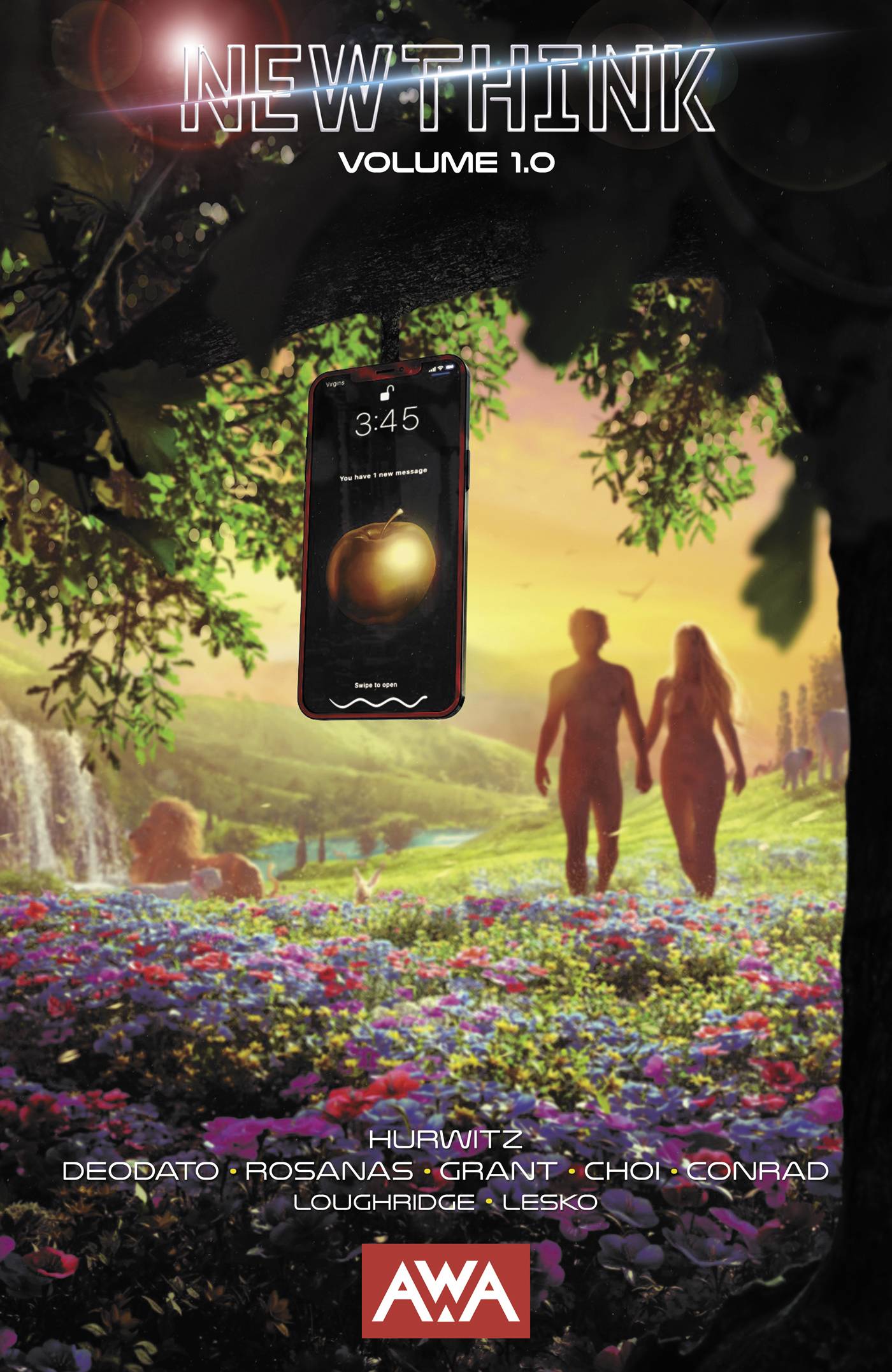 (W) Gregg Hurwitz (A) Mike Deodato, Keron Grant, Mike Choi, Will Conrad (CA) Lee Loughridge, Marco Lesko
This Black Mirror-style anthology examines the rapid proliferation of technology, the cultural and political polarization of the country, and the technocrats that have driven us to such extremes of thought that we need to present the present as something... futuristic. Each of the five issues is a stand-alone tale with its own art team.
In Shops: Dec 14, 2022
SRP: $9.99
PREVIEWS Page #283
ARTISTS WRITERS & ARTISANS INC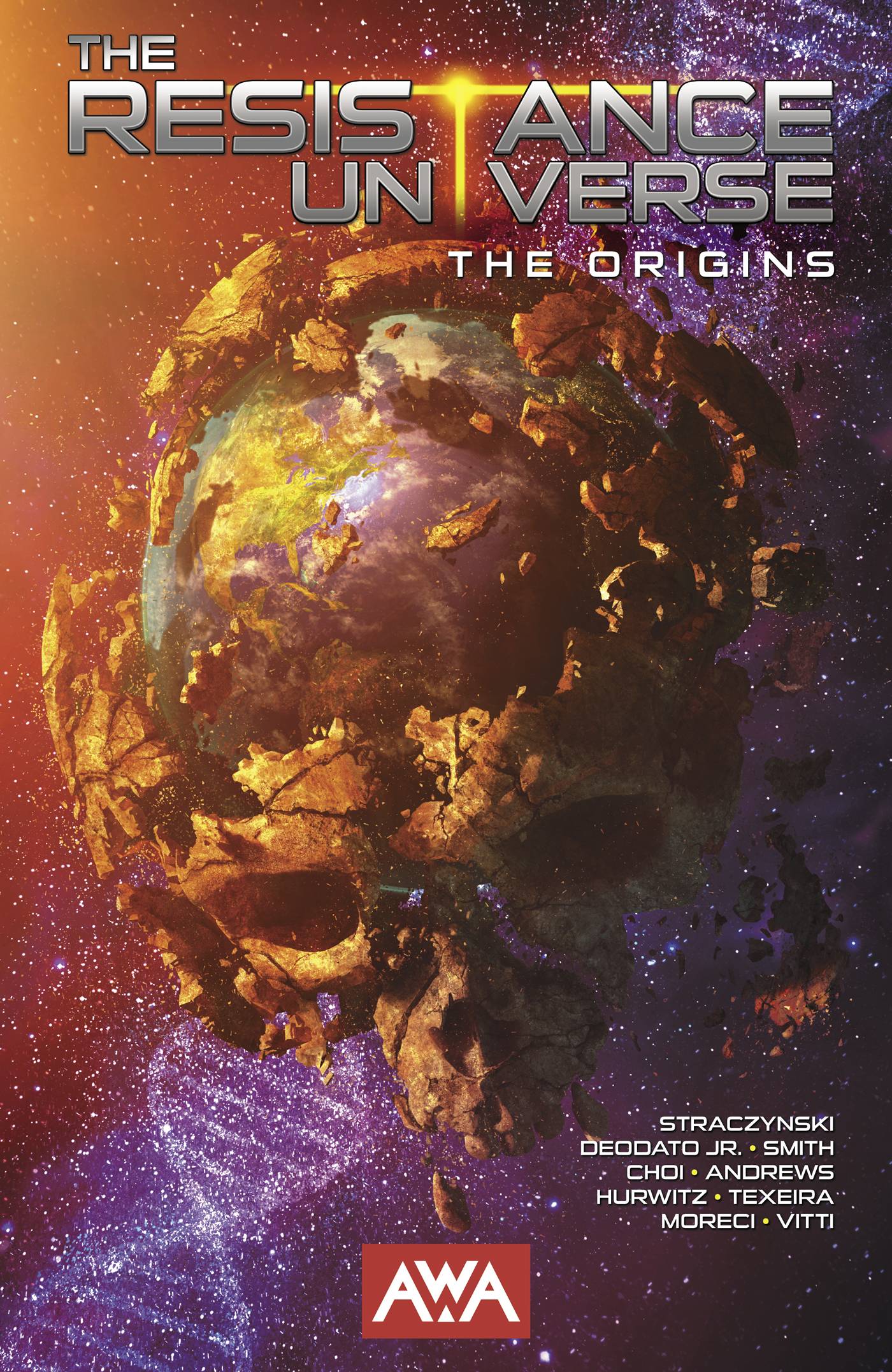 (W) VARIOUS (A) Various (CA) Razzah
In March 2020, amid Covid-19 lockdowns, AWA launched a bold new universe for the 21st Century with J. Michael Straczynski & Mike Deodato Jr.'s The Resistance, in which "Reborns" gain incredible powers in the wake of a global pandemic. Other creators followed with series such as E-Ratic, Knighted, and The Joneses. Now, for the first time, we are collecting each of the initial chapters in this super-sized collection.
In Shops: Dec 14, 2022
SRP: $19.99
PREVIEWS Page #280
****
Troy-Jeffrey Allen is the Consumer Marketing Manager for Diamond Comics Distributors, Editor of PREVIEWSworld.com, and the producer/co-host of PREVIEWSworld Weekly. His published work includes MF DOOM: All Caps, Public Enemy's Apocalypse '91, Bamn, Fight of the Century, the Harvey Award-nominated District Comics, and the Ringo Awards-nominated Magic Bullet.