Get Graphic: GHOST Agent's John Burkett Delivers Kung Fu/Cosmic Thrills
Nov 08, 2022
Art by John Burkett
Interview by Troy-Jeffrey Allen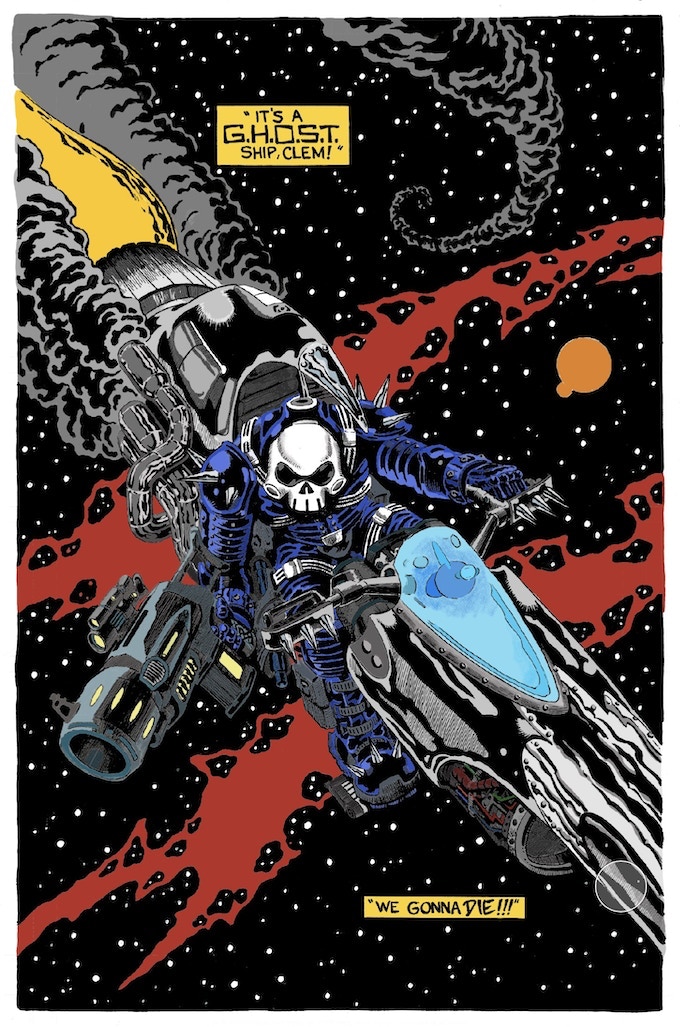 Over the last few months, Get Graphic has been introducing you to the creative roster behind G.H.O.S.T. Agents! A collection of episodic, standalone stories that build to a wild psychedelic, spy-fi ride. One curated by writer Rocko Jerome with the artistic talents of Adam Lemnah, Sam J. Royale, Chris Anderson, Ben Perkins, Craig C.K., and many more.
We've already done plenty of damage exposing the identity of Rocko's G.H.O.S.T. Agents. But now Director Rocko has given us a look inside the best and boldest missions of the G.H.O.S.T. Agents with Apocalytico, a trade paperback collection now available on Kickstarter!
In the following interview, artist John Burkett gives us a look at one of the wildest adventures found inside the collected edition. This is the art of John Burkett...declassified!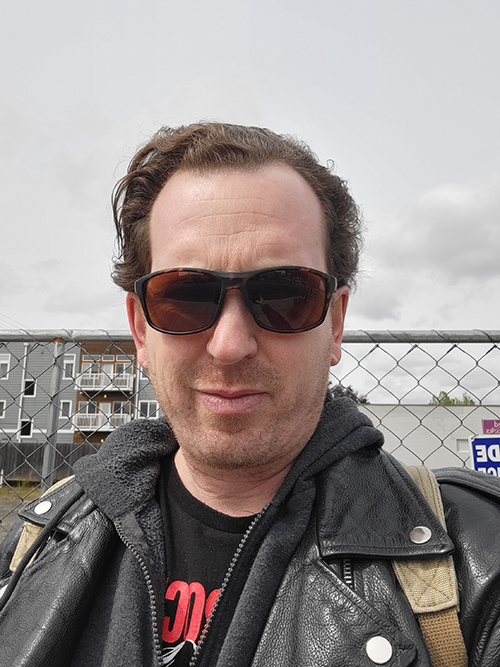 Firstly, who are you and where do you hail from?
I'm John Burkett and I'm from Vancouver, WA
How did you get into comic books as a fan?
When I was little I remember being a big fan of Spider-man and Batman but I don't think I was reading any comics. My first exposure to those characters was probably through cartoons. The first comics I remember reading were Mad Magazine. My father and I shared a love of Mad and artists like Mort Drucker, Jack Davis, and Don Martin. It was in the mid-1980s that I first stepped into a real comic book shop to buy Transformers comics. That was Pegasus Books in Vancouver, WA. I only recently discovered that the person I most likely was buying my comics from was Mike Richardson who later founded Dark Horse Comics. He was the owner of Pegasus Books.
I never had a big collection of comics and didn't read a ton of comics. I randomly collected stuff I liked: Teenage Mutant Ninja Turtles, Appleseed, some Marvel, and very little DC stuff. It wasn't until the early 1990s that I started collecting for particular artists that I liked: Todd McFarlane, Jim Lee, Sam Keith, Marc Silvestri, and others. Then I stopped collecting shortly after Image Comics began to take off. I entered college and my tastes changed, I suppose.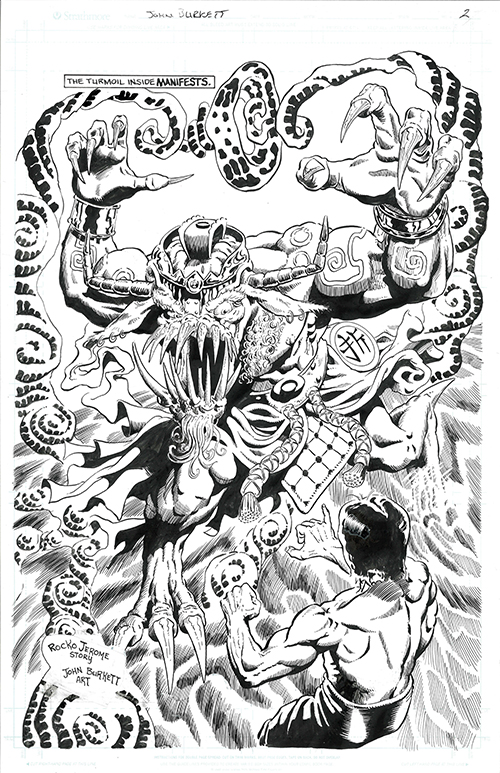 How did you get into comic books as a professional?
I look back at the opportunities and chance encounters I had when I was younger and believe that I am just now coming to terms with what the universe was trying to tell me back then. In junior high, I was drawing comics that featured my friends in Robotech storylines. In high school, I drew a lot and was encouraged by my parents. I researched the tools professional comic artists used: bristol board paper, pen nibs, brushes, ink, etc, and put together a portfolio of original pages. It was an incomplete story with some penciled pages and some half-inked pages. With a couple of close friends who were also aspiring cartoonists, I had the opportunity to meet and receive feedback from some of the Image artists. They were very supportive of our efforts. I remember Whilce Portacio going over some of the basics with me and suggesting that I include one "impact panel" on every page.
Also, while in high school, I had the opportunity to work at a local print shop where I could have conceivably printed a comic of my own at a discount. One of our regular customers at the shop was Kurt Busiek who lived in the neighborhood. We had a fax service that he used. I remember chatting with him once about comics. I don't think I knew who he was at the time so I don't know how we started "talking shop". Maybe I saw the content of one of his faxes or something. He gave me his business card which I still have. That was in '91 or '92.
It was about a year or so later that I dismissed making comics in favor of pursuing an art degree which didn't encourage that sort of thing. Many years later after earning a BFA and an MFA in painting I began to long for the imagination and storytelling possibilities of comics. A fellow grad student turned me on to a comic shop in Cambridge, MA, The Million Year Picnic and I quickly discovered that comics and graphic novels were exploring a much broader range of stories and visual styles than I had been exposed to in the 90s. I devoured Scott McCloud's Understanding Comics and other "how to" books on comic making and began to teach a class called "The Art of the Comic Book" through the Massachusetts College of Art Continuing Education program. And yet, I still wasn't making comics. I taught the course for a couple of years and was helping others to make comics but my own studio practice was focused on abstract painting.
It was in 2019 that I first discovered the Cartoonist Kayfabe Youtube channel and soon after began to work on my own sci-fi comic. Through the Cartoonist Kayfabe Ringside Seats's Facebook page I became aware that group members were making fan comics based on Image characters to raise money for charity. I quickly signed up to participate in the Darkest Image fan comic that was produced in 2021. The story was written by Kyle Pinion and explored what happened after the death of Gin Seng from the Phantom Force. It was his take on the "Brucesploitation" movement of the 1970's and was a lot of fun to draw.
I still don't consider myself a professional comic book artist. I've only had one paying gig in comics. I have a 9 to 5 job working at the local library that I love and has great benefits. I'm not in my 20's so things like a living wage, health care and a pension/retirement are a priority. If I can find a way to keep those things and make comics full-time, I would in a heartbeat. We'll see what this year yields.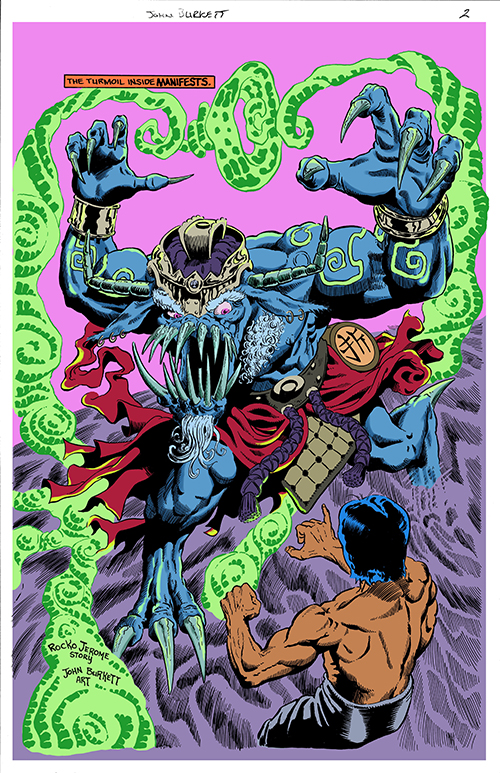 Tell us about your story in G.H.O.S.T. Agents. What's it about?
To date, I've drawn two stories for G.H.O.S.T. Agents. For my story in the second book, Rocko Jerome (writer and creator) asked me what I would like to draw and I told him that I was thinking about a trailer park space station. He wrote a fun story about a couple of would-be hijackers who have the opportunity to steal a state-of-the-art ship that makes an emergency landing at the dilapidated space station where they reside. It's called "The Dead End".
The second story I've illustrated for G.H.O.S.T. Agents is in the third book. The story is about a Bruce Lee-type character called Li who, through deep meditation, enters the Netherworld to do battle with a demonic-looking creature called the Chi Breaker.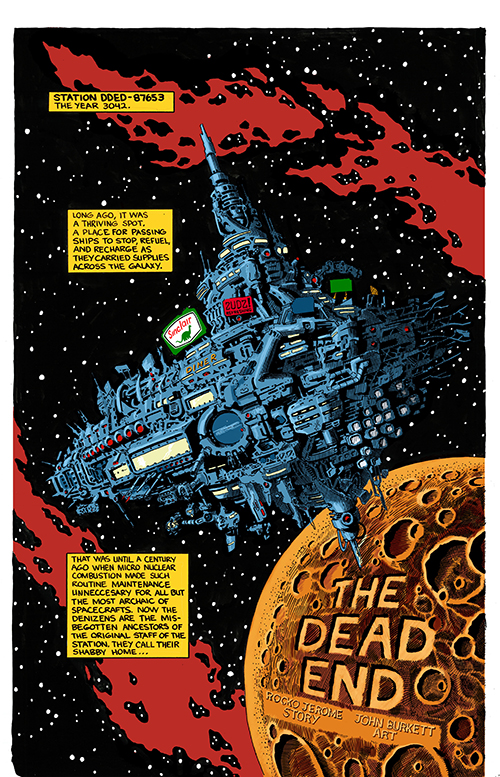 How did you get involved with G.H.O.S.T. Agents?
It was while Darkest Image was in production that Rocko reached out and asked if I would like to illustrate a story for his book.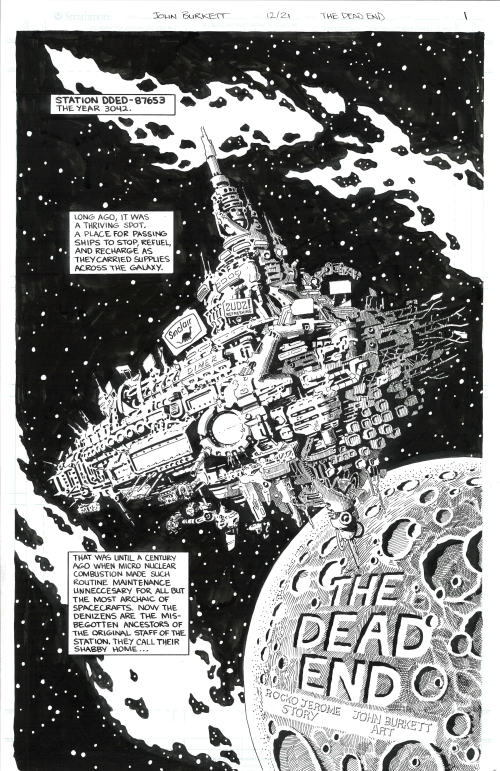 What tools do you use to create?
I am a mostly traditional artist. I pencil, ink, and letter my pages with mechanical pencils, pen nibs, brushes, and technical pens. I just recently purchased an IPad Pro and taught myself how to color my comics digitally with Clip Studio Paint. The Chi Breaker story is the first comic that I have colored.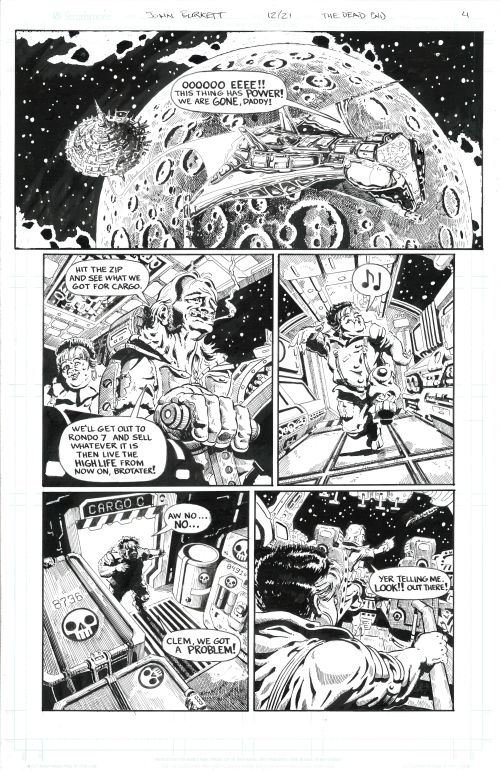 What's next for you?
I just finished a story for Darkest Image 2 that is simply titled "Spawn VS Teenage Mutant Ninja Turtles". It's a 4-page story that I wrote and illustrated in black and white. It explores what might have happened in 1995 if Kevin Eastman and Todd McFarlane had collaborated on a crossover story. Darkest Image 2 will be coming out in the summer, I believe. I have also signed up to do another G.H.O.S.T. Agents story for issue 4 which Rocko is currently writing.
I have finally launched my Patreon site (patreon.com/johnburkett) where I am serializing the gonzo sci-fi story that I started in 2020. It's called Feral Star. The first few pages are free and for a small monthly fee you can subscribe to the ongoing comic. It follows a rag tag crew of scoundrels as they bounce around the galaxy seeking their fortunes. It's very inspired by my love of Star Wars and Robotech, but also sci-fi RPG's that I've played and led over the years. So you can expect not only the lived-in, beat-up, aesthetics of Star Wars but also mechs, magic, monsters, intergalactic politics, bickering freebooters, and hopefully a big score for our would-be heroes.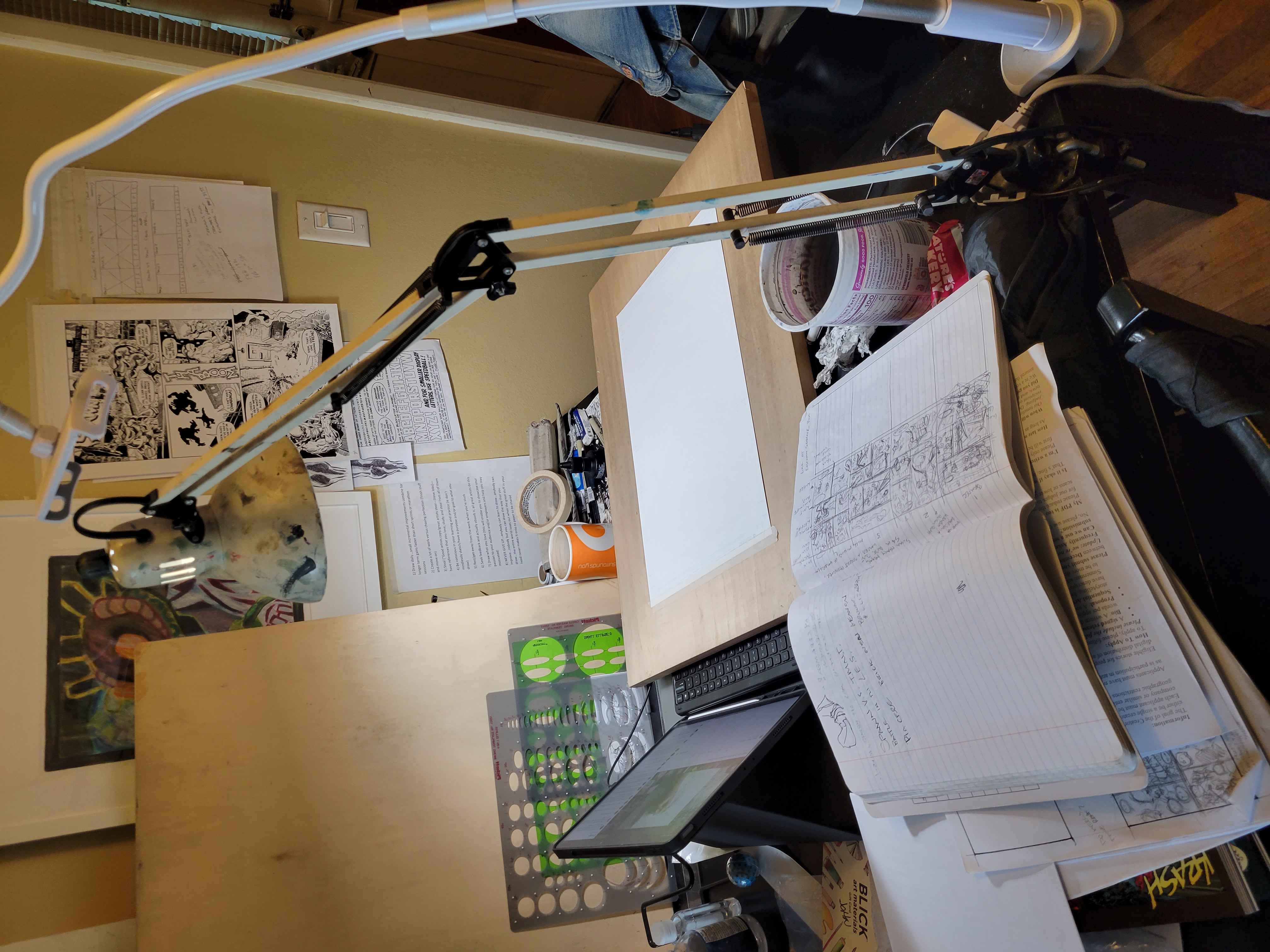 If you want to discover more of John's work, be sure to follow him on Patreon, Twitter, and Instagram.
Be sure to support the G.H.O.S.T. Agents Kickstarter, which runs until November 25th. Get your trade paperback collected edition HERE.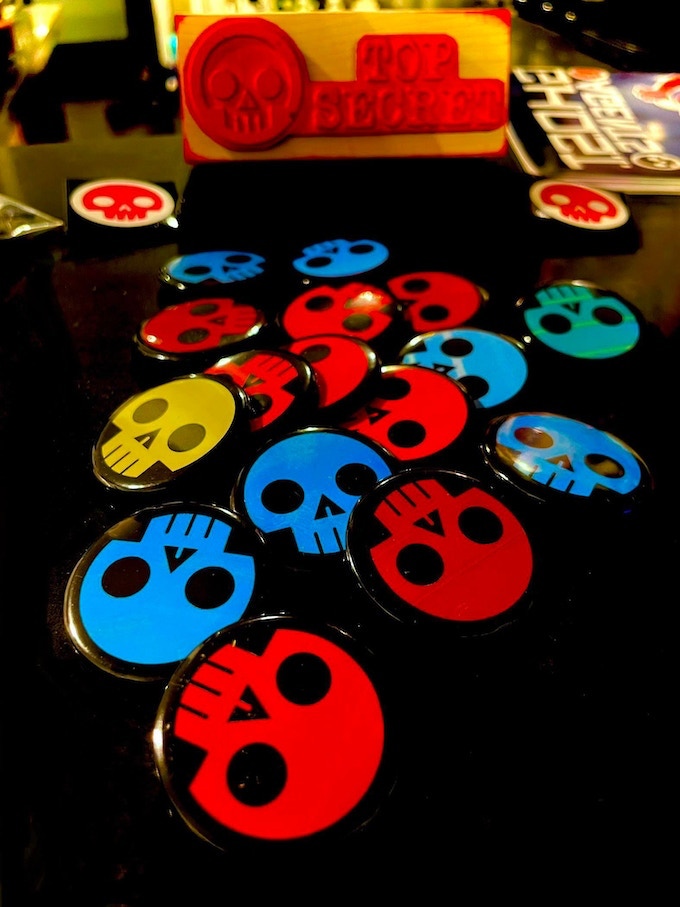 Keep an eye on PREVIEWSworld.com's Twitter, Facebook, or Instagram for more artist spotlights!
***
Troy-Jeffrey Allen is the producer and co-host of PREVIEWSworld Weekly. He is also the Consumer Marketing Manager for Geppi Family Enterprises. Troy's comics work includes MF DOOM: All Caps, Public Enemy's Apocalpyse '91, the Glyph Award-nominated Fight of the Century, the Harvey Award-nominated District Comics, and the Ringo Award-nominated Magic Bullet.