Interview: LaToya Morgan Defies Genres with 'Dark Blood'
Mar 14, 2023
Interview by Troy-Jeffrey Allen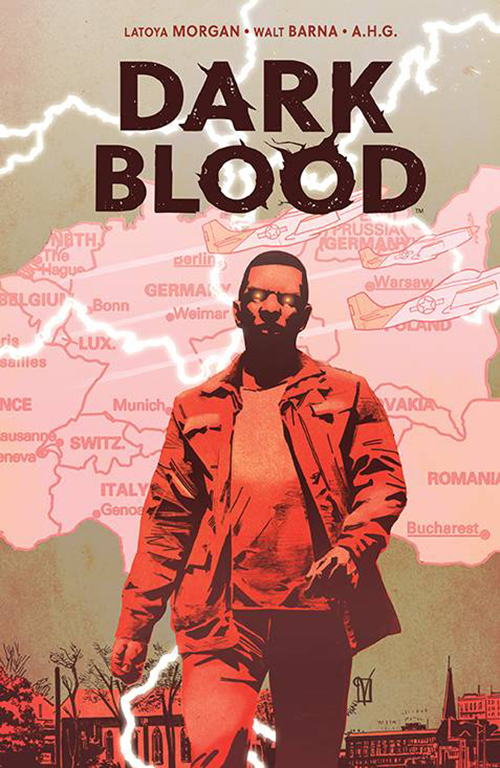 If you're a fan of AMC's The Walking Dead then you're already familiar with LaToya Morgan's work. The writer-producer has tackled everything from the zombies of TWD to the dysfunctional family drama of Shameless and the kung-fu post-apocalypse of Into The Badlands. Eager to break, defy, and bend genres, LaToya has now made her comics debut with the supernatural, post-World War II thriller Dark Blood.
In the following interview, LaToya kicks off Women in Comics Month with a look at Dark Blood ahead of its trade paperback release. If you're a fan of comics like Bitter Root and Department of Truth then you'll definitely want to keep reading...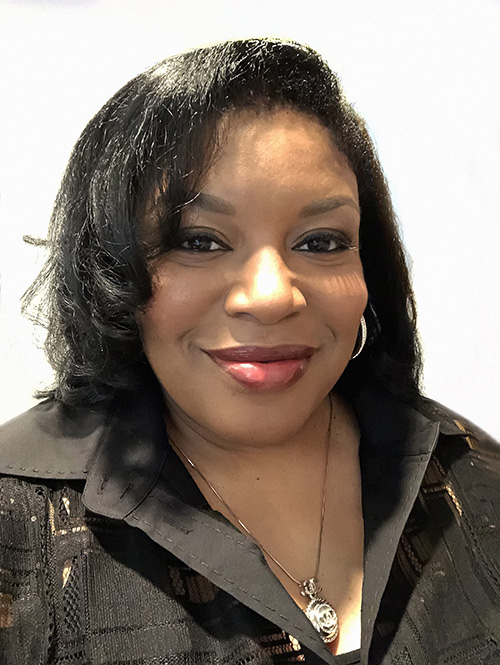 Catch us up to speed, what is Dark Blood all about?
Dark Blood is about a young Black man named Avery Aldridge (Double A to his friends!) who's a WW2 veteran and combat pilot with the Tuskegee Airmen who returns home after a harrowing experience in the war and through a series of medical circumstances comes to discover he has mysterious powers. Over the course of the six issues, we learn the origin of Avery's powers as he tries to both understand and control them. The story follows two main timelines – Avery during the war when he's trapped behind enemy lines and Avery at home behind a different set of enemy lines in his segregated small Southern town. I really wanted the audience to feel for Avery and be in his shoes, moment to moment on both sides of the story. So there's action and suspense. But there's also a lot of pathos. I wanted people to get to know Avery as he goes headlong into this journey as the two timelines dovetail together. It's a pulpy mash-up of scifi and historical fiction. It's a fun ride. So grab your popcorn.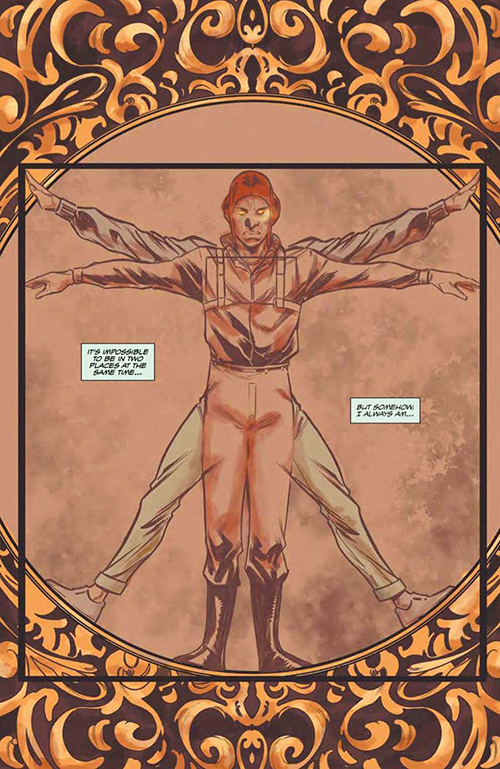 So is this more supernatural fantasy?
It definitely has a bit of the supernatural, with some mystery and horror, but I'd say it really leans into historical fiction and science fiction. I'm a history buff so I used real historical events as a launch point for the fantastical story I wanted to tell. Sometimes truth is stranger than fiction. Many people don't know that there were actual Nazi soldiers who called themselves "Werewolves" or that there were Tuskegee Airmen who were shot down and caught behind enemy lines during the war. In fact, I ran across a story in a newspaper about a real soldier named Walter Manning, who was shot down in Austria. It was a shocking story and it blew my mind that I'd never heard about him or other stories like his. I read through dozens of accounts of Black soldiers and their experiences during WW2 and coming home. I read the letters they wrote home. It was all so moving. I wanted to honor that history but not tell it like a documentary. I wanted the spirit of actual history, shake it up, and put it in a genre package. It was a chance to take some of that real history and rewrite it in a sense.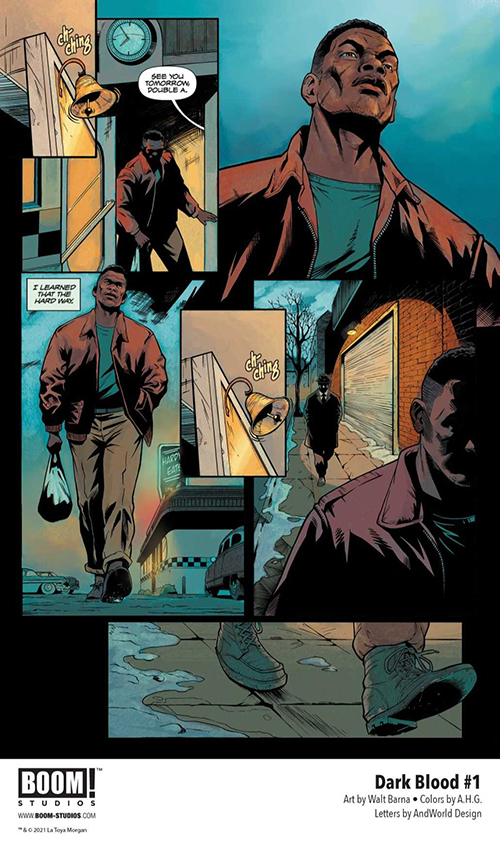 Tell us about Avery Aldridge. Why do we focus on him throughout this story, specifically?
Avery is a decorated veteran and a family man. He's a loving husband to his wife Emma and a wonderful father to his young daughter Grace. He's a regular guy with a regular job trying to make a life for himself. He works as a cook at the local diner. He lives in a tiny segregated town in Alabama and from the first moments of the comic book I really wanted readers to be right with Avery. I wanted you to get inside his head. In the first issue, when he's being followed down that dark alley, I wanted you to feel what he'd be feeling at a moment like that. It's something that even in today's times we are very familiar with. A young Black man walking home should not be dangerous and yet it still is. I wanted to take a moment like that and turn it on its head and defy expectations. In every issue, I wanted to plant a new and surprising thing about Avery. Everything from his drawings to his speaking German to the comic within the comic – it's all there to give insight into who he is and his state of mind. We get to see him run the gamut of emotions — he's brave under pressure, he's tender and loving with his family, and he's unpacking the mystery of what's happened to him. I wanted Avery to be a fully realized character in what I hoped would be an entertaining and thought-provoking story. My grandfather wasn't an Airman, but he was in the military and was an inspiration for me. So the story hits close to home.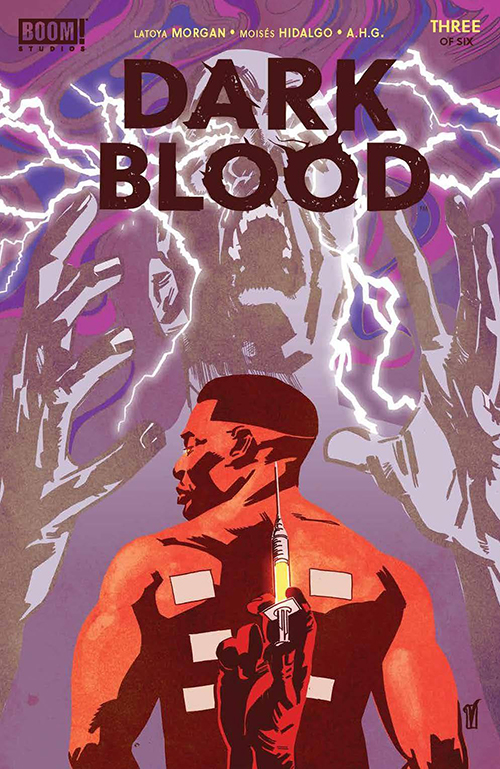 What made you set the story in 1955 Alabama?
History was really one of the biggest factors for choosing 1955. I wanted the story to take place before the Civil Rights Movement but also on the cusp of it. I was fascinated by that moment right before dominoes of activism and social change began to fall. What the Red Tails accomplished during WW2 was incredible. Yet many of the stories I read about how they were treated when they got back were heartbreaking. I wanted to shine a light on the treatment of Black soldiers who were heroes and sacrificed so much for this country, yet haven't truly been given their due. I knew that the circumstances of what happened to Avery would make him someone who could be a catalyst to help change things. Ten years after the war felt like a great time to do that and tell the story of both timelines.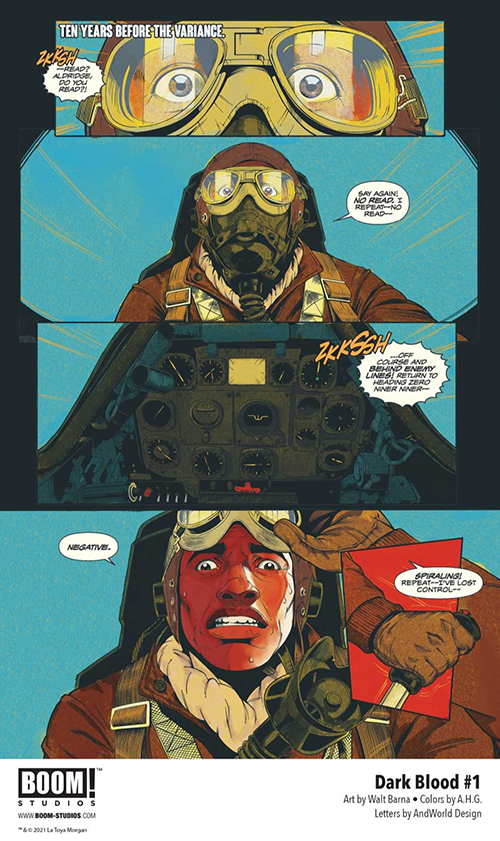 What has the process been like with artist Walt Barna?
Walt is a fantastic artist and it was such a pleasure to work with him. I tend to write detailed comic scripts and I love finding visual references to include to help the artist get a sense of what I'm envisioning. Walt took those images and elevated them by a thousand. I love the gravitas you feel in every panel and the way he draws Avery. He's strong yet vulnerable. Endlessly empathetic. There's such wonderful movement in Walt's panel work. The flow of the story is always so energetic and pleasing to the eye. There's grit to the war stuff and tenderness to the family parts of the story, which is not always easy to pull off. He's an artist's artist – thoughtful, creative, and immensely talented. I was so thrilled to work with him. And because he's so good he became super busy so we needed help finishing the series. When Moises Hidalgo took over for the later issues, it was a seamless passing of the torch. His work is beautiful, visceral, and evocative. I honestly won the artist jackpot on this comic.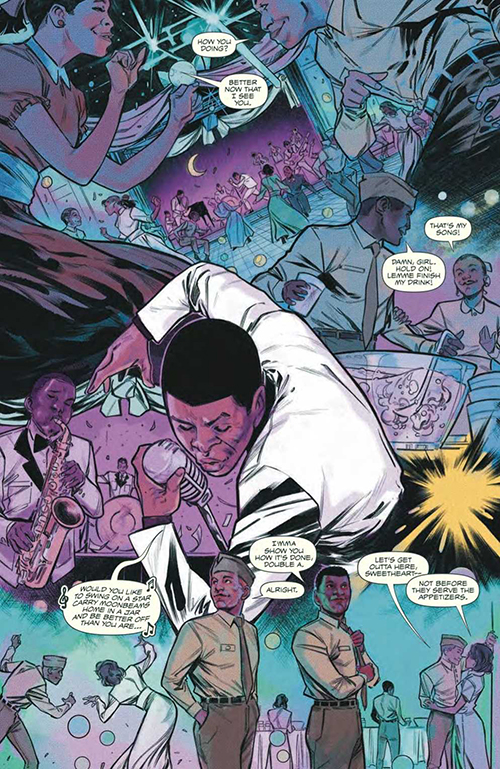 What if you were given the power to change the course of history? What would you do?
That's such a huge question and that's the fun of where we get to in the series, especially in the later issues. I know I'd use those powers to change some of the darker things that have happened in our times. To stop them from happening and hopefully create meaningful change. In a way, this comic book is all about that. And of course, I'd use my powers for good! But then again, I've always secretly wanted to be one of the X-Men.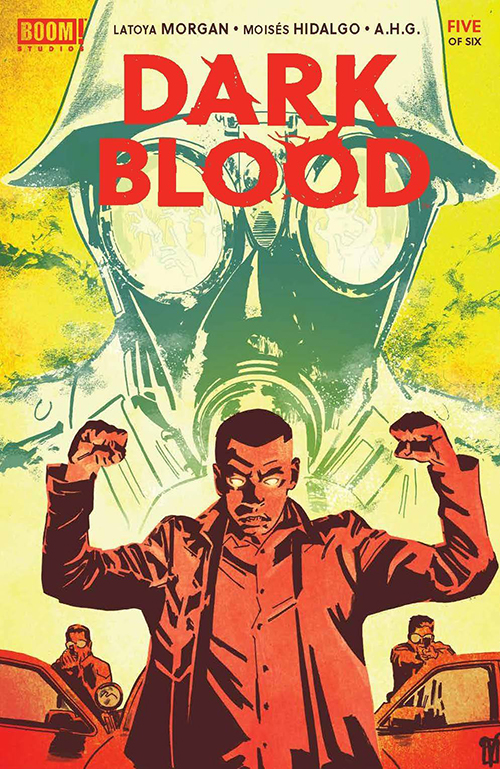 You have a background on shows like Walking Dead and Into The Badlands. How did you end up telling this story at BOOM! Studios?
I'm a genre fanatic so I'm always trying to figure out ways to push the envelope as a storyteller. Working on those shows, especially the Walking Dead, proved the power of comic books. I wanted to create a book that could be a jumping-off point for a TV show or a movie. I've written comic book series before but for Dark Blook, I wanted to create my own world and characters. I had a coffee meeting with Stephen Christy at BOOM and talked his ear off about how much I loved comics and really wanted to do something in the creator-owned space with a company that would support material that was fun and exciting but that also dealt with some weighty things and had something to say. I was familiar with BOOM's catalogue and knew they were making some of the best books in the game. I'd written a short treatment, so I sent it over, they read it, loved it, and we immediately started conversations about making it. To their credit, they saw the vision, they were a hundred percent behind it and really championed the series. And since the first issue was published, we've gone to second and third printings on the first couple of issues and it's sold really well. I can't thank readers enough for taking a chance on it and going with Avery on this journey. And I could not have asked for more amazing creative collaborators than BOOM.
Looking forward, what can readers expect from Dark Blood?
What readers can expect is a thrill ride. You get to watch an ordinary hero become extraordinary. There's Avery and his powers but there's also the mystery of how he came to have them. There are questions – what's going to happen to him? What will happen to his family? What's The Variance? Over the series, we answer those questions and Avery's past and present unfold and collide in a really cool and unexpected way. I ended the series in a satisfying way but also left room for more stories to be told in this world. So I'm crossing my fingers that I'll get to extend the fun in this sandbox because I've loved playing in it. I hope more readers pick up Dark Blood, come along on this crazy ride, and enjoy!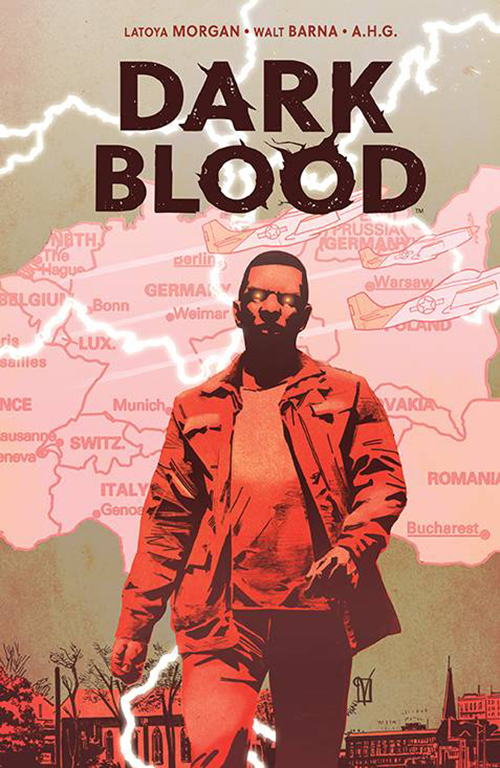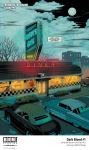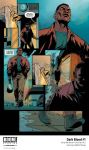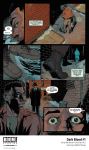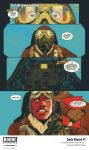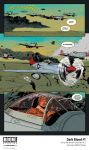 Click to View

Single issues of Dark Blood are available now at comic shops. Look for the Dark Blood trade paperback (collecting issues #1-6) on June 8, 2022. Reserve your copy today using PREVIEWSworld Pullbox!
Keep an eye on PREVIEWSworld.com's Twitter, Facebook, YouTube, or Instagram for more from BOOM! Studios.
BOOM ENTERTAINMENT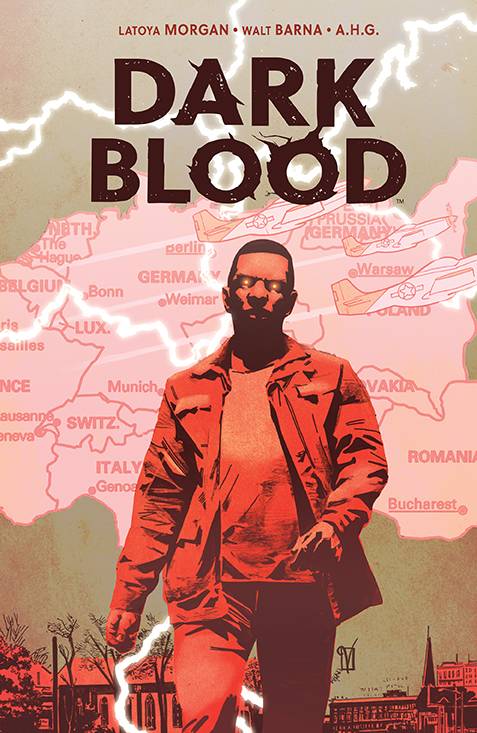 (W) LaToya Morgan (A) Walt Barna, Moises Hidalgo (CA) Valentine De Landro
* A bold, genre-bending saga for fans of Department of Truth and Bitter Root!
* Avery Aldridge was a decorated soldier during World War II; now he's just an ordinary young Black man busy providing for his family. But he's haunted by the wounds of war, and after a run-in awakens latent abilities, he'll discover he's anything but ordinary.
* But between flashbacks, ever-emerging and frightening powers, and a seemingly kind doctor with unclear motives, will Avery be able to make sense of his newfound abilities and what's been done to him? Can he keep his family safe in a society that never wanted him to have any power?
* A bold, evocative genre-bending saga by NAACP Image Award-Winning screenwriter LaToya Morgan (AMC's The Walking Dead, Into The Badlands), artists Walt Barna (The Osiris Path) and Moisés Hidalgo (Mighty Morphin Power Rangers), and colorist A.H.G. (Broken Bear) about the power of love, family, and resilience.
* Collects Dark Blood #1-6.

In Shops: Jun 08, 2022
SRP: $19.99
PREVIEWS Page #205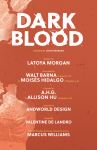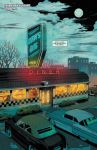 Click to View

****
Troy-Jeffrey Allen is the producer and co-host of PREVIEWSworld Weekly. His comics work includes MF DOOM: All Caps, Public Enemy's Apocalpyse '91, Fight of the Century, the Harvey Award-nominated District Comics, and the Ringo Award-nominated Magic Bullet.