Get Graphic: 'Girls' Heist Out' With Manuela Soriani
Jan 17, 2022
Art by Manuela Soriani
Interview by Troy-Jeffrey Allen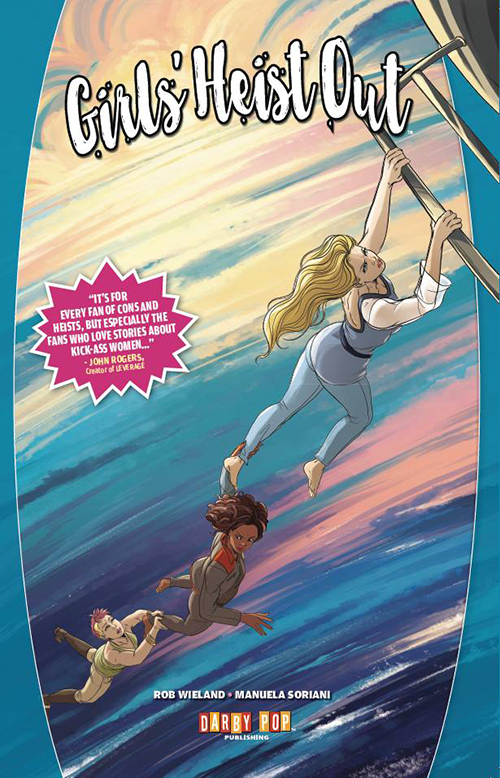 Are you in the mood for globe-trotting, exotic locales, sharp banter, clever twists, and plenty of action-packed/impossible-to-pull-off capers? Well, get ready for Girls' Heist Out (JAN221367), a new, original graphic novel from Darby Pop Publishing.
In Girls' Heist Out, white-collar criminal Julia Pryce finds herself betrayed by her lover/partner-in-crime Adrian. Now, as payback, she's going to round up her very own "Ocean's three" to secure the bag that was snatched from her.
PREVIEWSworld talked with Girls' Heist Out artist Manuela Soriani to find out how she and writer Rob Weiland plan to pull off the perfect crime. Er, um, comic.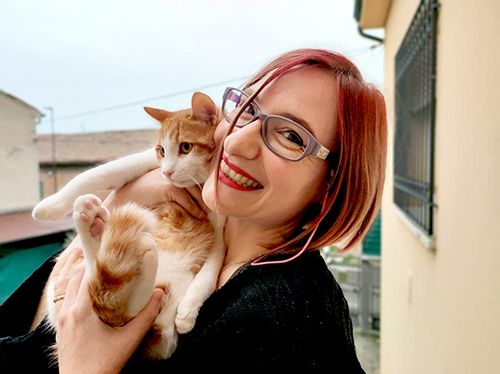 Troy-Jeffrey Allen: Firstly, who are you and where do you hail from?
Manuela Soriani: I'm Manuela Soriani. I was born in northern Italy, in a small town called Castelmassa. Even though my hometown has "castle" in its name and is often surrounded by fog, it's not a fantasy place. I'm thankful to my late father for letting me pursue and even supporting, my dream of becoming a comic artist – especially after I'd studied to become an accountant. Even if he didn't know why I loved comics so much, my father knew how important they were to me. It's not easy, I think, to see your little girl trying to make a living from something as uncertain as art!
And, of course, I'll always be thankful to Michela Da Sacco, who was willing to take on a complete stranger as an apprentice!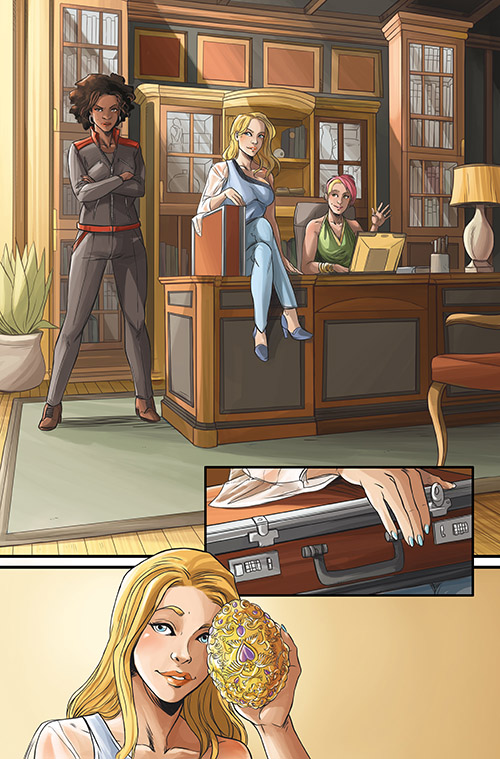 Troy-Jeffrey Allen: How did you get into comic books as a fan?
Manuela Soriani: I was part of a generation in Italy that was born and raised with Japanese anime on TV at every time of the day, and when I was a teenager, manga started to get wider and more official distribution. I was immediately hooked! Then my teacher -- now friend and colleague -- Michela put comics in my hands from the most diverse authors, and I broadened my views: French, American, Italian comic artists. She gently pushed me to read a little bit of everything, and I still do.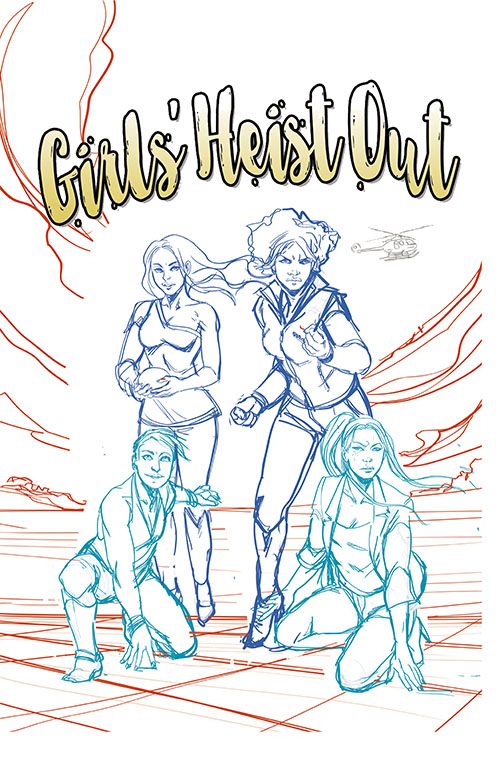 Troy-Jeffrey Allen: How did you get into comic books as a professional?
Manuela Soriani: It was a slow process: I paid my dues, starting with indie amateurs, and then small publishers. My first breakthrough came thanks to Federico Memola who offered me a job on Jonathan Steele, the monthly series he wrote for Star Comics. Federico truly was a talent scout; many great talents started their careers on his books.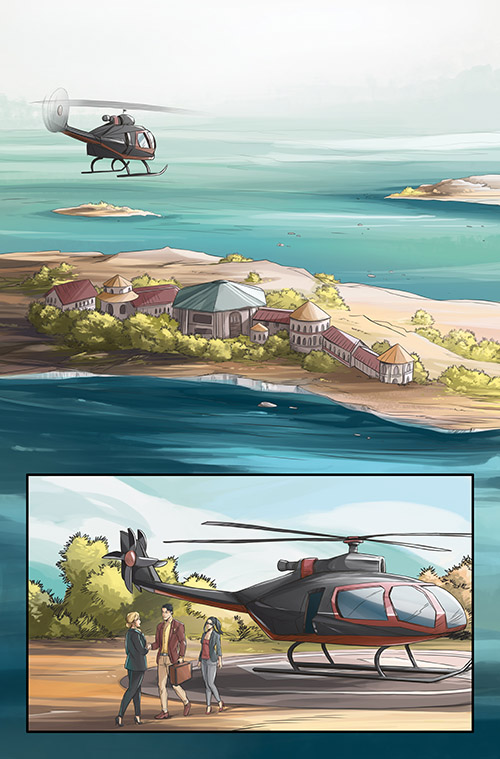 Troy-Jeffrey Allen: Tell us the story of Girls' Heist Out. What's it about?
Manuela Soriani: First of all, it's about being amazing (laughs). It may first appear as 'just another heist' book, but I feel that the heart of the story is in following these amazing characters, who do amazing things, all while looking and being amazing! And the best part is that the four "girls" are very different from each other. Everything in Girls' Heist Out is as colorful and action-packed as Rob Wieland (the writer) and I could manage. But it's not just that; there's a mix of humor, cleverness, and playfulness in Rob's writing that made me feel at home immediately on this project!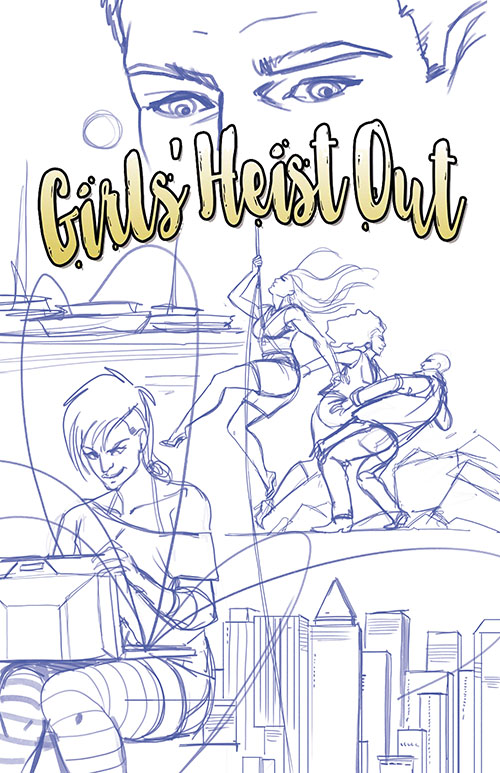 Troy-Jeffrey Allen: Tell us about Julia and her crew. How did you go about designing them?
Manuela Soriani: That was actually very easy… they jumped out of my mind 90% ready. Rob asked me to try just a couple of different things (i.e. Dawn had a different hairstyle in my first version) and BOOM! Rob gave me the right amount of reference on one side, and the freedom to experiment on the other. And the pieces just fell into place. Which almost never happens!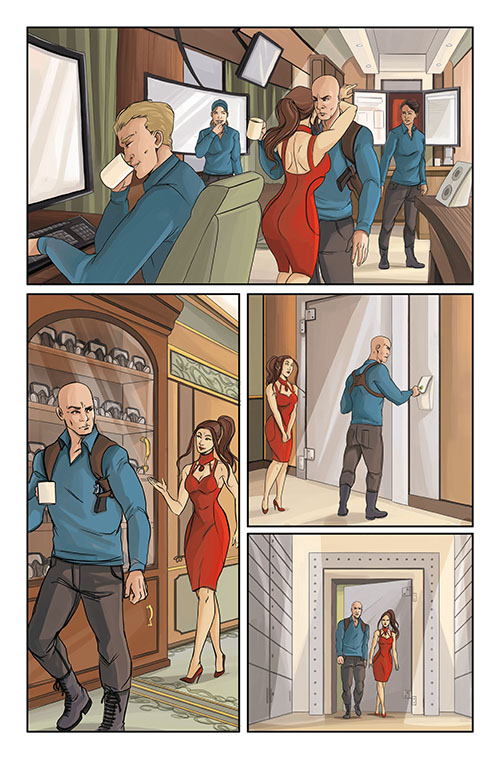 Troy-Jeffrey Allen: The book promises lots of globetrotting. Which locale was your favorite to draw?
Manuela Soriani: I loved drawing the train! I can't spoil anything here, but there are many interiors and exteriors of a train in the story. Each train car was different and required unique research. It was also challenging from a "directional" point of view; I had to find the best angles to use inside of all those narrow spaces. My favourite locations were the luxury cars, where I took inspiration from the Orient Express -- the most iconic of luxury trains, of course!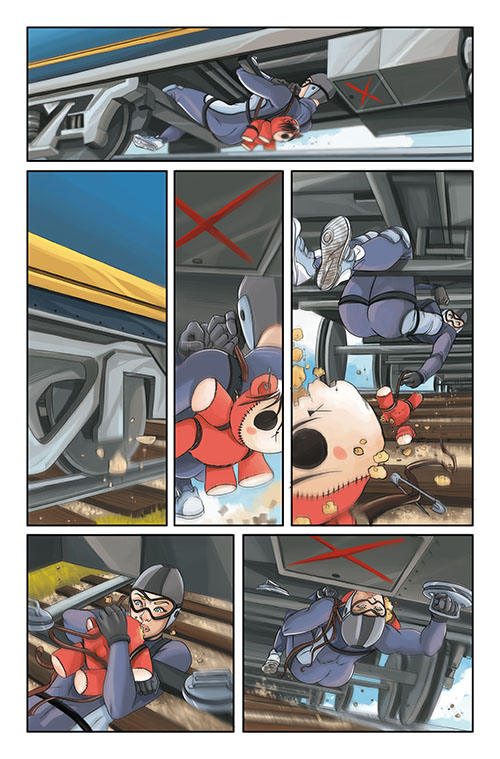 Troy-Jeffrey Allen: What tools do you use to create?
Manuela Soriani: Everything I do for comics, and most of my illustrations, is fully digital: Photoshop as software, a very big Cintiq, and my trusted PC. I dabble in watercolors and other traditional media, but when I need to give my 110%, digital it is.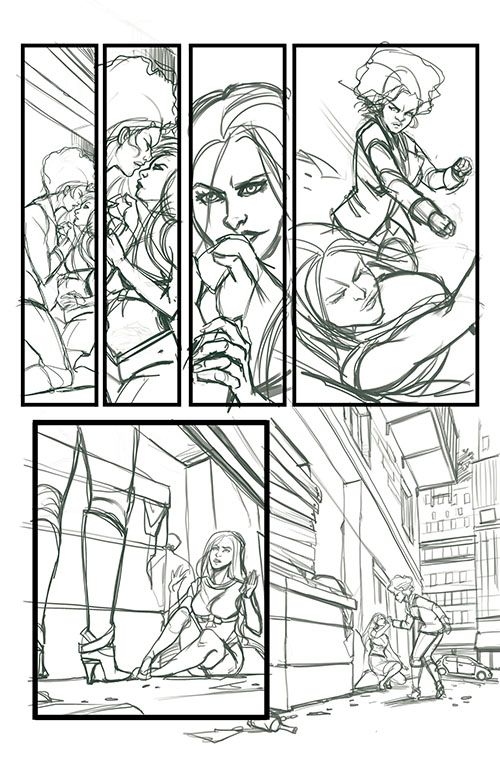 Troy-Jeffrey Allen: What's next for you?
Manuela Soriani: At the moment, I'm busy with projects from Awe Edizioni, the association I founded in 2020 with my friends and colleagues. We create comics of our own, and I'll work on different titles as editor. But, I'm also an author: Oro - A Golden Boy (working title) will be the first book I've written in addition to "just" doing art. I'm also working as an artist on a comic book for another American writer, but I can't say too much at the moment. And then… who knows? I'm always on the hunt for new scripts that may catch my attention! And if Rob calls, well, he'd go to the front of the line. He was amazing to work with!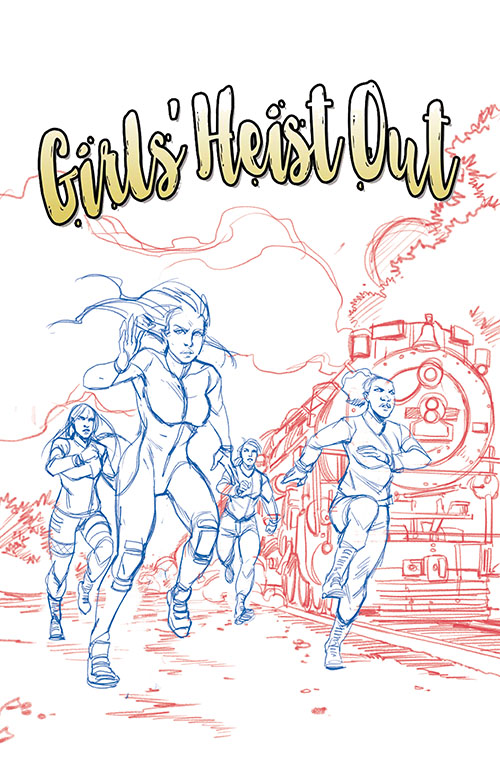 Darby Pop Publishing's Girls' Heist Out is available to preorder now using PREVIEWSworld Pullbox. And if you've enjoyed discovering Manuela's work, give her a follow on Instagram. More below.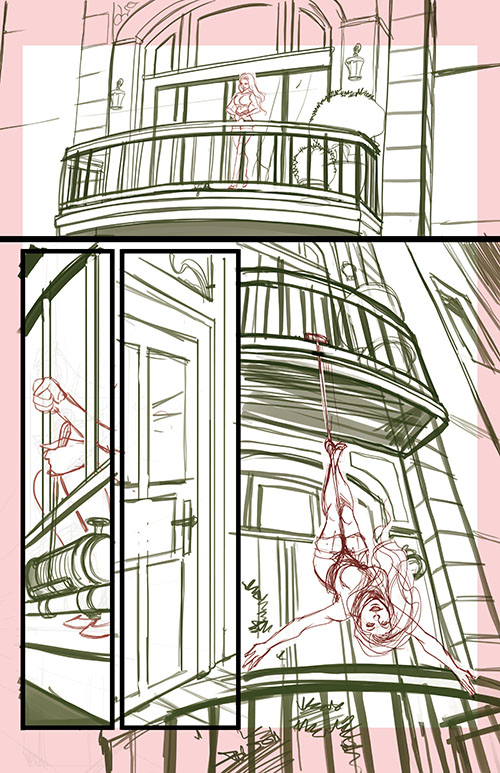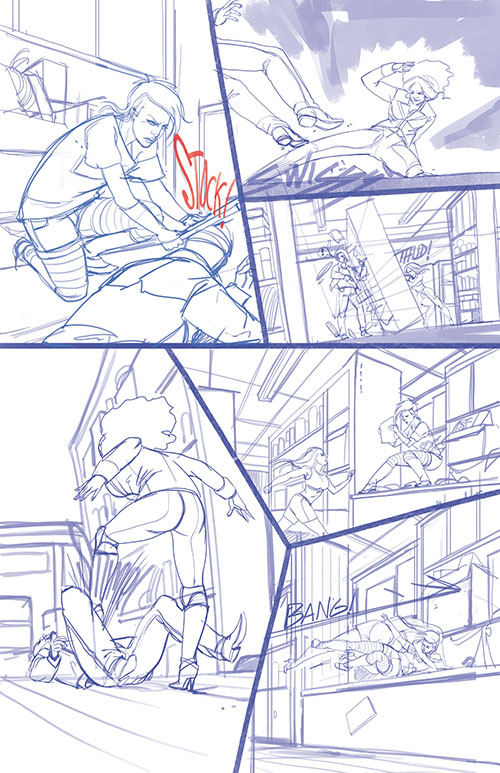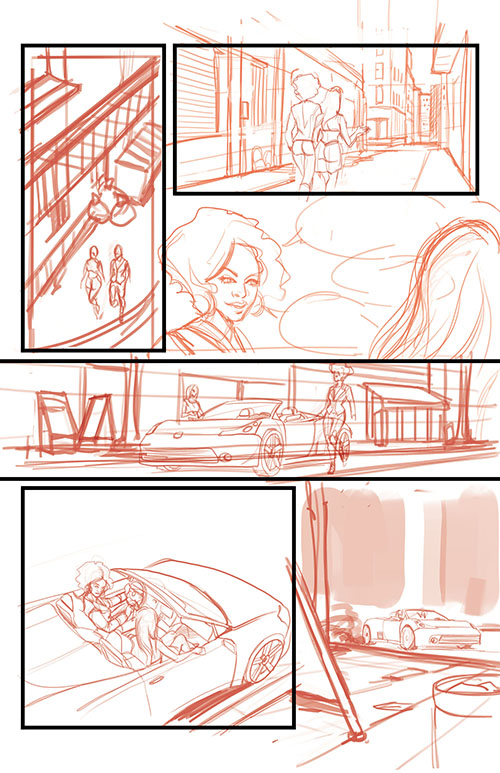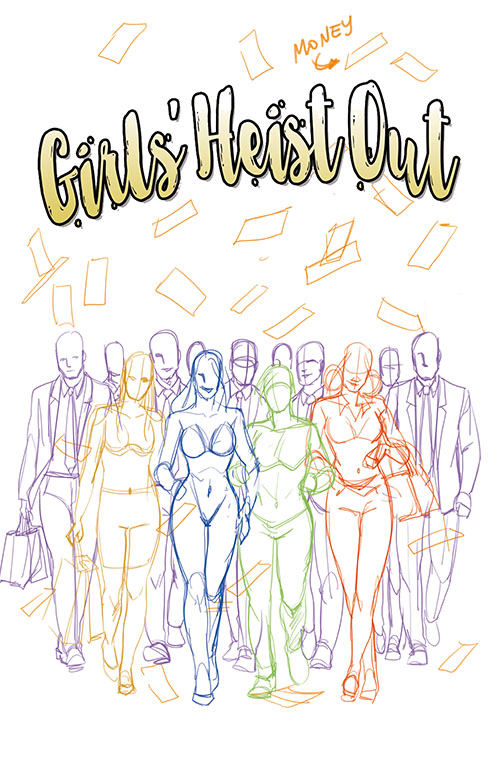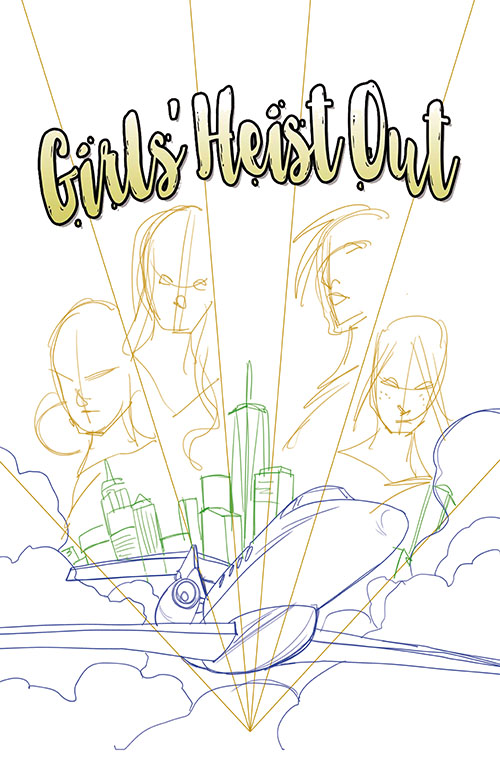 Keep an eye on PREVIEWSworld.com's Twitter, Facebook, YouTube, or Instagram for more artist spotlights!
DARBY POP PUBLISHING, INC.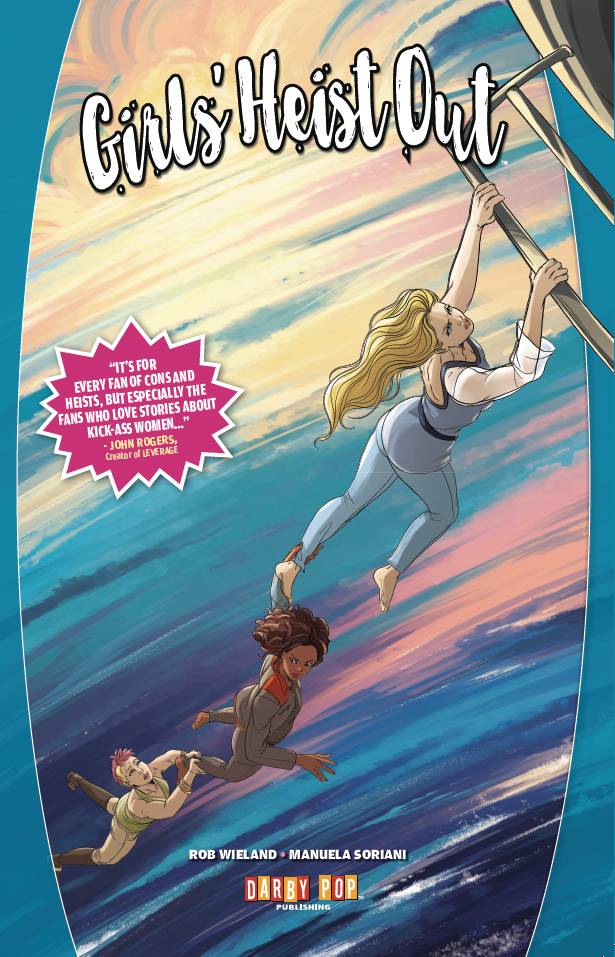 Julia and Adrian Pryce are white-collar crime's premier power couple. But when Adrian leaves Julia holding the bag, she assembles a crew of accomplished women to exact delicious revenge. Forget divorce; Julia's going to steal everything Adrian ever wanted right out from under his perfectly re-sculpted nose. Girls' Heist Out is a globetrotting caper featuring sharp banter, clever stings, and plenty of "grrrl power."
In Shops: Mar 16, 2022
SRP: $14.99
PREVIEWS Page #284
Troy-Jeffrey Allen is the producer and co-host of PREVIEWSworld Weekly. He is also the Consumer Marketing Manager for Geppi Family Enterprises. Troy's comics work includes MF DOOM: All Caps, Public Enemy's Apocalpyse '91, the Glyph Award-nominated Fight of the Century, the Harvey Award-nominated District Comics, and the Ringo Award-nominated Magic Bullet.