Cowabunga! Funko's PX Pop! Comics TMNT Vinyl Figures with B&W Chases Available for Pre-Order Now!
Oct 28, 2021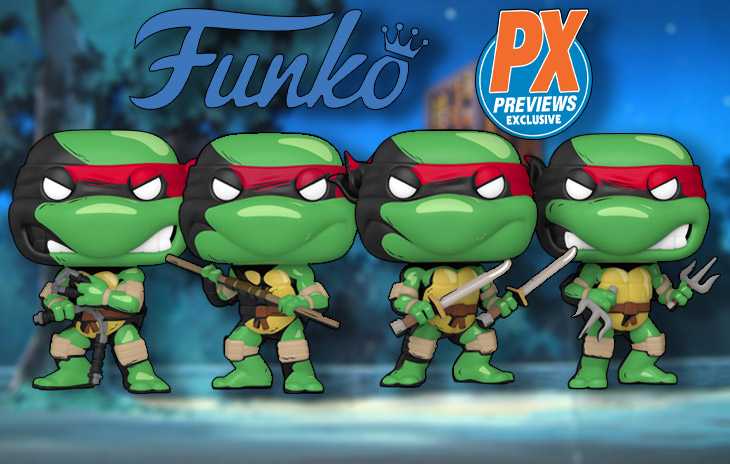 PRE-ORDER by 11/22/21
Expected in Stores January 2022

Funko's
POP! COMICS:
TEENAGE MUTANT NINJA TURTLES VINYL FIGURES
WITH BLACK & WHITE CHASE FIGURES

Inspired by the now legendary comics phenomenon that took the world by storm, Eastman & Laird's Teenage Mutant Ninja Turtles are ready to hit your Funko collection "air-borne" with this brand new, PREVIEWS Exclusive series of Pop! figures!
The Mirage Turtles come to life in your collection with a comics-inspired cel-shaded design. Collect Donatello, Raphael, Michelangelo, and Leonardo equipped with their signature weapons and classic red bandanas; vigilante Casey Jones with his bat and trademark hockey mask; and the biggest baddie of all, Shredder!
Plus, these PREVIEWS Exclusive Pop! figures feature black and white chase variants for that classic indie comic look.
Pre-order yours today at your local comic shop or via PREVIEWSworld PULLBOX! Pre-order by 11/22/21 so you don't miss out!

Please Note: Chase variants are packed randomly and cannot be guaranteed with purchase. Please contact your local retailer for information on how to aquire these variants.
DONATELLO
with bo staff
(MAR218990, $13.99)
LEONARDO
with twin katanas
(MAR218991, $13.99)
MICHELANGELO
with nunchaku
(MAR218992, $13.99)
RAPHAEL
with sai
(MAR218993, $13.99)
CASEY JONES
with baseball bat & hockey mask
(MAR218989, $13.99)
SHREDDER
with signature helmet & claws
(MAR218994, $13.99)