Flashback Friday: Moira MacTaggert's Original Life
Oct 01, 2021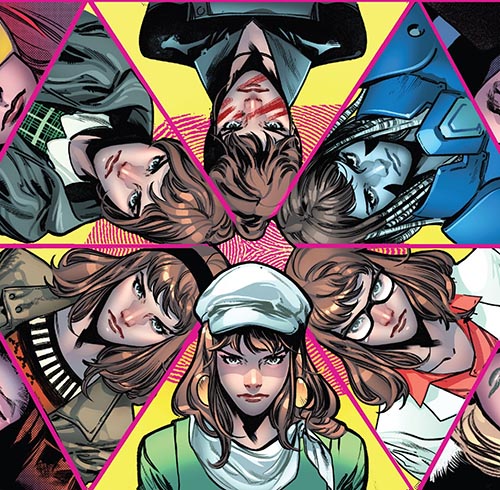 In the world of the X-Men, humans are often fearful of mutantkind, some going so far as to outright bigotry. But, that isn't true for all humans. Prior to the recent events of House of X/Powers of X storyline, Moira MacTaggert's biggest contribution to Xavier's School for Gifted Youngsters was her humane and human perspective -- her dedication to seeking peace and encouraging community between humans and mutants.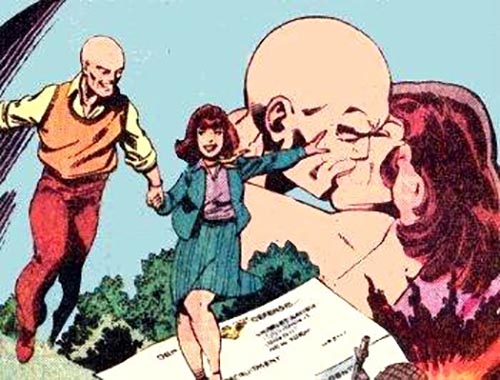 Moira is a Nobel Prize-winning scientist and leading authority in genetic mutation who aids the X-Men. She was created by Chris Claremont and Dave Cockrum who introduced her in Uncanny X-Men #96 (December 1975).
She met Charles Xavier while studying at Oxford University, the two fell in love and were engaged for a period. Instead of marrying Charles, Moira married her old flame, politician Joseph MacTaggert. Later she left him because he was abusive, while also keeping her son, Kevin, a secret. Moira created the Mutant Research Center on Muir Island near Scotland and had to institutionalize Kevin when he developed reality-warping abilities and a severe case of psychosis. Moira's work became centered around understanding human and mutant genetics to save Kevin.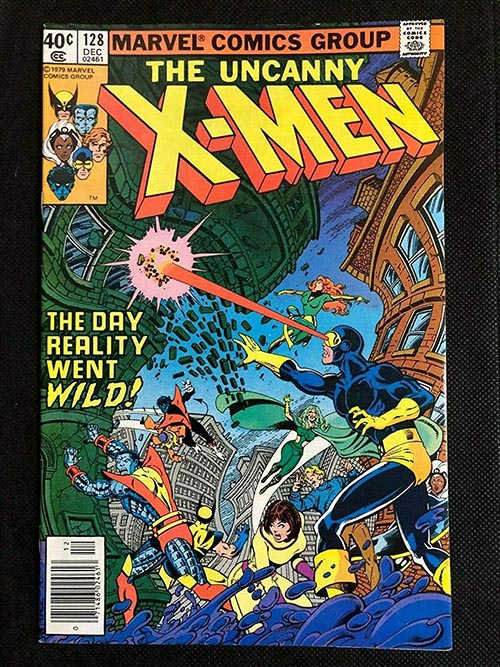 She had remained in contact with Professor X, serving as a silent partner in founding Xavier's School for Gifted Youngsters, helping him create Cerebro, and aiding him in helping Jean Grey when her mutant abilities first manifested. In her work with mutants, she saved Wolfsbane from a mob and adopted her, and she tried to help Legion, Xavier's son, while he was suffering from multiple personality disorder.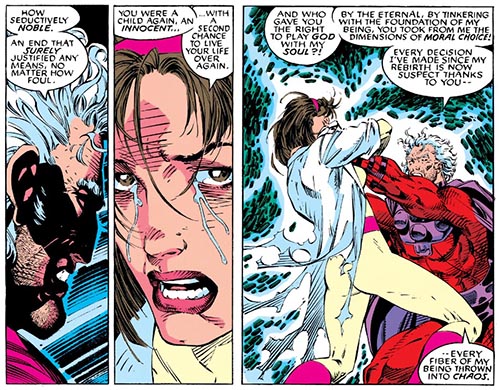 When Cable arrived from the future and was unable to speak English, Moira saved him from an attack. She took him to Muir Island where he learned English, and she taught him the customs of the time. When Magneto was de-aged to being an infant, Moira became his caregiver and she tried to steer him away from becoming a villain again. Her move to "rehabilitate" Magneto would ultimately provide the main plot thrust for 1991's record-breaking X-Men #1 by Chris Claremont and Jim Lee. That particular issue would go on to move 8,186,500 copies, making it the best-selling comic book in history.
Keep an eye on PREVIEWSworld.com's Twitter, Facebook, YouTube, or Instagram for more character profiles! And if you're interested in more about the many lives of Moira MacTaggert, head to your local comic shop and check out the following...
MARVEL COMICS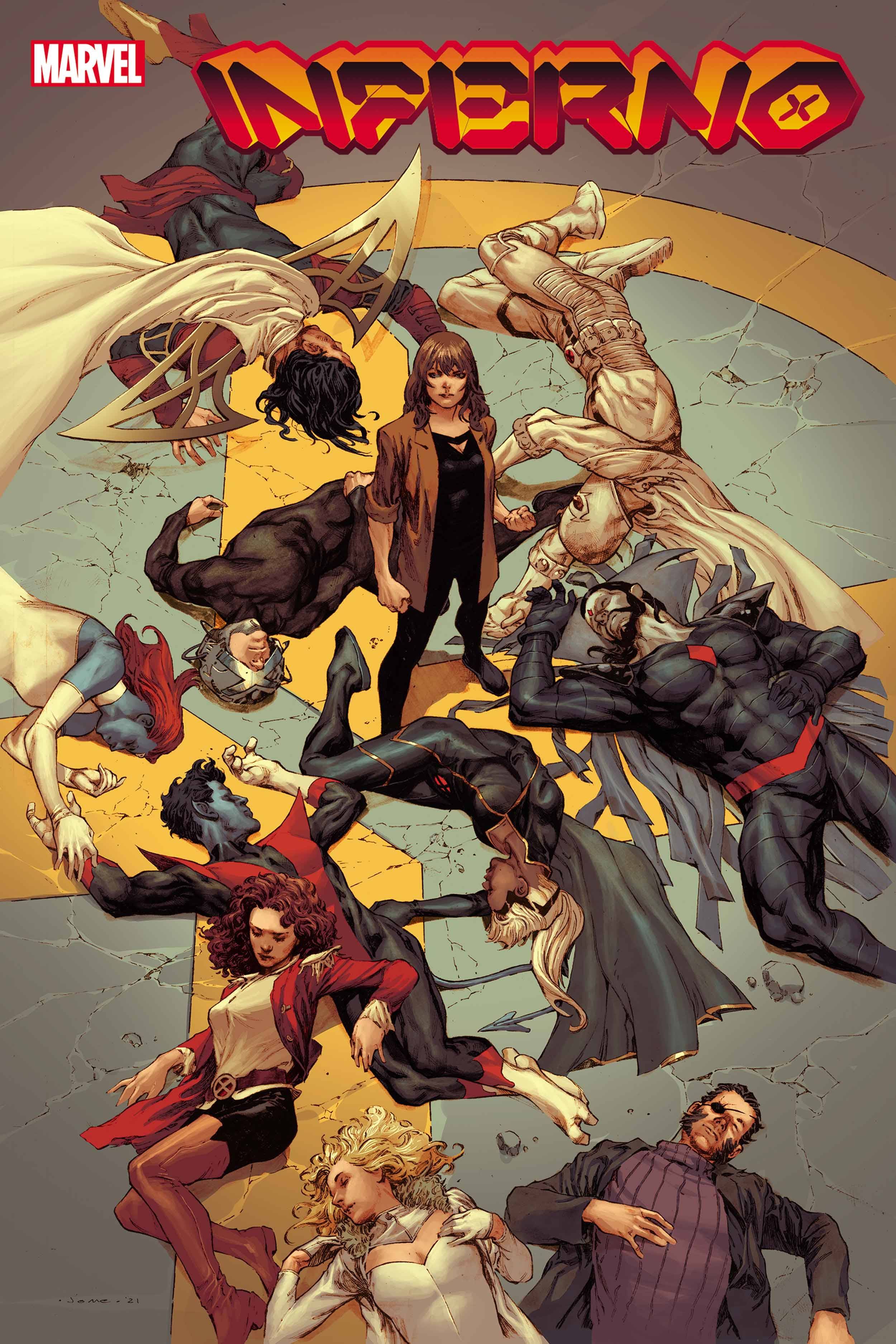 (W) Jonathan Hickman (A) Valerio Schiti (CA) Jerome Opena
THE CULMINATION OF JONATHAN HICKMAN'S X-MEN BEGINS HERE!
"There will be an island-not the first, but the last..." Promises were made and broken. The rulers of Krakoa have been playing a dangerous game with a dangerous woman, and they are about to see how badly that can burn them. Mastermind of the X-Men JONATHAN HICKMAN brings his plans to a head, joined by an incredible lineup of artists beginning with VALERIO SCHITI... as one woman follows through on her promise to burn the nation of Krakoa to the ground.

Rated T+
In Shops: Sep 29, 2021
SRP: $5.99
MARVEL PREVIEWS Page #6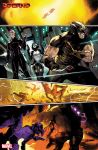 Click to View

MARVEL COMICS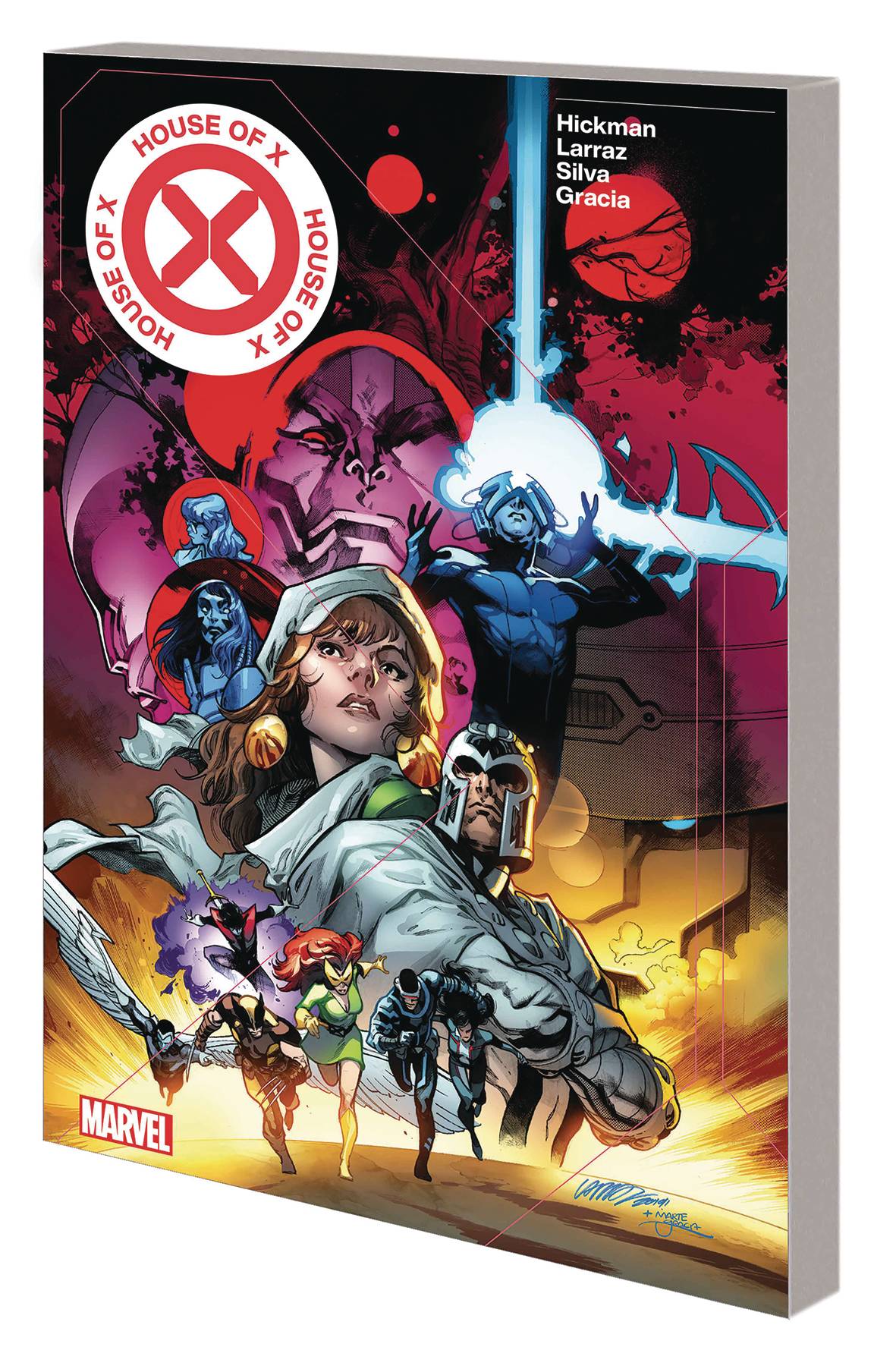 (W) Jonathan Hickman (A) R. B. Silva (A/CA) Pepe Larraz
The next great evolution of the X-Men! "While you slept, the world changed." With those words, Professor X announces to the people of Earth the new mutant nation of Krakoa. It is a safe haven for all Homo superior, with its own rules and its own language. In return for international recognition, Xavier will offer humanity great scientific advancements born of Krakoa's unique flora. But the time for integration has ended. Xavier's old dream is dead - and now a new one begins. Is mutantkind's greatest enemy the prejudice of humans or the cold artificial intelligences that await a hundred - even a thousand - years from now? Visionary writer Jonathan Hickman (FANTASTIC FOUR, AVENGERS, SECRET WARS) transforms mutantkind's past, present and future - and sets the stage for the Dawn of X! Collecting HOUSE OF X #1-6 and POWERS OF X #1-6.
Rated T+
In Shops: Aug 26, 2020
SRP: $44.99
MARVEL PREVIEWS Page #179
MARVEL COMICS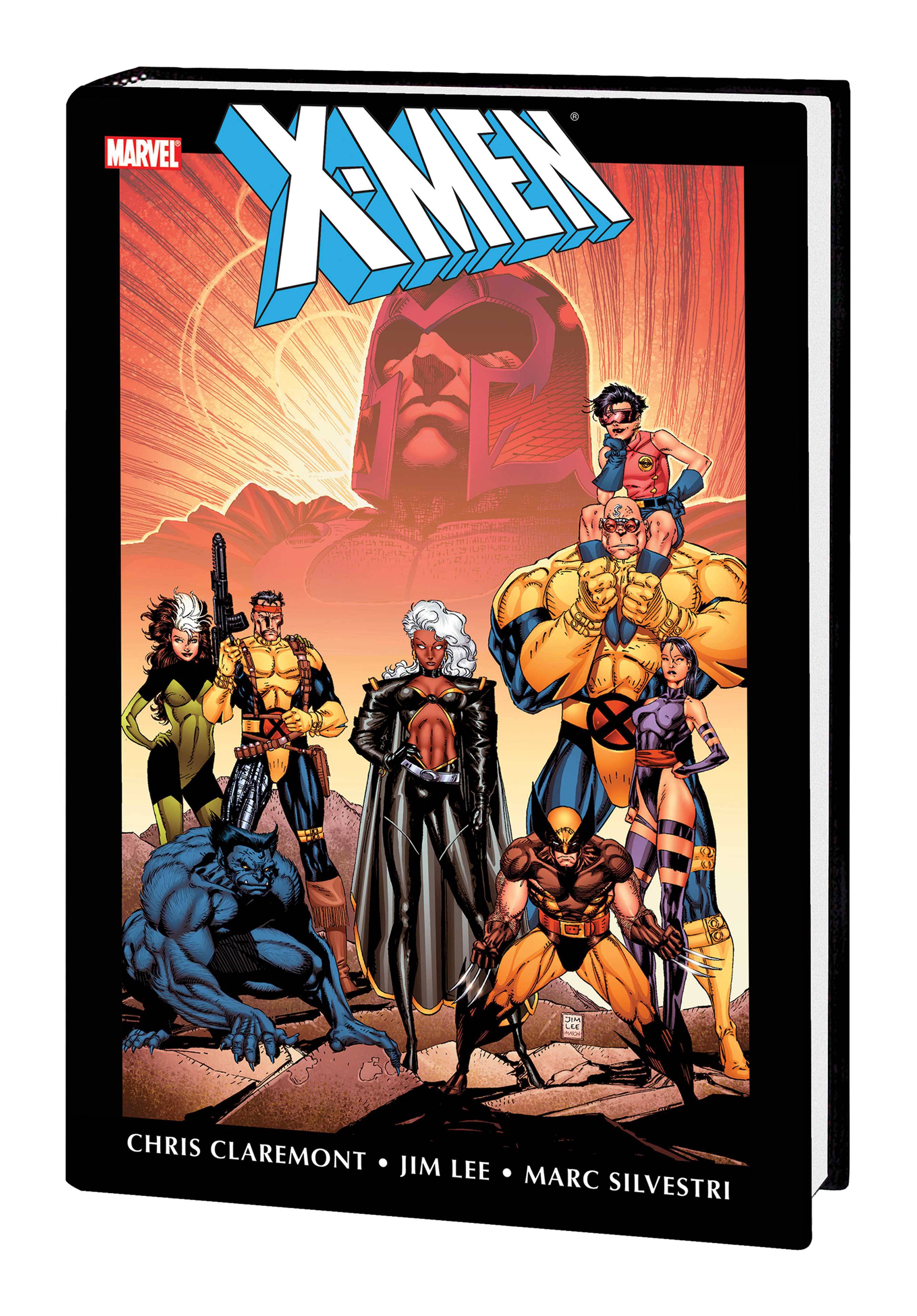 (W) Chris Claremont, More (A) More (A/CA) Jim Lee
What happens when you combine an industry veteran at the top of his game with an up-and-coming young artist and let them loose on Marvel's mightiest mutants? You get a fan-favorite, multiyear X-Men run unequaled in style, pizzazz and wall-to-wall action! It's Chris Claremont's most ambitious story arc ever, featuring Jim Lee's dynamic debut and major changes to the X-Men's status quo! Jubilee arrives just as the X-Men disband, granted new lives by the Siege Perilous! The Reavers enact gruesome revenge on Wolverine and decimate Muir Island, while Psylocke transforms into a ninja! The Shadow King makes his play for Storm, culminating in the action-packed introduction of Gambit! Wolverine's hidden past with Captain America and the Black Widow is revealed! And Rogue takes on...Carol Danvers?! Collecting UNCANNY X-MEN (1981) #244-269, X-MEN ANNUAL (1970) #13 and CLASSIC X-MEN #39.
Rated T
In Shops: Jan 06, 2021
SRP: $125.00
MARVEL PREVIEWS Page #77
MARVEL COMICS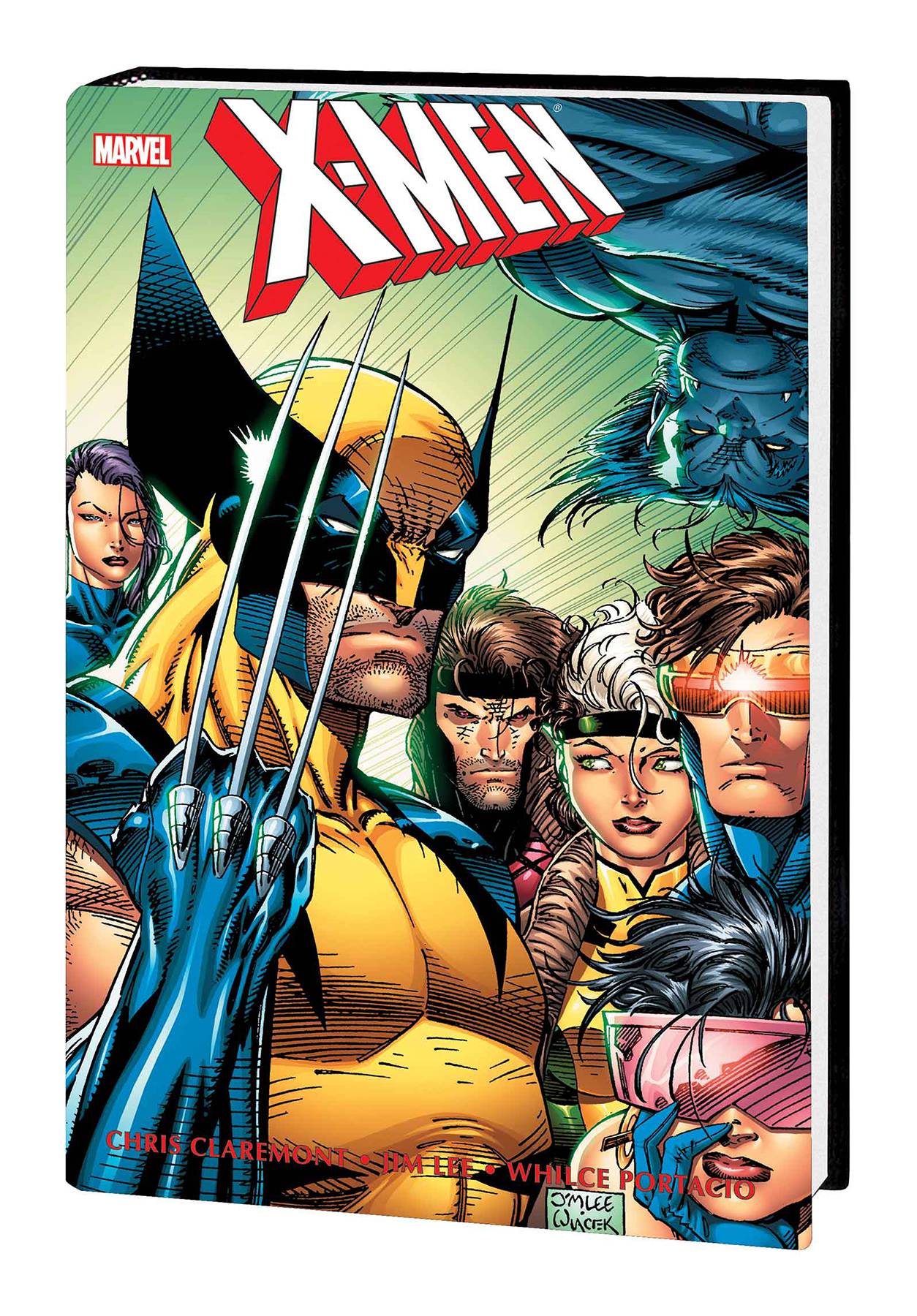 (W) Chris Claremont, More (A) More (A/CA) Jim Lee
X-Men superstars Chris Claremont and Jim Lee bring their legendary run to an Earth-shattering crescendo! The X-Men are shanghaied into outer space to outwit a Skrull infiltration and return Princess Lilandra to the throne - while back home, X-Factor must contend with the return of Apocalypse and the loss of Cyclops' son, Nathan Christopher! Then both teams unite to face the menace of the Shadow King, leading into an all-new era as the X-Men evolve once again - becoming more than merely Uncanny! And they'll need to be in full fighting form when Magneto gains a cult following, Omega Red returns to menace Wolverine, the time-traveling Bishop joins the team and the alien Brood assimilate Ghost Rider! Collecting X-FACTOR (1986) #63-70, UNCANNY X-MEN (1981) #273-280, X-MEN (1991) #1-9, GHOST RIDER (1990) #26-27 and material from X-MEN (1991) #10-11.
832 PGS./Rated T
In Shops: Mar 10, 2021
SRP: $125.00
MARVEL PREVIEWS Page #86
MARVEL COMICS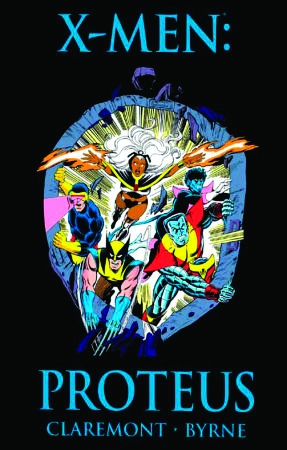 (W) Chris Claremont, John Byrne, Ann Nocenti, Fabian Nicieza (A) John Byrne, John Bolton, Mark D. Bright, Terry Austin, Joe Rubinstein (CA) Dave Cockrum
Written by CHRIS CLAREMONT, JOHN BYRNE,
ANN NOCENTI & FABIAN NICIEZA
Penciled by JOHN BYRNE, JOHN BOLTON & MARK BRIGHT
Covers by DAVE COCKRUM & GEORGE P REZ
One of the X-Men's greatest allies must face her darkest secret when a child born of violence bends reality to his whims! The paranormal Proteus battles the X-Men in body and soul, shaking the psyches of even their strongest! But as Marvel's mightiest mutants face one world-threatening wonder, an even worse one awaits as the stage is set for the debut of Dark Phoenix!
Collecting X-MEN #125-128, and CLASSIC X-MEN #32-33 and #36.
128 PGS./Rated T+ ...$19.99

In Shops: Apr 29, 2009
SRP: $19.99
MARVEL PREVIEWS Page #99
MARVEL COMICS
(W) Chris Claremont (A) Sam Grainger (A/CA) Dave Cockrum
Reprinting X-Men (1963) #96
Rated T
In Shops: Oct 30, 2019
SRP: $1.00
MARVEL PREVIEWS Page #13
This article originally appeared in Gemstone Publishing's e-newsletter Scoop.
****
Amanda Sheriff is Gemstone Publishing's Associate Editor, serving as the writer/editor of the e-newsletter, Scoop. She is the author of The Overstreet Guide to Collecting Movie Posters, The Overstreet Guide to Collecting Concert Posters, and The Overstreet Guide to Collecting Horror, and co-author of The Overstreet Price Guide to Star Wars Collectibles and The Overstreet Price Guide to Batman.