Interview: The Spirit World Goes Up In Smoke in 'Dirtbag Rapture'
Sep 21, 2021
Interview by Troy-Jeffrey Allen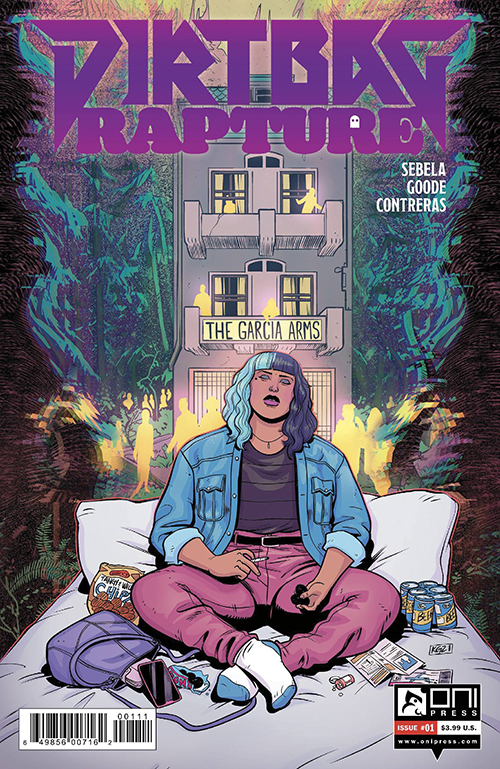 She's stoned. She's selfish. She's all that stands between us and the end of the world. Loud and proud Kat is the most unlikely of heroes, but her newfound ability to communicate with ghosts has put her in the middle of a spiritual battle between good and evil. This is Oni Press' Dirtbag Rapture (AUG211902)!
In the following interview, writer Christopher Sebela and artist Kendall Goode puff, puff, passes with PREVIEWSworld and gives us a red-eyed look at the end of the world.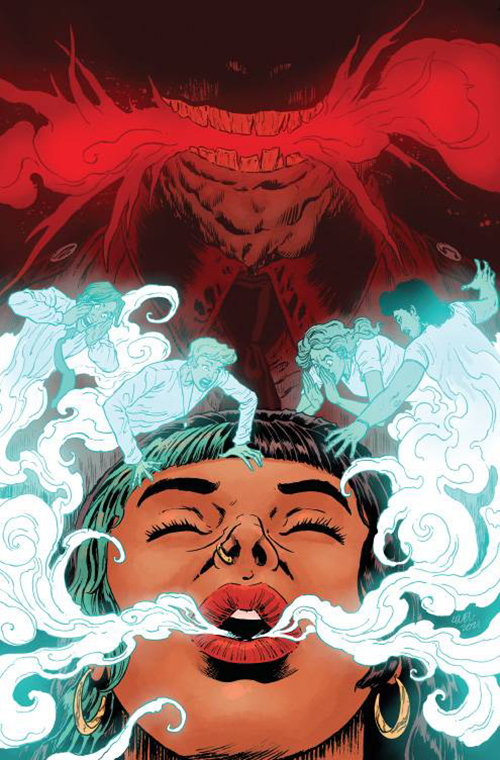 PREVIEWSworld: So, what is Dirtbag Rapture exactly?
Christopher Sebela: It's a funny, spooky, druggy comic about a woman, Kat, who had a near-death experience from a drug trip and came back with the ability to see and interact with ghosts and move them wherever they want to go, like a spiritual taxi. See, ghosts are stuck wherever they died, but Kat can skip that rule by storing the ghosts in a hotel she built in her mind and then drop them off at their destination. She hates that she can do this, it's basically wrecked her life, so she gets high all the time and tries to deal with the cards the afterlife has dealt her. Which is when she finds out she's a pawn in a big war between good and evil and she might be the only one who can stop the world from going to hell, literally.
PREVIEWSworld: Tell us about selfish stoner Kat. Why is she the focus of your story?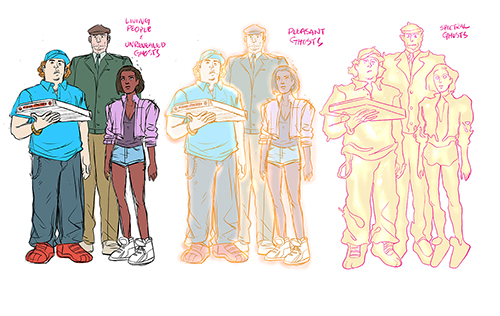 Christopher Sebela: As a rule, I love stories about people who are messes. Wildly imperfect is a nice way to put it. I'm sure it has to do with me being flawed, to put it generously, but people with problems are just more interesting to spend time with when you dive into a story. Kat has no interest in being a hero or helping anyone, she just wants to live her life as painlessly as possible and now she has to figure out how to somehow become a slightly better person, even heroic when her weird world gets even weirder. If it was someone who wasn't high all the time to avoid dealing with a lot of her problems, it wouldn't be nearly as fun for me to write or for anyone to read. And, on a more selfish note, I wanted to help get rid of the stereotypes of what a stoner is and how they look and act because it's been a very one-note portrayal for decades and stoners deserve better than some hippie Cheech & Chong riff.
PREVIEWSworld: Is this a stoner comedy or something way more supernatural?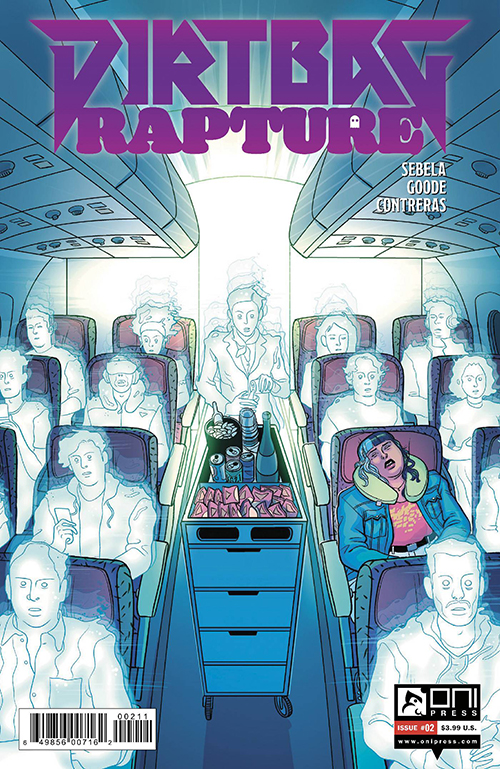 Christopher Sebela: Both. Maybe 'stoner comedy' isn't 100% accurate? It's a funny book that happens to feature a stoner, but there's no catchy way to say that. I mean, it's because of drugs that Kat can see ghosts and it's drugs she runs to avoid being endlessly harassed by ghosts, so the stoner part is pretty crucial. But there's a ton more supernatural stuff involving demons and angels and a necromancer and sasquatches. I feel like if you're showing up for just one of these aspects, you'll get plenty and if you want both, you'll be completely satisfied.
Kendall Goode: I didn't want to stick with the traditional visual language of stoner or supernatural stories, either. In this comic, there's so much connection between the two. Finding a way to present ghosts, demons, angels, etc that gels more with drug-induced visuals or a world Kat goes through being stoned most of the time. Keeping away from stuff that feels mostly like parody at this point. Kat may rely on drugs, but I haven't drawn 420 anywhere. And she doesn't have a Fear and Loathing poster on her wall. It's Beetlejuice.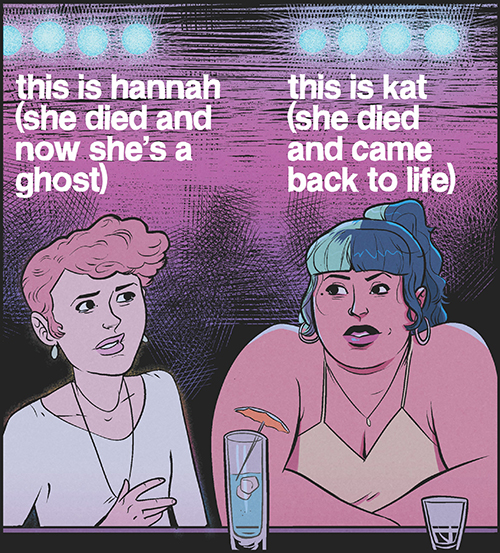 PREVIEWSworld: How did you both get involved with the project?
Christopher Sebela: I came up with the idea from a joke I made that I quickly realized was a really interesting premise for a book and within a few days, I had Kat figured out, knew how ghost stuff worked, and had mythology in place. So eventually I just wrote it and it came out really good. After a false start on it, I wasn't sure what to do with it, and then I was trapped in pandemic lockdown, had a bunch of extra money from not going out and had always wanted to work with Kendall on something so I hit him up and said I'd pay him to draw the first issue and we'd figure out what to do with it after that. It was my light at the end of the tunnel and the best money I've ever spent.
Kendall Goode: Chris and I had chatted a few times and finally things just sort of aligned. The pandemic left me with a pretty open work schedule, too. But once I read the first script I knew it was something unique. Even if he hadn't wanted to get the train going on his own, I would have been on board.
PREVIEWSworld: Visually, is there a standout moment you can't wait for people to see, Kendall?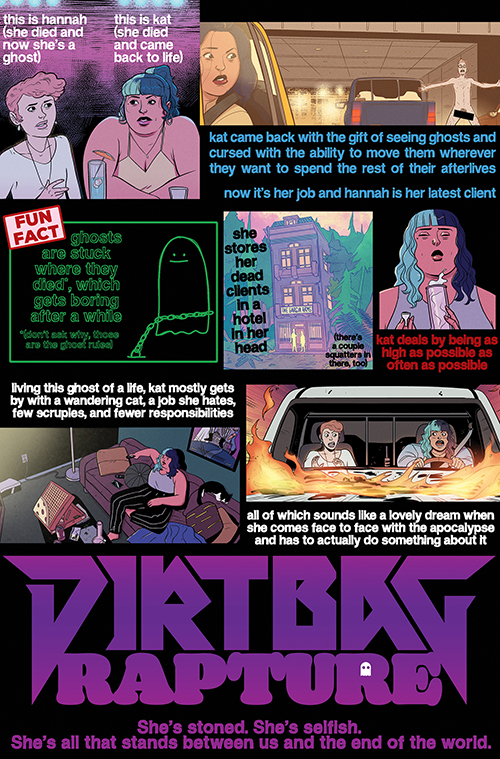 Kendall Goode: The end of the first issue things really pop off with some intense action. And then when Kat meets the embodiments of good and evil. They're not what you'd really expect, but make a lot of sense in Kat's world. And that's not even the full reveal, with each issue showing more of the supernatural entities she didn't know about.
PREVIEWSworld: Looking forward, what can readers expect from Dirtbag Rapture?
Christopher Sebela: Things just get crazier and crazier with each new issue, the stakes get bigger as do the laughs. It's not every book that I can have as much fun writing as I did with DIRTBAG, where I'd just decide to do something strange because it made me laugh and it worked. It's also a big adventure that knows where it's going but isn't afraid to stop and wallow in the weirdness for a bit. But, to be more direct, look for big explosions, a trip to Europe, tanks, the Afterafterlife, and the biggest most epic battle I've ever written in my life.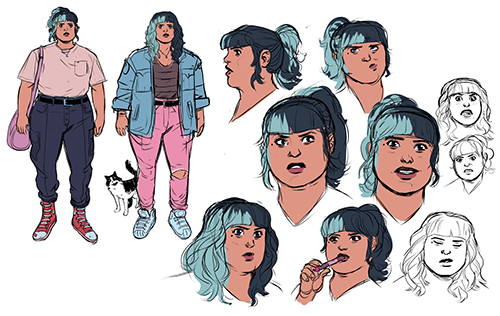 PREVIEWSworld: Ultimately, who would you say this book is for?
Christopher Sebela: I'm bad at these questions. I think if anything we said above sounds cool to you, I promise you that it is indeed actually that cool. Possibly cooler. It's a book about dying, sort of, but we're having fun with death and the possible apocalypse and building up a whole world behind the world sort of thing. I dunno, if you like great comics that are worth your money and time, this book is for you. If you don't like those things, then we're probably not going to be much help to you.
Kendall Goode: There is so much in this book that you can only get from comics. It's weird and fun and a big new take on ghosts stories. Plus, there's action AND comedy. It's really hard to not enjoy this comic if you like any of those things.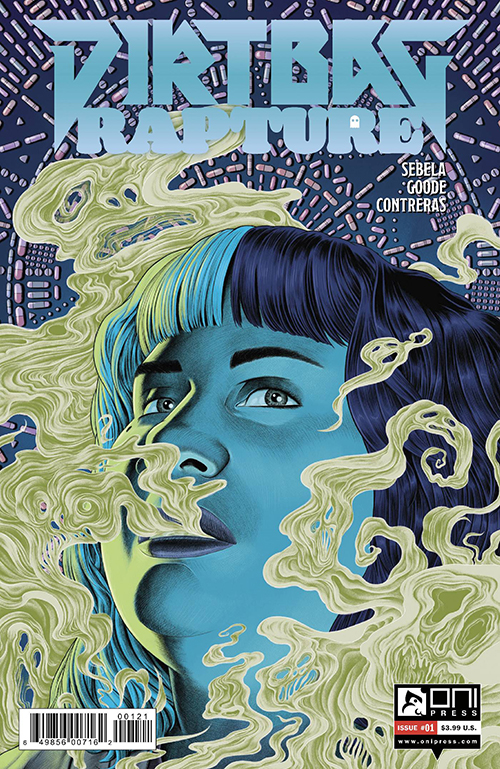 Keep an eye on PREVIEWSworld.com's Twitter, Facebook, YouTube, or Instagram for more.
Dirtbag Rapture #1 (AUG211902) hits comic shops this October 6th from Oni Press. Preorder your copy today with PREVIEWSworld Pullbox!
****
Troy-Jeffrey Allen is the producer and co-host of PREVIEWSworld Weekly. He is also the Consumer Marketing Manager for Geppi Family Enterprises. Troy's comics work includes MF DOOM: All Caps, Public Enemy's Apocalpyse '91, the Glyph Award-nominated Fight of the Century, the Harvey Award-nominated District Comics, and the Ringo Award-nominated Magic Bullet.