Interview: Jeff Lemire Helps Us Navigate 'Mazebook'
Jul 20, 2021
Interview by Troy-Jeffrey Allen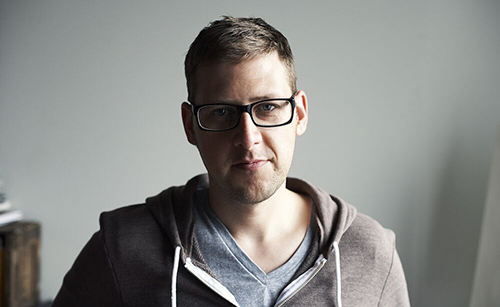 If you're starting to wonder if Jeff Lemire is cloning himself then you're not alone. The prolific scribe behind critically acclaimed, award-winning comics such as Essex County, Sweet Tooth, Animal Man, and a plethora of Black Hammer books, has built an impressive bibliography for himself over the years. Sometimes even making award-winning, critically-acclaimed titles more than a few times a year.
Outside of the accolades, the thing that really distinguishes Lemire's work is how personal they are. Often times soul-wrenchingly so. His other specialty: giving readers a total mind-#@c&! And you're likely to get both of those things with his new series MAZEBOOK (JUL210285). We talked with Lemire about this upcoming Dark Horse title and what readers can expect (besides a case of the feels).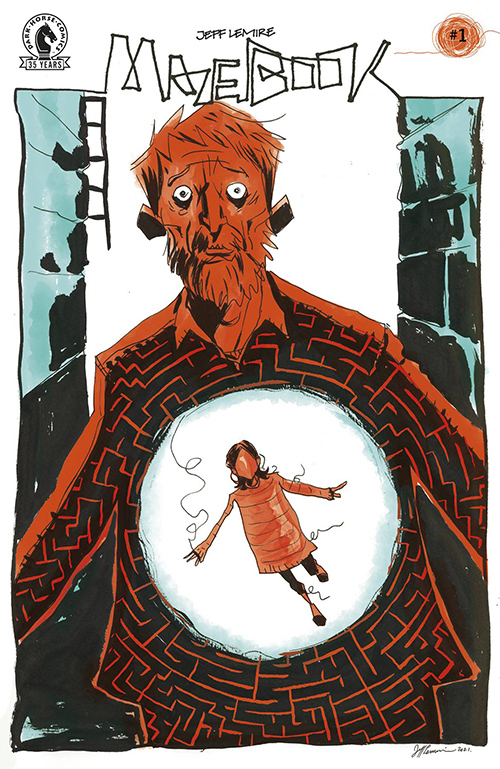 PREVIEWSworld: What is MAZEBOOK?
Lemire: Mazebook is my next self-drawn graphic novel that will be serialized in five oversized parts with Dark Horse. It follows the strange odyssey of a man named Will Warren who lost his puzzle-loving daughter a decade earlier and is now convinced he can find her by overlaying the last maze she was working on before her death onto a map of the city and following the path through the streets and alleyways to the center.
He ends up discovering another metaphysical world just below the surface of everyday life and embarks on a quest to find her.
PREVIEWSworld: Is this more mystery or psychological thriller or something else entirely?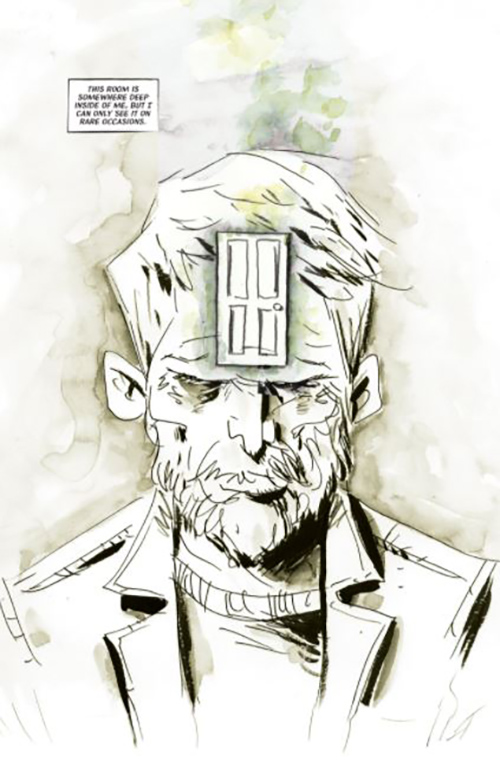 Lemire: My favorite stories always combine all sorts of genres in interesting ways and are often very hard to define as just one type of story and I think Mazebook follows this path. It has elements of thriller, mystery, horror, and supernatural but these are never overt or easily categorized they all melt together into what I hope is a deeply human story about memory and human connection.
PREVIEWSworld: Tell us about the building inspector. Why do we follow him through this story, specifically?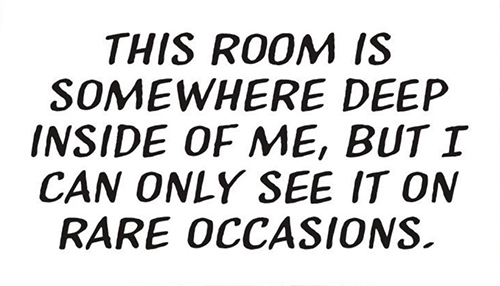 Lemire: Will Warren knows the city. He literally knows how it was built and what anchors it. And in giving into this strange quest, he lets go of all of this and finds something unexplainable. Will's memories are his only guide as he looks for the daughter whom he lost to illness years before.
PREVIEWSworld: What made you want to also draw this project?
Lemire: I was really interested in the graphic and visual potential a story about mazes could provide me as an artist. It inspired all sorts of unique layout opportunities and ways of playing with the language of comics to tell a unique story. Once I started drawing the book I fell in love with the world and characters and sort of felt like I was on the journey with them.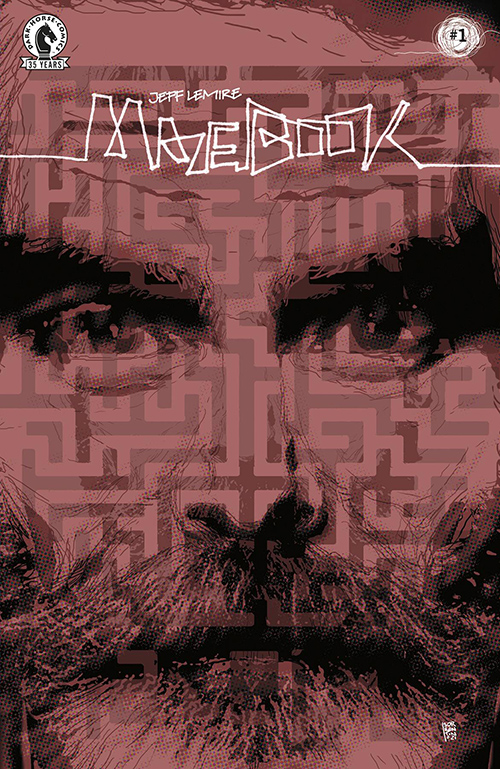 PREVIEWSworld: Looking forward, what can readers expect from MAZEBOOK?
Lemire: A lot of unexpected twists and turns. This is really a story that goes in places I don't think the readers will ever anticipate.
PREVIEWSworld: In terms of audience, who is MAZEBOOK?
Lemire: I think it will appeal to readers of all of my more personal graphic novels like Essex County and Underwater Welder, but Mazebook also brings in some of the weirdness of projects like Sweet Tooth and Gideon Falls too.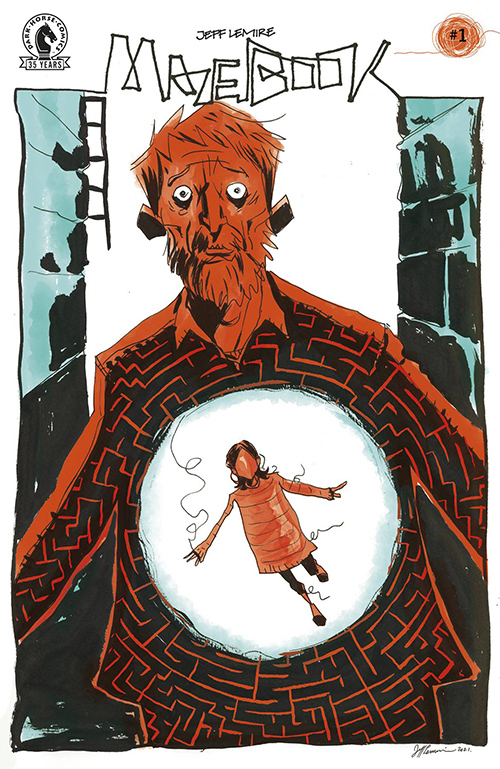 Keep an eye on PREVIEWSworld.com's Twitter, Facebook, YouTube, or Instagram for more.
Mazebook (JUL210285) hits comic shops this September 8th from Dark Horse Comics. Discover more from Lemire and Dark Horse below.
****
Troy-Jeffrey Allen is the producer and co-host of PREVIEWSworld Weekly. His comics work includes MF DOOM: All Caps, Public Enemy's Apocalpyse '91, Fight of the Century, the Harvey Award-nominated District Comics, and the Ringo Awards-nominated Magic Bullet.