Interview: Introducing Swamp Dogs From Black Caravan
Jul 06, 2021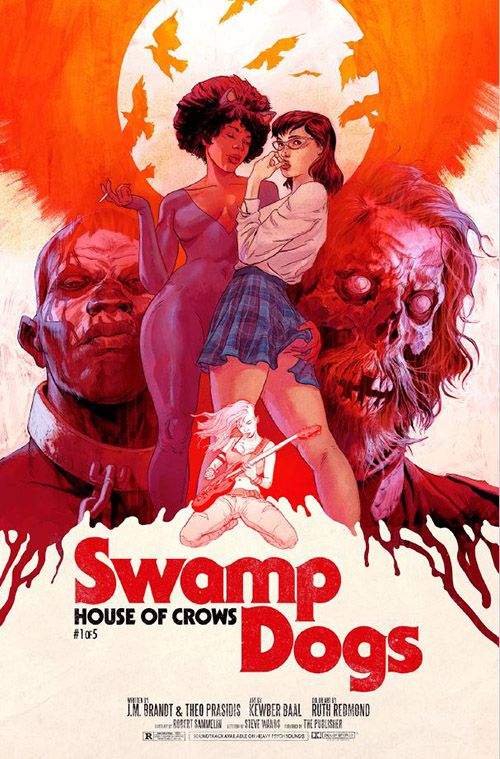 Interview by Troy-Jeffrey Allen
If you're a fan of grindhouse, b-movies, and the like then we've got something truly wild and perfect for you. It's called Swamp Dogs, and it comes to you courtesy of Scout Comics' new imprint, Black Caravan. PREVIEWSworld hung out with the creative team of J.M. Brandt and Theo Prasidis to find out more.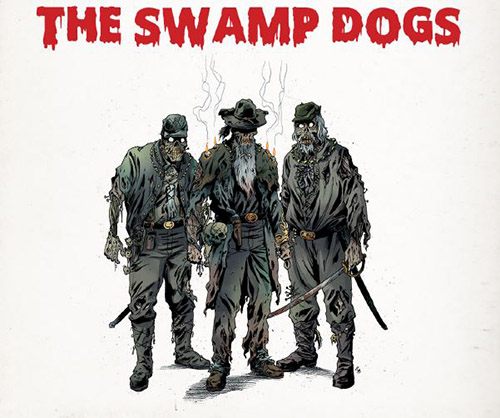 PREVIEWSworld: What makes this the "game-changer" for publisher Scout Comics?
Theo Prasidis: Scout has a fine eye for genre storytelling, and setting up the horror imprint Black Caravan proves that. The guys running these are first and foremost fans of these genres and stories, and then publishers and presidents. I don't know if SWAMP DOGS is a "game-changer" for them, but opening up to this particular branch of horror will definitely broaden their audience even further. Plus, the project has great world-building potential, it's craving for sequels, spin-offs, and all kinds of adaptations, so I can easily see it becoming a fan favorite.
J.M. Brandt: The egoist in me just wants to answer, "Because it's me they're working with." Hahaha. But I think the real answer is that this book is a really fun one that comes with an already dreamt up universe surrounding it. Much in the same way Mike Mignola was able to spin a yarn about Rasputin summoning up a baby demon in WWII and turn it into a half dozen ongoings, our book has that kind of potential.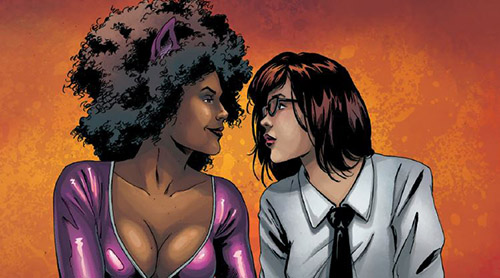 PREVIEWSworld: Catch us up to speed. What is the setting for SWAMP DOGS?
J.M. Brandt: There's a big flashback issue in the middle… but the majority of the story takes place in an abandoned plantation along the banks of the Mississippi between Baton Rouge and New Orleans. It's called the Maison Du Corneilles-- or House of Crows.
Theo Prasidis: It's essentially a 1970s exploitation horror, set in modern-day Louisiana. But yeah, there are big flashbacks set during the Civil War era, and these were probably my favorite to write. I just loved looking into that period and digging up peculiar little details about the soldiers' routines, and the generals' habits, and stuff like that. It's one of the darkest periods of History, a genuine low-point for mankind, but it's also awfully interesting to look back at.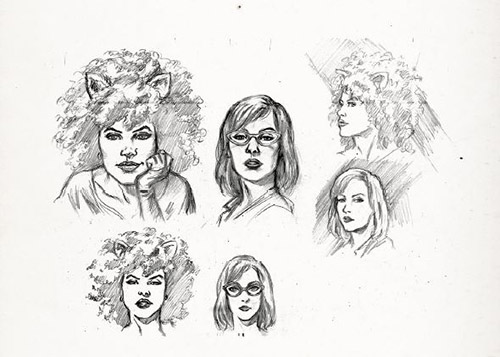 PREVIEWSworld: What is SWAMP DOGS exactly? What's it about?
J.M. Brandt: Well… the book is about helping bring down and dirty grindhouse horror into the modern age. It's a reminder that sometimes it's ok to shut off your higher brain functions and just enjoy grimy, gory, goofy shocks and thrills. A renegade squad of sadistic Confederates are mysteriously resurrected as Voodoo-powered beasts, and their first unfortunate victims are a budding lesbian couple and a metal band full of hilarious slackers.
Theo Prasidis: We want to launch a fun new horror universe, with diverse characters, abominable monstrosities, and amusing storytelling, but we also look to give a new spin to the exploitation genre, rendering it with healthy doses of empowerment and inclusion.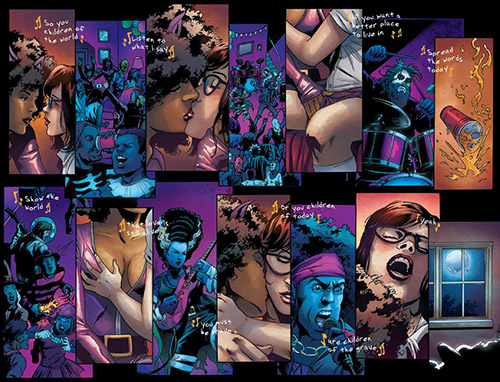 PREVIEWSworld: How did it come about as a project?
Theo Prasidis: I met Justin a couple of years back, when we were both working for Screen Rant. We found out that we share a common taste in movies, music, video games, etc., and a very similar, in-tune understanding of what's interesting and engaging. When I had my first book published by Image Comics, he offered to bring me on board this passion project of his. And as expected, it was way too cool for me to pass up!
J.M. Brandt: The project goes back over a decade. I was asked to pitch some ideas to the Akkads (the producers of the Halloween films). I don't know how serious or realistic that was going to be, but the idea I believed in most was re-inventing the Spanish horror film Tombs of the Blind Dead and setting it against the backdrop of a Hurricane Katrina-ravaged Louisiana. The film ideas go nowhere, and I start imagining this as a comic instead. Me and Theo tried to get the rights to the film for adaptation, but couldn't work out a deal. So we went back to the idea and asked ourselves, "What do we love about the concept?" and, "How do we take those core elements and make something our own that's bigger and badder?"
PREVIEWSworld: And Black Caravan is the imprint that this will be released under?
J.M. Brandt: Yes. There was interest from other publishers, but we saw the work Rich and Joe (the Black Caravan publishers) were putting out, and just had to have it there. The imprint is new, they have some really fascinating ideas for pushing their books further into the public mind, and they just seem like genuine fans of horror and sequential art. Their enthusiasm for our project has really been a great boost for me.
Theo Prasidis: That's true. We did have other offers, but the Black Caravan guys got back to us the day we submitted, with such a wholesome response that you just couldn't say no to. It has to be the right people for every project, and Black Caravan is the right people for this one. Plus, they have the coolest name out there.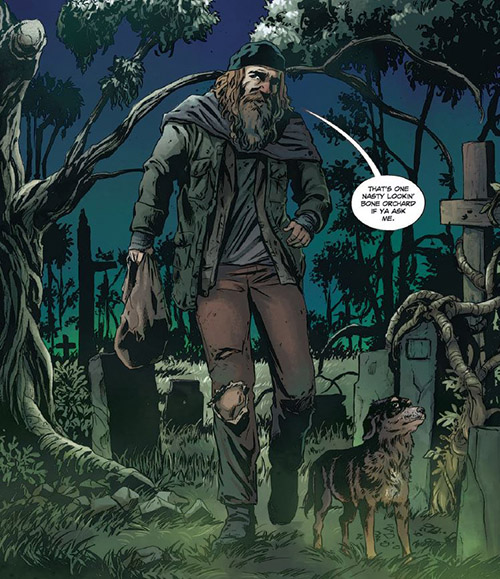 PREVIEWSworld: The book has had a "mystery campaign" behind it. What can you tell us about that?
J.M. Brandt: We wanted to set our book apart from the rest of our contemporaries. This is a very new up-and-coming imprint and publisher, and so we had to get creative with what we could do to help get eyes on the series. A mystery campaign meant more than one press release. And it meant we got to produce these awesome little bookmarks that we got into shops in Los Angeles, Portland, Chicago, New Orleans, Austin, Houston, New York, and all over Greece! While the concept and especially the art and cover could absolutely drum up interest on its own, we thought any little bit of buzz we could create around the book before showing any of that would be icing on the cake. And I think we really accomplished that.

PREVIEWSworld: And you're releasing an Ashcan for this? That takes me back to the late 90s. Why bring back the Ashcan?
J.M. Brandt: This is something that the Scout folks have been doing for their books. When they told us about it, I'm pretty sure I giggled out loud. I grew up reading Wizard Magazine in the 90s. I still have my Evil Ernie and X-Men 2099 Ashcans in my collection. Having our book teased a little bit more with a small reveal was just something we couldn't pass up. Technically this will be the first appearance of several of our characters; and so it's just cool that this will be a collector's item for the Swamp Dogs faithful when we blow up. To that end, we even added a few pages you won't get anywhere else that give a sneak peek of characters that won't be revealed for several more issues!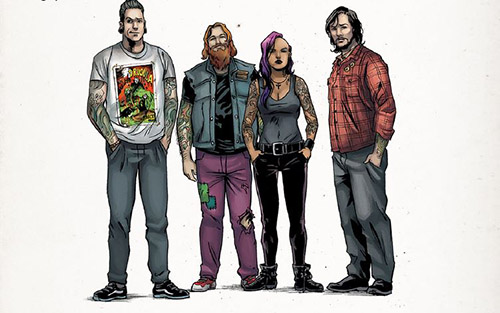 PREVIEWSworld: And this is 5 issues? Are there plans for more?
J.M. Brandt: House of Crows is its own thing. 5 issues that combine grindhouse, blaxploitation, 70s horror, and 80s horror into something I view as a 5 issue long horror movie. But we introduce some truly reprehensible characters in there that each could easily have their own one-shot or mini showing their exploits. Something happens near the end of this book (no spoilers) that will set up another Swamp Dogs series; likely an ongoing. And then this story gets extrapolated into an idea I am foaming at the mouth to work on that will be a really wild ongoing tentatively titled Swamp Dogs: War Pigs. And each one of those, in turn, introduce ideas and characters we have plans to spin off. The goal here is to have this treacherous web of Swamp Dogs that people willingly get stuck on… and never want to escape!
Theo Prasidis: We have big plans. The world we're setting up for this is pretty vast. We want to delve more into Hammer-esque horror, we want to explore the dark folklore of Haitian Vodou, Louisiana Voodoo, as well as Native American Vudu, we want to introduce new, god-like creatures, secret Satan-worshiping societies, and dreadful post-apocalyptic visions. The mythology is great, you go any place you want, really.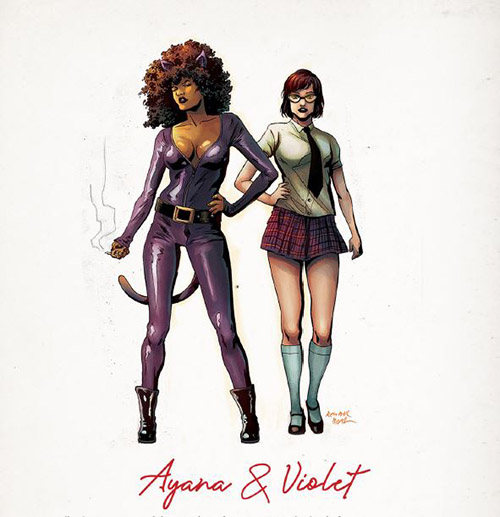 PREVIEWSworld: In terms of audience, who is SWAMP DOGS for?
J.M. Brandt: I'd like to say it's for everybody, but that's just not true. It's for horror lovers. It's for fans of pre-code shock comics. It's for metalheads and rockers. It's for gorehounds. It's for fans of Avatar Press books (though we're a fair bit more toned down than their stuff). It's for lovers of cheesecake, because there's plenty of that. It's for people looking for the next big thing. It's for Kevin Smith fans-- because our dialogue has his same sort of witty, ball-breaking vibe. It's for people that like to smile and shudder in equal measure.
Theo Prasidis: People into the shocking 1970s cinema and 1980s suburban horror, people into Quentin Tarantino and Roger Corman, people into stoner comedies like Dazed and Confused and Superbad, people into exploitation comics like The Humans, Curse Words, Kiss Me, Satan, Bitch Planet, Coffin Bound, and Alex de Campi's Grindhouse, people into heavy metal, and especially genres like doom, death, and stoner. If old-school creepshows with fun narratives and strong, diverse leads is your groove, but also appreciate a funny, lusty ride of spooks and thrills, then SWAMP DOGS is for you.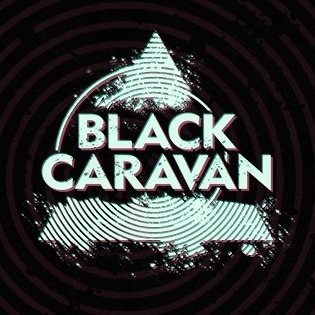 Keep an eye on PREVIEWSworld.com's Twitter, Facebook, YouTube, or Instagram for more.
Swamp Dogs hits comic shops this fall from Scout Comics/Black Caravan. For more from Black Caravan check out the titles below.
****
Troy-Jeffrey Allen is the producer and co-host of PREVIEWSworld Weekly. His comics work includes MF DOOM: All Caps, Public Enemy's Apocalpyse '91, Fight of the Century, the Harvey Award-nominated District Comics, and the Ringo Awards-nominated Magic Bullet.