Interview: Jack Kirby Meets UFOs in the Creeptastic 'Kane & Able'
Jun 29, 2021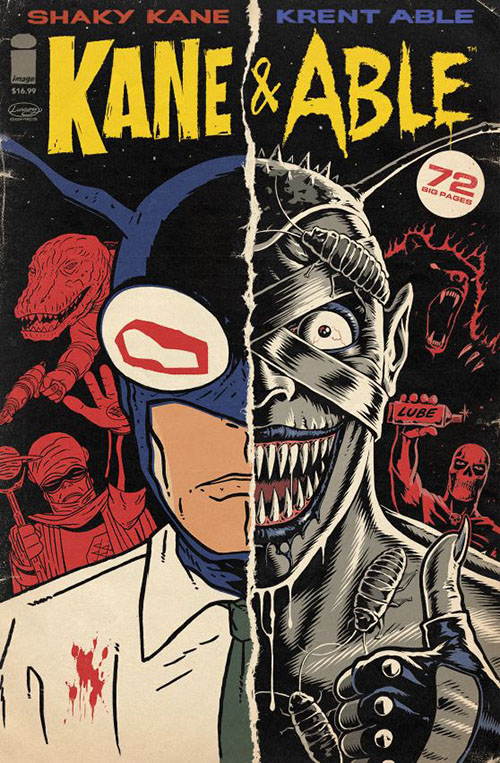 Interview by Troy-Jeffrey Allen
How did Jack Kirby get his inspiration for the Marvel Universe? A friendly alien abduction of course! At least, that's the story according to Kane & Able (APR210123)!
Dubbed the comic book world's "wise guys," cartoonists Shaky Kane (Bullet Proof Coffin) and Krent Able (Big Book of Mischief) are bringing their certifiable collective creativity together for the first time. It all happens inside the pages of Image Comics' Kane & Able, a title so perfectly named that it's impossible to deny.
PREVIEWSworld hung out with Shaky and Krent and asked them how this collaboration came together and what this collection of never-before-published work is all about. GO!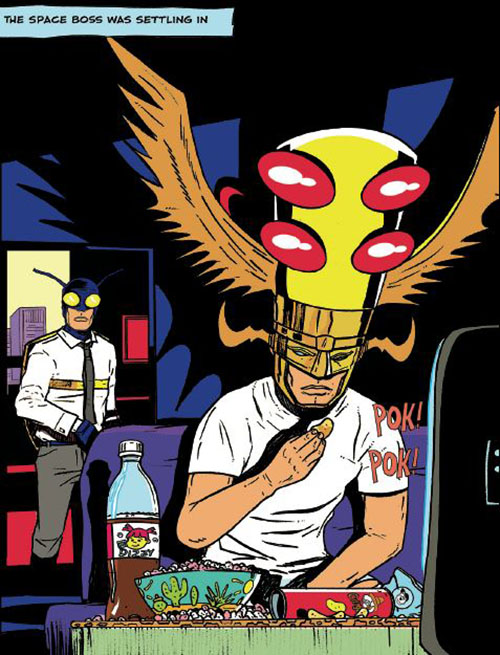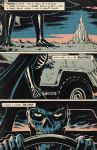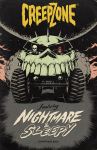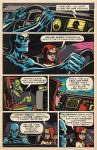 Click to View

PREVIEWSworld: Tell us about KANE & ABLE. What is this anthology exactly?
Shaky: Kane & Able is 72 big pages! And by 'big' I mean it's 12-inches tall. It features four never before seen strips, created especially for this anthology. Two strips by Krent Able and two by myself. Although there is no direct link between our comic book output, we both have a shared interest in creepy comics. In particular, strips involving insects! We've thrown in some real fun extras including an 'Exquisite Corpse' feature where we both drew parts of a single image, completely blind to what the other was drawing. It's looking to be quite a book and blown up to this size a sort of treasury edition.
PREVIEWSworld: How did this collaboration come together?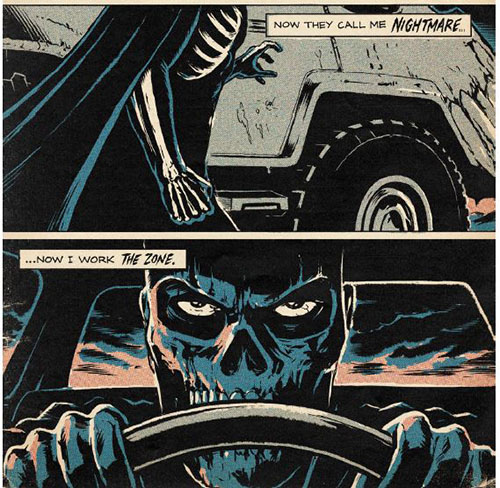 Shaky: This one has been a while coming. I talked briefly to Krent -- who I'd been a big fan of since his Big Book of Mischief -- at a showing of his astonishing biopic Inks, Cocks and Rock 'N' Roll. Krent is an all-rounder! Our combined names lent themselves to a cool joint project. 'Kane And Able', it had to happen. Lock-down, in a way, has been a real blessing for me personally. As someone who sits in the corner drawing, it gave me the focus to really get into drawing up all those intrusive thoughts buzzing around in my head.
PREVIEWSworld: Do you have a favorite moment from Kane & Able that was exciting to draw?
Shaky: The fact that these strips were all my creation, without any outside guidance. No scriptwriter, just me -- made every page exciting to create.
Krent: Sleepy being attacked by a horrible vampire in the story "Creepzone." I really get a kick out of drawing panels where you turn the page, and just go 'whoa!', like a punch in the face. And that vampire momma is UGLY.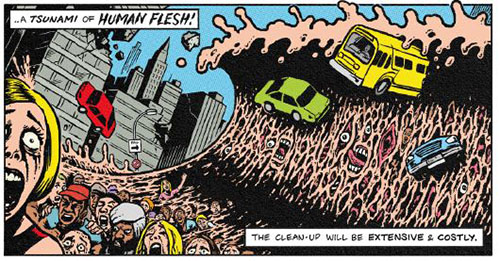 PREVIEWSworld: there's a character in the comic called "Astonishing Shield Bug." Where did the concept come from?
Shaky: The Astonishing Shield Bug was a return to the way I worked when I produced strips for Deadline Magazine. The storytelling is fairly loose. The Shield Bug acts as a narrator, along the lines of the Phantom Stranger -- like in those Jim Aparo books I read as a teen. A series of connecting events unfold involving George Adamski, the father of modern UFO mythology, Jack 'King' Kirby, the father of the Marvel Universe, and the less than auspicious career of 'The Real' Shaky Kane -- a man out of time, last seen hawking his wares to less than enthusiastic cosplayers at some generic small town comic mart.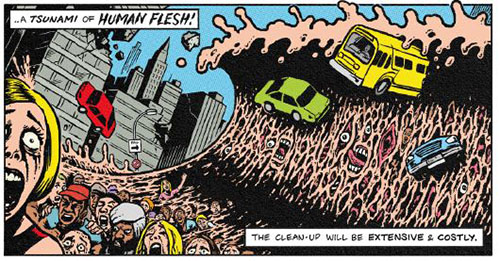 PREVIEWSworld: Tell us about Deathroach? What made you want to make a comic around the character?
Shaky: I wanted to make a comic inspired by the Spider-Man comics I used to read as a kid. With a superhero, a wild-looking villain, and that wonderfully over-the-top dialogue and narration. My first superhero comic, but twisted and put through the Krent Able filter. The Deathroach character evolved from a visual idea I've been toying with for a few years – a villain who appears in the city, playing a boombox that makes people melt. I threw in the cockroaches because they make people go "Euuw!"
PREVIEWSworld: What tools do you both use to create?

Shaky: Usually I draw using a medium-hard pencil, then ink over [it] -- trying to keep the lines as clean as possible, using a flexible-tip marker pen. This time around, I've scanned straight from the pencil art, which gives it a rawer feel. Touching on the look of art you would see in an old E.C. comic book. It was an approach I was hanging out to use on a project.
Krent: Pencil and paper for thumbnails and planning the story out. An iPad for the line art, a Micron pen and paper for the lettering, and an iMac and Wacom tablet for the colouring.
PREVIEWSworld: There's another story called "Creepzone." What is that?
Shaky: The Creepzone was once part of Perfect City, where the rich elite now live in luxury. It's now a huge war-torn wasteland, prone to inter-dimensional leakage caused by the use of illegal laser weapons during the Zone Wars. It's home to all kinds of ghouls, creeps, witches, and monsters. Many of them are just decent hard-working folk, trying to get by. The area is patrolled by Nightmare And Sleepy, [who are] ZoneCops trying to keep the peace in a lawless land.
PREVIEWSworld: What can you tell us about the story called "Dustmites?"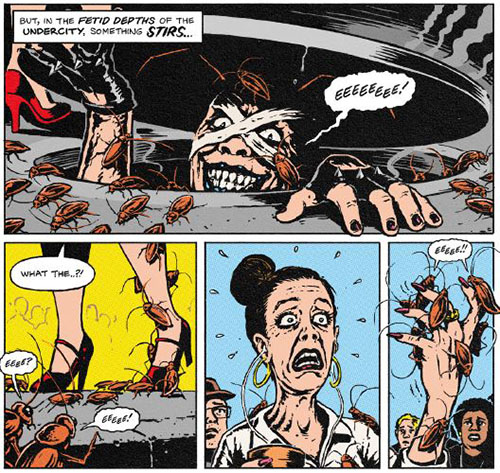 Shaky: I've always been a sucker for those late-50s, Steve Ditko What-The-F?! short strips which appeared in horror/mystery anthology titles. The Shield Bug takes the reader back to the world of "The Bulletproof Coffin." In the original strip Steve Newman discovers the Coffin Fly costume beneath the floorboards of a recently deceased comic book hoarder's desolate clapboard house. In this strip, a new tenant, Frank Fenway, intrigued by rumours surrounding the previous owner's demise, literally does some digging around and uncovers what can only be described as the gateway to comic book madness, amongst the swirling dust mites in the sub-basement beneath the foundations of the house.
PREVIEWSworld: What's next for you?
Shaky: Next up is a giant of a book entitled Monster Fan Club. This one was scripted by Jason T. Miles, who wrote my current All-Time Comics Crime Destroyer book. It's the best! It's everything I like about comics and monsters (who incidentally ARE my favorite things), and it's all drawn-up and ready to roll.
Krent: More Creepzone. More Creepy Comics. More fun weird sick horror stuff.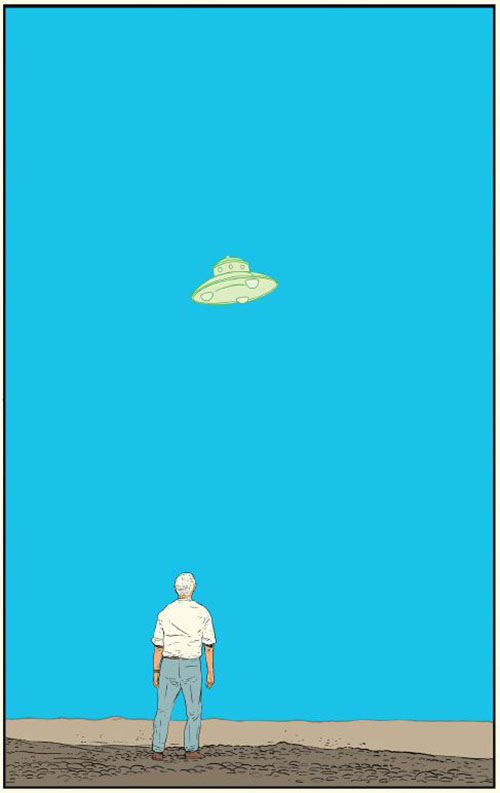 Kane & Able (APR210123) hits comic shops on June 30th. Pre-order your copy today using PREVIEWSworld Pullbox! Keep an eye on PREVIEWSworld.com's Twitter, Facebook, YouTube, or Instagram for more from Shaky Kane and Krent Able!
IMAGE COMICS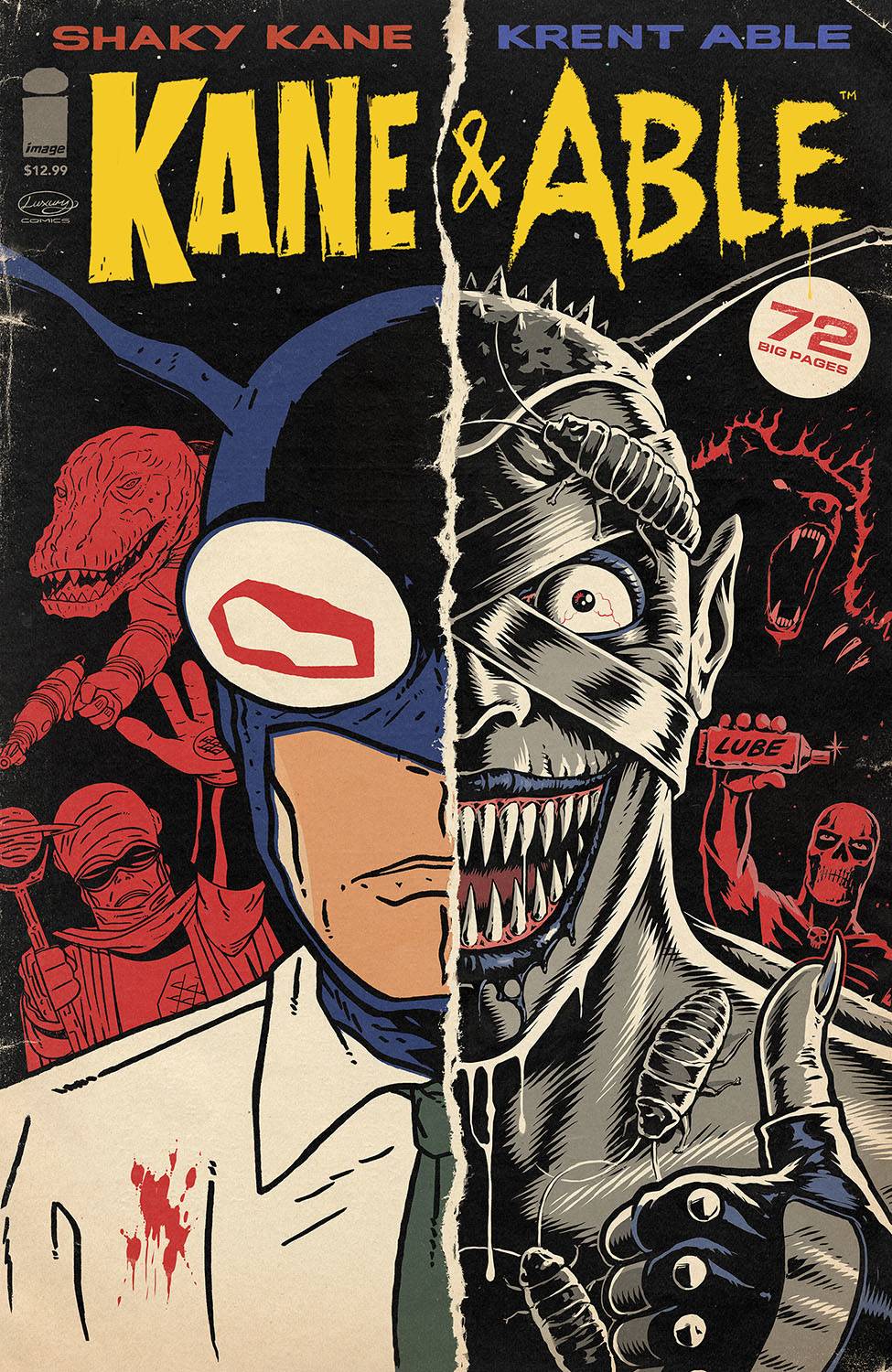 (W) Shaky Kane, Krent Able (A/CA) Shaky Kane, Krent Able
Comic book wise guys, KANE and ABLE, serve up a summer dump cake of genre-busting mischief and masked mayhem in this oversized anthology of never-before-published strips.
Slip in and out of subconsciousness with the Astonishing Shield Bug!
Surf the Fleshwave with Black Fur in "Who Fears The Deathroach?"!
Journey into the sub-basement in the gasoline-tinged "Dustmites"!
Ride into the Creepzone with Nightmare and Sleepy in the aptly named "Creepzone"!
In Shops: Jun 30, 2021
SRP: $12.99
PREVIEWS Page #62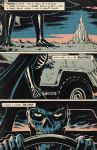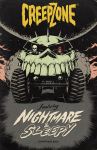 Click to View

IMAGE COMICS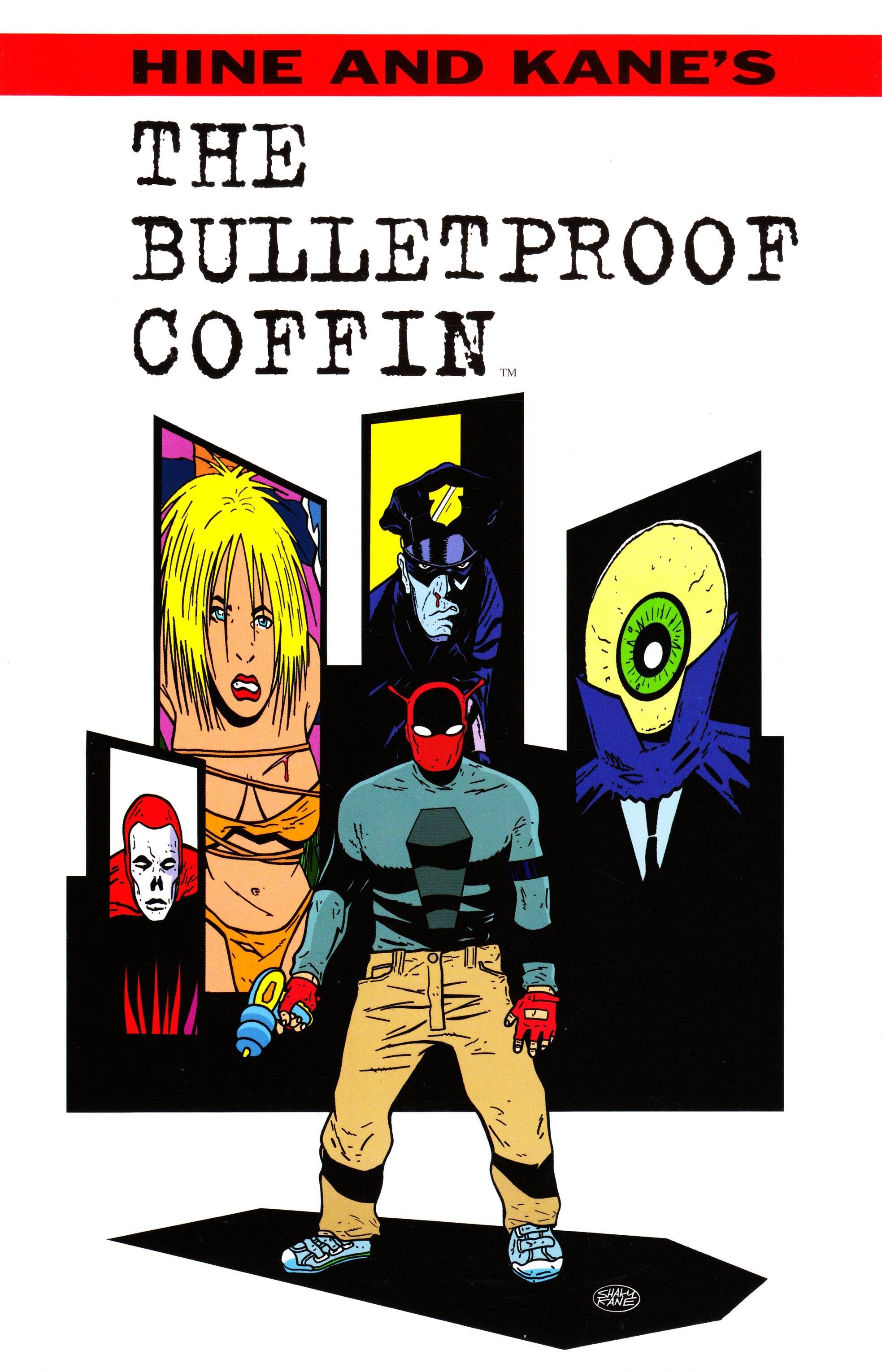 (W) David Hine, Shaky Kane (A/CA) Shaky Kane
Steve Newman cleans house for the dead until the day he stumbles upon a collection of comic books that shouldn't exist. Dinosaurs, zombies, provocative women and a hero willing to give up his life for his dreams.
THEY SAID: "Amazing," "Automythological," "Baffling," "Bananas," "Beautiful," "Campy," "Cool," "Creepy," "Delicate," "Delirious," "Exciting," "Exhilarating," "Fascinating," "Funny," "Grotesque," "Haunting," "Imaginificent," "Kitschy," "Meta-fictional," "Moody," "Obsessive-compulsive," "Original," "Over-the-top," "Phenomenal," "Poetic," "Psychoactivating," "Quirky," "Radical," "Razor-sharp," "Remarkable," "Schizophrenic," "Solipsistic," "Sublime," "Subtle," "Trippy," "Vibrant," "Virtuosic," "Visceral," "Vital," "Wacky," "Weird," "Wonky," "Zany."

WE SAY: The most fun you can have with your clothes on! Read naked for extra thrills!
In Shops: Apr 27, 2011
SRP: $17.99
PREVIEWS Page #186
KNOCKABOUT COMICS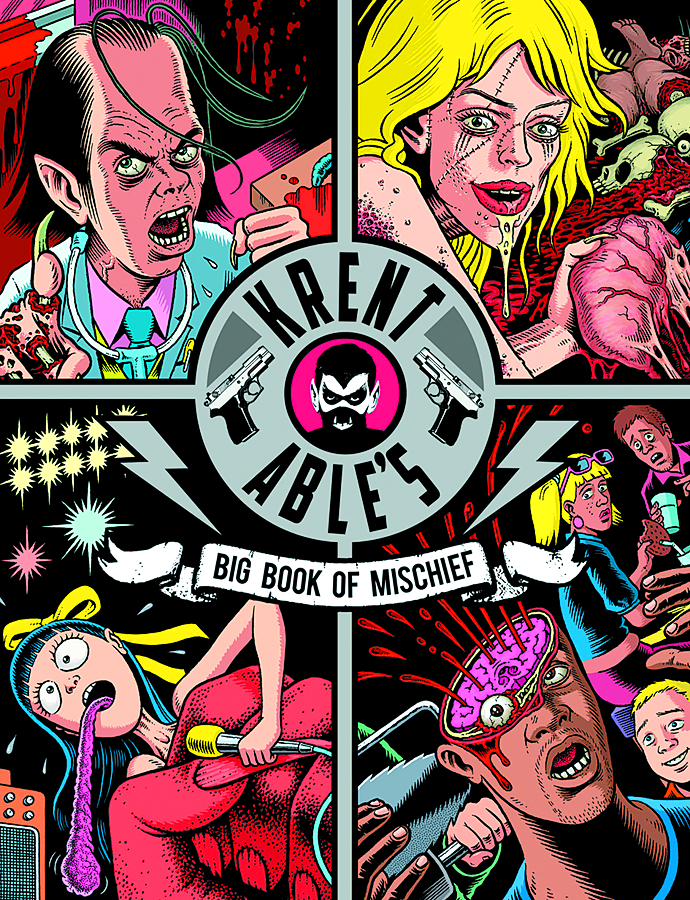 (W) Krent Able (A/CA) Krent Able
From the pages of the UK's award-winning, infamous music newspaper, The Stool Pigeon, come Krent Able's mind-blowing, appallingly hilarious and beautifully drawn rock-star abusing comic strips, gathered together for the first time. Featuring exclusive new comics and illustrations, join the dashing and hirsute Mr. Able as he takes a chainsaw to the icons of music. See Lou Reed's trouble with monkeys! Goldfrapp's thirst for perverted vengeance! Johnny Cash in drug-related impotence shocker! Kraftwerk sadly miniaturised and toasted! Lily Allen crushed by Satan! The Beach Boys return from beyond the grave to eat your guts and kill your pets.

In Shops: Dec 12, 2012
SRP: $18.99
PREVIEWS Page #320
****
Troy-Jeffrey Allen is the producer and co-host of PREVIEWSworld Weekly. His comics work includes MF DOOM: All Caps, Public Enemy's Apocalpyse '91, Fight of the Century, the Harvey Award-nominated District Comics, and the Ringo Awards-nominated Magic Bullet.