'House' Interview: Dark Horse Presents A New House of Horrors
Jun 22, 2021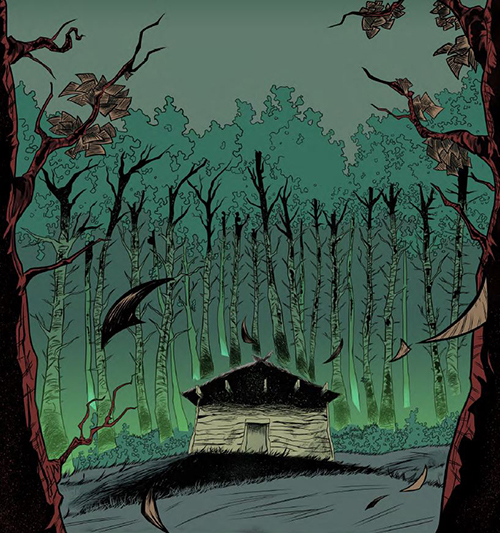 Interview by Troy-Jeffrey Allen
The hunted house story is one of the horror genres most evergreen categories. Probably, because you can get so much mileage out of it. From Evil Dead to Alien -- some of your favorite stories are cleverly repurposed haunted house yarns meant to use the claustrophobia of a confined space against the audience.
This October, writer Phillip Sevy and Drew Zucker provide a new unique twist on the subgenre. It's Dark Horse's The House (JUN210348), and anyone who walks through these doors will find nothing but madness, panic, and paranoia within. We asked Sevy and Zucker to clue us in on what to expect from this thriller set during the Second World War.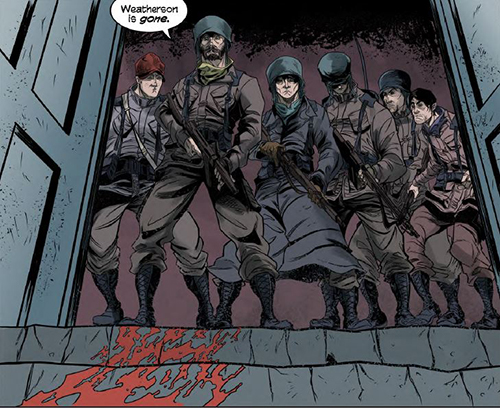 PREVIEWSworld: Catch us up to speed. What is the set up for The House? Where does the story start?
Phillip Sevy: The House is a WW2 haunted house story that follows a squadron of US soldiers that get lost in the woods during the Battle of the Bulge. When a whiteout blizzard begins to drop, they take shelter in an abandoned mansion they stumble across. Once inside, the doors disappear and all hell breaks loose.
PREVIEWSworld: Tell us about the squadron. Why do we follow them through this story, specifically?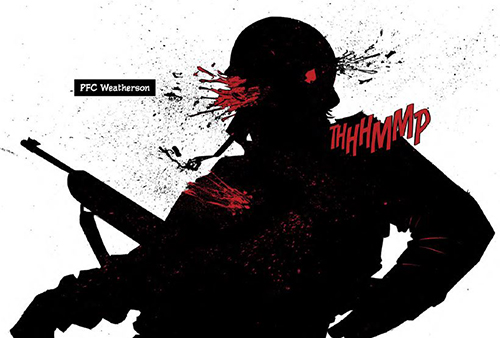 Drew Zucker: The squadron is meant to fulfill a generic list of characters in the beginning. We have the veteran, the angry one, etc. The challenge Phillip and I had was to use those stereotypical characters as a starting point, and as we told the story, make them into more complex individuals.
PREVIEWSworld: Are we cranking up the gore factor Evil Dead style? Or is this more of a psychological horror?
Phillip Sevy: Why not both? Ha! While we don't shy away from gore when needed, the main premise of the book is psychological horror. Comics are a unique medium where a lot of the regular elements of horror that movies and TV would use can't be used in the same way. We have no sound. Jump scares are very tricky because of the static nature of comic images. However, psychological horror excels in comics. So we lean heavily into that genre.
Drew Zucker: Like Phillip said, psychological horror was more what we were going for. While I personally love Evil Dead (this includes the remake; come at me, anyone) we really wanted to focus on atmosphere and tension. This was also something I wanted to explore in comics as a medium. Could I personally make a book through panels that would be creepy for someone to read rather than grossed out?
PREVIEWSworld: The book definitely has roots in haunted house stories and war stories. Tell us more about that. What inspired this?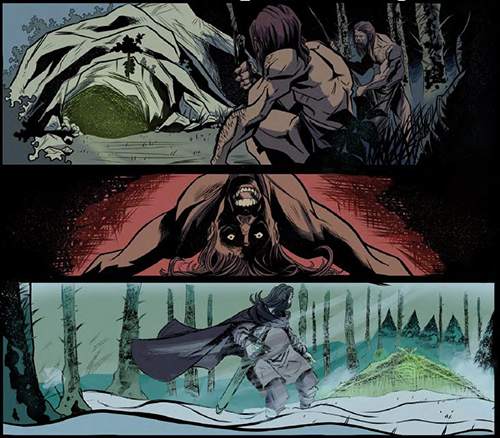 Phillip Sevy: When Drew approached me with the idea for The House, I was already a giant horror fan – we both are. I had also just finished reading House of Leaves. And while the influence of that novel is only felt in small ideas in the final product, the challenge of creating a haunted house story in comics that was not just ghosts in a house, but the house itself, was such a fun and exciting idea.
Drew Zucker: I find World War 2 really interesting because it was the last major conflict to be fought without a large amount of interconnectivity. I think that lack of connection really lends itself to a feeling of isolation, which was something we wanted to take advantage of.
PREVIEWSworld: What's the creative process like between you two?
Phillip Sevy: I work on outlines (and finally scripts) and send them to Drew. I'd get his notes, we'd talk about and debate the ideas, and then I would go back and rewrite. Once we have everything in the bag, I turn the artistic reins over to Drew. Once the issues were done, I'd go back and rewrite the dialogue/script to fit the art and then send it to Jen (for colors) and Frank (for letters). Being an artist myself, I tried really hard not to step on Drew's toes as he was working on the issues. When it came to covers, we would swap thumbnails back and forth a lot, though.
Drew Zucker: Well, Phillip sends me the scripts, and I change everything. The House was originally a romantic comedy. I'm kidding, of course. The process on The House was pretty straightforward. Phillip and I talk about everything ahead of time, then when he gets me a script, I start breaking it down and we work through any issues that might come up during that process. We're lucky that we both share a lot of the same ideas of what we want to see in our own horror works so it makes going back and forth easy.
PREVIEWSworld: Artistically, any highlights you can tease that you can't wait for readers to see?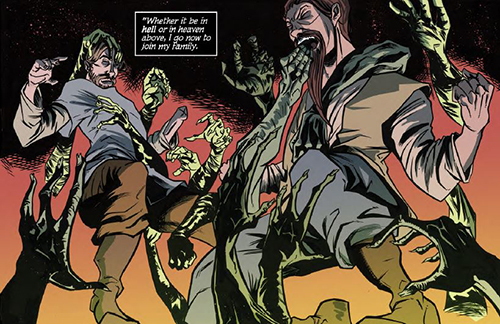 Drew Zucker: There are so many sequences in The House that I'm proud of; I don't want to ruin any of the surprises for readers. I will say, though, I'm probably most proud of how we translated some of the scare gags into the story. Horror can be really difficult to make work in comics, but we made an effort to not only bring scares into the book, but atmosphere as well.
PREVIEWSworld: Looking forward, what can readers expect from The House?
Phillip Sevy: The House, to me, is very cinematic. It wasn't written to be a movie – it's been a comic through and through since day one – but it's always felt very much like you're watching one of your favorite horror movies. Even with a large cast, we worked really hard to boil the character dilemmas and decisions down to the personal level – to achieve a sense of failure or success in their actions. Ultimately, we hope people feel something when reading the book – fear, tension, failure, triumph, and satisfaction.
Drew Zucker: I think readers can expect a comic that was created by horror fans for horror fans. We set out to make a love letter to the genre and stories we love. My genuine hope is that people feel that passion comes through on the page and the book creeps them out a bit.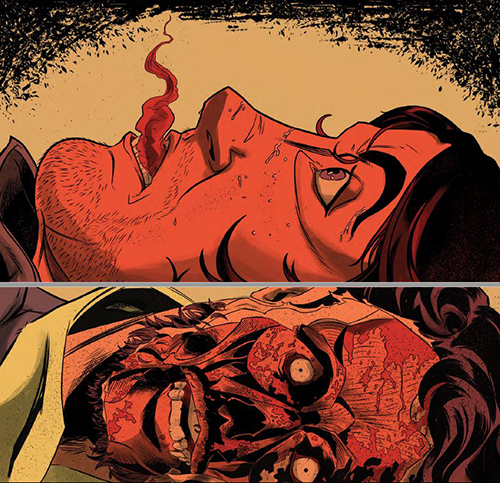 PREVIEWSworld: In terms of audience, who is The House for?
Phillip Sevy: The House is a horror comic that we wanted to be something that teens and adults could read and enjoy. Probably not for the kids. Unless you're a cool kid. Then it's for you. Don't tell your parents I said so.
Drew Zucker: Like Phillip said, it's for the cool kids! It's a book for horror fans through and through; whether you're someone who's loved the genre for years, or you're the teenager just discovering what it has to offer, we really hope it just leaves an impression on people.
Keep an eye on PREVIEWSworld.com's Twitter, Facebook, YouTube, or Instagram for more from Phillip Sevy and Drew Zucker!
The House hits comic shops on October 13th. Pre-order your copy today using PREVIEWSworld Pullbox!
DARK HORSE COMICS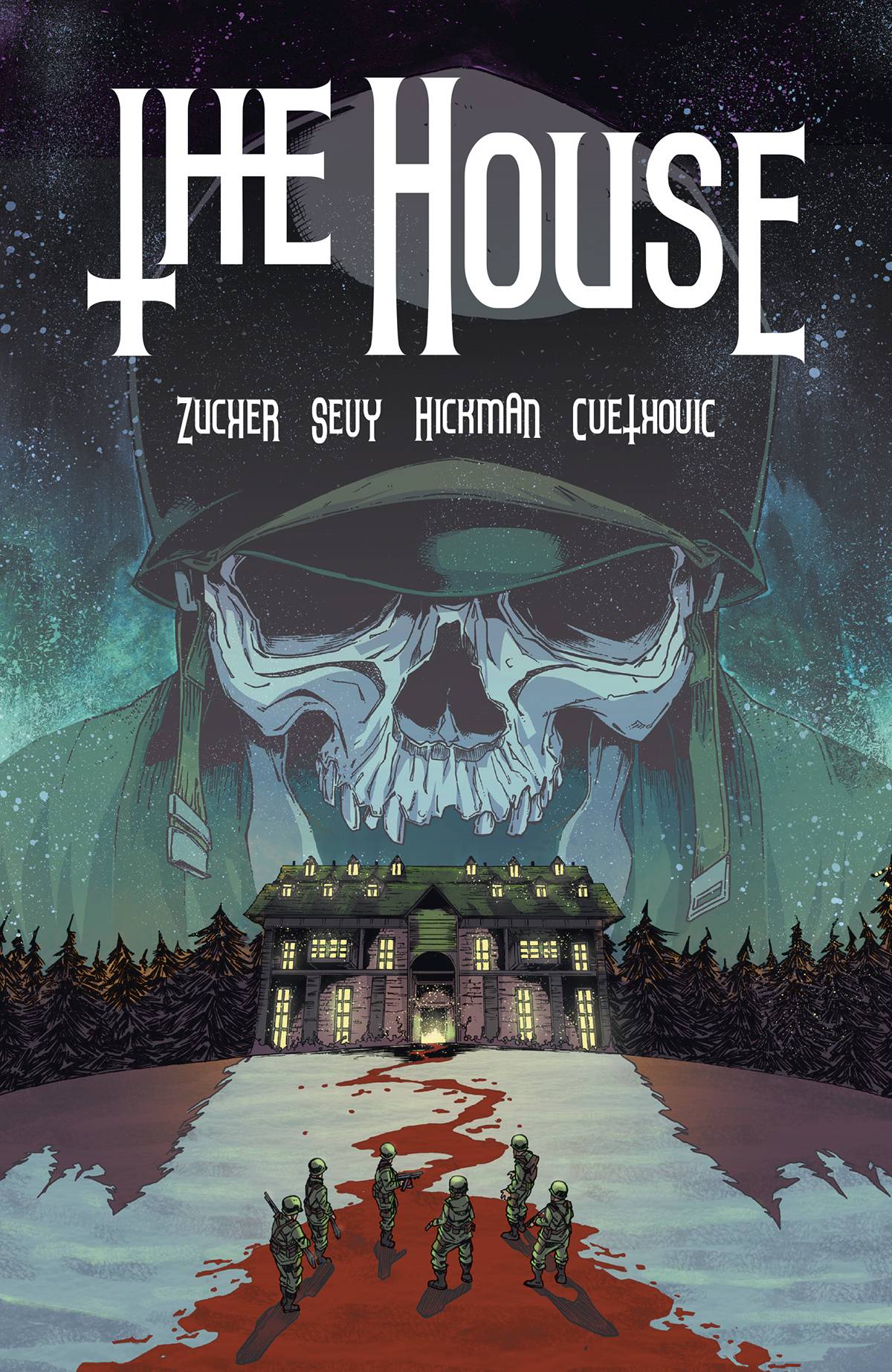 (W) Phillip Sevy (A/CA) Drew Zucker
During the Battle of the Bulge, a squadron of US soldiers is caught in a blizzard while patrolling through the woods. Seeking refuge from the impending white out, they stumble across an abandoned manor, seeking shelter and safety. Once inside, however, the doors disappear, rooms begin to morph, exits become entrances, and they quickly realize there is no safety to be found! As their eyes deceive them, their minds descend into madness, panic, and paranoia. Is this real? Or is there more to this labyrinth than what resides within the walls? Secrets are revealed, history is retold, and death is the only mercy.
In Shops: Nov 03, 2021
SRP: $19.99
PREVIEWS Page #115
****
Troy-Jeffrey Allen is the producer and co-host of PREVIEWSworld Weekly. His comics work includes MF DOOM: All Caps, Public Enemy's Apocalpyse '91, Fight of the Century, the Harvey Award-nominated District Comics, and the Ringo Awards-nominated Magic Bullet.