Interview: Modern Fantasy Meets Japanese Horror in 'Osaka Mime'
May 30, 2021
Interview by Troy-Jeffrey Allen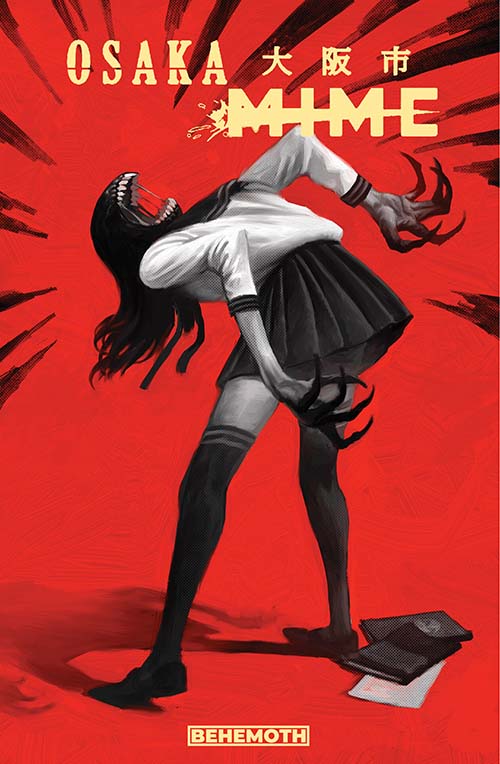 How do you catch something so dangerous, that can hide in plain sight? That is the question at the center of Behemoth's OSAKA MIME (MAR211147), a supernatural tale by writer Andy Leavy and artist Hugo Araujo. In the following interview, Leavy takes us inside this unique tale, pulls back the curtain on the making of this original graphic novel, and reveals that this monstrous Mime is only the beginning of a much larger modern fantasy. Keep scrolling...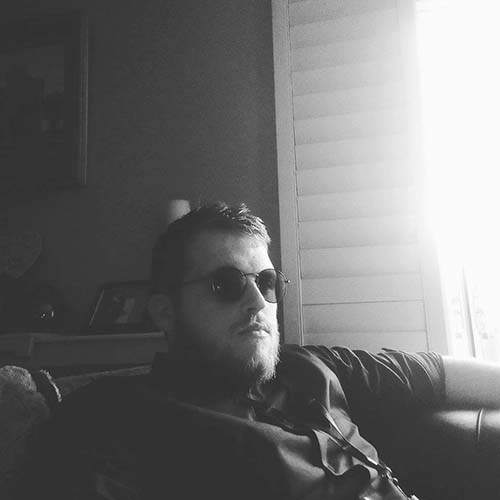 PREVIEWSworld: So what is OSAKA MIME exactly?
Andy Leavy: OSAKA MIME is a Crime-Horror story based in a modern fantasy world that contains humans, elves, orcs, and all sorts of fantasy creatures. The story plays with the grizzled vet & naïve newbie buddy cop trope and sticks it into a horror slasher.
The titular Mime has the ability to take the form of any person it eats adding a sense of paranoia to the book.
PREVIEWSworld: What made you want to set the book in Osaka?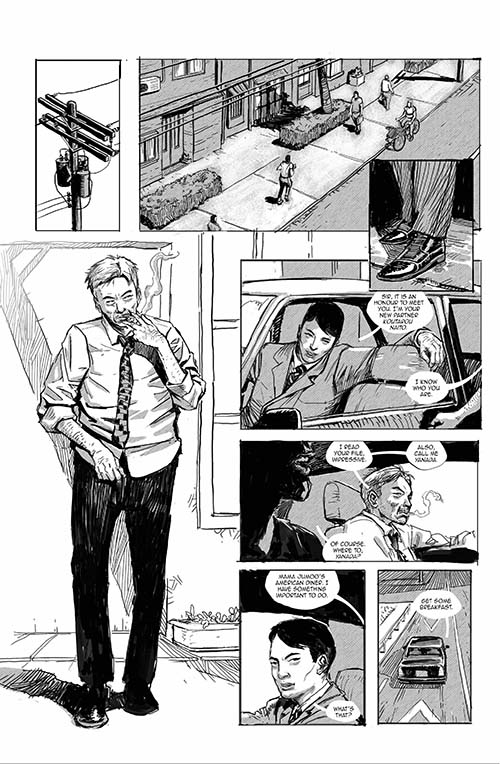 Andy Leavy: I've always been a fan of Japanese movies, games, and of course anime. In college, I watched both Takashi Miike's Ichi The Killer and Sui Ishida's Tokyo Ghoul and they both helped inspire me to set the book in Japan, the latter also inspiring the name! As for Osaka, the city itself is beautiful and a place I'd love to visit. I thought this was a good juxtaposition with the horror that unfolds in the story.
PREVIEWSworld: What can you tell us about the detectives at the center of this story?
Andy Leavy: The detectives are Shinzo Yanada (the grizzled vet) and Koutarou Naito (the naïve newbie), who while at first don't see eye-to-eye about pretty much anything and bump heads often they come to respect each other and a friendship builds as their bond is strengthened through food, drink and hunting monsters! Both men have skills they bring to the table, and I'm proud of how their bond grows over the story.
PREVIEWSworld: The book teases a shape-shifter. Should we expect this to be equal parts horror and sci-fi or something else entirely?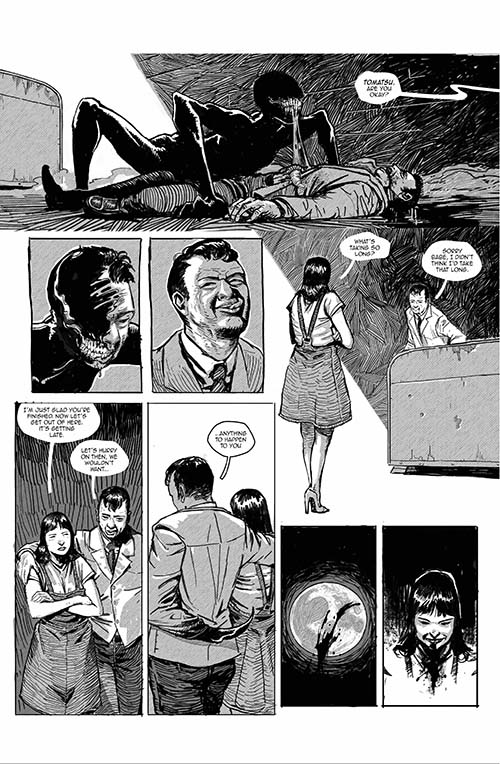 Andy Leavy: The story is probably more of a mix of crime noir and horror than sci-fi. There are also hints of fantasy with the story taking part in a modernized fantasy world.
PREVIEWSworld: How did the comic end up at Behemoth?
Andy Leavy: This is my first book, so I wasn't too sure about the process of pitching to publishers but once I had gotten a pitch package together, I made a list of publishers who took submissions and worked out which publishers the book would suit, one of those publishers was Behemoth and thankfully Nathan and Ryan liked the pitch. Behemoth has been amazing to work with and I'm glad OSAKA MIME ended up with them.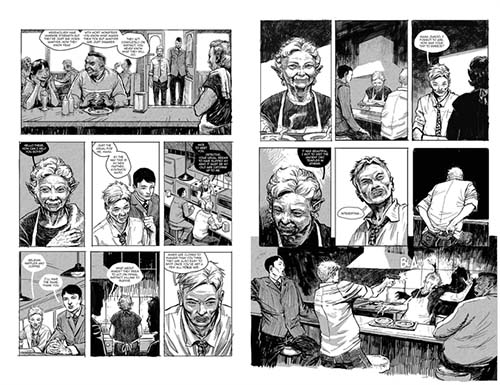 PREVIEWSworld: So, where did the concept for OSAKA MIME come from? It's a very particular type of demented.
Andy Leavy: Funnily enough I didn't really get into horror until I was a teenager, I was pretty much scared of any movie with a monster in it. But once I started watching and reading horror I became obsessed. I started writing some short stories and I knew I wanted to do a horror comic. On a bus ride home from college one day, I played around with some ideas, as I said before I was a fan of Tokyo Ghoul so the thought of a monster that eats people was appealing to me. I also like shapeshifters as they allow you to be pretty creative with them. It made sense that a shapeshifter could "consume" someone's identity by eating them and from that the Mime was born.
PREVIEWSworld: How do you go about visualizing these supernatural horrors for artist Hugo Araujo?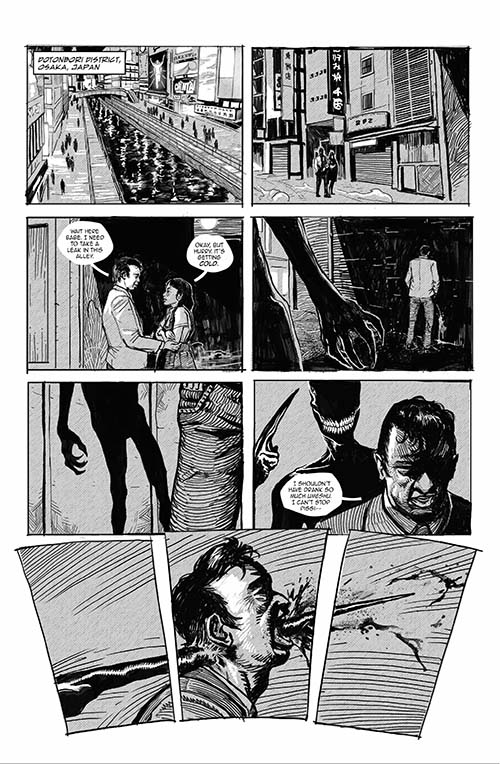 Andy Leavy: One of my favourite things about writing comic books is the script is only for the artist so you can be as informal and simplistic as you like what matters most is getting your point across to your co-creator. I had some ideas for how I wanted the Mime to look and move and described them as best as I could in the page and panel descriptions. I was blessed to find such a talented artist in Hugo and he was able to take those descriptions and really expand upon them. He made the Mime much more terrifying than I could have imagined.
PREVIEWSworld: What is the creative process like between you two?
Andy Leavy: When I wrote the script for OSAKA MIME there was no artist attached. After I had found Hugo I went back over the script and tried to make some changes to suit his style. The process for creating this book was pretty straightforward with me simply writing the script and sending it on to Hugo where he worked his magic. If he had some suggestions or changes he wanted to make and we would chat about them over text, he is a great guy to work with and the entire creative process was enjoyable.

We are working on a new comic at the moment which is just in the planning stages so we've been going back-and-forth with ideas and what we think readers might want to see.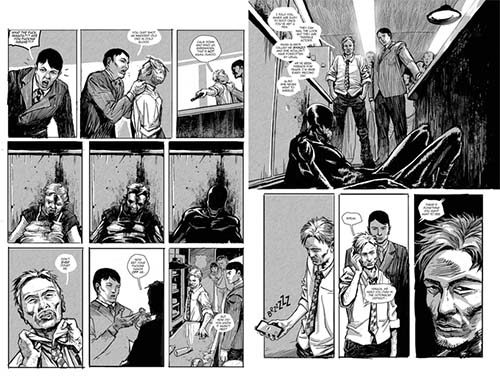 PREVIEWSworld: Looking forward, what can readers expect from OSAKA MIME?
Andy Leavy: Osaka Mime is a self-contained story taking part in a much wider universe, this opens up the possibility for sequels and spin-offs and the universe is absolutely one I will return to from time to time.

Right now, myself, and Hugo are working on a follow-up story to Osaka Mime which will explore the world further.
PREVIEWSworld: In terms of audience, who is OSAKA MIME for?
Andy Leavy: Osaka Mime is for horror fans especially those who are fans of monster or slasher stories. The buddy cop element to the story should appeal to fans of Men in Black or The X-Files while I believed the horror elements would be enjoyed by fans of John Carpenter, Junji Ito and Sui Ishida.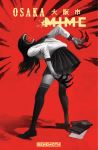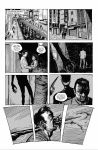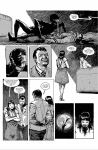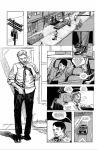 Click to View

Osaka Mime (MAR211147) is available at comic shops everywhere.
BEHEMOTH COMICS
(W) Andy Leavy (A/CA) Hugo Araujo
When a couple are found brutally murdered in the Dotonbori District in Osaka, Japan, two detectives from the Supernatural Unit of the Osaka PD must hunt down and apprehend a dangerous and murderous Mime, a shadowy shape-shifter which can take the form of the last person it ate. How do you catch something so dangerous, that can hide in plain sight?
In Shops: May 19, 2021
SRP: $9.99
PREVIEWS Page #248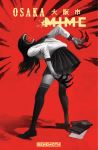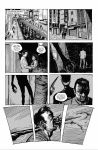 Click to View

****
Troy-Jeffrey Allen is the producer and co-host of PREVIEWSworld Weekly. His comics work includes BAMN, Fight of the Century, the Harvey Award-nominated District Comics, and the Ringo Awards-nominated Magic Bullet.