Hero Collector Introduces New Alien & Predator Figurines
Apr 29, 2021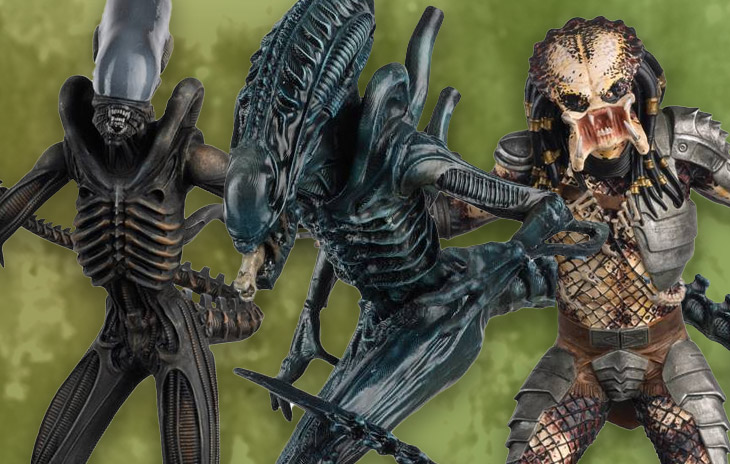 Hero Collector – publishers of high-quality collectibles from across the worlds of pop culture – is bringing back the best of their comprehensive Alien & Predator figurine collection, available for the first time in new retailer-friendly boxes! In stores, no-one can hear you scream…
The Alien & Predator Figurine Boxes series recreates the most iconic creatures from these titanic sci-fi/horror movie franchises as highly detailed, hand-painted figurines at 1:16 scale (approx. 6" tall). Each figurine will retail at $29.95/£22.99, and comes in newly-designed packaging that will fit perfectly on any collector's shelf.
Set to hit stores in August 2021, the first wave of these monstrous models features:
Xenomorph Drone, the titular creature from Ridley Scott's 1979 classic, Alien. A perfect showcase of H.R. Giger's timeless design, this model captures the Xenomorph's pose as it lunged from the shadows to kill Captain Dallas.
Xenomorph Warrior, one of the swarming monsters from the 1986 sequel, Aliens. This figurine exhibits the design changes the Xenomorph underwent between films, locked in a deadly stalking pose.
Xenomorph (Grid), the "alpha alien" in the 2004 crossover, Alien vs. Predator, named for the scars on its skull. This model places Grid in the depths of the Predator pyramid, atop the skulls of sacrificial victims.
Predator (Unmasked), the lead monster in the original 1987 film Predator. This figurine captures the Predator's final challenge to Dutch, its mask discarded as it roars with flared mandibles.
These releases continue to be part of Hero Collector's concerted push into retail, with new products, new packaging and new concepts designed to reach a wider audience. The Alien & Predator Figurine Boxes will be available in August 2021 at your local comic shop! Pre-orders available now!
Fans and collectors should stay tuned for further details about this range, as well as the reveal of new upcoming Alien & Predator figurines and models!