The Art of Comic Book Ads with Andrew Gutierrez and Jon J. Murakami
Apr 26, 2021
Art by Andrew Gutierrez, Jon J. Murakami
Interview by Troy-Jeffrey Allen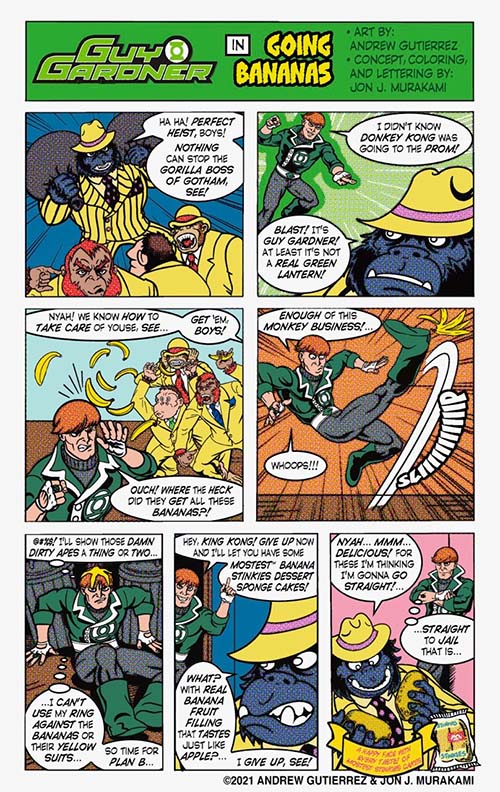 You've seen them plenty: Superman with Hostess Fruit Pies, Go-Bots with Nestle Quik, Batgirl with Twinkies, Superman (again!) with Hostess Cup Cakes, or The Flinstones gleefully spoon-feeding themselves Cocoa Pebbles. They were sequential snack food ads. Usually, they could be found on the back cover of your favorite comic book. And when you do see them, you better believe that some marketing mastermind is laughing to the bank...along with your dentist.
That said, junk food comic book ads have become a sort of tradition. One that still persists to this day. And artists Andrew Gutierrez and Jon J. Murakami are here to uphold it. Get your sweet tooth ready, because Andrew and Jon are going to take you on a nostalgic trip down the snack food aisle.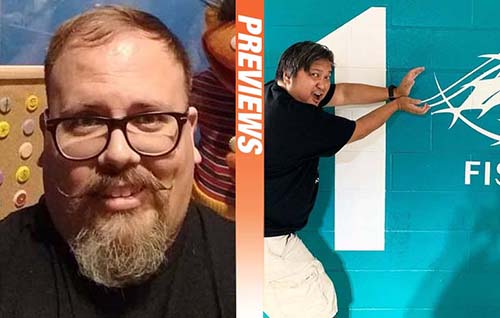 PREVIEWSworld: Firstly, who are you, and where do hail from?
Andrew: I was born in a small town in Michigan, grew up in California, and I currently live in Hawaii.
Jon: My name is Jon J. Murakami – I was born, raised, and still live on the island of Oahu in Hawaii. I'm a freelance cartoonist who's been doodling as far back as I can remember. I draw local comic strips every other week in the Honolulu Star-Advertiser newspaper and the Hawaii Herald. I've illustrated several local children's books, including Geckos Surf, Geckos Slide & Peek, and If I was a Superhero in Hawaii. I'm probably best known for a line of local greeting cards distributed all over the islands called Local Kine Cards distributed by Maile Way Products. 2022 will mark the 25th anniversary of the card company.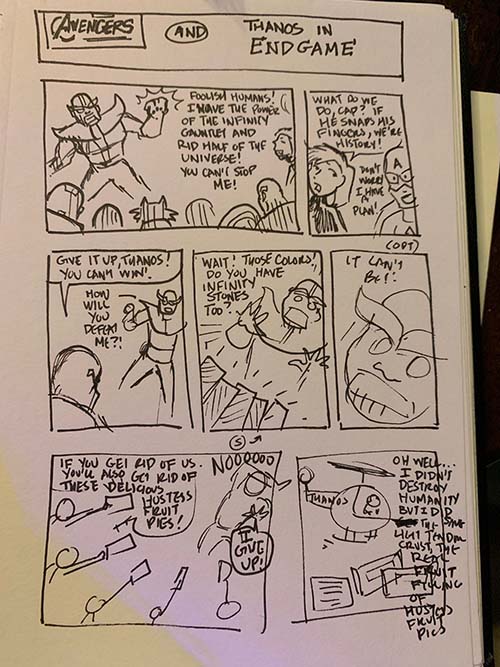 PREVIEWSworld: How did you get into comics?
Andrew: It's a work in progress. I'm a lifelong comics fan, I learned to read from comics, and I love to read them still. It wasn't much of a stretch to go from comics fan to comics artist. The real hurdle is figuring out how to make a living from it.
Jon: As a kid, I've had an affinity with cartoons on television and the Sunday Funnies in the newspaper. I've always loved comedy and humorous comic strips. My parents worked at a school bus company and often brought home random comics left behind on the bus. I read a lot of Richie Rich and Archie's comics. I occasionally would get superhero comics in that mix but was unsatisfied as the stories never were self-contained, and I never knew what would happen next. As I got older, I discovered several local comic shops and began to appreciate superhero comics. Being in Hawaii, we also had access to Japanese manga early on, which was also a significant influence on me. Some of my favorites were Lupin III by Monkeypunch and Dr. Slump by Dragonball's Akira Toriyama. I later discovered European comics like Lucky Luke, Tin Tin, and Asterix the Gaul.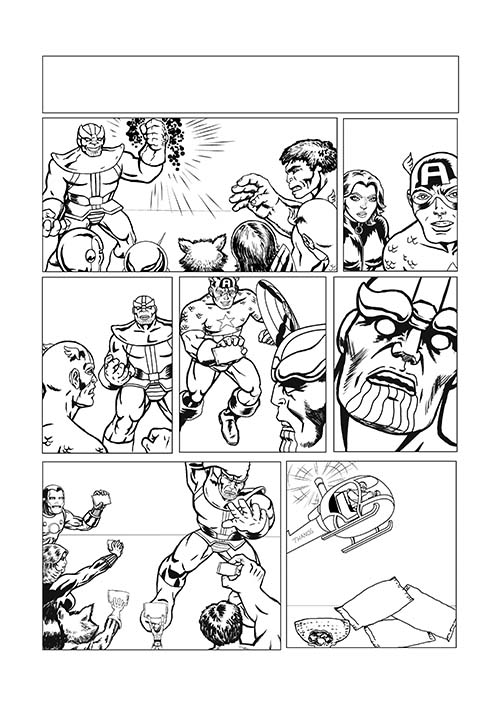 PREVIEWSworld: What made you want to do a retro comic book ad?
Andrew: Nostalgia for old comics and the ridiculous Hostess snack ads, among other classic ads that Marvel and DC licensed their characters too.
Jon: The Hostess ads in comics were always delightfully amusing – Whether it was superheroes or characters like Archies or Richie Rich – there was always a villain threatening the city or a big problem – and the day could ONLY be saved with the magic of snack cakes/fruit pies. They were well-drawn but often so corny. Andrew and I were at a local bar, and we've been looking to do a project together for a while, so that night, I scribbled a rough layout script, and he took it and returned a very clean line drawing! I colored it, matched the color palette from the old comics, and added in the dialogue. We had a good laugh, and the strip seemed to be well-responded, so we ended up doing a couple more just for fun.\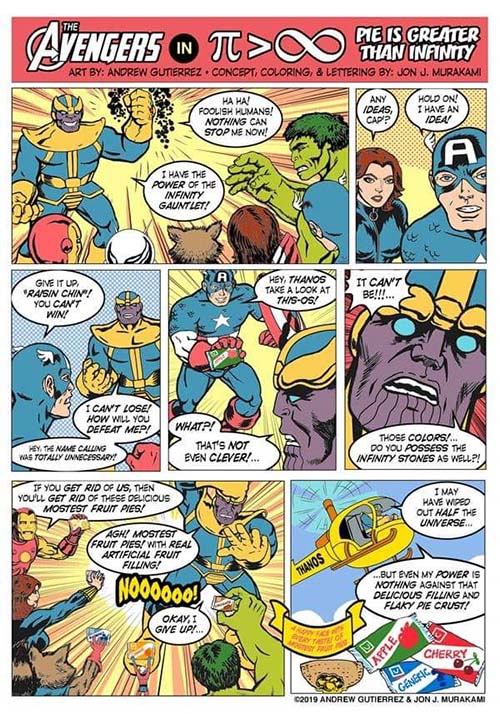 Jon: I'm usually the artist for all these kinds of parody projects, but my style is VERY cartoony. Andrew's style was PERFECT to homage these snack ads, so it made sense to have him draw it. This is the first time I'm on primarily as a writer. It's very different for me, but Andrew and I work well with each other, and inevitably, we're hoping to work on larger projects like an actual comic series together.
PREVIEWSworld: What's your favorite retro comic book ad?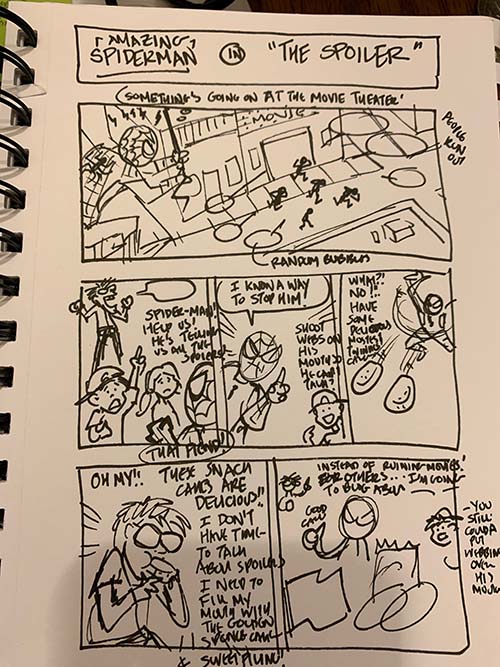 Jon: I am not sure if I have a particular favorite – Definitely all the Hostess ads (I was so happy to find a website dedicated to all the Hostess snack ads in comics). As a kid, I'd pretty much glance over most of them: HEY, KIDS- SIGN UP FOR GRIT! AMAZING X-RAY SPECTACLES! SEA MONKEYS! 100 ARMY MEN! LET CHARLES ATLAS MAKE A MAN OUT OF YOU! ARE YOU AN ARTIST? DRAW LUCKY AND FIND OUT! It took me years to understand that these ads were helping to pay for the comics.
Andrew: Pretty much any of the ones that featured the Hulk are golden. The one with Spider-Man fighting June Jitsu is hilarious. I also love the ones with the Harvey characters like Hot Stuff or Casper.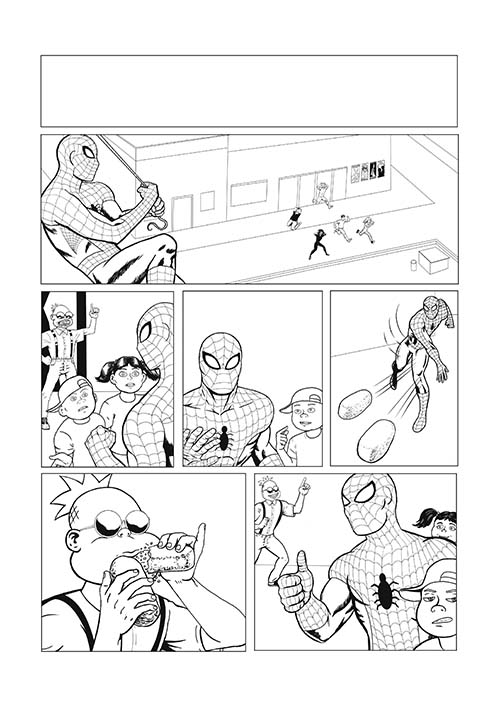 PREVIEWSworld: What made you choose the characters you used in these ads?
Jon: Our first one was the Avengers. Of course, this is when Infinity War was the big buzz with everyone, so it made sense to choose the Avengers and Thanos with the Infinity Gauntlet. Andrew made sure about including the Thanos helicopter!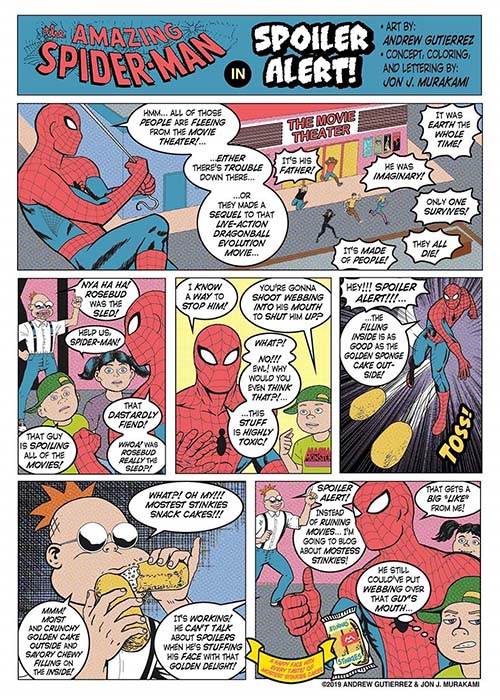 Andrew: Avengers Endgame was coming out and we decided to use characters from the movie but I wanted to draw them in the classic comic style instead of the movie versions. Jon whipped up a rough thumbnail for the page and then I did the line work digitally. Then Jon did the digital colors in a four-color style and wrote/lettered the dialogue. He did most of the work but I added a little bit here and there.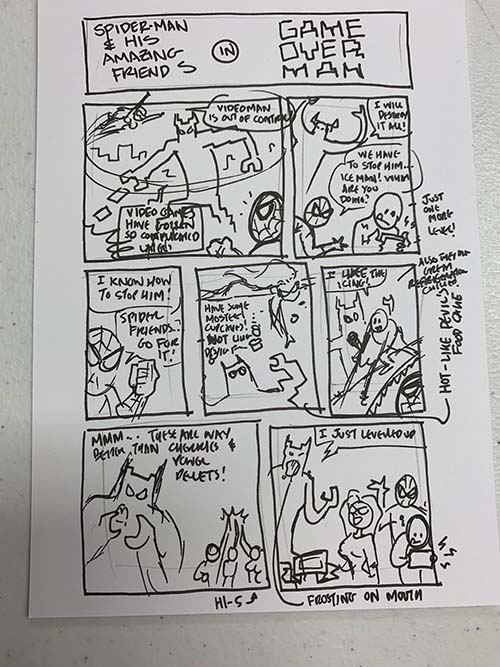 Jon: With the first comic's success, we decided to do Spider-Man because Spider-Man 2 just came out in the theaters. Several of our friends were victims of many movies ruined by spoilers posted across social media. We came up with the original character, The Spoiler, and the message was – don't be this guy… In a way, this was a callback to the random Spider-man villains they'd show on the kids' show The Electric Company.
Jon: Our last comic was Spider-Man and his Amazing Friends. We loved the 80s series, and this was sort of a nod to Rick Hoberg, the incredible artist who worked on the original series. We chose Video Man because he's such a goofy character.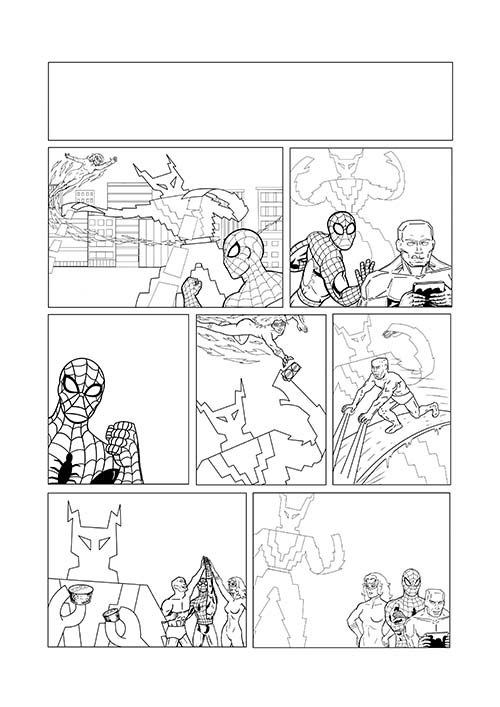 Jon: When we work on these, usually I lob a rough idea off of Andrew. We toss the idea back and forth until we get a general plot and layout. Also, I double-check if it's a character Andrew wants to draw. I love Andrew's illustrations because there's a very traditional classic Golden Age style to his art, similar to Jack Kirby and Steve Ditko. We work in "the Marvel way," where I give him a general script, and he deciphers it and provides the finished art. I later color it then figure out the dialogue afterward. I often have no idea what the characters will say, but I try to incorporate as many one-liners and silly comments as possible.
Jon: Andrew is a walking encyclopedia of comic book characters. He'll present many obscure superheroes and villains that I've never heard of before. We're working on another three parody ads, and we're going to be including some very interesting characters!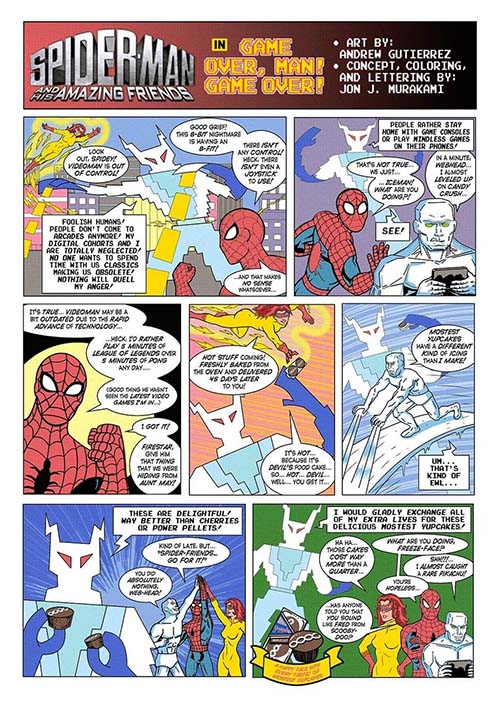 PREVIEWSworld: What's your preferred fruit snack of choice?
Jon: I'm content with the Apple & Cherry pies. For some reason, they always advertised those blueberry ones, but we never got them in Hawaii. At least the places I went to. It's like how we always had Franken-Berry & Count Chocula, but no Boo-Berry cereal! I liked the lemon ones as well.
Andrew: Gushers!
If you're interested in more of Jon J. Murakami's work then be sure to follow him on Instagram. If you're interested in more from Andrew...be sure to do the same HERE.
Keep an eye on PREVIEWSworld.com's Twitter, Facebook, YouTube, or Instagram for more artist spotlights!
****
Troy-Jeffrey Allen is the producer and co-host of PREVIEWSworld Weekly. His comics work includes BAMN, Fight of the Century, the Harvey Award-nominated District Comics, and the Ringo Awards-nominated Magic Bullet.