Hake's First Premier Auction of 2021 Opens Feb. 2
Feb 01, 2021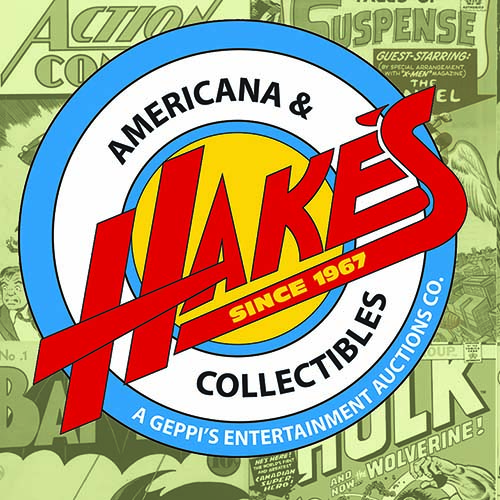 On Tuesday, February 2, Hake's Auctions will open their first premier auction of 2021. That event, dubbed Auction #231, will contain 2,266 lots of historical, Americana, and pop culture collectibles from across many categories. Baseball items, presidential material, original comic art, action figures, and more will be open for bidding through Wednesday and Thursday, February 24-25.
To kick off 2021, Hake's is offering two incredible historical items.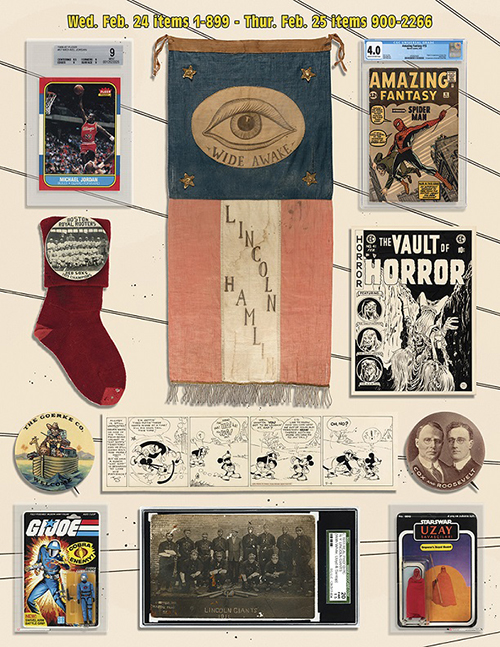 "Hake's was built on political items, the origin of the company back in 1967. After 54 years, hundreds of auctions, and four published reference books on the subject, you would think we have offered it all. Not the case. Two items in particular, both first time at auction, are among the most incredible political artifacts we have seen or offered. These two items are museum quality pieces of the highest order," Hake's President Alex Winter said.
Those pieces are the "Letter from a Birmingham Jail" Martin Luther King multi-signed Birmingham jailhouse logbook pages and the Lincoln and Hamlin "Wide Awake" 1860 hand-painted all-seeing eye parade banner.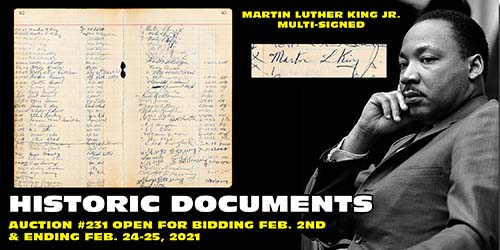 Also from the historical section, they have a Cox and Roosevelt 1920 jugate button Hake #2010.
This auction has even more sports memorabilia than the last premier auction with over 300 sports lots, featuring the Paul Muchinsky, the Black Ball Collection, and Chuck Bruce Hall of Fame autograph collection pedigrees. From Muchinsky, they have over 200 pinback buttons and other small items, including the Babe Ruth 1915 Champions Boston Red Sox Royal Rooters rare button from his rookie season. Hake's will offer eight items from the Black Ball Collection, which are all rarities from the Negro Leagues. Among those is the 1911 New York Lincoln Giants real photo postcard with Hall of Famers Sol White, Pop Lloyd, and Louis Santop SGC 20 Fair 1.5. The Chuck Bruce collection is focused on members of the National Baseball Hall of Fame, primarily signed photos, including a Lou Gehrig, Babe Ruth, Eddie Collins, Grover Alexander, and Roberto Clemente.
Outside of baseball, but still in sports, they have two Michael Jordan rookie cards – 1984-85 Star #101 rookie card BGS 7.5 Near Mint+ and the 1986-87 Fleer Basketball #57 rookie card BGS 9 Mint.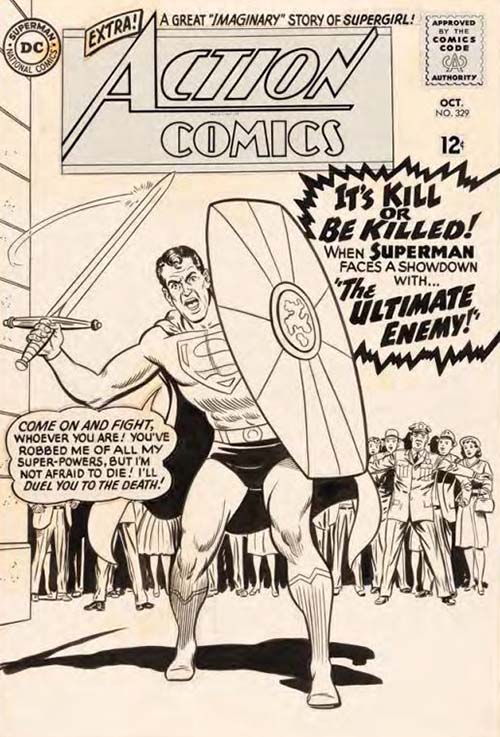 This auction contains over 200 lots of original art, highlighted by the Action Comics #329 original cover by Curt Swan and Sheldon Moldoff with full body image of Superman. The Vault of Horror #41 unpublished original cover by Johnny Craig features decomposing ghouls and The Spirit #10 framed cover art by Ken Kelly depicts art that harkens to Will Eisner's line work. Also among original art is a collection of Mickey Mouse daily strips and related items from the estate of Disney employee Earl Duvall, including the Mickey Mouse February 4, 1931 daily strip by Floyd Gottfredson and Earl Duvall.
The comics section is filled with more than 1,000 books, 300 of which are CGC-certified. One of the comic keys is Amazing Fantasy #15 CGC 4.0, featuring the first appearance of Spider-Man.
Hundreds of action figures and related toys, mostly from the 1970s and '80s, will cross the auction block. A pair of esoteric Star Wars items are the Emperor's Royal Guard Uzay Turkish figure AFA 60 and the Droids Kleb Zellock first shot prototype for the unproduced figure AFA 85+. Other highlights are the Transformers Series 2 Jetfire AFA 90+ (highest graded by AFA), G.I. Joe Cobra Commander Series 2 20-back AFA 95 Mint (highest graded by AFA), Masters of the Universe He-Man Series 1 8-back AFA 85, and Thundercats Lion-O and Snarf hard copy prototype action figures.
These and a multitude of other collectibles will be open for bidding from February 2 to February 24-25 at hakes.com.