It's Kodansha Comics vs Yen Press at Crunchyroll Expo 2020
Sep 05, 2020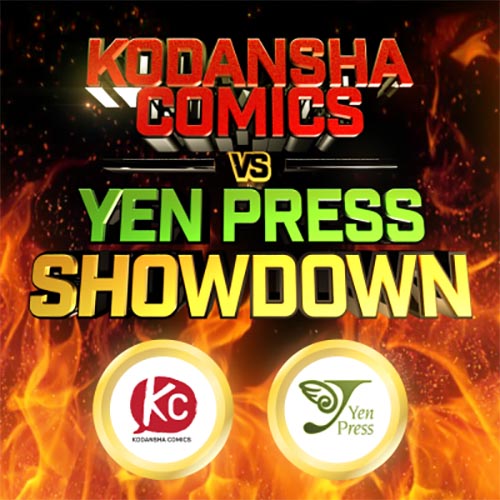 Sometimes, when two massive manga publishers don't see eye to eye, they just have to put it all on the line and enter the ring. That's what Kodansha Comics and Yen Press decided to do, and they're holding their epic showdown at Virtual Crunchyroll Expo on Saturday, September 5.
The gloves are off and the heat is on from 5:00pm to 6:00pm Pacific Time on Hime Stage. Who'll be throwing down? On the Kodansha Comics side of the ring we have Misaki Kido, Ivan Salazar, and Tomo Tran, and they'll be facing off against the terrifying tag team of Mark De Vera and Wendy Chan on the Yen Press side.
In epic battle between two powerhouse manga publishers is about to begin! Watch as the manga experts from Kodansha Comics (Misaki Kido / Tomo Tran) & Yen Press (Mark De Vera / Wendy Chan), go head-to-head in a manga recommendation showdown to decide the strongest, raddest, and most exciting manga available from both publishers. You won't want to miss this no-holds-barred battle royale to determine manga supremacy! And not only that, but if you join this panel and you may come away with a glorious prize yourself! So, which side are you on?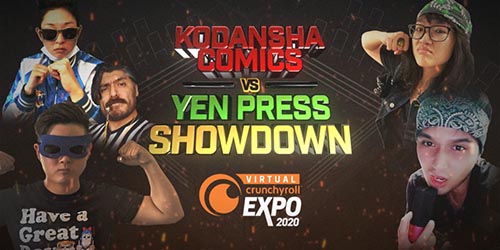 Featuring: Misaki Kido, Tomo Tran, Ivan Salazar, Mark de Vera, and Wendy Chan!
BE THERE FOR THE BATTLE: A head-to-head manga recommendation showdown! Who will emerge triumphant in this brutal battle royale of two manga heavyweights? Tune in this Saturday to find out, and look for a chance to come away with a prize of your own in the process.
Catch it live on the Crunchyroll virtual stage HERE or watch it on video on demand HERE. In the meantime, which side are you betting on?
And if you're looking for manga from Yen Press and Kodansha be sure to check out what's available into your local comic shop.
For more from the world of manga, keep an eye on PREVIEWSworld.com's Twitter, Facebook, YouTube, or Instagram.